---
Darek's Secrets
Updated Aug 11 2023


It has been over 40 years since I started working with personal computers and sporting my sexy bowl cut. Starting with a green-screen 40-column Commodore PET in 1980 at my high school in Toronto Canada, I purchased my own Atari 400 in 1981 at age 15. Since then I've owned numerous Atari ST, VIC-20, Commodore 64, Apple II, Apple Macintosh and Windows computers. I've made a full-time living from computers since age 18; starting with my first paid computer magazine article in 1985 (see "G.U.P. The Great" in Antic below). That was followed by paid articles in other computer magazines, starting my own company at age 22 (what is now emulators.com), creating the first Atari ST emulator (Gemulator) and the first Apple Macintosh emulator for Windows (SoftMac). I moved to Seattle Washington in 1990 for a day job at Microsoft where I participated in the development of Windows XP and Vista, Office 95 and Office 97, Mac Office 98, Xbox 360, multiple releases of Visual Studio, and contributed to several papers including this one on "Time Travel Debugging", a technology that I helped develop at Microsoft Research. More recently I have been funding my own research on the many interesting facets of virtual machines for the era of 64-bit multi-core CPUs. I presented the Virtualization Without Direct Execution paper and slides at the AMAS-BT workshop at ISCA 2008 in Beijing, proposing portable methods of implementing emulation-based virtualization for mainstream PCs. In late 2008, I joined a new microprocessor group at Intel headquarters in Santa Clara, California, where I worked until the summer of 2010. Until 2023 I was in Seattle working on all things cloud computing at Amazon Web Services and since 2015 working on all things ARM32 and ARM64 for Windows 10 and 11 on ARM.

---
Bye bye Seattle. Bye bye Microsoft. It's back to the east coast!
AUG 11 2023
After more than 30 years in the Seattle area, more than 24 years at the day jobs at Microsoft, 3 years at Amazon, and most recently a break neck effort from 2015 to 2022 to ship Windows for ARM64 with full x86/x64 emulation support, ARM64 Time Travel Debugging, and other ARM64 tools, I have finally retired for good from Microsoft. 12 badges spanning 1987-2022, but it's really game over now.
I am very proud of all the work I contributed since 1987 to Microsoft Office, to several releases of Visual Studio, to Microsoft Works, to 32-bit x86 emulation for Xbox 360 and Windows 10, 64-bit x64 emulation for Windows 11, developing "soft intrinsics" for the Windows 11 SDK, and capping it all off with the ARM64 native support for Time Travel Debugging.
This summer I've been in the process of relocating my residence and all the dozens of Atari, Apple, and Windows lab machines back to the east coast where it all began in the 1980's with my Atari 400. Please check out the many new blog postings that I'm working on for Fall 2023.
- Darek
---
Emulators releases in 2018
MAY 29 2018
Hi folks, the wait is almost over. The first of the new wave of version 10.0 releases of our Atari and Macintosh emulators for Windows 10 (x86, x64, and ARM64 devices) is almost ready for beta testing. Stay tuned!
---
Last chance (really!) to own the universal classic Mac OS release - System 7.5
OCTOBER 9 2010
To update to last week's posting (below): I opened up one more box, this one containing 30 of the Macintosh System 7.5 packages containing CD-ROM editions. So both Mac OS 7.5 floppy disk editions and CD-ROM editions are available. When sending in your Starbucks gift card or a self-address stamped mailer, please therefore specify if you are interested in:
Macintosh System 7.5 package with floppy disk (boot disk and setup disks),

Macintosh System 7.5 package with CD-ROM (boot/setup CD), or,

Mac OS 8.1 package with CD-ROM.
Please folks, take these 150 or so never used never opened mint condition Mac OS packages off my hands!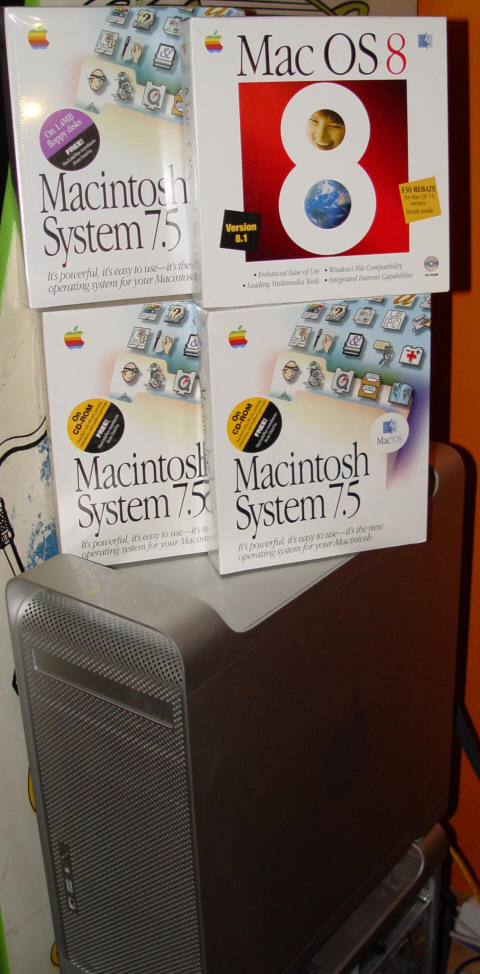 ---
OCTOBER 2 2010
Talk about taking a long time to open a package. What I thought were some old boxes of Macintosh computer parts that I had put away in storage back in 2001 after returning from the Macworld New York show, well, turned out have a shipment of Mac OS packages I had forgotten about. After liquidating my inventory of Mac OS 7.5, 7.6, 8.0, and 8.1 CD-ROM packages in 2004 (recall the Mac OS liquidation), I find myself today rummaging through the storage space and opening up three never opened boxes containing the floppy disk based Mac OS 7.5 (a.k.a Macintosh System 7.5). 4x8 = 32, times 3 = 96 never before opened, mint condition Mac OS System 7.5 packages on floppy disk that I have now left to liquidate, along with a handful of Mac OS 8.1 CD-ROM based packages left over from before.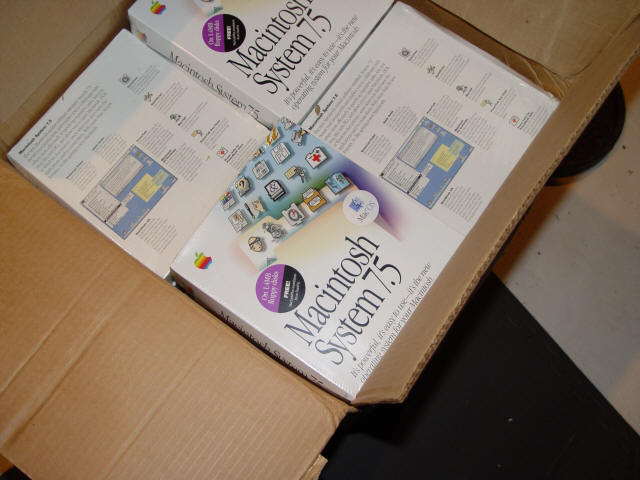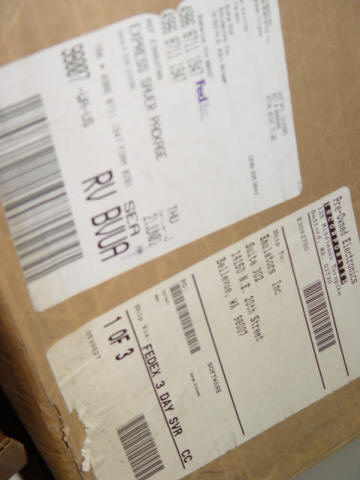 System 7.5 (which as you can tell from the box was the version that Apple decided to rebrand as "Mac OS" from then on, is the last of the major 68000-compatible releases. System 7.5 boots on everything from Mac Plus through Mac II to Mac Classic to Mac Quadra and LC, as well as the early PowerMacs. Which means that System 7.5 is the most compatible system software to use with all of the old Macintosh emulators - SoftMac, Gemulator, vMac, Fusion, Basilisk II, etc. - since it works on the most number of classic Mac models and ROMs.
And since these packages contain floppies (not CD-ROMs as in the packages i liquidated in 2004) they can be used to boot many of those older Mac models that you still may have laying around. Pretty much any Mac models prior to the appearance of the iMac in the late 1990's when floppy drives were no longer included. System 7.5 is the one universal Mac OS for use on classic Macs.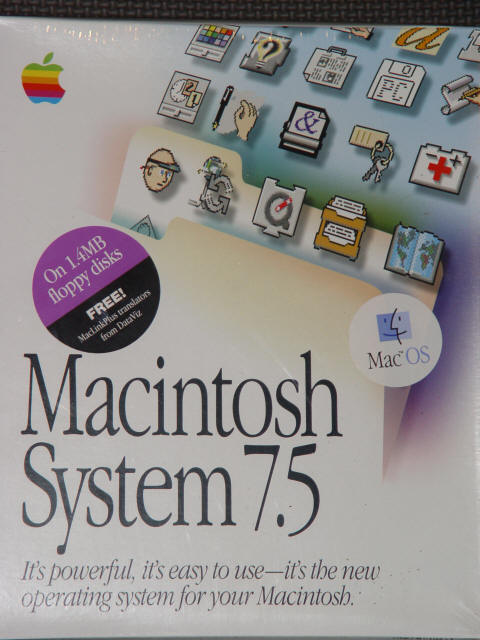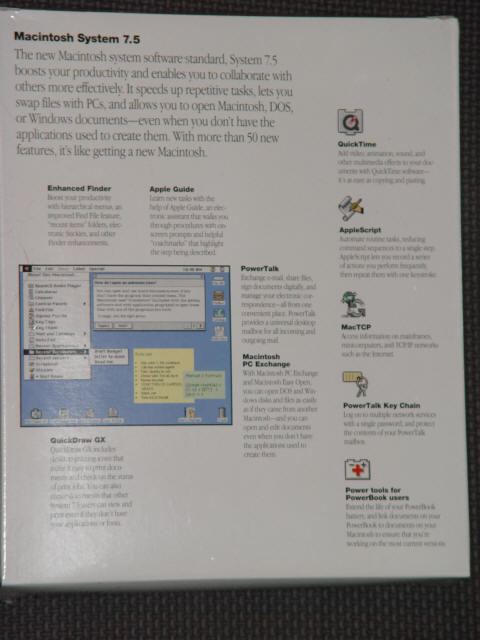 So, if you are interested in getting over of these never used, never opened (heck, never exposed to sunlight) packages of Mac OS 7.5 / System 7.5 floppy disk based system disks, now is your chance. As before, I am giving these away to anyone that either sends me a suitably sized self-addressed stamped mailer large enough as you see to hold a typically sized Mac OS package, or sends me a Starbucks gift card of at least $10 to cover a coffee and the cost of shipping you the package. Use the Starbucks option if you live outside of the United States, and you can order Starbucks gift cards online at Starbucks.com of course to save yourself even going to a store.
Send pre-paid pre-stamped envelopes or the Starbucks gift cards to my usual address:
Darek Mihocka, c/o Emulators
14150 N.E. 20th Street, Suite 302
Bellevue, WA 98007-3700
United States Of America
Please specify specifically whether you are requesting the floppy disk package of Mac System 7.5 or the CD-ROM package of Mac OS 8.1. Besides the almost hundred of the 7.5 floppy disk package I have maybe ten packages of the 8.1 CD-ROM.
With each Mac OS package I will also include another of the liquidation items I never quite got rid of, the Emulators shareware CD-ROM containing over 600 megabytes of old Macintosh shareware suitable for running on classic Macintosh systems.
---
IT'S HERE!!!! The Seagate Momentus XT
JULY 16 2010
The Momentus XT has arrived! Announced back in May, the new generation of hybrid notebook hard disk from Seagate finally made its appearance in stores this week. I spotted one in the wild and captured it (well, ordered online), bringing it into my lab for testing.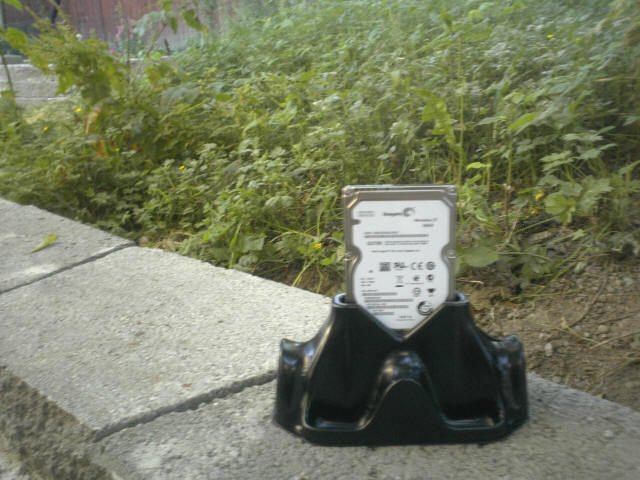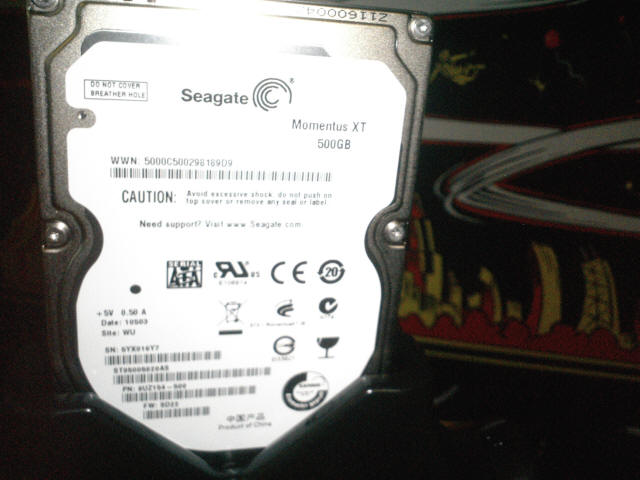 For the past year, Seagate's leading notebook hard disk has been their 500-gigabyte Momentus 7200.4 ST9500420AS, a 7200-rpm SATA hard disk with 16 megabytes of disk cache. That notebook hard disk fared so well in my tests, I made it the standard hard disk in just about all of my notebooks and desktop machines. I put one into my Apple Macbook, replacing the traditionally slow and cheap 5400-rpm drives that Apple puts into Macbooks by default. I put one into my Mac Pro G5 desktop. Another one replaced the stock 200-gigabyte drive in my Gateway laptop. Yet more served as the boot drives of various Atom systems, delivering a high-capacity low-noise low-power disk for those systems.
So how does Seagate top the 7200.4 drive this year? For starters it doubles the size of on the onboard disk cache to 32 gigabytes, matching the cache size of most mainstream 3.5-inch desktop drives. But, the real leap forward with the new drive is the addition of 4-gigabytes of flash memory, making the new drive what is called a hybrid disk drive. The flash memory acts as a sort of secondary disk cache (not unlike the analogy of an L1 and L2 cache in a microprocessor), buffering 4 gigabytes of the most frequently accessed hard disk data in fast low-latency flash memory.
The net effect of the flash memory is that in theory the new hybrid drive should exhibit most of the speed of an SSD (solid state drive) without the prohibitive cost of a purely solid-state drive, which for 500-gigabyte capacity these days runs at over 1000 dollars. The new Seagate Momentus XT drive on the other had cost me all of 137 dollars on Amazon, virtually exactly the same price as last year's drive. In fact the two hard disks look almost the same, as shown in the photo below, where the distinguishing markings between the two are of course the "Momentus 7200.4" to "Momentus XT" name change, and the subtle change of model numbers from ST9500420AS to ST9500620AS.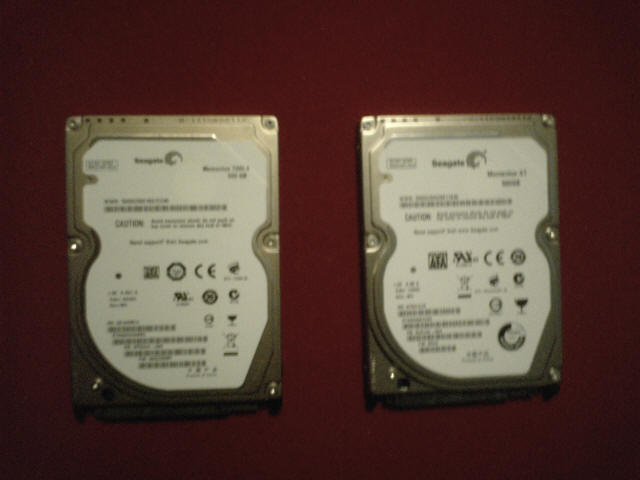 The 2009 Seagate 7200.4 drive on the left, the new 2010 Seagate XT on the right.
So, first test, I thought I would tackle a system that most other web sites would not jump on benchmarking first, or for that matter one that Seagate might have optimized their drive for. I chose as my first test subject my Apple Mac Pro G5, since that system has already been running on last year's 7200.4 drive for quite a while, with both Mac OS X and Fedora 12 Linux installed on the same 500-gigabyte drive. I booted the Mac Pro back and forth several times between Mac OS X and Fedora several times to get a rough idea of OS boot times and some other quick metrics, listed here:
Mac OS X 10.4.11 boot (from OS selection menu to fully rendered desktop): 54 seconds

Mac OS X running Virtual PC 7.02 emulator, boot time of Windows 2000 VM: 50 seconds

Mac OS X running Virtual PC 7.02 emulator, a Windows 2000 benchmark run: 28 seconds

Fedora 12 Linux boot (from OS selection menu to logic screen): 51 seconds

Fedora 12 Linux running QEMU emulator, boot time of Windows 2000 VM: 63 seconds

Fedora 12 Linux running QEMU emulator, a Windows 2000 benchmark run: 131 seconds
Using HDClone (http://www.miray.de/download/sat.hdclone.html, as you recall, one my favorite products of 2009), I performed an exact sector-for-sector disk copy, made trivial by the fact that the storage capacity of both the old drive and new drive is identical. I then repeated my tests.
The first test I measured was the first boot of Fedora 12 Linux from the new hard disk. This test can only be performed once, when ther solid-state flash memory is empty and the drive has not been "trained" for any particular scenario. As Seagate documents, continued use of the drive will populate the flash memory with frequently used disk data, and since I am not aware of a way to "flush" the flash memory, I used this scenario to effectively measure the benefit of the larger 32-megabyte RAM cache on the drive. The result? Boot time of Fedora dropped from 51 seconds to 46 seconds on that very first boot, a 10% improvement right off the data on an "untrained drive.
Incredibly, after using Fedora for a few minutes, checking my email in FireFox, running QEMU, etc. and shutting down the machine, the second boot of Fedora took only 34 seconds, a full 50% speedup over the old hard disk. This is very much representative of the same kind of boot speed up people have observed with fully solid-state drives. Bravo Seagate! The Windows benchmark run dropped from 131 seconds to 123 seconds, an 8-second drop. Not impressive due to the fact that the scenario is mostly gated by QEMU's slow emulation speed, but keep that number in mind for a few seconds.
Switch then to booting Mac OS X 10.4.11, the first "untrained" boot time dropped nicely from 54 seconds to 49 seconds, a similar 10% drop as seen with Fedora Linux. Virtual PC 7.02 booting Windows 2000 time dropped one second from 50 seconds to 49 seconds, but the Windows benchmark run improved from 28 seconds to 22 seconds, similar to the 8-second dropped seen under QEMU. So in absolute time terms, the large disk cache and flash memory greatly benefits such scenarios as benchmark runs which create a lot of temporary files and also access a lot of small data files. What would have been on a normal hard drive a lot of short pauses to seek to the next file is better hidden with the large buffers on the new drive.
Another impressive result came when I ran my HDTEST32 disk throughput benchmark (you may recall that one from my Part 26 posting on solid-state drive performance) and found that the all out write throughput under Virtual PC 7.02 jumped nicely from 18 megabytes/second to 23 megabytes/second. Again, keep in mind I did not set up the Mac OS X or Fedora from scratch on the new disk, I sectored copied the old drive exactly, sector-for-sector, thus keeping exactly the same disk fragmentation as the old drive. The speedups I am witnessing therefore are entirely due to the larger RAM cache and flash memory cache on the new drive.
Rebooting the machine and booting again into Mac OS X, the boot time now dropped to a stunning 33 seconds, and even larger speedup in boot speed than Fedora. And showing that in fact the hard disk does "train" the longer that you use it.
One last test on this machine, how much "untraining" did booting into Mac OS X do to Fedora? Would the boot time of Fedora go back up to 46 seconds, or remain closer to 34 seconds? Well, only way to find out. I rebooted the machine one more time, and... and... and... the login prompt came up in... 36 seconds! So yes, booting into Mac OS X and running entirely different scenarios for half an hour touching many gigabytes of data did somewhat untrain the Fedora times, but not that badly. I will take a 36 second boot time over 51 seconds any day.
The caching algorithms that Seagate uses are obviously proprietary, but they do appear to work great even for the oddball PowerPC Mac OS X and PowerPC Linux scenarios that Seagate likely didn't optimize for. I am extremely impressed by this hard disk, which I hasten to refer to as a "notebook hard disk". In another experiment, I took a second Momentus XT drive and dropped it in to a Windows 7 machine and repeated the HDTEST32 test on in against a recent Seagate 3.5-inch desktop drive which similarly sports a 32-megabyte disk cache. In terms of raw maximum write speed, the desktop Barracuda topped out at 103 megabytes/second while the XT topped out at 98 megabytes/sec. For small block writes the XT drive maintained at least 70 megabytes/second throughput. Running my "build Gemulator 9" Visual Studio benchmark, the two drives were within 0.1 seconds of each other, a negligible less than 1% difference. If you look at my old postings of hard disk benchmarks from even two or three years ago, hard drives "way back when" were lucky to achieve sustained throughput of 30 megabytes/second.
An another test of desktop drive versus notebook drive performance, I went to my other Mac G5, one purchased with a standard 500-gigabyte 3.5-inch desktop drive (the Samsung HD502HJ 7200-rpm drive with 16-megabyte cache) and used HDClone to sector copy to another Momentus XT drive. This setup is purely Mac OS X 10.5.8 (Linux sits on a second hard disk), and thankfully exhibits much of the same performance speedups already seen:
Mac OS X 10.5.8 boot (from OS selection menu to fully rendered desktop): 42 seconds on the Samsung drive drops to 39 seconds on first boot on the new hybrid drive, to 29 seconds on second boot, a 45% speedup!

Mac OS X running Virtual PC 7.02 emulator, boot time of Windows 2000 VM: 40 seconds remains the same on the hybrid drive

Mac OS X running Virtual PC 7.02 emulator, a Windows 2000 benchmark run: 21 seconds drops to 19 seconds on the very first untrained run down to 17 seconds on subsequent runs
So even against a very decent desktop drive, the hybrid drive offers substantial speedup. Using the two-drive setup on this machine means that booting into Linux will not "untrain" Mac OS X performance and vice versa and this is the configuration I would recommend as opposed to the dual-boot on a single drive
Desktop hard disk performance has come to the notebook computer. Now, keep in mind that the Seagate Momentus XT is still a mechanical hard disk. If you are prone to dropping your laptop computer, you will still want to consider the purely all-SSD approach as I described below a few days ago.
---
1.8-inch SSD drives now a very affordable alternative for frequently dropped netbooks
JULY 13 2010
One of my favourite things I listed for 2009 was the 2gopc flip-top touch-screen netbook on which I run both Windows XP and Windows 7. A few weeks ago my butterfingers dropped the netbook as I was using it. On concrete. While it was powered on and the hard disk spinning. Yikes!
While the machine still booted afterwards the hard disk started making a definite noise as it strained to read what were undoubtedly some damaged disk sectors. I looked online into replacement 1.8-inch drives and was surprised to find an assortment of solid state drives (SSDs) in the 1.8-inch form factor that were not just the tiny 4-gigabyte or 8-gigabye drives that seem to be pre-installed in the ASUS and Acer netbooks. For about 100 dollars now it is possible to purchase a full 32-gigabyte 1.8-inch SSD. So I purchased a few to try out. The beauty of SSDs, in addition to their faster speed, is that they contain no moving parts and are therefore better suited to survive falls and rough handling in luggage.
The 2gopc is ridiculously easy to upgrade as well. Just two screws hold the bottom panel on, which when removed exposes the DRAM modules and the hard drive. The hard drive is not screwed in and easily pops out. Remove the ribbon cable from the drive, put in the new drive, push in the ribbon cable. Five minutes, done! This is a also good opportunity to upgrade the RAM as well to the full 2-gigabyte capacity of this netbook.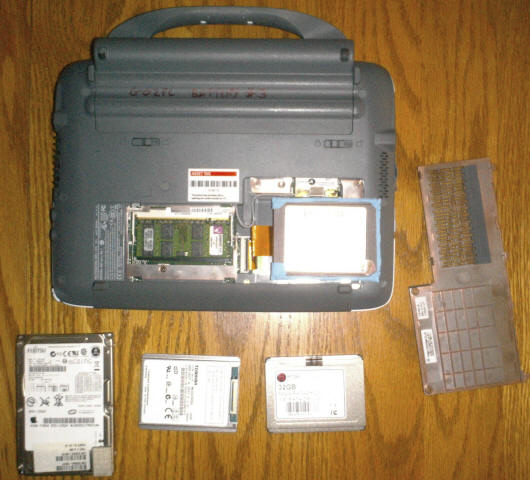 Pictured above is my 2gopc netbook flipped over with its panel taken out. A standard 2.5-inch notebook hard disk is shown on the left next to the original 1.8-inch mechanical Toshiba drive which was dropped, and next to that a 32-gigabyte AMP "SaberTooth" 1.8-inch SSD. Installed, not visible well because of the glare of the light, is the replacement SSD going into the netbook.
The price of 32-gigabyte 2.5-inch SSDs is also dropping down to and below 100 dollars, so this is a great time to consider upgrading an old laptop's hard disk to an SSD. 32-gigabyte drives, unlike the older 4-gigabyte and 8-gigabytes SSDs found in some netbooks, are more than large enough to support a full Windows 7 Ultimate Edition installation with Microsoft Office applications and room left over to spare.
---
My Favorite Things Since 1980
JANUARY 12 2010
This year now marks 30 years since I wrote my first computer program. My new weekly look back in time toward 1980, starts... here
---
My Favorite Things From 2009
DECEMBER 31 2009
With hours to go in 2009, my second and last posting of 2009... here
---
Windows 7 is here, and yes, you can in fact upgrade to Windows 7 from Windows XP
DECEMBER 1 2009
Hello, I am alive and well and working 80-hour weeks at the day job I started one year ago. Working at Intel has been incredibly fascinating and educational but has kept me far too busy to make any posts this year and for that I apologize. I can't tell you anything about the day job, other than that I will try to relax a bit more in 2010 and make time for writing more posts.
In my few bits of spare time this year I have been testing out Windows 7 since the initial beta release last January, and have installed Windows 7 on my latest batch of Atom netbooks and ITX boards and Core 2 laptops. I love Windows 7, but the burning question I had and which people have been asking me is how best to upgrade an old PC to Windows 7? Is there a way to upgrade from Windows XP to Windows 7 without losing your documents and installed programs, or is a clean install of everything the only option?
The good news is there is an easy upgrade path, and over the long weekend just now I took the time to write up this Windows 7 upgrade tutorial on how to perform an in-place upgrade on just about any Windows XP computer to Windows 7.
For the next few weeks (until my stash runs out) I am even giving away unopened packages of both Windows Vista and Windows 7, so read the tutorial right now to find out how to get your hands on them.
---
Meet the new king of $400 notebooks - is the Apple Macbook Mini in sight?
AUGUST 20 2008
Just as I was preparing to leave for my cross-continent road trip to see Metallica headline Ozzfest and Motorhead open for Judas Priest this month, I was deciding whether to lug my black Apple Macbook along or the smaller ASUS EEE to serve as my GPS navigation machine. One is too large to hold in your lap while driving, while the other has too small a screen. Oh Apple, when will you listen to me and shrink the Macbook?
Online I go, and spot this little shiny white laptop on sale at www.cdw.com for 379 dollars, which you see here in the lower left next to an ASUS EEE and two Macbooks. Thankfully CDW is based near O'Hare airport and is known for next day delivery of late night orders, and sure enough UPS delivered just hours before my trip, thus allowing me to experiment with the machine while driving the 7100 miles from Seattle to Dallas to Toronto and back over the past two weeks. With all this banning of text messaging and talking while driving being outlawed, it is a good thing that using a computer while driving is still legal. :-)
Is this finally the much anticipated Apple Macbook Mini that I've longed for?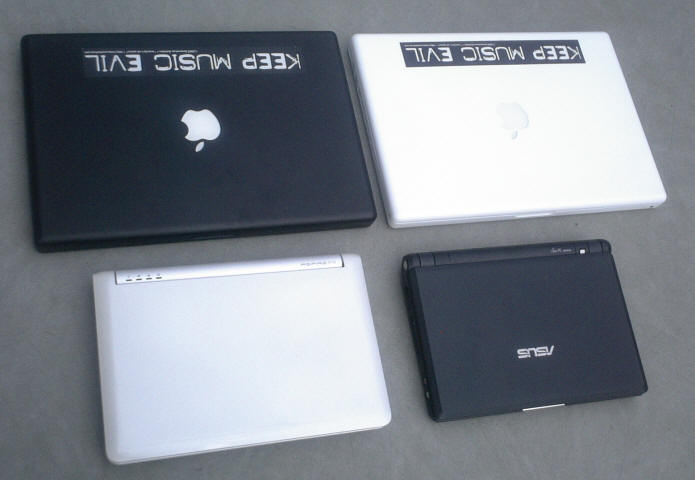 Without looking too carefully for the label of the machine, can you tell what it is? Some sort of hybrid offspring of two Apple Macbooks?
Drum roll...........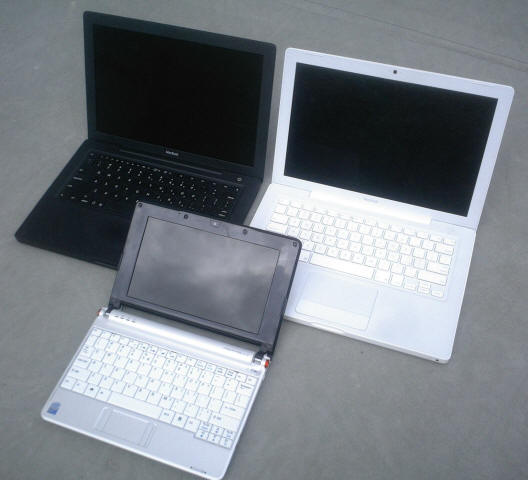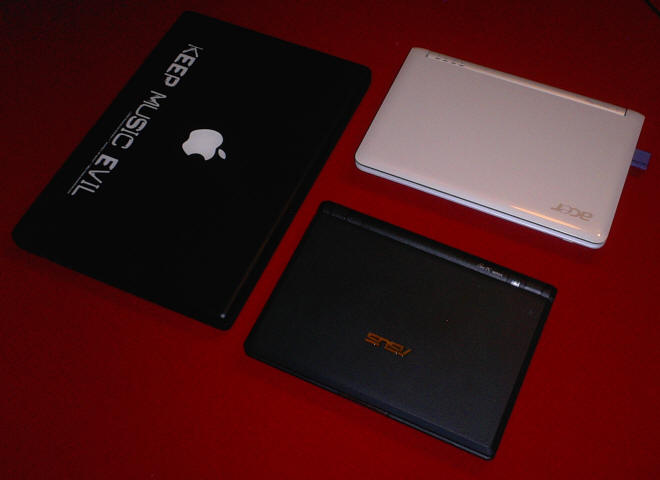 Nope, the Acer logo gives it away. The lovely little white machine is actually the latest player in the $400 sub-notebook market which I wrote about in February (scroll down a few pages to see the posting). Similar in form and specifications to the Sony VAIO T-series, the new Acer Aspire One notebook is a stunning triumph over the ASUS EEE. Cheaper. Faster. And far better looking. It completely blows the door off the original ASUS EEE PC which I was quite impressed with back in February.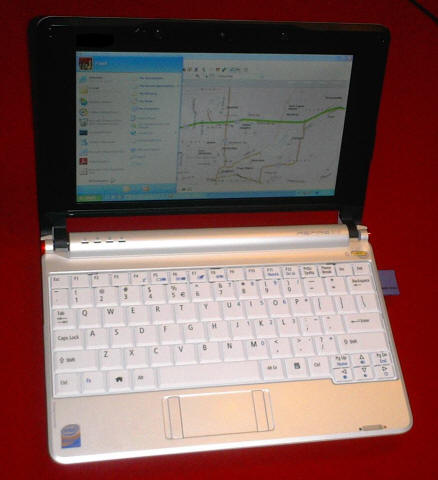 When I was in China this past June, I reported seeing for sale the newer version of the ASUS EEE that now featured a larger screen more suitable for running things like Microsoft Windows. The original ASUS EEE's anemic 800x480 screen makes trying to surf the web or even navigate some common Windows dialog boxes somewhat annoying.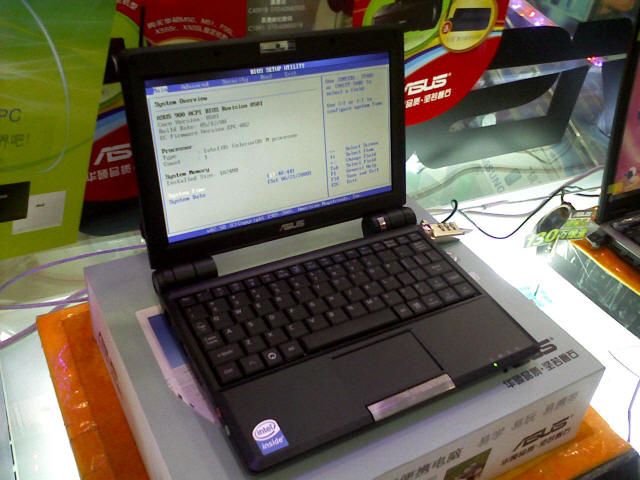 The updated ASUS EEE on display at a store in Beijing China (picture taken June 2008).
However, the larger ASUS EEE at the time came with a much larger 599 dollar price tag, so I passed on purchasing the unit.
What I was really hoping for was that in June at the Apple WWDC, Steve Jobs would finally announce what I have been waiting for since about 1999 - a small compact Macbook. Instead he announced just a boring iPhone G3 update. Acer seems to have taken note of wishes, beat Apple to the punch with a sexy Macbook-like unit that beats ASUS at its own game.
At a price that is below the 399 dollar ASUS EEE launch price, the 379 dollar Asprire has a larger 1024x600 LCD screen, and a larger 8-gigabyte solid-state drive (compared to the EEE's 4-gigabyte drive). The Asprire's larger drive can allow it to actually Windows Vista Service Pack 1 without resorting to tricks to shrink Vista's disk footprint as is needed with the ASUS EEE. Other than having the same 512 megabytes of RAM as the original EEE (and not the 1 gigabyte in the more expensive EEE),
As with the EEE, and the OLPC XO, the Asprire One is pre-installed with Linux and a dumbed down cutesy looking interface. I tolerated this long enough to snap this photo...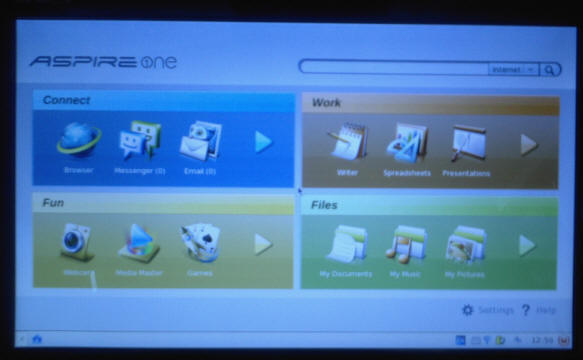 ...and then immediately connected my external CD-ROM drive and installed Windows XP Professional SP2 while watching the opening ceremonies from my hotel room in Dallas. As with the EEE, Windows XP installed without issues. Windows XP drivers for the Acer need to be installed manually in order for the wireless networking to work, but I was up and running and surfing the net within an hour. As with the EEE, Windows XP boots up in a ridiculously fast 15 to 20 seconds. The larger 8-gigabyte SSD left plenty of room for me to installed Microsoft Office 2003 and other apps to the machine, while on the EEE I had to be picky about how to best make use of the 4-gigabyte space.
Similar to the EEE, the Acer Asprire includes an external card slot for reading SD cards from cell phones and digital cameras. But unlike the ASUS EEE, the Aspire adds a second slot, which reads both SD/XD and Sony MemoryStick cards. You can see one such blue Sony MemoryStick sticking out of the side of my Acer.
During my road trip, the Acer Aspire worked flawlessly with Microsoft's Streets & Trips 2007 mapping software and with the USB GPS receiver that plugs into it. That was a huge advantage over the ASUS EEE, whose smaller lower-resolution screen would have been unusable with mapping software.
So far, on price, speed, and features along, the Acer Asprire completely blows away the ASUS EEE. But I've not mentioned the most compelling reason to get the Acer Asprire over the EEE - it is the first laptop that features the new Intel Atom processor (or should I say, that I've gotten my hands on). The Atom was just announced a few months ago and as such I was surprised to see it show up in a retail computer so soon, and one that is actually in stock and shipping and in my hands overnight.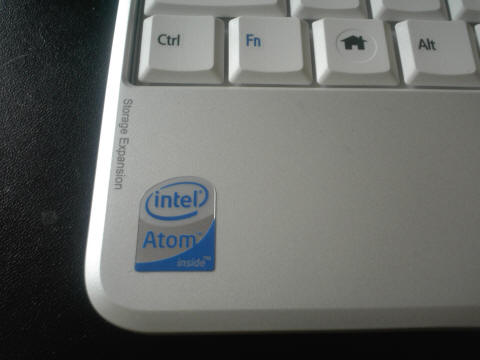 I will dissect the technical details of the Atom in a more lengthy posting here, but in brief what it offers to the general user over the more widespread Intel Pentium M or AMD Geode derivatives used in most notebooks sub-$400 notebooks:
A very low 2-watt power consumption, several times less than most notebook processors,

Dual threads of execution instead of one (similar to the advantage of a Core Duo over the Pentium M), and,

1600 MHz clock speed instead of the usual sub-gigahertz speed used in such notebooks, meaning faster potential speed.
In fact, in many of my low-level machine language micro-benchmarks that I've tested on the Atom so far, it actually matches or outperforms the clock cycle timings of the Intel Pentium 4. And given the fact that the Atom resurrects Intel Hyper-threading, this little 2-watt processor is in many ways a faster version of the 100-watt Pentium 4 that was found in most desktop computers three or four years ago. In just a few short years, Intel has found a way to do what five years ago required a large power-hungry processor, and to do it today at one fiftieth (1/50th!!!) the power of a Pentium 4.
So, in summary, forget all the hype about the ASUS EEE; the Acer Aspire One is the faster, cheaper, and nicer king of tiny notebooks right now. Looking at prices on Amazon.com today, the Acer Asprire One which I own and just described to you is selling for the same 379 dollar price I paid earlier this month. ASUS appears to have slashed prices, dropping their larger Pentium M based 1024x600 model down to 399 dollars and including more RAM and a larger SDD, but keeping the price of its own Intel Atom based model at the 599 dollar price. Too little, too late ASUS, you blew it. ASUS EEE, good. Acer Aspire One, better!
Of course, I'd still love it if after all these years Apple finally took note and delivered something that's larger than an iPhone and smaller than a Macbook. Here is my wish list for an Apple "Macbook Mini" that I'd love to see announced at Macworld Expo 2009 in January and which I think could feasibly ship some time in 2009:
Under $500 price tag, the price point of notebook computers is now definitely at $500 or less,

Use of a 4-thread CPU, either a dual-core Atom or native quad-core Core 2 derivative,

32GB to 64GB solid state hard disk, anything smaller is not really suitable for developers and power users, and larger would require klunky mechanical drive,

1GB to 2GB of RAM, anything less sucks for Vista, anything more is unnecessary (as disk caching is moot with an SSD) and thus a power drain,

1280x800 or higher resolution high-DPI LCD screen which runs in daylight without the backlight, comparable to the ones that Sony uses in the VAIO U750P or similar to what OLPC XO ships with,

The LCD screen also being a touch-screen supporting iPhone gestures, replacing the real estate wasted by the touchpad (which is somewhat lame in the OLPC XO, the ASUS EEE, and I hate to say, the Acer Aspire One),

Keep the keyboard for now, I still prefer the clamshell form factor over the Tablet PC / iPhone model of typing to an on-screen keyboard,

8-hour battery life (when operating without the backlight),

Built-in WiMAX support to live up to Intel's 2005 hype about metropolitan-wide broadband service,

Built-in GPS would be gravy for us frequent travelers.
Steve?
---
The AMD Phenom Is Finally Here!
MAY 4 2008
After months of waiting, the quad-core 2.4 GHz AMD Phenom 9750 processor has arrived. I am currently building a Phenom system similar to my existing quad-core Core 2 machine and should have benchmarks and comments posted... UPDATE JUNE 13: Review is now posted here.
Also, Gemulator 9 Beta 4 with SoftMac 9 Beta 4 is now posted. Thank you everybody who has been submitting bug reports and benchmark results. Keep doing it!
---
The Gemulator Demo! Now finally, see how to run your Atari ST software on MS-DOS and Windows 3.1
APRIL 1 2008
Sixteen years in the making, I am pleased to announce today the YouTube premiere of the Gemulator Demonstration Video (split into three parts), demonstrating the world's first Atari ST emulator for MS-DOS and Windows 3.1:
Part 1:
http://www.youtube.com/watch?v=UNOw3eyBygw
Part 2:
http://www.youtube.com/watch?v=RxZOAc5UI1w
Part 3:
http://www.youtube.com/watch?v=tuG8I6epKug
---
The $2500 $100 $400 laptop showdown
FEBRUARY 28 2008
Just weeks after the One Laptop Per Child organization made the XO notebook available to the public, weeks after Apple's flawed premise of the wide but thin Macbook Air notebooks, motherboard manufacturer ASUS has struck back with its own entry for the light mobile wireless notebook market. The race for the "$100 laptop" seems to be on in full force, although as of now, February 2008, consumers are really facing the price tag of about four times that.
The ASUS EEE PC (http://en.wikipedia.org/wiki/ASUS_Eee) is an Intel Pentium M based response to the AMD Geode based XO and is in many ways comparable in looks and features for recent Sony VAIO laptops costing well over $2000. The OLPC people claim that the manufacturing costs of their machine is somewhere around $170 or $180, and that their "buy one get one" campaign is thus pretty much a non-profit venture. ASUS of course is a for-profit business, but it actually does surprise me that they unit comes in at a whopping $400 price tag given that ASUS has the advantage of manufacturing some of their own parts.
Still, in many ways, these $400 notebooks fill many of the needs of casual web surfers and even business professionals, by providing a compact and light Internet and email capable machine. Of course there are drawbacks to slashing the features of a $2500 Sony VAIO notebook down to $400. I discussed the XO in December in this blog posting (http://www.emulators.com/docs/nx13_olpc.htm), now let us look at the EEE.
Unlike the 30 to 90 waiting period for delivery of the XO (I am still waiting for my second unit which I ordered on December 31st), the ASUS EEE is available on Amazon.com and literally ships and arrives in about 4 days. The Unit I ordered is the $399.99 ASUS EEE PC 4GB model, which comes with 4 gigabytes of flash drive pre-installed, 512 megabytes of RAM, an "Intel Mobile" CPU which is actually a 900 MHz Pentium M derived Celeron, built-in Atheros AR5007 802.11g wi-fi with WEP and WPA support, three USB ports, a standard 15-pin VGA video port, a standard Ethernet port, built-in webcam and microphone, and a pre-loaded Linux operating system.
Click on the thumbnails below to see larger photos of the EEE and other laptops..

From left to right - Sony VAIO T-series, Sony VAIO U750P, the ASUS EEE 4GB, and the OLPC XO laptop.

Relative notebook desk footprint, clockwise from rear left - AST 386SX, ASUS EEE, Apple Macbook, OLPC XO, Sony VAIO U750P (on top of CD-ROM drive, Sony VAIO T-series.
In case you are wondering, I put the AST 386SX on the table to show how since 1991 very little has changed in terms of the actual footprint of a notebook computer. Yes, the AST is much thicker and much heavier, but the form factor is really not that different than what we have now in 2008.
Just as with XO, when the EEE showed up in the mail I thought the shipping container was too small. I guess I am used to those giant Dell boxes, because I looked at the EEE's box and thought "there is a laptop in there?". Sure enough, the EEE was tucked in there, and is even smaller than I expected. Sitting on top of the Apple Macbook, it is literally half the size. If you chopped the Macbook in half, that is how big the EEE is.
Put sideways, you can see the relative thickness of the EEE, the XO, and a black Macbook; very similar. All three machines offer at least two USB ports, with the Macbook adding an IEEE 1394 Firewire port and the XO and EEE instead going with a third USB port.

Stacked top to bottom - ASUS EEE, OLPC XO, Apple Macbook. I can see where green is a bit dorky.
My first, and really the one big glaring criticism of the EEE, is that they went cheap on the screen. The keyboard on the other hand is just beautiful. It is infinitely better than the XO's membrane keyboard, and feels more like a Dell or a Mac notebook keyboard. But then you look at the screen and bring up a common web site and it is quite obvious that the size and resolution of the EEE's LCD panel is terrible. Any smaller and the EEE would be next to useless. Even the high resolution display of the Apple iPhone (not shown) renders more of the web page than the EEE, and at least the iPhone has a very easy-to-use dynamic zoom feature.

Side-by-side - the ASUS EEE and OLPC XO, with the Sony VAIO U750P for reference.
As far as being used as a business subnotebook, the ASUS EEE is better equipped than the XO, having a better keyboard, and standard VGA and Ethernet connectors to connect to at a desk, which I would recommend in place of using the tiny built-in screen. One little design factor that caused me to almost drop the machine a few times, the screen half is almost as heavy as the keyboard half. If you hold it in your hand it sometimes feels like it is about to flip backward and fall out.
The preloaded software is quite extensive, featuring the obligatory FireFox 2.0 web browser as well as the full OpenOffice 2.0 suite of word processor, spreadsheet, and PowerPoint clones, and the Adobe Acrobat 7.0 Reader. This machine is ready to hit the ground running as soon as you take it out of the box. It is also preloaded with wide variety of "fun" software, including Bill Kendrick's excellent TuxPaint, the obligatory Solitare clone, a Sudoki game, and even a Periodic Table applet.

Pre-installed productity software

OpenOffice 2.0 spreadsheet

TuxPaint

Periodic Table application
The small screen becomes an issue with some of the built-in software, which was clearly designed for a higher resolution screen. The built-in Planetarium software has dialog boxes that are too large for the default screen. When I first launched Planetarium, I did not realize that there was a Next button waiting for be pressed. Only when I clued in to that and remembered the trick of holding the Alt key to drag the dialog box up did I see the remainder of the dialog box: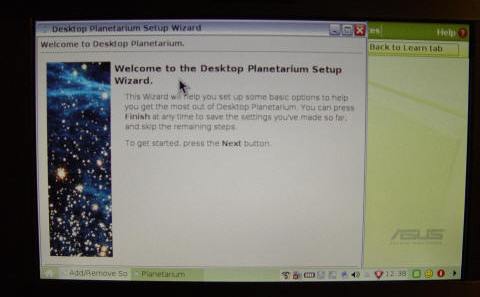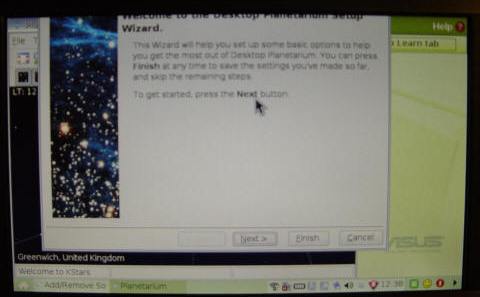 The best thing about the ASUS EEE is the boot time. From the time you press the Power button until the Linux desktop is booted up and ready to go is about 20 to 25 seconds. This is many times faster than how long the OLPC XO takes to boot up, and is about twice to three times faster than booting Windows XP on a typical laptop. This shows off the nice thing about flash-based hard disks - software boots much faster than from traditional mechanical notebook hard drives.
And this brings me to the final point where the ASUS EEE has a tremendous advantage over the XO - running other operating systems. The larger (4 gigabyte vs. 1 gigabyte) flash drive of the EEE makes in theory possible to either dual boot, run in a virtual machine, or simply reformat and re-install something like Windows XP.
Actually, there is one other option to insta...
Holy #*$%! Windows!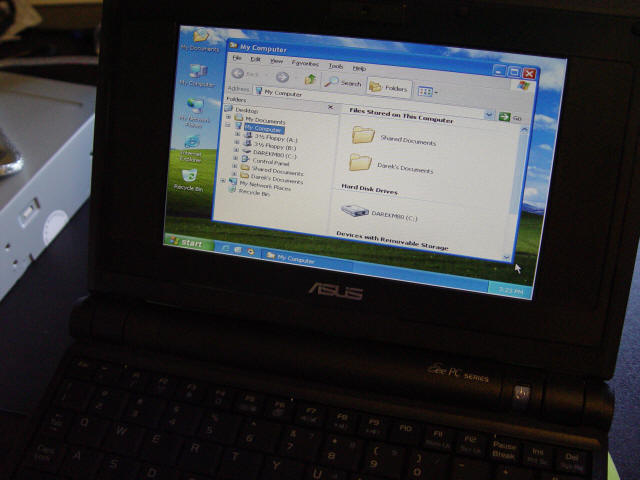 Ok, I am being a little overdramatic, but keep in mind several recent laptops do not run Windows by default or without repartitioning or using emulation/virtualization. I was not sure exactly how "PC compatible" the EEE was, so I tried a little experiment I try on other laptops. To my delight in just a few minutes I was up and running various Windows programs on the EEE without so much as any reformatting of the hard disk or installation of anything to the built-in flash drive. What I did is a fairly easy and common trick, but one which does not "just work" with say, an Apple Macbook straight out of the box or with the OLPC XO.
The trick is to know that similar to a Linux "Live" distribution which boots the Linux operating system directly from a USB thumbdrive or CD-ROM drive, Windows XP and Windows Vista can similarly boot limited functionality from CD-ROM. There are web site which describe how to create what is called a "Windows PE boot disk" (or just "WinPE"), which stands for Windows Pre-installation Environment. Think of it as an old DOS Emergency Boot Disk, except for Windows.
The Windows Vista setup DVD is in fact also a WinPE boot disk! What you need to do first is hook up an external CD/DVD drive to the laptop. I myself don't bother with the expensive $100 external drives. Instead what I do is take a basic 25 dollar DVD-ROM drive, use a very handy USB IDE/SATA adapter (these are available from most computer stores for about 20 dollars), and hook that up. I use this adapter to connect desktop hard disks through the USB port without messing with external cases and such. Now, insert a Windows Vista setup DVD, and power up! Click on these two thumbnails to see the external USB IDE adapter hooked up to the DVD-ROM drive, and the Vista setup screen:

ASUS EEE PC connected through a USB adapter to a basic DVD-ROM drive.

ASUS EEE at the Windows Vista setup screen.
At the main setup screen, click on Next, then select the repair options. One of the icons you will be presented with is for Command Prompt. Click that. You are now running a Windows command prompt shell, compete with TCP/IP network access, mouse, and GDI graphics support. DirectX and the Window Explorer shell are not available in this mode, but that's fine.
At this point I did some basis tests and realized that the 4-gigabyte flash drive in the EEE is formatted into both Linux partitions, and an MS-DOS FAT C: partition. In fact, it is via the FAT partition that the EEE updates its own BIOS (I noticed the BIOS file on the C: drive). If you have a home network, at this point you can easily to your other PCs and either run Windows applications directly over the network, copy them to the tiny C: drive, or as I did, run them from an external USB flash drive. I prefer the Cruzer brand of 4GB thumbdrive as it allows me to store a complete Windows XP virtual machine state, but really you could even use an Apple iPod as an external USB hard disk.
Within minutes of hooking up the DVD drive to the ASUS, and plugging in my Cruzer thumbdrive, I was up and running my own Gemulator 2008 emulator, as you can see here, both in Atari ST mode and in Atari 800XL running the built-in Atari self-test.

Atari 800XL self-test running on the Gemulator 2008 emulator on the ASUS EEE.

The Gemulator 2008 main virtual machine selector dialog. Notice the external 4GB thumbdrive from which this is running.

Atari ST emulation running the Quick Index benchmark program on the ASUS EEE.
And then of course the big test - would the Windows version of Bochs run and boot up Windows XP itself? Of course! You already saw the picture above. It boots Windows XP under Bochs in about 10 minutes, slightly slower than on my Pentium III desktop machine, but that is just a challenge to optimize.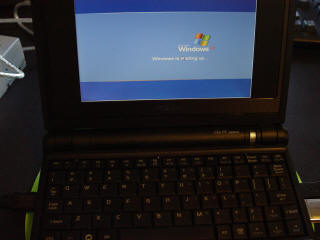 In summary, I was almost going to give the ASUS EEE a "don't buy" rating because of its rather small and limited screen. But the real PC compatibility and ability to run Linux, Windows, and off-the-shelf applications is a huge bonus over the OLPC XO. The external VGA port saves this machine since it allows it to be docked to a larger monitor for business purposes.
And again other that screen size and resolution, the $400 ASUS PC is almost at par with comparable Sony VAIO laptops costing upwards of 2000 dollars. If this thing devoted slightly more space to the LCD panel, and used a higher resolution LCD to achieve the standard 1280x800 laptop screen resolution, this could be a Dell killer. Apple needs to take note, and as I suggested over three years ago, shrink the Macbook.
---
Beta 2 is ready
NOVEMBER 2 2007
As you probably noticed on your way into the site today, I've posted the Beta 2 releases of Gemulator 2008 and SoftMac 2008. These have been tested on 32-bit Windows Vista, 64-bit Windows Vista, 32-bit Windows XP, Windows Millennium, as well as running directly on Mac OS X using the CrossOver 6 utility (which I have to say is a very cool and clever way to run Windows application directly on Mac OS X without using a full virtual machine).
Not that I did anything special, but I am happy to say that Atari ST emulation in Gemulator 2008 now runs with version 0.82 of the EmuTOS free Atari ST open source alternative to Atari's TOS ROM. You must use either the 192K Atari ST image of EmuTOS, or the 256K Atari STE image. The 512K Atari TT image is not support yet.
---
"Son of Pentium 4" - a look at the security holes in today's personal computers
SEPT 7 2007
I've mostly left Intel and AMD alone since doing the Pentium 4: In Depth series a few years ago in which exposed flaws about the Intel Pentium 4 microprocessor. With the mistakes of the Pentium 4 behind us, 2005 and 2006 have been promising years in the personal computer world. Apple switching to 64-bit x86 processors, AMD and Intel both jumping into the multi-core race, the future could be bright. So of course count on Darek to point out the storm clouds on the horizon! Beginning this week, I will be posting a weekly series of blogs called NO EXECUTE! discussing the myths and the future of the personal computer and my plans to improve it using emulation.
---
The HP version of the poor man's Mac Pro
SEPT 7 2007
It's not as sexy or fast, but while shopping at Fry's Electronics yesterday to help a friend pick out a new Windows Vista computer, I found a neat deal in the sea of PCs. Hewlett Packard has a 2.4 GHz quad-core Core 2 Q6600 based Windows Vista machine available called the "HP Pavilion A6152N" (oh, so not sexy a name!). What the HP does have going for it is a rather attractive price of around $900 U.S., a fraction of the comparably priced Mac Pro. The major sacrifice I found with the machine is the use of an on-board nVidia chipset which limits the Windows Vista graphics performance rating to 3.3. This is sufficient for running the Media Center and Aero Glass interfaces, but probably worth a $99 upgrade to a PCI-Express nVidia 7000 series DirectX 9 card.
The HP comes preconfigured with 3GB of RAM (not 4GB, since the 32-bit Windows Vista Home Premium as Windows XP before it cannot use an entire 4 gigabytes of RAM anyway), a 400GB hard disk, gigabit Ethernet, 6 USB ports, and 2 Firewire ports. This is a good inexpensive quad-core starter machine which can easily be upgraded with a real video card. My first recommendation would be to wipe the 32-bit Vista and either upgrade the machine to 64-bit Windows Vista in order to then make use of additional RAM, or to put on a 64-bit distribution of Linux.
---
VMware Fusion saves my vacation, gets closer to final release, and is a steal at $39.99
JULY 17 2007
What a delightful month it's been. I spent the latter part of June and early July traveling across Europe attending various rock concerts. Starting with the oddly named Graspop Music Meeting in Belgium, I was treated to back-to-back days of Iron Maiden, Korn, Slayer, Ozzy, Chris Cornell, Mastodon, Static X, and other metal legends. I first saw Iron Maiden live more than 20 years ago and they better than ever today and easily one of the best live metal bands. Three days of rain and sleep deprivation in Belgium was followed by a crazy 4-day drive (involving three separate rental cars) to Bilbao Spain to see the return of Metallica to the stage at BBK Live. For those of you whose missed their "Sick Of The Studio 2007" tour, you can download MP3 files of these concerts at livemetallica.com, for small free of course. Then another rental car and another mad dash across the continent at speeds exceeding 200 km/h to catch Queens Of The Stone Age in Berlin Germany.
It could have been a disaster. I've been to Europe many times but generally have not rented a car or driven thousands of kilometers on routes I was not familiar with. I ended up getting lost a lot, especially trying to navigate the streets of Paris and Barcelona, and working my way out of traffic jams in the middle of nowhere where there was no wi-fi Internet service to be found. Fortunately I had with me my Core 2 based Apple Macbook loaded up with Mac OS X, VMware Fusion, a Windows Vista virtual machine, mapping software, and a USB GPS receiver. Running VMware's new product, I was able to almost flawlessly use the Windows based GPS software to find my position and plan routes on the fly while driving.
I was very impressed with the performance of VMware Fusion, as my Macbook only has 1 gigabyte of RAM which has to suffice to run both Mac OS X and then the Windows Vista virtual machine on top of it. I configured the Windows Vista virtual machine to use only 400 megabytes of physical memory, which on a real PC would be insane, but which on the virtual machine ran surprisingly smoothly.
It is good news to now see that VMware has just updated their VMware Fusion beta site and is now offering for download a "release candidate" build of VMware Fusion 1.0, and taking pre-orders for a final August 2007 release of the 1.0 product.
This is my opinion terrific news for us Macintosh users. I've downloaded the release candidate and have been using it for the past few days and find it to be as smooth and reliable as the previous beta. A few small glitches such as stray mouse cursors are fixed, and Windows Vista continues to run well in only 400 megabytes of RAM.
I cannot stress enough how much of a better product the VMware Fusion beta and release candidate are over the over-hyped product offered by Parallels. It is like night and day, and for the introductory price of $39.95, I urge all Intel-based Mac users to pre-order their copy of VMware Fusion.
Unlike Parallels, or Apple's own Boot Camp boot software, VMware's product has some unique advantages. Besides being the only free virtual machine software that I've seen to support both dual-core and 64-bit virtual machines, there is a huge bonus for people running 64-bit guest operating systems such as 64-bit Windows Vista. The VMware virtual machine maps the Mac's network connection to the virtual machine as a standard network card, allowing any emulated OS, whether 32-bit or 64-bit, to take advantage of the Macbook's built-in 802.11n wireless networking. This is a real deal breaker with Boot Camp, as Apple has only released wireless network drivers for 32-bit Windows but not for 64-bit Windows.
If VMware Fusion proves to be popular, this could be yet another of many colossal Microsoft marketing blunders, which last year chose to discontinue its Virtual PC For Mac software. Parallels tried to fill that void with a rather disappointing product. VMware has not only matched Virtual PC For Mac but exceeded my expectations by pushing 64-bit multi-core support.
---
New 64-bit release of Yellow Dog Linux for Playstation 3
JULY 17 2007
One more piece of good news this month. With the recent price cut of the Sony Playstation 3 to $499 here in the United States, I purchased one with the intent of installing Linux and experimenting with possibly porting some of my emulators to the Playstation. I've read on various web sites that Linux is quite easy to install on the PS/3, yet I had no luck installing either Ubuntu 7.04 or Debian. I could get the respective boot CDs to boot up into a desktop, but have had mysterious failures getting either FireFox to boot up or the installers to work.
A friend suggested I try Yellow Dog Linux from Terrasoft. Downloading the latest July 11 5.02 release I burned myself a boot DVD a few days ago and installed Yellow Dog on the Playstation 3 the first time. Now I'm reading my email and surfing the web through Firefox on my 60-inch living room Sony flat screen. I will certainly consider trying to port SoftMac and booting Mac OS on it next!
Yellow Dog seems to be a hard distribution to actually track down. Terrasoft doesn't seem to make the ISO files available on their web site. I did finally run across this list of Yellow Dog download mirror sites.
Out of curiosity, if you currently own a Playstation 3 and have tried running Linux on it, give me a shout by email and tell me about your experience.
---
Beyond running old video games - Rebooting emulation for the coming 64-bit multi-core era
JUNE 18 2007
And interesting thing happened to me over the past two years. Intel, Apple, and VMware have completely exceeded my expectations with their respective product releases. Which in turn has gotten me giddy and excited about emulation again. The Intel Core 2 processor is the dream emulation processor I've been waiting for (since the discontinuation of the Pentium III and its replacement by the you know what chip). Apple's switch to x86 - and specifically to the Core 2 and skipping the whole you know what chip altogether - proves what I've said all along about the use of mainstream PC hardware and emulation technology to run legacy Mac software on. Finally, VMware's recent entry into the Mac OS market with its VMware Fusion emulator is excellent news for us virtual machine fans, as I have found it to be far superiour to the much hyped but highly disappointing Parallels software. VMware's Fusion product already emulates a dual-core 64-bit processor capable of running 64-bit Windows Vista and 64-bit Linux. That is freakin' amazing!
In fact, my Macintosh machines are my main development machines now. Using a combination of VMware's Fusion emulator and Apple's Boot Camp tools, I do all my development now on a Mac Pro desktop, an iMac, and a Macbook laptop, running a combination of Mac OS X 10.4, Mac OS X 10.5 "Leopard" beta, Windows XP, 64-bit Windows Vista, Ubuntu Linux, and Fedora Linux.
But the world of emulation and virtual machines is still very far away from the goal I set out on 21 years ago when I wrote my first Apple II emulator in college to run on my new Atari ST. Over the years I've worked to add Atari 800, Atari ST, and Apple Macintosh emulation, but am still far from the goal of emulating every Atari and Macintosh model. And in the past, optimizing an emulator's speed has often meant sacrificing portability or compatibility for the sake of speed. For example, for 21 years now I've been programming my emulators almost entirely in 68000, 8086, or 32-bit x86 assembly languages. It's made for some very small, fast, and efficient emulators, but hardly ones that I can easily port to other platforms such as Mac OS.
Most other emulators offer the same tradeoffs, generally going the route of being written in a higher level language such as C or C++ for portability, at the expense of speed. In the past, C and C++ compilers didn't produce as optimized code, and past processors, most notably the you know what chip (ok, I'll say it once: the Pentium 4), had characteristics that penalized exactly the kind of machine language instructions and code that virtual machines generally need - indirect jumps, branch prediction, shifts and rotates, and memory latency.
A well known open source Macintosh emulator which has been ported to many platforms is PearPC, which boots several versions of Mac OS X. But in exchange for that portability it runs at a glacial 500-fold slowdown compared to the PowerPC chip that it is simulating. Another well known open source PC emulator, Bochs, similarly runs at orders of magnitude slowdown.
Worse, when AMD and Intel released 64-bit versions of their respective Athlon and Pentium 4 processors, some key machine language instructions (geek time: LAHF and SAHF) were dropped from 64-bit mode, rendering many common emulation techniques for emulating CPU arithmetic flags useless. So the promise of 64-bit computing originally fell flat on its face as far as emulation was concerned.
But something amazing happened last year with the release of the Intel Core Duo and Intel Core 2 processors. LAHF and SAHF were added back to 64-bit mode. The cost of shift operations dropped down to one clock cycle again. Memory latency decreased as on-chip L2 cache sizes skyrocketed up to 4 megabytes. Branch prediction and indirect jump latency dropped dramatically. In fact, this is the biggest shocker of the Core 2: with it's wider execution pipeline and shorter branch latencies, the Core 2 executes high level C and C++ code almost as efficiently as hand coded assembly language code. The need for hand optimizing code is greatly reduced now.
As I stated last year, at the same 2.0 to 3.0 GHz clock speeds, the Core 2 processor literally runs almost any existing 32-bit code a full two to three times faster than the Pentium 4. When tuned for the Core 2, code can run even 4 times faster, at exactly the same clock speed on systems using the same RAM and hard disks and video cards as Pentium 4 systems sold just one year ago.
Stated another way, the performance of emulation products such as SoftMac has sped up by a factor of four in just the past year. And having studied the Core 2 processor for almost a year now, I've concluded that the chip still has a lot more headroom to offer which most emulators (including my own) don't yet exploit. For example, with 64-bit pointers, a whole new universe of code optimization tricks opens up. SSE3, SSSE3, and upcoming SSE4 instructions offer new way to process data faster. And with Apple now making 8-core Mac Pro desktop computers the norm, has anybody truly written an emulator that use multiple CPU cores to accelerate simulation? To the point of possible delivering "faster than real-time" emulation of single core processors? That is a fascinating problem to tackle!
I applaud Intel for listening to my gripes over the years and the gripes of others, and finally releasing a CPU architecture that is inexpensive by previous standards, power efficient, and ridiculously faster than any previous x86 architecture from Intel, AMD, or anybody else.
It is thus with great delight that I am diving back into the development of Apple Macintosh emulators full time. In fact, I am going to revisit the whole line of Atari and Macintosh emulators and consider porting them not just to 64-bit mode, but also to rewrite them in a higher level language in order to make easier ports to Linux and Mac OS X platforms.
The possibilities in the world of emulation and virtual machines have exploded wide open thanks to the Core 2's design. No longer do emulators need to be thought of as "nice but slow" technology. It is my belief that we are just seeing the useful applications of emulators, simulators, and virtual machines. The goal of "run any software from any operating system on the same computer" is getting nearer.
I'll have more to comment on this in the coming months. Stay tuned for Core 2 optimized beta release of SoftMac 9.0 and Gemulator 9.0 later this summer.
---
Pictured: time to finally retire the old hardware!

Although I've nursed them along for years, this September I finally decided to decommission a number of my old single- and dual-processor Pentium III, Athlon MP, Athlon 64, and Pentium 4 Xeon systems. Goodbye Dell Precision 530 workstation, goodbye 2.0 GHz Athlon64, goodbye dual 1.0 GHz Pentium III. The new Core Duo based iMac and the quad-core Core 2 based Mac Pro put these machines to shame. Click below for more details:

Latest Core and Core 2 benchmarks for SoftMac

Core 2: Dell Dimension 9200 vs. Apple Mac Pro

Intel's Core 2 obliterates speed records

NOVEMBER 13 2006

In late July, Intel announced the long awaited "Conroe" processor, known officially as the Core 2. Only 6 months following the release of the Core processor, the Core 2 adds the missing 64-bit instruction support missing in the Core which puts the Core 2 at instruction parity to the Pentium 4, adds new instructions in the form of the SSSE3 multimedia extensions, and is said to be even faster than the Core.

Besides waiting for Vista to be done, I wanted to get several months of hands on experience with Core 2 before posting anything about it, and following the arrival of my new Mac Pro desktop and a Dell Dimension 9200 desktop, I am blown away and have the results!

What I am VERY VERY VERY pleased to say is that the Core 2 lives up to all expectations and then some. Unlike my disappointing initial reaction to the Pentium 4 release back in late 2000, Intel really has gone back to the drawing board and not only equaled its old Pentium III and the AMD Athlon architectures, but for the most past surpassed them.

After running numerous tests, I can unequivocally say that at about same 2.0 to 2.66 GHz clock speeds that I ran the tests at, the Core 2 processor outperforms the Pentium 4 architecture by a factor of 2 to 3. You read it right, 2 to 3 times faster. In other words, if there was such a thing as a 6 GHz Pentium 4, the Core 2 delivers that speed.

And that's just on single threaded software. With Apple's recent decision to make 4 cores the standard entry-level configuration on its Mac Pro desktops, future software promises to deliver many more times the performance of today's Pentium III and Pentium 4 optimized code.

The future is again looking bright.
---
Switch to Vista, and maybe just buy a Mac Pro
NOVEMBER 13 2006
A few weeks ago I took the plunge and installed the Windows Vista Release Candidate 1 on most of my home computers - on the Mac Pro, on the iMac, on the Dell notebook, on the Dell Precision Workstation, the Sony VAIO notebooks, and even some old Pentium III class machines. In almost all cases, I took a live Windows XP installation and did an in-place upgrade to Windows Vista Ultimate. On some of the machines (such as the Mac Pro) where I had multiple hard drives installed, I did a clean install to a separate disk drive.
The picture below says it all. The big 30-inch screen is actually the Mac Pro running Vista natively through Boot Camp 1.1. I took the stock 2.66 GHz Mac Pro which came pre-installed with Mac OS X 10.4 and dropped three additional SATA disk drives (including one of the new 750 GB Seagate drives, $379 at Fry's, s-w-e-e-t!) onto which I installed Mac OS X 10.5 beta, Windows XP SP2, and 32-bit Windows Vista Ultimate RC1 respectively.
Vista runs BEAUTIFULLY on the Mac Pro right out of the box. After futzing with the XP hack for the iMac back in February, and then with Boot Camp 1.0 on both my iMac and a MacBook Pro, I didn't expect things to go smoothly. Windows XP as expected, didn't find all the device drivers automatically and needed drivers from the Boot Camp CD. Also, Windows XP switches off hard disk DMA on the Mac Pro, which leads to both performance issues and fan noise issues due to the heat generated by running hard disks in PIO polling mode, burning a lot of CPU cycles. Vista however "just worked". Hard disk automatically configured in DMA mode. The nVidia 7300GT video card configured nicely on both monitors (the second monitor, a 20-inch Dell widescreen is just to the left of the screen) in the "Aero Glass" mode. Of all the machines I've put Vista on this year so far, it was the least painful experience. I've got four operating systems on this Mac Pro and am able to nicely QUAD-BOOT between Mac OS X 10.4, Mac OS X 10.5, Windows XP, and Windows Vista. And Vista runs better than XP on it.
Having gutted half a dozen of my PCs this summer, the Mac Pro has now become my main desktop PC. I would highly recommend it to anyone for running Windows Vista on. As I do the 20-inch iMac. I have not yet broken down and purchased the new Core 2 based 24-inch iMac or the new Core 2 based MacBooks, but soon!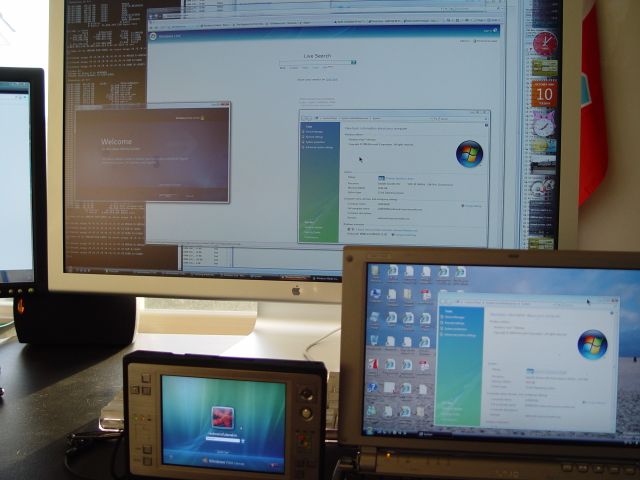 What really blew my mind, because I was almost 100% sure it wasn't going to work, is that my tiny little Sony VAIO U750, yes the same little Windows XP computer I've shown here in the past, upgraded from Windows XP to Vista Ultimate RC1 in one shot. You can see it in the picture above. It is almost dwarfed by the 30-inch Apple monitor, even dwarfed by its fellow Sony VAIO next to it. But it runs Vista and I actually use it at Starbucks to surf the web.
Here was the situation: Vista needs at least 512 megabytes of RAM and a decent Pentium III class processor. Both my Sony VAIO machines (the U750 and the T-series one next to it) come with 512 megabytes of shared RAM, some of which is allocated for video buffer usage. Both come with 1.1 GHz Pentium M processors which slow down to 600 MHz in battery mode. And the U750 comes with an 800x600 SVGA display, the minimum for running Vista. And here is the big one: Vista Ultimate edition needs about a good 11 gigabytes of free disk space on the boot partition in order to successfully upgrade. The Sony VAIO U750 comes with a 20 gigabyte hard disk, which is partitioned down to about a 15 gigabyte C: drive. Of that 15 gigabytes, 0.5 gigabytes is lost to the hibernation file, another 1.5 gigabytes is lost to the Windows XP swap file, and most of the rest was lost to Windows XP itself, to Office 2003, to SoftMac and Mac OS 8.1, and other applications I had installed on it. I had about 6 gigabytes free. No go.
If you're in a similar situation and have an older notebook computer that just meets the hardware specs but doesn't have enough free disk space, you can do one of these things, both of which I've now done with both Sony VAIO machines:
Upgrade with just enough room to spare - I was able to turn off hibernation (type "POWERCFG -h off" at a command prompt), size the swap file down to 768 megabytes, and uninstall Office 2003, delete the Mac OS 8.1 disk images, and clean off all the temporary files and internet cache using the Disk Cleanup tool. I was able to squeeze out just a tad over 11 gigabytes free out of the C: drive. Just enough to connect the VAIO U750 to another computer's shared out DVD drive, and type "SETUP /unattend" at the command prompt to kick off the Windows Vista upgrade process. My little Sony VAIO upgraded to Vista on the first try. Once the upgrade is complete, run Disk Cleanup again to remove the temporary upgrade files, play the swap file / hibernation file trick again, and almost 11 gigabytes will remain. On a 15 gigabyte C: drive you can upgrade from XP to Vista once. Vista's slightly larger disk footprint will likely prevent you from doing it again as happened to me. I upgraded both Sony VAIO machines to Vista RC1 once, but then got stuck when I wanted to upgrade to Vista RTM.

Clean install Vista - When you can't free up 11 gigabytes of free disk space, you will need to do a clean install. On a typical notebook such as the Sony VAIO T-series, that's easy, because there is a built-in DVD drive. On the Sony VAIO U750, not quite as easy, since the machine doesn't even have a keyboard let alone an optical drive! The trick was to dock the U750 to its port replicator, plug in an Ethernet cable and USB keyboard, boot the machine from the network, and do a clean install of Vista from the network.
Anyway, back to the Mac Pro as the ultimate Windows Vista machine, read on...
---
Core 2 desktop shootout: Dell Dimension 9200 vs. Apple Mac Pro
NOVEMBER 13 2006
Intel announced the Core 2 and Dell announced new Core 2 computers on Thursday July 27, the day I was waiting for all summer. At 10am, I was on Dell's dell.com web site ordering a system. Most Dell models based on Pentium 4 were upgraded to new Core 2 based models. The Dell Precision Workstation 470 and 670 models for example were replaced by new 490 and 690 models. The Dell Dimension 9100 home computer was replaced by the Dell Dimension 9200. I decided to repeat what I did 6 years ago at the Pentium 4 launch, and bite by ordering one of the new machines on the launch day of the new processor. After all, that's what their marketing people want you to do!
I priced out a very nice sounding system at just about $2000 ($1985 or so actually) consisting of the 2.66 GHz Core 2 dual-core processor, 2 gigabytes of dual-channel RAM, 500 gigabyte SATA hard disk, a sweet nVidia 7300GT PCIe card capable of driving my 30-inch Apple monitor, and the obligatory DVD burner and gigabit Ethernet and such. Considering the Pentium 4 systems cost over $4000 on launch day in November 2000, and considering the huge increase in processoing power, graphics power, and disk capacity since 2000, this was a sweet sounding deal.
I received the confirmation email from Dell thanking me for my order, which they estimated to arrive in about 6 week, or early September. September?!?!?!? Yes, apparently despite all the talk of Dell's efficient just-in-time manufacturing process, they still take an awfully long time to deliver a computer to you. The machine did actually arrive just before Labour Day weekend after about a 5 week wait.
Meanwhile, a few days later Apple announced their switch from the PowerPC G5 in their desktop machines to the Core 2. But they surprised the world by going not only to Core 2, but by putting in _two_ Core 2 processors standard. The Mac Pro was to enter the world with a minimum configuration of four CPU cores. A very ballsy move I have to say, given that most PCs out there today are single-core and most software written today is written to be mostly single-threaded to run on single-core computers. The bar is raised. The era of single-threaded applications running on single-core PCs is over.
Apple's Mac Pro configured with a similar 2.66 GHz Core 2 Xeon processor, 2 gigabytes of quad-channel RAM, 500 gigabyte SATA hard disk, and nVidia 7300GT PCIe card came out to $2999. 50% more than the Dell Dimension 9200, but the price difference was almost entirely due to the extra Xeon processor. Unlike old times, Apple hardware really has no "Apple tax" any more. The Mac Pro as well as the MacBook and the iMac, component for component, are very reasonably priced. They are PCs and they compete now with the likes of Dell and HP.
How well Apple competes was made clear when I placed my order. I didn't order the Mac Pro until Friday August 18th. It arrived on my doorstep 3 business days later, on Wednesday August 23rd. The Dell 9200 was still more than a week away from delivery! Apple not only delivered my Mac Pro in under a week, they had the machines on display and on sale at the local Apple Store here in Bellevue and at the local Fry's. In other words, Dell announces hardware and delivers a month later. Apple announces hardware, it's available almost immediately. Apple is learning. Dell - take notes!
I was on my brief Burning Man trip when the Dell arrived, so I didn't really get to set up both machines side-by-side to each other until Labour Day weekend.
The Dell Dimension 9200 came pre-installed with Windows XP Home Edition, so setup was a no brainer. The Mac Pro, I dropped in those three SATA drives, and did a clean install of Windows XP Pro on the third partition. The Dell beat the Mac running XP. The PIO bug on the Mac just sucked up too many cycles, and there was a slight performance advantage to the Dell. Even emulators such as SoftMac are only dual-threaded, so the extra processors on the Mac Pro didn't show up as any real performance gains in most tests. The one test it blew the doors off the Dell was compiler build process which takes advantage of the extra cores.
Things changed once I installed Vista. On the Dell I upgraded XP Home to Vista Ultimate. It worked, but there were some device driver issues. Every few minutes the machine would lock up for exactly 30 seconds. No crash, just a total system hang for 30 seconds. I have reason to believe this is due to the RAID controller in the Dell. So, no problem. The Dell Dimension 9200 has a big old "Vista Capable" sticker on it. I figured I would just go to http://support.dell.com and download the updated drivers for the 9200. The problem is, not in August, and not now in November, does Dell seem to support the 9200. The support web site only lists the old 9100 model, not the 9200. This hanging problem was a deal breaker for me. I wiped the hard disk and did a clean install of Vista RC1, same problem. Long delivery time, no online support, and the Vista hangs. I have since sold the Dell 9200 at a loss and cannot really recommend the Dell Dimension 9200 as a Windows Vista machine despite what Dell claims.
As I already mentioned, the Mac Pro just took to Vista like a wine snob at Cornucopia. It just works. And Apple doesn't even officially support running Windows on its hardware, that's the irony. Hooked up to the 30-inch Apple display with the 20-inch Dell display as a second monitor, Aero Glass renders nicely and smoothly. When using Glass, some portion of CPU time is actually spent on display updates, so it's almost necessary for Vista to have at least a dual-core or dual-processor computer. Having the 4 cores in the Mac Pro almost never maxes out the CPU capacity. Dragging windows around while having a compiler build going and virus-checking running the background, there are still plenty of CPU cycles of headroom left.
Whichever way you go - the new Macs or the new Core 2 based Dells, one thing is very obvious. The Core 2 architecture lives up to the hype. Both the Core Duo released earlier this year and the Core 2 are huge improvements over not only the Pentium 4, but even over the Pentium III and Pentium M processors which used to have the most efficient architecture.
In one particular test, there was almost a 4-fold speedup going from a dual processor Dell Precision workstation based on Pentium 4 Xeon to quad-core Mac Pro. In most tests, a 2.66 GHz Pentium 4 based system runs 2 to 3 times slower at most tests than either the Mac Pro with Vista or the Dell Dimension 9200 with XP. The SoftMac emulator in particular, which I heavily optimized in hand-coded assembly years ago to take advantage of instruction-level-parallelism (ILP) and out-of-order CPU cores, speeds up ridiculously on the Core 2. This appears to be for at least two reasons:
The Core 2 processor core can fetch and decode up to 4 instructions per clock cycle, up from the usual 3 instructions per clock cycle that was standard with Pentium III and AMD's architectures. This benefits well optimized code that is written to take advantage of ILP.

The Core 2 processor goes back to the shorter pipeline of Pentium III style architectures allowing indirect jumps and mispredicted branches to execute faster. These are exactly the kind of operations that occur frequently inside of an emulator or virtual machine such as .NET or Java. This also benefits polymorphic C++ code which takes frequent indirect jumps.
I've posted some SoftMac benchmark numbers for Core 2 but you've already seen numbers on other sites I'm sure so I'm not going to beat it to death. The think to keep in mind is that unlike the Pentium 4 performance hype of 6 years ago, the Core 2 hype is warranted. The new architecture is like a night and day difference compared to what it replaces.
---
Pictured: the new Intel Duo based Apple iMac arrives on my desk! Eddy is pleased.

Apple releases support for Windows XP on the new Macs.

Apple "gets" it! Intel re-releases a desktop Pentium III. Seattle to win Superbowl?!? Hell freezes over?

FEBRUARY 2 2006

What a difference a year makes. A year ago (scroll down a few pages), I was describing the latest Centrino-based notebook computers from Sony I had picked up on my trip to Tokyo. Sony had once again beaten Apple at making tinier, sexier, more power efficient notebooks than Apple ever had. And Intel at the time was still pushing the Pentium 4 as a desktop processor, holding back the Pentium III (oops, sorry, I mean Pentium M "Centrino") as a "mobile processor".

Not this year. 4 months ahead of the announced 666 (June 6 2006) release date of the new Macs, Intel and Apple surprised everyone it seems by delivering in time for Groundhog Day. Intel, by finally releasing a desktop Pentium III again, twin cores no less. And Apple, by beating Dell and Sony to the punch of getting them into people's hand. Like mine!

Looking at both Dell and Sony's web sites, I can't find any hint that Intel Duo based machines are actually available from them. Sure, they're taking pre-orders. But UPS already delivered my iMac. Tsk, tsk, Dell and Sony: You lose! Could this be the year that Apple finally hits 15% or even 20% market share? I think the odds are deservedly good.

I haven't really had a chance to benchmark Intel's latest dual-core wonderchip, but will soon. I can tell you one thing - the new iMac is QUIET. The hard disk head seeks are the loudest noise I hear coming out of it. That's a good sign. It means the Intel Duo lives up to the low-power high-performance tradition of the Pentium III and Centrino.

Hmmmm. If this chip is faster and as energy efficient as what powers my Sony VAIO U750 palm Windows computer, could Apple's next surprise be a tiny touch screen tablet? Dell! Sony! Chop chop!
---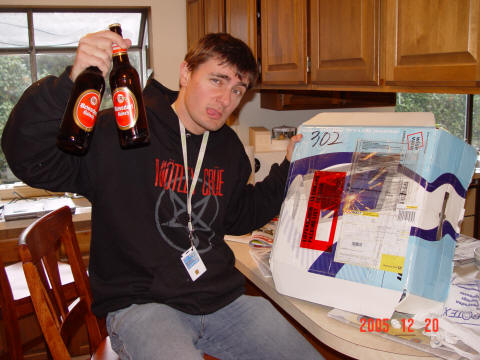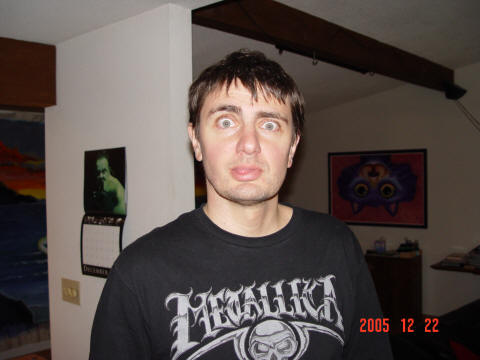 Happy New Year 2006!
---
Three recent Pentium M based notebook computers on my desk. The "old" Dell D800 Centrino on the right, with the new Sony VAIO T-series on the left, and the newest Sony VAIO U-series palm computer in the middle (which is about the size of a typical IDE hard disk or three CD jewel cases stacked on top of each other. In the second picture, a closer look at the Sony VAIO U showing it as a handy portable web browser.
Sony trumps Apple (again) with best new gadgets
JANUARY 17 2005
A few of you have been asking me "what's in the box?", referring to my Christmas Eve picture from Tokyo's Akihabara shopping district. Now that my own holiday consumer electronics show is over, the real CES is over, and another religious Macworld San Francisco love-in is over, it's time to open up the box and show you the hot new gadgets.
Tokyo's Akihabara district, or Electric City as it's known, is the geek shopper's dream where I spent my Christmas shopping dollars. And oh yeah, all three major Seattle coffee chains are in Tokyo! Photos by Jlo Beaver.
When I decided to go Christmas shopping at the world's electronics playground, I had four goals: to get my hands on the new Sony Playstation Portable (PSP), to get a new music player, and to get a new small digital camera to replace my large Sony F717, and to replace my ageing (and unfortunately dead) Sony VAIO Picturebook notebook which bought back in 2000.
First, the camera. My trusty Sony F717 has been a great 5 megapixel camera for the past few years. But it's a little on the large size and has some features that aren't necessarily required for typical daytime photos. And it was bulky to carry around Tokyo. My Nokia cell phone has a built-in 1/2 megapixel camera but the quality is a little weak even for web photos. What I needed was something in the middle, 2 or 3 megapixels I can tuck away in my pocket, or even my wallet.
Japan has no shortage of digital cameras to offer. I looked at literally dozens of models in several different stores and then came upon the Panasonic D-snap. While the models sold in the U.S. (including the one I just linked to) are mere 2 megapixel models selling for $250, in Japan they are 3.2 megapixel models selling for about $300. A better picture at almost the same price.
The D-snap is a neat little camera that is barely bigger than a credit card, 9 millimeters thick, has a swivel lens that allows it to double as a USB webcam, and a tiny flash. It also features a headphone jack and built-in capability to play MP3 files, so an added bonus I had found my new music player as well. With 512MB flash ROM I was out about $400 total, and a had great little camera for the rest of the trip. The photos below (which lack the timestamp that the Sony pictures have) are mostly all taken with the D-snap. You can click on the thumbnails to see the full 3 megapixel picture.

The Playstation Portable, well, that was just a futile effort. I got to see one on display if that counts. But otherwise they were sold out. Period. I tried bribing, begging, offering my body, nothing. No PSP in my hands yet. You can click on the thumbnail below to see a close up of a few of them in action. I'll just have to wait until Sony releases them here in North America. Or if somebody wants to bribe me with one, I'll trade 10 unopened packages of Mac OS 8.1 for it. Bribe me soon, because obviously once they become available here I won't be interested in your bribe.

The final item on my Christmas wish list was to get a new Sony VAIO. My old Picturebook was a great computer for its time, almost 5 years ago, but perhaps with the arrival of Dell Centrino machines about two years ago it decided to die on me. First the hard drive died, and then when I took the machine apart to replace the hard drive, I realized I had no clue as to how I would even put it back together again. I've missed using the VAIO, since my Dell D800 is rather bulky and heavy. At 7+ pounds and with a 15 inch screen, it is a great desktop replacement machine, but comes in less than ideal in tight situations like a crowded Starbucks, on a plane, or a motorcycle (where it too large to fit even in most saddlebags). My old VAIO used to fit into my jacket pocket, and that's what I look for.
I was also looking to find a notebook that used the latest Centrino technology, which mean using the new Intel Pentium M "Dothan" processor with 2 megabytes of L2 cache.
Imagine my surprise when I found not one but two suitable new Sony VAIO replacement machines. Both small enough to fit in my jacket pocket, and both based on the Dothan. One I knew about, and one just completely blew my socks off.
First the one I knew about. Sony's currently replacement for the Picturebook is roughly the Sony VAIO T-series. The model I purchased is the Sony VAIO VGN-T17GP, while here in North America it seems to be sold as the VGN-T150. They're available at Fry's Electronics now.
The model T features a 1.1 GHz Intel Pentium M Dothan processor, 512 MB of RAM, 40 gigabyte hard disk, a very very nice 1280x768 display, integrated 802.11g 54 megabit wireless, Firewire, two USB ports, Ethernet port, dial-up modem port, PCMCIA slot, and get this, a DVD+RW burner. All built in to a 3 pound notebook barely larger than the original Picturebook (which lacked built-in wireless, Ethernet, CD-ROM, and only had a 1024x480 screen). Quite the improvement for about the same $2500 price point as 5 years ago.
I'm getting about 6 hours of battery charge right now on the new battery. Compared with about 2 hours for the Picturebook, or 8 hours with the bulky "quad" battery. And by the way, the old Picturebook batteries are NOT compatible with this new model. Grrrr. That's about my only complaint, in that I'm stuck with old VAIO chargers and batteries that I can't use.
The second model is the tiny new Sony VAIO U-series handheld notebook. The one I got is the VGN-U750, although I noticed several variants with slightly different processor speed and memory configurations.
It doesn't look like much at first, you either mistake it for a Playstation Portable or one of those video medial player devices. But it's more, oh so much more. It is full blown Windows XP machine, with similar specs to the other VAIO - 1.1 GHz Pentium M Dothan processors, 512 MB of RAM, 20 gigabyte hard disk (instead of 40 gig), 802.11g wireless, USB, and an 800x600 touch-screen display. With the small charging stand / port replicator, it adds more USB ports (for mouse and keyboard), and Ethernet.
Sony should be applauded for sneaking this little wonder out onto the market last year, well in advance of much more well known vapourware such as the OQO and Paul Allen's FlipStart. Unlike these companies, or more obviously Apple, who repeatedly blow out months of hype over a less than impressive product release, Sony has for years just repeatedly surprised me with one amazing new product after another. No hype. No bullshit. Just surprises at the electronics store. Steve Jobs blew so much hot air last week about a flash ROM based MP3 player. Um, like those didn't exist before? What next, a pocket sized device that displays still photos? Wake up Steve! 5 years after the release of Sony's Picturebook, how about a portable Macintosh that truly is portable? When Mini Mac has a built-in screen, then you can start blowing more hot air.
Until then, yes, the Sony VAIO U750 functions as a portable Macintosh emulator just beautifully (click on the thumbnail for full picture):

I've never owned a pager. I've never owned a Palm, Mindspring, or other PDA. I've not own a lot of small gadgets. What I liked about my original Sony VAIO Picturebook was that for just a slightly larger form factor I could have so much more and have the equivalent of 5 or 6 gadgets in one. The current T-series certainly delivers that with it's built-in DVD playing and burning, MP3/WMA playback, wireless web surfing, nice high resolution screen, large storage capacity, and full-size keyboard.
But for when you really want something even smaller, almost as small as a gadgety cell phone, that's where the U750 kicks ass.
It took me about an hour or two of use to get used to not having a keyboard. And by the way, the U does include a very nice fold-up USB keyboard, but my goal was to go fully keyboardless.
The buttons and knobs you see do fill in most of the functionality. On the top left there you have a three button mouse. So for left click, right click, it's no problem. On the right, you have two scrolling controls. The one on the top right is essentially an 8-way cursor key. It comes in handy when you need to scroll around in a long web page (like this one, ha!). The round knob right below it is a mouse. So by using your left thumb for mouse button, and your right thumb for the mouse movement, you can comfortably hold the U750 in both hands and navigate around the screen easily.
For when you lay the unit down on a table, of when you hold it in one hand, that's where the touch-screen is handy. Using either your finger or the provided stylus, you can click and drag directly on the screen. Press the button in the far bottom right and up pops a translucent on-screen keyboard. Use that to log in, to type in a web site URL, or connect to email.
Once you get past that first hour or two of learning curve of living without a true keyboard, the U750 becomes a great on-the-go machine. Walk by any Starbucks and quickly sync up your email, check a movie time, play an MP3, watch a movie clip, send an Instant Message, etc. Using the U750 now for a few days and comparing my similar experience with my Nokia camera/web phone, let me tell you, the palm computer absolute blows away the experience you get today on a fancy color cell phone. Stick to using the cell phone for talking and pop a little Sony VAIO in your pocket for everything else.
With that booty all in the bag, it was time to leave Tokyo. One last massage and it was off to America again.

---
The Mac OS liquidation continues
SEPTEMBER 26 2004
Back in July I announced that I was liquidating several hundred copies of Mac OS that were sitting here in storage. To my surprise, many people didn't believe I was doing this, while a couple of others in Florida were continually being battered by hurricanes. Four hurricanes have hit Florida since July when I announced the liquidation, crazy! So the liquidation goes on a while longer.
To remind everyone, I've got piles of original Mac OS floppies and CDs. Some boxed and still shrink wrapped, some open. Mac OS 7.5 (floppy and CD-ROM for 68000, 68020, 68040, and PowerPC Macs), Mac OS 8.0 (floppy and CD-ROM for 68040 and PowerPC Macs), Mac OS 8.1 (CD-ROM only for 68040 and PowerPC), and a handful of Mac OS 9 and Mac OS X CDs for PowerPC-only Macs. The 7.5, 8.0, and 8.1 can also be used on most Macintosh emulators for the PC such as Fusion PC, SoftMac 2000, SoftMac XP, Basilisk II, and vMac.
Here is exactly what is left, from a few to several dozen of each:
Mac OS X 10.0 on CD-ROM, open box, only one

Mac OS X Public Beta on CD-ROM, open box, only one

Mac OS 9.2.1 on CD-ROM, open box, only one

Mac OS 9.1 on CD-ROM, open box, only one

Mac OS 9.0 on CD-ROM, open box, only one

Mac OS 8.1 on CD-ROM, boxed and shrink wrapped original box, many

Mac OS 8.0 on CD-ROM, boxed and shrink wrapped original box, includes 68040 and PowerPC boot floppies, many

Mac OS 7.5 on CD-ROM, boxed and shrink wrapped original box, includes boot floppy, many

loose Mac OS 8.0 and 8.1 open box CDs and boot floppies (tons! about 200 sets!)
Each of these Mac OS releases originally sold for about $99 retail. For you now, the disks are free. All I need is your self-addressed stamped disk mailer (for open packages) or padded envelope (for unopened boxes) and an appropriate item to trade. A bribe of sorts. So far I've received various items ranging from T-shirts, to pre-paid Starbucks cards, to one particular Starbucks mug all the way from Kobe, Japan. Keep them coming!
---
SEPTEMBER 26 2004
Ok, I will bury this Starbucks talk now and move on to what you're here for - computers!
Fry's Electronics has been running some tempting ads the past few weekends, advertising motherboard/CPU combo specials for $229, $109, even $49.95. So I bit and bought all three combos and three new Antec piano black computer cases. Here is what i found.
First, the three mobo/CPU combos are all worth it. Combo #1 is a $49.95 (or $59.95, depending on the day) "AMD Sempron 2200" deal. I put Sempron in quotes because for all intents and purposes the "Sempron" is just a rebranding of the Athon XP. For $50, to get a 1.8 GHz Athlon XP _and_ motherboard is just a great great deal. I built a system for a friend as an email machine and it's been running great. I even underclocked the processor down to 900 MHz, allowing it to run fanless (only the last heatsink) for a virtually silent computer.
Don't get me wrong, I love AMD processors despite AMD's bizarre marketing stunts, and the Athlon XP was a great chip 3 years ago when it launched, with motherboards, for about $500 total. For $50, getting that kind of power for 1/10th the price is amazing. But since the Athlon has runs circles around the Pentium 4 since day one, you can literally underclock it to half its clock speed, run it cool and silent, and it's still a kick ass email and Internet surfing solution.

AMD Sempron 2200 combo for $50 at Fry's. $45 for the motherboard, CPU is almost free!
Combo #2 is a $109.95 (or $129.95, again, depending on the day) 2.4 GHz Pentium 4 deal. This is NOT the newer 800 MHz FSB Hyperthreading Pentium 4. This is just a plain older non-HT 533 MHz bus processors. Normally, I wouldn't tell you to buy a Pentium 4, but for $109 including motherboard, go for it. I similarly built a second system with this motherboard and CPU, put it in the Antec case, and gave that to another friend.
Combo #3 is a $229.95 64-bit AMD Athlon64 3000+ combo with motherboard. The 3000+ is really a 2.00 GHz processor, but man, does it every run circles around the Pentium 4. And the Sempron for that matter. I have some real-world benchmarks, like code compilation, that run twice as fast as my fastest Pentium 4 machine. And that's just plain old 32-bit mode. I don't have any 64-bit software, and I'm still not that keen on it, but for running 32-bit code quickly, the Athlon64 is truly a great chip for home use.
A few months ago I talked about the dual processor AMD Opteron workstations I had built for about $1500 (and closer to $3000 if you use the 2+ GHz Opteron chips). Well, if you're willing to live with slightly slower memory bandwidth and a single processors, which most home users you should be, the Athlon64 is currently the ideal desktop processor for home use in my opinion and a complete machine can cost you under $500. And it is capable of running future 64-bit operating systems.
The extreme overkill system pictured above, Antec case, motherboard and Athlon64 CPU combo, CD/DVD dual format burner, 1 gigabyte of RAM, and 200 gigabyte Seagate hard drive cost me a mere $700 in total. Just add a video card of your choosing for a complete 32-bit and 64-bit computer! To drop below $500, replace the DVD burner with a simple reader, use a smaller hard disk, and use half the RAM.
After running many benchmarks on these systems, the Sempron and Pentium 4 systems pretty much clocked in at exactly what speeds I expected them to (based on benchmarks of similar processors in the past). The Athlon64 is really the only newcomer to the bunch here, so I have updated the Benchmarks page with SoftMac numbers showing just how well the Athlon64 runs. Only Intel's Pentium M processor, which they still refuse to release for the desktop from what I can tell, is a faster technology.
Bottom line: if you want a nice cheap email and web PC, go for the $50 Sempron combo. If you must buy Intel, get the Pentium 4 combo. And if you want a fantastic efficient desktop PC that runs circles around the others, splurge the extra $100 and get the Athlon64 combo.
So what's going on here? Why is Fry's offering CPU and motherboard combos so cheaply that you can build for under $500 what equated to last year's top-of-the-line computer $2000+ computer??!?!?
Fry's is liquidating last year's technology, that's what. All three of these combos - the AMD Sempron with Socket 462 motherboard, the Pentium 4 and Socket 478 motherboard, and the Athlon64, all represent chip pinouts and socket layouts which Intel and AMD have phased out. Future AMD processors, whether Opteron, Athlon64, and Sempron, will move to Socket 939 and Socket 940 motherboards. Future Intel processors will use Socket 775.
As happens every 2 or 3 years with both Intel and AMD, what you are seeing here is a liquidation of the old motherboards which no longer work with today's latest and greatest AMD and Intel processors. And thus of course the older processors that go with them.
Personally, having just built these three systems this month and seeing how well they run, I say "who cares if they're old boards!". Again, what is being offered for $50, $110, or $230, represents $500, even $1000 top-of-the-line technology from just a year or two ago. It will last you just fine for two or three years, and then at that time spend $50 or $100 on what is today's $1000 technology.
I've said it before and I'll say it again: the average home user don't need anything more powerful than about a 1 GHz processor anyway. Don't needlessly waste money on the "latest and greatest" when last year's technology is already overkill for what you need.
---
The quest for the silent PC - and a warning about Antec computer cases
SEPTEMBER 26 2004
I don't normally write about computer cases. I ran across one recently at Fry's that both impressed the hell out of me, and later, pissed me off to no end. Let me tell you the good news and the bad news.
I brought home three of these Antec computer cases. I was drawn to them by the fact that they're attractive black desktop computer cases with what originally appeared to be ample cooling and ventilation. And of course, there is a 380W Antec power supply inside the case, the same brand of power supply I've successfully used and recommended with past systems.
So I was rather surprised, having built near-identical systems with the Pentium 4 combo in one and the Athlon64 in the other, to find the Athlon64 running much hotter, and revving its fans much higher, than the Pentium 4 system. Both processors consume similar amounts of power, and all other things being equal, hard disk, memory, video cards, I completely overlooked something obvious: the computer cases were not identical!
It appears that Fry's and other computer stores are actually selling two versions of the Antec case. The price is the same, the packaging is nearly identical, and the cases look almost identical. Except for two minor differences: one version of the case has ventilation slots at the top of the case as well as an extra case fan on the side. The other version does not and thus has poorer ventilation, runs hotter, and makes more noise by virtue of the internal fans running faster. Take a look at the picture below and notice the side-mounted fan to the right of the case, just above where I am resting the Rio Carbon. That fan, and the ventilation holes that go with it, are missing in the other version of the case.

I was shocked when I noticed this obvious oversight, and had to dig through my recycling bin to pick out the cardboard boxes to actually compare and see the difference. Pictured below at the two packages. Notice the difference? Click on the thumbnail to read the text on the boxes. Notice the good box (on the right) has seven bullet items. The bad box (on the left) has six, dropping a bullet for the missing side-mounted fan, which I have circled in the picture.

One box does show ventilation holes on the top of the case. And also the side fan. You have to look closely. I am pissed off that I so stupidly allowed myself to fall for a bait-and-switch scam and ended up with 2 of the 3 cases being the inferior version. Whether Antec decided to add the slots and the fan, or whether they got cheap and downgraded the case is anyone's guess. Just do not make my mistake. Look carefully at the box before you buy it.
What to do?!?!? A quick trip to Home Depot to get a Dremel tool easily allowed me to drill the necessary holes and get all the cases working well. The $60 lithium-ion battery powered model was able to cut through the metal of the thick case no problem, although I did scratch up the fine piano black finish a tad.
Among the many reasons I still recommend the Antec "Put It Anywhere" case:
that sexy black piano finish, goodbye to white or beige cases

decent 380W power supply from a company that is alerady known to make good quiet power supplies

ample room inside with drive bays for a floppy drive, 4 hard drives, and 2 CD/DVD drives

built-in power supply offers low-voltage connectors for fans. This allows you to run the CPU and/or case fans at almost silent speeds. You maintain the airflow and cooling by simply having more fans, but that make less noise overall than a few noisier fast fans.

cheap at $109. My old combination of Antec power supply and CoolerMaster aluminum case costs more than double. Although for dual processor systems or the latest 3+ GHz Pentium Prescott systems I'd still recommend the CoolerMaster so that you can add a beefy power supply.
Using a combination of low RPM CPU fans from Fry's, the roomy and ventilated Antec computer cases, quiet Seagate Barracuda hard drives, older fan-less video cards, and running the case fans at the lower voltage (or no CPU fan at all), I was able to make all three of the above systems - the AMD Sempron, the Pentium 4, and the Athlon64, run quieter that any other computer systems I've built in the past. Even quieter than my old Gateway Solo notebook when its CPU fan kicked in. The simple rules to remember are:
use high-flow low-RPM fans. Avoid the cheap $6 Fry's "CREAIR" fans. Get the better $10 AeroCool quad LED model)

use a large well ventilated case with plenty of case fans and ventilation holes/slots. Use a Dremel tool to cut extra ventilation holes in the case near the CPU.

use a video card that doesn't whine from having its own fan. An older PCI video card (such as the defunct Number Nine Revolution IV cards that I love to use with my Silicon Graphics 1600SW LCD monitors) are perfectly silent.

use Seagate Barracuda hard drives (not those cheap Maxtor or Western Digital or IBM drives you see at Fry's). Seagate drives are great for both ReplayTV/Tivo applications and general purpose quiet PCs. I find the other brands start to hum and whine after a few weeks of use.

underclock your CPU a few hundred MHz to drastically reduce heat and power consumption, and thus cooling requirements
A good rule of thumb that I use with fans is this: Hold it up to your face and blow on it. If it does not even start to spin freely when you blow on it, don't use it! If it does start to spin but you hear or feel vibration from the bearings, or it stops very quickly after you stop blowing on it, in less than a second or two, don't use it!
---
Mac users fail the easy quiz questions. Shame! Shame!
JULY 1 2004
Let me quickly give away two of the answers to the New Year's Quiz that so stumped everybody. Two of the very easiest questions I might add!
Question #4B: At what version number did Apple officially brand their Macintosh system software as "Mac OS"?
Answer: Mac OS 7.5, one of the versions we've sold with SoftMac. I was actually surprised that out of dozens of responses NOT ONE SINGLE PERSON got 7.5 as the correct answer. I got submissions of 6.0, I got 7.0. 8.0, 7.6, 7.1, but no 7.5. If you can all remember back 10 years to 1994, Apple originally called it Macintosh System 7.5 as with prior releases such as 7.1 and 7.0. But then thanks to MARKETING, my favorite, they re-branded the Mac operating system as "Mac OS".
A dead giveaway of this re-branding, as anyone who purchased Mac OS 7.5 knows, is that the Mac OS 7.5 box actually says "Macintosh System 7.5". The Mac OS logo and the words "Mac OS" were actually stuck on a sticker after the box was printed. Again, indicating Apple's mid-flight marketing course correction.
To double check, I consulted MacWEEK magazine's "Upgrading and Repairing You Mac" book, one of my dozens of Mac technical books. Right on page 337 in the Operating Systems chapter it clearly states: "In 1994, with the introduction of System 7.5, Apple gave their Macintosh operating system a name: Mac OS."
Have you ever heard of something refer to Mac OS 6.0.8 or Mac OS 7.1? Of course not. It is System 6.0.8. System 7.1. But it is Mac OS 7.5. Mac OS 7.6. Mac OS 8.
Question #5D (first part): what is the clock speed and processor used in the Mac Plus?
Answer: most people correctly answered that it was the 68000 processor inside the Mac Plus. Same processor as the original Mac, the Mac SE, the Mac Classic, the Atari ST, the Atari STE, and many other popular 1980's computers. But what most people didn't know was the clock speed. Some said 8 MHz. WRONG! Some said 7.14 MHz. WRONG AGAIN! The original Macintosh computer released in 1984 did in fact clock at 7.14 MHz. The Mac Plus however was clocked by a 15.6672 MHz crystal, which was divided down to a 7.83 MHz processor clock speed. 7.8 or 7.9 MHz were acceptable answers.
Don't believe me? Consider the fact that is known to most Atari ST users, and that is that Atari's 1040ST computer running at 8.0 MHz offered slightly faster Mac emulation than the Mac Plus which it emulated! Just to double check my memory, I ripped apart a Mac Plus on New Year's Eve and took this picture of the 15.6672 MHz clock crystal: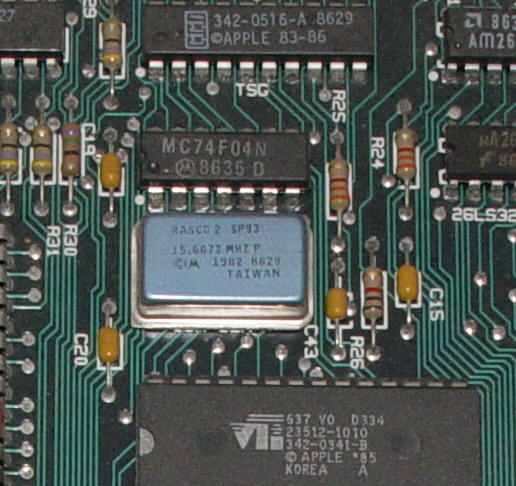 This may seem like irrelevant Mac trivia but it's not. This is basic Macintosh history. The Mac Plus was a milestone computer in the 1980's. The Mac OS brand is even more important today than 10 years ago. If you're a Mac user, make the effort to know where it began, ok?
---
To The Movies!
JULY 1 2004
After opening the doors to the public last November and allowing them to walk away with most of our older Mac, PC, and Atari computers, I was free to take some time off before the lawsuit nonsense in April. I was blessed by getting to enjoy the best winter of skiing and snowboarding here in the Pacific Northwest in probably 10 years. When I said in January that I was going snowboarding, I didn't stop for almost 3 months. Just in time to catch a bunch more Metallica concerts of course. March was the month of Metallica for me as they swung through the west coast leg of their tour. I caught three concerts in two weeks, in Las Vegas, Portland, and here in Seattle, making it 7 Metallica concerts in 3 countries within 12 months. And yes, I hope to catch them again in August when they swing through the midwest states.
During May and June I caught several dozen movies at the Seattle Film Festival, including of course, Metallica's Some Kind Of Monster; a great behind-the-scenes look at Metallica's 3 years away from touring. Even you die-hard First Three Albums fans need to check out this movie and get in touch with Metallica's, um, sensitive side.
Another great documentary at this year's festival was Canada's own The Corporation; an examination of the pure evil that is today's multi-nation corporation. Given the long running theme of this page, how appropriate!!! This is a MUST SEE movie for anyone who wants a better understanding of just how warped modern business is. Since Michael Moore is interviewed in the movie, let that be a reminder to you to go see Fahrenheit 9/11, a movie which I've already seen twice and highly recommend as well. We were all so very very duped.
Along with great movies, every year at the Film Festival has its share of absolute stinkers. Last year it was that awful awful AWFUL documentary Capturing The Friedmans. This year, absolutely the worst movie I've ever seen in about 10 years of attending the film festival was one called Open Water. Be warned! This movie is about to open up in wide release. AVOID IT! Now only will you feel robbed for paying full price for a movie shot on what looks like consumer quality Sony Handycam DV, but exactly how exciting is it to watch a suburban yuppie couple tread water for 90 minutes while bickering about their failing marriage? I mean, 10 minutes into this movie, you'll be rooting for the sharks!
That reminds me, since I was already psyched up to fly to California in late April for the trial, I popped down to San Jose a couple times in early May and got to watch in person the Calgary Flames pummel, mutilate, destroy, whip, and execute the lousy San Jose Sharks in a fabulous 3-0 win. Although there were so many fellow Torontonians on the Sharks team, it didn't really matter which team won. Canadians would win regardless.
The worst big budget movie of the year so far is Shrek 2. What a stinker! I thoroughly enjoyed the original Shrek movie and was excited to see it at Seattle's large Cinerama theater. What a let down to see a timeless fairy tale style movie be tainted by cheap parodies of Starbucks and other corporate brands. Will any of these brands still be relevant in 50 years? What was Disney thinking in plastering corporate logos and dated pop culture references throughout their movie? Shrek 2 is not a fairy tale. It's hardly a cartoon for kids. It's just a jumbled mess. If you're one of the three people left who hasn't already poured the hundreds of millions of dollars into this movie's box office, well, don't!
In fact, when you all tire of sitting indoors in dark theaters and decide to venture outside, might I suggest a very cool exhibit here in Seattle. Back in January I went over to Boeing Field here to check out the newly arrived Concorde. It is one of the original 16 which has come to rest on permanent display here in Seattle at the Museum of Flight.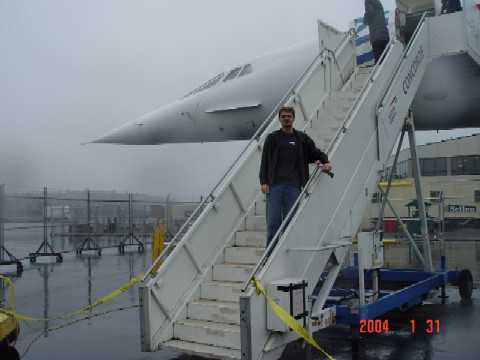 Very cool airplane on the outside. But wow. It is even more cramped inside than what I'd heard!
Bottom line:
See: Metallica Some Kind of Monster.
See: The Corporation.
See: Fahrenheit 9/11.
Avoid: Shrek 2.
Avoid: Open Water.
Avoid: Capturing The Friedmans.
---
Support Seagate
JULY 1 2004
Another thing I've been doing is upgrading my hard drives. Including the ones in my ReplayTV DVRs and those of friends. Remember when it was a big deal when 2 gigabyte, 3 gigabyte, oooh, 6 gigabyte hard drives hit the market just a few years ago at $200 or $300 a pop, or about $50 per gigabyte. Remember when you paid $1000 for TiVo to have the recording capacity of, well, a VHS tape? That was barely 5 years ago.
Today, 80 gigabyte hard drives for $80 are common. You can even find specials of 200 gigabyte hard drives about $100 or $120, or about 50 cents per gigabyte. A 100-fold price reduction in barely 5 or 6 years. Wow!
If you have not upgraded your hard disk in the past few years, DO IT. This applies to your computer hard disk, your TiVo hard disk, your ReplayTV hard disk. Get rid of your old hard disk with something 10 or 100 times the size.
But not all drives are the same. Common and inexpensive brands that you'll see in computers stores include IBM Deskstar, Maxtor, and Western Digital. While all these brands are just fine, and I own dozens of various hard drives of these brands, I encourage you to avoid the cheap sale prices of these hard drives and purchase Seagate drives.
The Seagate Barracuda drives are just wonderful 7200 rpm IDE drives. So quiet compared to other drives, they're a must for any "silent PC" project. Seagate drives will cost you about $1 a gigabyte, maybe 75 cents per gigabyte on sale, and they're well worth it. If you're ever had a loud grinding sound or vibration coming out of your PC's hard disk, chances are it wasn't a Seagate.
Why I'm especially encouraging you to buy Seagate is the recent news that Seagate is laying off something like 3000 workers. Not good. Seagate did just recently announce a slew of new drives, including a new 400 gigabyte model (DROOL DROOL!), but layoffs are never a good sign. I'd hate to see Seagate go the way of fine video card companies like 3dfx and Number Nine in the past simply because some cheaper competitor managed to get away with a lower quality product.
---
The ultimate couch potato's toy
JULY 1 2004
After dropping some 200 gigabyte Seagate drives into the ReplayTV units, I now have room for about another 80 Simpsons episodes and a ton of movies that I could record and watch on demand later. It occurred to me, as disk media gets less expensive and broadband Internet gets faster, we'll soon go from ripping CDs and burning music mix CD-Rs for our car stereos, to ripping DVDs and trading home DVD movies, to not too far in the future simply trading hard drives. "I'll trade you my 200 gigabyte TiVo hard drive of a whole season of Simpsons and South Park for your 200 gigabyte hard drive of CSI".
Think about it. A blank CD costs pennies, but 700 megabytes really doesn't hold much by today's standards. An hour of music or TV quality video, hooray. Blank DVD-R discs are getting down to about $1 each. I was at another electronics store recently and saw one those Panasonic DMR-E30 consumer DVD recorders on sale for $199. What the...??? I mean when these things first hit the market a year or two ago, they were going for $3000 a pop! So now to see one for $199, that was interesting. I couldn't resist of course, and immediately bought one and took it home to try out.
I've tried the whole burning movies to disc thing before. Back in 1998 on my Gateway 2000 machine I was recording video with an old ATI card and burning it to CD. I took a look at one of these (a collection of first season South Park episodes) and geez they're awful. More recently I picked up the ATI Radeon 9600 All In Wonder card and tried burning to DVD-R. It works. It's better quality. But the user experience with ATI software still really really sucks. Not to mention ATI drivers crapping out halfway through a recording. I've never really run across video software for the PC, whether PVR or DVD burning that I've found as simple as the home electronics VCR paradigm.
And that's where the Panasonic unit shine. For it comes with a VCR-style remote. It has VCR-style 2, 4, and 6 hour recording modes. 6 hour mode is pushing it, 4 hour mode is TV quality, and 2 hour mode is just great. It even supports a variable bitrate mode where you tell it how much to record, say, 3 hours, and it adjust the bitrate appropriately to full up the DVD exactly. I love it! I've recorded this whole season of The Sopranos to DVD and it was trivial.
The consumer electronics companies like Panasonic still know a thing or two about ease of use over use computer guys. And ironically, as I found out when I surfed their site, the DMR-E30 is already a discontinued model! Thus the low price.
Because the new batch of DVD recorders now include TiVo/ReplayTV style hard drives. Which got me to thinking, what is wrong with this picture? Well, you've got your satellite receiver. Your HDTV tuner. You've got your DVD recorder. Your TiVO or ReplayTV digital video recorder. But what's missing is the one "killer app" of home consumer electronics: the all-in-one satellite/HDTV/DVR/DVD-R burner with removable hard drive. THAT would be the ultimate video toy.
A friend recently got the latest HDTV DirectTV receiver with built-in TiVo. Not bad, except it's missing the DVD burner. And I noticed that due to the high bitrate of HDTV, which is on the order of gigabytes per hour, extremely fast scene changes cause the unit to drop frames. For example, we were watching CSI in off-the-air high definition while the unit was also recording some high definition content from the HBO HD channel on satellite. And every time there was a scene transition the picture paused for about half a second. It literally could not keep up with dual HDTV bitstreams being written to hard disk. Regular TiVo, and my regular ReplayTV has never had that problem. Slow menus, yes, but never at the expense of dropping frames of video.
There are also TiVO recorders with DVD burners built-in. But not HDTV then. See, what is missing is the convergence of all these home consumer electronics devices into a single unit that simply takes 2 inputs - TV/Cable and Satellite, and spits out recorded video and burns DVD-R discs. Sure, you could rig a few discrete units together as I've done, but it's just not the same.
And then why stop at DVD? I remember in 1985 when a single blank floppy disk cost $5. Then a few years later the $5 blank CD-R. Then a few years after that the $5 blank DVD-R. Hard disk prices are almost falling to the point where one can pick up a "small" hard disk for under $50. Used hard drives, I can pick up at the surplus store for well, $5. If hard disk prices drop anywhere near another 100-fold per gigabyte as they have in the past 5 or 6 years, it truly will make sense to simply record directly to, and then swap out, high capacity hard disks and skip the whole CD-burning and DVD-burning steps.
Now that I've got the whole hang of this DVR-upgrading thing and DVD-burning thing, I will probably record whole seasons of TV shows to hard disk and then swap them out. And with Seagate just announcing tiny 100 gigabyte notebook hard drives, you can store about 200 hours of decent video on something barely larger than a credit card. Who needs VHS and DVD?!?
If anyone hears about an all-in-one killer video toy, let me know.
---
Starbucks Summer Tour 2004
JULY 1 2004
And now I get to today's most important topic. My motorcycle trip across North America this summer!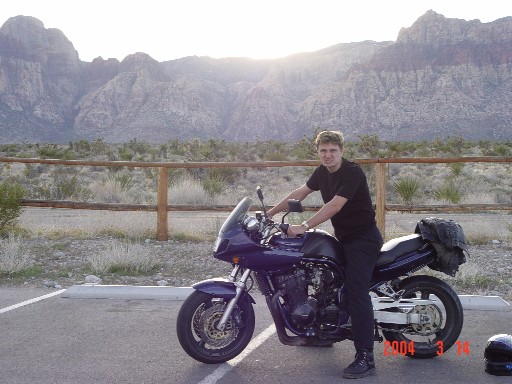 I got the idea back in March when I was visiting my friend Ed in Las Vegas the weekend of the Metallica tour. He lent me one of his bikes and let me take it for a ride in the mountains west of Vegas. I thought how great it would be to be riding one of my own bikes, and thus I got the idea of the Starbucks Summer Tour. Let me explain.
Last year at this time I was traveling around Europe trying to see if one could hop from wireless hotspot to wireless hotspot while crossing the continent. Who needs luggage when all you need is a Dell notebook and a knapsack! But other than the awesome Metallica show, everything else was pretty much a disaster. The few Starbucks locations in Europe were either closed during my usual early morning hours, or they had no hotspot. Trains mostly had no AC outlets to charge the laptop. And a week into the trip I lost the knapsack and the laptop! Mission aborted!
So this summer I'm trading the train seat for a seat on 2 wheels and heading across the country. One can get spoiled in Seattle with it's 200+ Starbucks locations and even more wireless hotspots. Is the rest of America as wired and high tech as Seattle? Or it is as ass backwards as a city in southern Italy?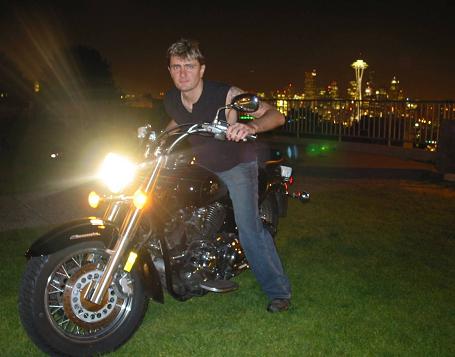 (Photo by Jodeen)
---
Classic Darek's Secrets postings:
JANUARY 4 2004 - The New Year's quiz stumps everybody
DECEMBER 22 2003 - Keeping those old PCs tuned
DECEMBER 22 2003 - My last minute Christmas shopping suggestions
NOVEMBER 28 2003 - After-Thanksgiving Update
NOVEMBER 28 2003 - Beware of mail-in rebate "sale" prices
SUMMER 2003 - Metallica Summer Sanitarium Tour
MAY 19 2003 - Motherboard news
APRIL 28 2003 - More ways to block banner ads
APRIL 28 2003 - Bacon, the perfect food
APRIL 22 2003 - Your email questions
APRIL 22 2003 - Clock speed is not everything!
APRIL 22 2003 - Hyper Threading - a good thing?
APRIL 22 2003 - Centrino - Pentium III reborn?
APRIL 22 2003 - AMD Opteron finally released
JAN 13 2003 - Start the new year with a fresh batch of patches and updates
NOVEMBER 11 2002 - Great little PCs for Christmas
OCTOBER 12 2002 - NBC is fleecing America - or - Dude! You so need a Dell!
AUGUST 28 2002 - Pentium 4 hits 2.8 GHz, AMD hits 2 GHz (sort of!)
JUNE 18 2002 - Little known numeric keypad trick
JUNE 10 2002 - In defense of CRT monitors
JUNE 5 2002 - LCD monitor snags!
MAY 6 2002 - Pentium 4 - finally beats AMD and earns my approval
APRIL 1 2002 - Low cost Pentium 4 systems hit the sweet spot
APRIL 1 2002 - Windows XP - lower hardware requirements than you may think
FEB 19 2002 - Dual booting and other reader questions
JAN 15 2002 - Windows 9x/Me memory tips
JAN 7 2002 - Pentium 4 Motherboards
JAN 4 2002 - Athlon XP Motherboards
JAN 3 2002 - Easy ZIP file extraction
JAN 2 2002 - Make it a habit to keep your PC's BIOS up to date
DEC 31 2001 - Making a boot floppy in Windows XP
DEC 30 2001 - Run Prime95 - find a new prime number
DEC 29 2001 - Windows upgrading hazards
DEC 28 2001 - More differences between XP Home and XP Pro
DEC 27 2001 - Some handy Windows basics
DEC 26 2001 - A few words about Dell
DEC 26 2001 - Viewsonic VP201 - my new favorite desktop monitor
NOV 2 2001 - Upgrading options - when to buy a new machine and when to just upgrade
NOV 2 2001 - Windows 98 and cable modems - you're probably infected with a virus! 10 SIGNS OF A VIRUS
OCT 22 2001 - Turning off System Restore faster
OCT 22 2001 - Windows Keyboard Shortcuts YOU MUST KNOW!
AUGUST 30 2001 - How to buy a PC and avoid insulting sales tactics
AUGUST 30 2001 - Preparing for Windows XP
Older postings (Windows or PC related):
A brief history of Windows Crusoe rocks! Editing AUTOEXEC.BAT in Windows Millennium Windows 95/98/Millennium Disk Cache Bug Overriding the minimum requirements of Windows 9x Setup The Intel Pentium 4: In Depth
Older postings (Mac OS or Mac emulation related):
CD-ROM, ZIP, and SCSI support for Macintosh disks in Windows Overriding the minimum requirements of Mac OS Setup The Mac OS Disk Cache - Use it Free Mac OS Releases Drive Setup won't work!
---
The simple quiz that stumped everybody. You puny humans!
JANUARY 4 2004
Happy New Year! I was feeling in a rather festive mood this week. With all the wonderful snow that's been falling in the mountains here, it's been one of the best ski seasons that I can remember in my 10 years now of skiing and snowboarding. So what better way to be festive over the Christmas holidays than to continue the giveaway of old hardware and software that was started a couple months ago. This time, instead of giving away old Macs or Ataris or obsolete PCs, I decided I'd dig into my own game and movie collection and give away some Xbox games and movies, such as the Star Wars trilogy.
Earlier this week, we posted an announcement letting everyone know that we'd be doing another New Year's Eve software download contest as we had previously on the eve of the 21st century. As before, you had to download software from our site, run it, take a screen shot to prove that you downloaded it and were running it, and email us the screen shot along with your contact information. And as before the first 10 people who do this would win. The winning time last time around 8 minutes, and all 10 winning submissions arrived within the first hour.
8 minutes, considering that people should have been out celebrating the start of the 21st century instead of sitting at home on their computers, is the sign of a true geek. But then again, I sat at home and posted software at the stroke of midnight, didn't I? That's what geeks do on New Year's. Sure, I did that whole faux Millennium thing in Sydney Harbour the year before, but so many people declared 2000 the start of the Millennium, the start of 2001 was rather uninteresting and we decided to spice it up a little by posting one of the first software releases of the real 21st century.
One problem last time was that many of the winners were not in the Pacific time zone (which covers Seattle, San Francisco, L.A., etc.) but rather in other time zones. Last time the winner was from New Zealand I believe, and not surprisingly the first (but incorrect) submission were received this year was also from New Zealand.
To level the playing field a bit, and to not give the advantage to people who weren't up in the middle of the night and who weren't pinging our web site frantically, I posted a quiz which you had to answer in your submission. It consists of 6 multiple part questions for a total of 40 sub-question. You had to either download the mystery software (which was a new beta of Gemulator Explorer 2.4) and submit a screen shot along with all the correct answers to one of the 6 questions to win a prize. Or, if you didn't care to participate in the mystery software hunt, simply submit all 40 answers and you win _5_ prizes.
And, anticipating a rush of traffic around midnight, which sure enough brought our web server to it's knees between about 11:30pm and 12:30am, the deadline for the contest was a leisurely 72 hours of the start of the year 2004.
All the questions relate in some way to this company, this web site, emulation, or computers that we emulate - the Atari and the Mac. Many of the questions can simply be answered by having owned or used our products, having owned those computers, by reading my postings on this web site, or, failing all that, doing a few quick Google searches or looking up a few computer books.
72 hours - 40 answers. Not that hard. Really! Yet NOBODY got anywhere near 40 correct answers. 24 out of 40 came from Robert Snyder in Florida. And Jeremy Kuek in New Zealand who was the first to submit a screen shot, he chose to tackle question #4 (the Macintosh one) and got 5 of the 6 answers correct. OH SO CLOSE! But no cigar, or my Star Wars trilogies and Xbox games. Sorry!
And so the contest continues. No prizes or time limit anymore. Just waiting for _one_ person who can get 80% on the quiz, 32 out of 40, and then I'll show the rest of you how ridiculously easy the answers were. Anybody out there in Puny Humanland up for the challenge?
I'm going snowboarding while you guys think.
---
Keeping those old PCs tuned - services to disable on an old computer
DECEMBER 22 2003
Ok, enough of the hobbits. I sat through the 14+ hour trilogy event at Seattle's Cinerama theater earlier this week, front row center seat A16. Then I came back two days later to watch the third movie again since I was in mostly zombie-like state by hour 14 and didn't remember much of the final movie. Now I turn on the TV and just about every channel is talking about it, including the two back-to-back first movies which are being aired again and again all weekend. Enough to make one dive into the closet to find a necktie to hang oneself with.
As I was doing that I discovered my 9 year old Gateway 2000 P5 computer. In late 1994 when I purchased this computer from Gateway (for over $4000 if I recall) to replace my Gateway 2000 486 system, it was a top-of-the-line DOS and Windows 3.1 machine, sporting an incredible 64 megabytes of RAM and a 700 megabyte hard disk. Since then I'd upgrade the machine with both a CD-R burner drive and a DVD-ROM drive, a flat screen video card, a SCSI adapter, and had upgraded the Windows 3.1 to Windows 95, then 98, and finally Windows Me. I also popped in a Pentium MMX Overdrive processor upgrade to boost the machine to 180 MHz as the machine had contained one of the original flawed Pentium chips. And then about a year ago put the machine away in one of bedrooms and forgot about it and didn't purge during the computer giveaway a couple months ago.
Back in April of 2002, I had posted that I successfully installed Windows XP on a 1996 era 200 MHz Pentium Pro computer, a computer that survived the purge and which still sits next to my computer desk today and runs on one of the flat screen displays on my wall of monitors here in the office. XP is only rated for 233 MHz Pentium II and faster PCs, not the older Pentium Pro or earlier processors. I had also asked people to send me their results to see if they could run XP on something even older, and several people responded to say they were running it on Pentium MMX class machines.
So would it run XP? Would this 9 year old computer with 64 megabytes of RAM and a mere "slow" 180 MHz processor boot up and run Windows XP? Well, only one way to find out!
I'm happy to say that after installing Windows XP and applying Service Pack 1 and then about 40 more megabytes of recent patches, the machine is up and running on Windows XP like a charm. See for yourself (click the thumbnail for the full size screen shot)...

Who says you can't teach an old dog a new trick? While users of 1994 era Macintosh computers would never dream of running Mac OS 9.2, let alone Mac OS X, on such old hardware, the PC has much better longevity and sure enough, just as I've been running Windows 98 on 12 and 13 year old Dell 486 computers, a decade old Pentium machine can in fact run both the latest Windows XP and Windows 2003 releases.
That's one of the basic principles I try to drill into your heads on this page (besides that CLOCK SPEED IS NOT EVERYTHING), that you need not throw away perfectly good computer equipment just to buy a new "faster" computer every year. Much as computer stores would love you to do.
But I did run across one problem, which I've encountered on machines with 128 megabytes of RAM, and which shows itself even more on a mere 64 megabytes - disk thrashing. What happens is that Windows tries to load it more than 64 megabytes worth of programs and thus has to continuously keep swapping memory out to the hard disk (to the "swap file", also known as the "page file").
Just recently I "fixed" a friend's Pentium III laptop, which of late was having horrible battery life, on the order 30 minutes a charge. I first suspected that the battery simply was no longer holding its charge. But I noticed that the laptop was rather sluggish and the hard disk kept spinning non-stop. The same problem I once had on my 128 megabyte 200 MHz Pentium Pro.
With both the laptop and Pentium Pro machines, I brought up the Windows Task Manager (for those of you who've been following this page, you know it's the Shift+Ctrl+Esc key sequence) and looked at why 128 megabytes of memory was inadequate. Sure enough, less than 10 megabytes was "available", which causes Windows XP to swap memory.
The solution, and this trick can apply to the latest Pentium 4 with gigabytes of memory as much an old Pentium, is to reduce the amount of software that automatically runs on boot. For example, do you really need your instant messenger client to run automatically at boot and suck up megabytes of memory?
As it turns out there are potentially dozens of programs that run when you boot your computer. Some of these are explicitly in your Startup folder, but many of these are what are called "services" and silently run in the background all the time to provide services to other Windows programs. For example, the disk defragmenter is a service. The CD burning feature in Windows is a service. Even sound support is a service.
Services are generally started automatically so that their features are available instantly when needed. Instantly of course being relative, because if that service causes memory to fill up and get swapped out to disk, then the loading of that service ahead of time serves no purpose.
Luckily, a service can be set to one of three startup modes - Automatic, Manual, and Disabled. Automatic is obvious. Manual mode merely loads the service as needed. And Disabled mode of course stops it from running at all. Certain services such as the Messenger service (not to be confused with an instant messenger) are never used by most people, and in fact the Messenger service is a way for spammers to send pop-up ads directly to your desktop. It should be disabled.
A LOT of services can either be disabled, or switched from Automatic to Manual mode. Your computer will boot faster as a result, and run faster thanks to the reduced amount of disk activity. In the case of my friend's laptop, it more than tripled the battery life to over 90 minutes when simply doing something like sitting at Starbucks surfing the web wirelessly. Strange as this next sentence may be... Making your laptop faster can increase battery life! My friend's computer, which is a 128 megabyte Pentium III notebook, now boots up and has about 50 megabytes of memory available instead of being constantly out of memory. It also doesn't hurt to reduce disk drive activity on a desktop computer. Your hard drive will last longer and your computer will make less noise.
So here is how - in Windows 2000, Windows XP, and Windows 2003 - to turn off unnecessary services. Right click on the My Computer icon, select Manage, then click on Services and Applications, and double click on Services. You will now see a list of 50 or more services installed on your Windows computer.
Go through each service. If it already set to Disabled, leave it as it. If it is set to Manual, leave it as well. The tricky part is the Automatic services. You may need to disable some of them, set others to manual, and leave the rest as automatic.
The way to tell is fairly easy. First, if the service is Automatic _and_ its status is shown as Started, leave it as-is for now. If it is not started, then set it to Manual mode. To do this, right click on the service's name, select Properties, and set the Startup Type entry to Manual. Do this for all such services.
Now, we'll walk through again and disable unnecessary services:
If your computer does not have a CD or DVD burner drive, then it is pointless to run the IMAPI CD-Burning COM Service. Disable it.

If your computer does not have a wireless card, disable the Wireless Configuration service.

If your computer has no sound card, or you have no speakers hooked up to the computer, disable the Windows Audio service.

If you do not share out files from your computer, or run a web server on your computer, then disable the Server service. This also helps to block a lot of potential attacks. Most PCs are not used as file servers or web servers and thus should not have the Server service started. Also kill the Remote Registry service.

If you do not use a smart card to log in to your PC, disable the Smart Card service.

No printer? Turn off the Print Spooler service. I know, this sounds obvious so far, but you'll be amazed at how many services are started up automatically unnecessarily.

No scanner or digital camera? Kill the Windows Image Acquisition service.

Not a software developer? Well, you definitely don't need the Machine Debug Manager service for Visual Studio then!

If you don't make use of Fast User Switching, Remote Desktop, or multi-user remote logic, disable the Terminal Services and Fast User Switching services.

While it is nice eye candy, Windows Themes are very taxing on old video cards and slower PCs. Kill the Themes service.

A feature I cannot stand - the System Restore service - kill! kill! kill!

And if you're not burning CDs you're probably not copying files to your music player, so disable the Portable Media Serial Number service.

Universal Plug And Play (known as UPnP) frightens me. Disable the SSDP Discovery service.

And of course, disable the fairly useless Messenger service.
There! Almost 20 services that your old slow PC probably did not need to be running and need to be disabled. Most other services you should set to manual startup mode.
Three other things often overlooked that you should do:
Get rid of any desktop background picture. That can eat up megabytes and cause slow screen redraws of the desktop.

Set your MSN or Yahoo or AOL instant messenger to NOT run automatically.

Delete links in your Startup menu to programs that do not need to run automatically (and which generally show up as little icons in your tray bar in the bottom right corner of the screen).
In the case of my 64 megabyte Gateway 2000 Pentium MMX computer, I was able to disable all of these services, except for the IMAPI CD-Burning COM Service which I left as Manual. I also turned off MSN Messenger's automatic start. And deleted the background picture.
The end result is that from power switch to login screen is under 90 seconds now, 20 seconds for the memory check and BIOS tests, and about 65 for Windows to boot up. It takes another 60 second or so to log in, draw the desktop icons, open an Internet Explorer browser and display some web page over broadband.
So just under 2.5 minutes to power up the computer and be booted and surfing the web, _and_ have a quiet hard drive. 2.5 minutes is certainly not the under-a-minute boot time of today's Pentium 4 desktop computers or Centrino notebooks, but it is a very decent boot time for a 9 year old computer running the latest Windows XP Service Pack 1 in only 64 megabytes of memory!
How does your computer's boot time compare? Email me with your results.
---
My last minute Christmas shopping suggestions (for geeks of course!)
DECEMBER 22 2003
Still trying to decide what to buy for Christmas? Resist the urge to buy a new computer! I can't repeat enough times the importance of making the most out of the hardware that you already have. Last year I showed you how to inexpensively upgrade the processor of your Pentium III or Celeron computer for about $300 to $500 make your computer much faster. This year I'll focus on many of the other components that make up a computer that you should considering upgrading or replacing.
A store like Fry's which sells both complete computers as well as the individual parts is a great place to go shopping for your upgrades.
The case and power supply
One mistake I used to make, and one that simply standing at Fry's watching people shop snows me that many people make, is to overlook the importance of the computer case. Yes, you can buy a $30 case with included 200 watt or 250 watt power supply, and you can make it work. For a few days or weeks until the power supply blows out and you have a dead computer. Not to mention the cheap power supply, which probably only contributes a total of $10 or $15 of the cost of that $30 computer case, makes a lot of noise.
In my experience of owning and building dozens of PCs, the power supply is the first component to consistently fail first. This is due to two reasons:
the power supply is too weak to power all the components in your computer, or,

the fan seizes up
When the first failure happens you'll know it - the computer won't boot. You popped in that new ATI Radeon card and added a new hard drive and a week later your computer is dead.
The second failure is more subtle. You usually smell something like burning plastic, and then your computer freezes up during use. Turning off the computer, waiting a while, and rebooting causes the same problem 20 minutes later.
What is happening is that the fan on the power supply has either stopped spinning or is spinning slower than it should. This can be due to cheap bearings or dust getting into the bearings. Sometimes a stray wire may prevent the fan from spinning (watch those USB cables!).
In either case, you've fried your power supply and need a new one. DO NOT just go buy another cheap 200W or 250W supply. Even a 300W power supply will generally be inadequate these days. In a typical Pentium 4 based computer, you need about 100W for the Pentium 4 chip itself. Almost another 100W for a high powered graphics card. And another 100W to power the hard disk, CD-ROM drive and burner, motherboard, numerous fans, USB ports, etc.
I was actually quite surprised a few months ago to discover how much the power consumption of a computer can fluctuate even in the course of a minute from under 100W to over 300W. What prompted this was a couple of dead power supplies earlier this summer, which got to me to buying a nice little $50 device called the KILL A WATT. Simply plug your power strip into the KILL A WATT and watch the total power consumption of your computer system. Or plug in one device, such as the computer by itself, and see how much it sucks up.
A typical idle Pentium III or Pentium 4 computer running Windows XP - idling at the desktop with hard drives turn off and the screen blanked - will consume just under 100 watts of power. The processor itself is mostly idling so most of this is being consumed by the motherboard and chipset. A 200W power supply is plenty if you choose to do nothing.
However, start burning a CD so that both the hard disk and CD-R burner drive are operating. Bring up a DVD player at the same time so that the DVD-ROM drive is spinning, the CPU is decoding MPEG2 video, and the video card is displaying high resolution video. For kicks, also start a large download from the web, connect your USB digital camera, and run other programs so as to clip your CPU usage at close to 100% (which you can verify with Task Manager's Performance pane). The power consumption now easily jumps to over 300 watts. A 200W or 250W power supply would be pushed past its limits, and even a 300W power supply it running barely at spec at this point.
The simple fact is that PCs today have a lot more devices connected and use more power hungry processors that PCs of 5 or 10 years ago. My Dell Centrino notebook sucks up about 80 watts of power, compared to an older 486 notebook that maxes out at 20 watts! Similarly a Pentium 4 with a fast GeForce4 or ATI Radeon video card is eating up twice the power of an older Pentium system where a 300W power supply was more than plenty.
Bottom line: buy a 400W power supply MINIMUM. Fry's has a large assortment of power supplies, and the one I really like and have purchased many of is this Enermax power supply which Fry's was selling for about $60. Over 400 watts of output, two very quiet fans, and even a variable speed fan adjustment. I've replaced several power supplies in my office, even ones that weren't dead, and it greatly reduced the noise in my office. The old 250W and 300W noisy power supplies were recycled.
Now that you won't be buying the cheap $30 computer case, or even a cheap $60 computer case, purchase a higher-end case that does not include a power supply. After all, you'll be adding the Enermax yourself. The case that I really from Fry's is the Cooler Master Wave Master aluminum case. Available for about $120 and up, the all aluminum case is light and features USB ports at the top of the case for easy access to plugging in a digital camera.

The Wave Master is slightly larger than most cases, leaving plenty of room to put in a DVD burner, a CD burner, multiple hard drives, and either a standard ATX motherboard or a larger dual processor board. And since the whole case acts as a heat sink rather than an insulator, the heat inside the case is nicely distributed and the case is actually cold to the touch even with a Pentium 4 inside going full tilt.
Overall, spend about $200 combined for the case and power supply. It sounds spendy, but you'll appreciate it with the longer life of the power supply, and quieter operation.
Hard disk drive
Probably no component has seen as dramatic an improvement in the last 5 years as the hard disk. Thanks to new materials used on the platters, the data density has just skyrocketed, as has the data transmission rate (from 16 to 33 to 66 to over 100 megabytes per second). 5 years ago I remember buying 2 or 3 gigabyte Maxtor drives at Costco for about $300 that were lucky to deliver real-life data bandwidth of 10 megabytes per second. A year ago, a 60 gigabyte or 80 gigabyte drive was dropping under $200 and delivered a solid 30 megabytes per second.
Today at Fry's you can buy 80, 200, even 250 gigabyte hard drives for about $1 per gigabyte. AND, the drives now contain 8 megabytes of cache right on the drive which gives these cheap IDE drives about 60 megabytes a second of real world throughput, on par with many very expensive SCSI drives of just two years ago.
I was actually amazed comparing the 10,000 rpm SCSI drives in my Dell Xeon computer (36 gigabyte Fujitsu Ultra/320 drives costing about $600 a year ago) against the $200 Fry's 7200 rpm IDE drive. Both drives delivered about the same real world performance of 60 megabytes per second.
After comparing both the Western Digital 250 gigabyte drive (which Fry's sell for $150 with rebate) and the Maxtor 200 gigabyte drive ($199 without rebate), I have to recommend the Maxtor and suggest purchasing the cheaper $99 80 gigabyte model. One reason is the whole rebate price vs. true price scam I discussed last month. Western Digital chooses to scam consumers with rebates, and I'm just not cool with that. Second, Maxtor drives, which I've used for years, come with terrific MaxBlast disk drive setup software and diagnostic utilities.

I guarantee you, seeing the results myself with my own older hard disks and these new hard disks, that even replacing a 2 or 3 year old IDE hard disk with one of these new 80-250 gigabyte models with the 8 megabyte cache will give you significantly faster disk throughput than you're getting now. 2 to 6 times faster.
Motherboards
There are a couple of inexpensive motherboards from VIA that I've played with recently that are worth noting. For years I've generally only purchased ASUS motherboards because they're good, solid, reliable boards. And somewhat pricey.
At $35 at Fry's, the VIA P4PB motherboard IS A STEAL! Supporting most cheap socket 478 Pentium 4 and Celeron processors, 400 MHz DDR memory, and having everything on the motherboard but video, $35 is damn hard to beat. I paired this motherboard up with a 2.53 GHz Pentium 4 processor that I recycled from a dead computer, added 1.5 gigabytes of DDR266 memory, added the Maxtor hard drive and an ATI Radeon 9600 All In Wonder card, added a DVD drive, and put it all in the Wave Master case.
The resulting computer, costing under $1000 complete with all these parts, has just been a blazingly fast computer over the past couple of months. For the price, under $1000, it of course won't hold up against a 3.2 GHz HT chip or against dual channel 800 MHz memory, but it's delivering probably about 80% of that top performance available today in systems costing twice as much.

My rule of thumb for the past two years has been to tell you not to spend more than $1000, or even $900, for a new computer. This is especially true today, where about $900 gets you an excellent power supply, a great case, a kick ass video card, a fast processor, a great motherboard, and a DVD burner to boot! It's hard to require more for home use. I like the board so much that I just bought more of them to build more Pentium 4 systems.
The second motherboard I recommend is VIA's 600 MHz Eden board which sells for $129 at Fry's. It is not only a motherboard, it contains a 600 MHz VIA processor (really a variant of the Cyrix processors they acquired a while back) that is completely fanless. The processor is low-power that it requires no fan. Simply add RAM, a drive, a power supply and case and you've got a complete computer for about $250.
I put the board in a Fry's generic black miniPC case, dropped in a basic CD-ROM drive, and hooked it up to a 15 inch LCD monitor. The video and network is on the motherboard, and while everything is provided it isn't terribly faster. This is not a screamer computer by any means, as the 600 MHz VIA processor actually only delivers the speed of about a 200 to 300 MHz Pentium II. That's one of the reasons that the chip is so low-power, because the whole philosophy of Cyrix and VIA is high-clock-speed short-pipeline processors. Lower power consumption as a result, but not the same instruction-per-second throughput of a Pentium or Athlon chip. No parallel-out-of-order instruction scheduling for example.

But, being a Shuttle-type form factor board, about the size of a CD-ROM drive as you can see, what this board is great for is if you need a small portable SILENT PC. My Linux friend Steve came over one day and brought his Knoppix Linux CD-ROM, a version that can boot entirely from CD-ROM and run without a hard disk. And sure enough, for that purpose it works. After about a 2 minute boot form CD-ROM you have a web browser up and running and then... NOTHING. NO NOISE. The machine runs silent. Even a laptop computer makes more noise.
The video card
Did you read correctly? Did I just endorse the ATI Radeon 9600? YES I DID! I can finally say that after more than 10 years of struggling with various ATI, ATI RAGE, ATI RAGE PRO, and ATI RADEON video cards in a multitude of different computers, I have FINALLY had out-of-the-box success with an ATI video card. No black stripes. No incompatibility with the 1600x1024 video mode of my Silicon Graphics 1600SW LCD monitors. No crashes in the TV tuner software. No screwed up colors. No problems with monochrome mode. No mouse problems. No fuzzy video. None of the problems I've had with earlier ATI cards.
I've had problems with the ATI Radeon 7000, 7200, and 8500 series cards, but the 9600 finally works. I've had problems with the earlier All In Wonder Pro models, usually in the lousy TV software that is included. Not this time.
ATI Radeon 9600. Buy it. Period.
The little gift
You can't go to Fry's without making an impulse buy. My impulse buy last week was the Kensington WiFi detector. This little goofy square box with one button. You press the button. LEDs light up to tell you if there is a 2.4 GHz WiFi signal in the area or not. For about $20 and change, it's a cheap gag I thought. But it does actually work (tested at Starbucks!) and here is why I recommend it: I left it my pocket one day and it ended up going through both a washer and dryer cycle. And after taking out my laundry and finding it, it still worked!

Actually, for $20 it's worth it. You can walk around a mall or down the street, click it every few seconds and when you get the green LED only then bother to power up the laptop and find the wireless signal.
If wireless isn't your thing, the other cheap small handy gift is a USB hard drive. I prefer the 256 megabyte Iomega USB model (shown above on the keychain) at just over $50.
And that sums up my Rebate-Free Geek Gift Giving suggestions for 2003. The silent PC. The fast PC. The reliable PC. All the fairly inexpensive upgrades one needs to get better use out of a PC.
Help your Atkins freaks avoid temptation!
During this holiday season it's easy to stuff one's face with bad junk food. Don't. Whether you're doing Atkins diet with me or know someone who is, swing by Lo Carb Outlet or similar stores that now cater to us Atkins freaks. I am now officially down 34 pounds (over 15 kilograms) for the year. Take that Krispy Kreme!
I of course am off to Las Vegas today to camp out at the Hard Rock and beg for Metallica tickets to the sold out New Year's Eve show. Not holding out much hope, but that's ok as they're returning back to the Vancouver-Seattle-Portland area in March 2004 for more shows! See you there.
---
After-Thanksgiving update
with apologizes to my fellow Canadians who know that the real Thanksgiving takes place in October!
NOVEMBER 28 2003
It was just over a year ago on this very page that I showed how inexpensive and easy it is to upgrade older PCs to relatively top-of-the-line systems for under $500. Even under $300 using mail order parts. Well fast forward a year and I'm finding that stores like Fry's are selling pretty decent starter systems (along the lines of 1.8 GHz Athlon XP systems and 2.4 GHz Celeron systems) for under $500 complete with DVD readers and CD burners. In a local store, no mail order shopping required.
In fact, just today as I was rushing into Fry's Electronics and other stores at 7am for the after-Thanksgiving sales, they were actually offering a computer for $99. Hard disk, CD-ROM drive, 128 meg of SDRAM, a VIA clone x86 processor, etc. all for $99. Just add monitor. Now admittedly the VIA based systems are extremely slow by today's standards (I will have a whole posting on the topic of VIA Eden processors and their terrific uses in a few weeks) but perfectly usable for such tasks are email and web surfing. I've already been using such a system myself.
When I gave presentations at MacHack 2001 and Macworld New York 2001 a little over 2 years ago, I predicted that PCs would cross the $1000 / 1000 MHz barrier soon, but even I didn't think that barely 2 years later we'd be seeing PCs under $500, under $300, and now even under $100. Just 4 years ago, this $99 computer of today would have rivaled the top-of-the-line PC and Apple computer of 1999 costing $2000 or more. It is simply amazing how fast the price of the PC drops and how equally fast the speed of the PC increases. Even Apple, having fallen horrifically behind in performance since 1999 and thus allowing Mac emulation products such as ours to easily emulate the slow Macs on cheaper faster PCs, has abandoned the slower Motorola processors and now builds Macintosh computers based on IBM processors and AMD technology.
In other words, PC technology is now dirt cheap, ultra fast, and even Apple has standardized on it. As much as I am a fan of keeping old classic computers around, even I have to wonder the usefulness of maintaining Intel 486 support in our products and keeping such computers around. While products such as Xformer and Gemulator were originally developed on 33 MHz 486 systems, and even our latest SoftMac XP and Fusion PC 3 releases run on them, the simple fact is that $300 today gets you 100 times the power of computers from the early 1990's. And since we all but ended development on our Atari 8-bit and Atari ST emulators about 5 years ago, and ended development of our 68040 emulators last year, it simply makes no more sense to keep the old systems around. We actually had 4 identical 166 MHz Pentium MMX systems in the lab, merely to avoid re-installing different versions of DOS and Windows each time, and I can't even remember the last time somebody has a DOS related question for me.
And so it was that this past Halloween weekend we invited dozens of our friends from local Atari, Mac, and PC user groups over for a one time Emulators Trick 'n Treat Giveaway. Rather than give away candy, which is full of bad sugar that makes geeks fat, we gave away dozens of PCs, Macs, and Atari computers and peripherals. From an iMac running Mac OS 9 to several vintage Atari 800 machines to even a few Pentium 4 and dual Pentium III servers and a great Gateway Solo Pentium III laptop, if it was redundant we gave it away. I opened the doors that cold Sunday afternoon (thankfully before the weather got nasty) and simply told people "if it isn't nailed down, and you can carry, it's yours". If you received the invitation and thought it was a joke, well, you should be kicking yourself. I even gave away a stereo and three DVD players just so I can go shopping at Fry's again! And a new DVD player I did buy at Fry's this morning! In the end every computer in the house was gone except for the one Pentium Pro, one Pentium III, one Xeon, one Athlon XP, and one Dell Centrino laptop that I decided represent the most diverse aspects of the PC hardware and architectures in use today in the fewest number of computers. And one Macintosh G4 for obvious reasons.
Pentium Pro you ask? Despite its age, I kept our 200 MHz Pentium Pro machine because it's my favorite machine of the bunch. It was built for us 8 years ago by Dave Troy over at Toad Computers back when Toad was selling PCs pre-installed with Atari TOS 2.06 and our Gemulator product. We first used the Pentium Pro machine in benchmarks back in January 1996, and 8 years later the machine is still running flawlessly 24x7, running Windows XP Pro, Office 2003, Adobe 6.0 and all the latest stuff. Proving what I've said time and time again, most people DO NOT need a brand new top-of-the-line computer to do their daily. The Pentium Pro, despite its initial bad publicity and undeserved bad press, is my favorite Intel processor in terms of Intel getting it right the first time around. That and the 440BX motherboard, if you even get the chance to buy an old Pentium Pro computer, better yet a dual Pentium Pro, go for it, just to experience a great Intel product that 8 years later still works great.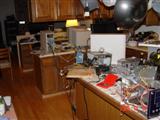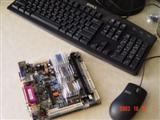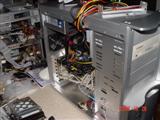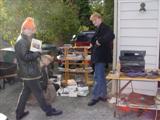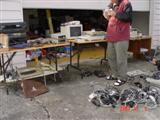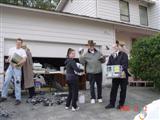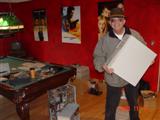 The good news is that now I have plenty of new room for new hardware and am already building new systems. I'll be posting new reviews of brand new Pentium 4, VIA Eden, and Athlon 64 systems and give you my latest opinions on those and other devices. And, I did save a few of the systems for our out-of-town readers, which we'll be giving away through this web site. Stay tuned over the winter months for more information and my postings. With all this fresh new snow around, I have some snowboarding to do first!
---
Rebates are not sales! How the marketing scumbags are ruining the holidays
NOVEMBER 28 2003
One thing I want to quickly caution everyone about this frenzied holiday shopping season is to BEWARE OF REBATES. I noticed at both Fry's and Best Buy this morning, as with ads in the newspaper from other stores, that many of the supposed "SALE" prices being advertised this season are based on manufacturer rebates, not actual sales in the store.
For example, Best Buy was advertising a $20 DVD player this morning. The catch was that the $20 price was really based on a true price of $40 with a $20 mail-in rebate. Fry's on the other hand sells $37 DVD players at actual in-store price.
Another example, a slightly higher end player, a Samsung DVD/CD/MP3/WMA player, was advertised for $49.95 at both Fry's and at Best Buy today. I visit both stores and found that Fry's truly offered the player for $49.95, while Best Buy demanded $69.95 with a $20 mail-in rebate. Marketing fraud in my opinion, not to mention the horrifically long checkout lines at Best Buy and the nasty body odor that went with it compared to the relatively short lines and efficient service at Fry's. You would have to be nothing short of brain dead to spend an extra hour waiting in line at Best Buy to pay $20 more, and yet this is exactly what I saw people doing. Consumer whores who choose to believe ads instead using common sense. I chose to give my money to Fry's instead.
Now you could argue with me that $49.95 with rebate at Best Buy is identical to the $49.95 at Fry's without rebate, but I beg to differ. It is a scam and it is not a "sale" price because you end up paying the store full price. That's not a sale. Fry's themselves engage in this trickery of rebates, so I am not in any way saying that Fry's is less guilty than anyone else. I'm rather pissed off at Fry's right now, and may never shop there again as a result, because I just found out that a previous shopping trip a few weeks ago where I was told I would get a $100 rebate, well, that the rebate expired already! The fine print with a lot of these rebate offers is that you must mail in your proof-of-purchase within 14 days or forfeit your rebate. WHAT A SCAM!
These mail-in rebates are very much similar to this recent scam at Safeway and other grocery store chains of forcing you to join their "shopping club" in order to get the "sale" prices shown on their shelves. Here are some of the reasons why mail-in rebates and shopping clubs are a consumer scam:
the store charges you full price, makes you pay full price, and earns the full price of the advertised product

the store fraudulently advertises a lower price, even though it refuses to offer that price to you the consumer

the store washes its hand clean of ever having to honor the advertised price

the manufacturer that offers the rebate counts on most people missing the 14-day rebate window

the manufacturer on the other hand is allowed 6, 8, even 10 weeks to mail you your rebate

during this 6 to 10 week period, both the store and the manufacturer are earning interest on YOUR money

YOU pay the costs of mailing the proof of purchase and filling out the forms

YOU give up your privacy, by being forced to supply your name, address, and telephone number

YOUR shopping habits are tracked as a result. You are forced to provide marketing data if your want your rebate

by taking advantage of a rebate you typically authorize the company to contact you - bypassing the new DO NOT CALL list.
CompUSA, Radio Shack, Office Max, Fry's, Best Buy, and other chains are all doing it and it's a shame. For the day after Thanksgiving is traditionally the start of the holiday shopping season here in the U.S., and in past years when I've shopped I have truly seen real sales take place. Not today. If you stripped away these bogus and fraudulent rebate prices and looked at the prices that you actually had to PAY IN THE STORE, there were not many great bargains to be had today. Even at Fry's, which offered a $349 Athlon XP computer just a couple of weeks ago, was charging $499 today for the exact same computer! The low prices they offered this summer have been raised so that they can now appear to offer "sale" prices.
So it is a rather disappointing and disgusting start to the holidays this year. The marketing scumbags - the very low life forms that this web page is intended to protect you from - have thought up of new ways to trick you and steal your money. And not only steal your money, but gather your personal information so that they can now bypass the governments DO NOT CALL list and keep harassing you with their marketing.
There is another dirty marketing trick that I noticed today. Beware of the sales clerk who casually happens to ask you for your ZIP code or telephone number. The excuse will be that they are simply gathering anonymous information about where their customers drive in from. But in reality the store can now use your personal information to telemarket to you, even if you are listed on the DO NOT CALL list. Any personal information you give the store gives them leverage to market to you and to track your spending habits.
So refuse to give personal information and refuse to purchase products at full price if your only savings are in the form of a rebate. Go to another store instead and ask them to match the advertised price of the first store. A store that truly wants your business will give you the lower price without scamming you with rebates.
---
MAY 19 2003 - Many thanks to reader Tsutomu Saito for pointing out that Intel's web site shows the existence of Pentium M based motherboard for desktop/server usage. Apparently, the Pentium M is no longer just a "mobile" processor, it's also an "embedded" processor. Next I'm sure it will be a "server" and then a "desktop" processor (as it should be!) Silly semantics. This is great news, since a desktop Pentium M would deliver the power of a mid-range Pentium 4 with significantly lower power consumption (and this lower heat and lower noise). A Pentium III class chip with Pentium 4 speed. I love it!
Also many thanks to Steve Kurlin in Australia for pointing me at the MB800 Pentium 4 motherboard, which offers both PCI and ISA card slots. This is of interest to existing users of our Gemulator and SoftMac products who own our Gemulator/SoftMac ISA ROM card. Our ROM card was first released in 1992 for use with ISA slots and still does to this day. While plenty of Athlon and Pentium II/III and Celeron motherboards support ISA slots, I'd only seen PCI slots on Pentium 4 boards. Well, I was wrong. ISA slots do still live today and if you've been looking to upgrade an older Athlon/Pentium motherboard up to Pentium 4 but didn't want to lose compatibility with your existing ISA cards, the MB800 is your solution.
---
Block banner ads and malicious web sites
APRIL 28 2003
Canada bashing is unfair and irrational. STOP IT! I for one am taking my tourist dollars to Toronto in a few weeks to see Metallica and NOT catch SARS. Twenty thousand Americans drop dead of the flu every year. Hundreds of thousands more dies from tobacco, liquor, gun, and automobile related causes - deaths which would be almost fully eliminated if the large corporations that run those businesses actually cared about the health of their customers rather than the bottom line. Yet a few dozen people get sick in Toronto and it's worldwide panic.
Another thing that really irks me are these terrorist web sites that hijack your computer and cause no end of grief. I'm talking of course not only of pop-up banner ads, but of these sites that create an endless chain of browser windows. In the past few months, my friends and neighbours have all complained to me of increasing occurrences of pop-up ads and of these various computer hijacking schemes. Just the other day I myself was victim of such a site, when I inadvertently mistyped one letter of a well known web site, only to get some malicious web site which then kept popping up window after window after window of ads. I literally had to reboot my computer to make it stop.
I personally feel that these malicious actions should be illegal, for anyone who seizes control of my computer against my will is a terrorist. A pop-up banner is no more desirable than a computer virus. The law goes after people who write viruses, it goes after spammers, so why do we allow these other bozos to run free? To make matters worse, legitimate web sites support these cyber-terrorists by selling them ad space in the first place. How to protect yourself?
Back in November 2001 I posted to this web page some tips about stopping computer viruses, and if you haven't read it, I highly encourage you to read it. During the 18 months since, broadband usage (i.e. DSL and cable modem usage) has increased, and so have these virus and banner ad attacks. The very same tips I give about stopping viruses do in fact help stop these banner ads. You need to take action to stop the viruses from invading your computer in the first place, not just run a virus checker as most people do. Running a virus checker is not effective because by the time you get warned of a virus it's generally too late - the virus has penetrated your defenses and you can cross your fingers hoping your anti-virus software was up-to-date enough to eradicate the virus.
The trick is to stop the virus (and by virus I'm including these unwanted browser hijacks and banner ads) before it reaches your computer. The easiest way to do that again is to set your browser's security settings to High. i.e. by default all web sites are treated with high security, meaning no Javascript or ActiveX controls can execute. To do this in Internet Explorer, click on Tools \ Internet Options \ Security. Click on the Internet icon, which represents the default settings for all web sites, and click on the Custom Level button. Select the High option and click Reset. Congratulations. You have just blocked a major cause of future attacks against your computer.
There are of course web sites that you'll need to give permissions to run Javascript or ActiveX, to download files, etc. To do this, click on the Trusted Sites icon, the click the Sites... button, and manually enter the domain names of web sites you trust, such as dell.com, emulators.com, google.com, etc.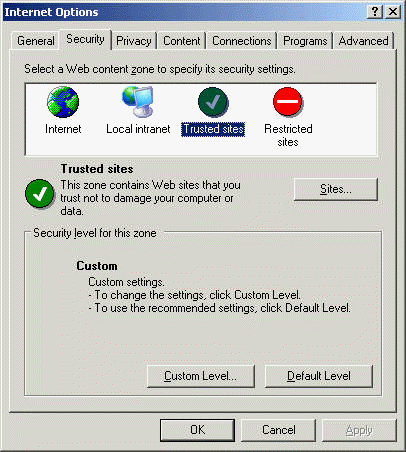 You may find that this approach is too restrictive though, as you may end up typing in dozens of domains into your Trusted Sites list and then still run across sites that you've inadvertently blocked and need to add. So a modified approach is to set your Internet security not to High, but to Medium. This will by default allow most web sites to run properly, and ones that don't can still be added to the Trusted Sites list later.
In the Medium security setting mode, banner ads will get through. So what you need to do is add domains that you wish to block to the Restricted Sites list. Probably the most annoying and widespread use of banner ads was pioneered by the company X10, so the very first thing I do when get on any new computer is to make sure that x10.com is on the Restricted Sites list. Other domains that exist for no good reason other than to bombard you with banner ads are doubleclick.net, mediaplex.com, and specificpop.com, to name a few.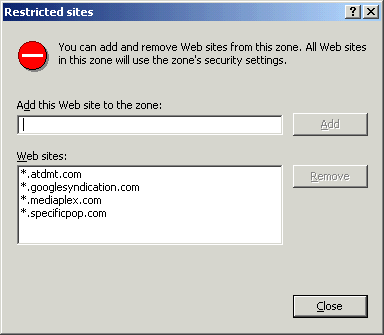 Going the Medium security approach won't protect you against against what happened to me - mistyping a domain name. These immoral bastards that lurk at domain names similar to the names of popular sites rely on the fact that once in a while somebody will type the wrong letter into a URL and end up at their site. And due to the randomness of this they know that you're a one time visitor and that they need to get your attention in a big way. They do that by preventing you from closing your browser. You close the window, boom, another window pops up and assaults you with another ad. Close that window and another pops up.
When this happens, DON'T PANIC, as this is also your chance to nail these bastards so that they don't bother you again. Every attack window that pops up, look at the address line to see the domain address. Some times you'll x10.com in the address, other times some other site. Write down the domain address of that banner ad. Then close the window and allow the next one to pop up. If the banner ad is clever, it will hide the address line. In that case, right click on the banner ad and select Properties. This will give you the correct domain address most of the time.
When you've gathered enough of these, disconnect your Internet connection and reboot your computer. Now boot up the browser, go into the Security tab again, and enter all these sons of bitches into the Restricted Sites list. Run a virus check if you so choose. And only then reconnect your Internet connection.
This has worked wonderfully for me once I gathered the list. It still of course does not protect you against the occasional mistyped URL, so I suggest taking the first approach - setting your default browser security settings to High - as the safer bet.
Another thing you can do, as has been suggested by numerous reader emails, is to use the Google Toolbar. You have to give up some of your privacy, but it does work at blocking at pop-up ads.
Blocking web sites using hardware
There is another approach which works even better in situations where you have a number of computers all sharing the same Internet connection. Such as a small home network for example. Chances are if you have two or more PCs sharing a DSL or cable modem connection you're using some kind of hub or router to share the one Internet connection with your multiple computers. It can get tedious to try to protect each computer individually. The answer is to use the router itself, the little blue box that sits between your DSL/cable modem and your computers.
Some of these little blue boxes, such as the Netgear RT314 Gateway Router that I have (or the newer model, the Netgear MR314 which adds a wireless hub) have a wonderful feature where you can enter your Restricted Sites list into the router's memory and have it block the web site from ever reaching your computer! This is a great brute force approach to not only protect your computer but any computer that connects to your Internet connection. For example, someone surfing your wireless hotspot, or a friend who comes over and taps their laptop into your network.
On the Netgear boxes, log into the administration menu (which is usually at address 192.168.0.1 or 192.168.1.1) and choose the Advanced menu. Click on Content Filter, and then click on Keyword. Now type in all of the offending domain names, starting first and foremost with x10.com.
Now when you accidentally hit one of these offending web sites, such as when a legitimately trusted web site decides to pop up a link to one of these bozo banner ads, you'll get this kind of pop-up:

Close that one window and you don't worry that more windows will pop up.
The Netgear box also gives you a list of ALL domains that were surfed by your home networks. So for example when your friends brings over a laptop that has low security settings and gets the endless pop-ups, you no longer have to look up the domain addresses by hand. The Netgear router gives you a nice long list of domain addresses, and anything that looks suspicious you then add to the Content Filter list.
You can protect yourself so that any one particular web site can only screw you over once and with minimal damage. Now if the lawmakers got their heads out of the desert sand long enough, they'd make all banner ads illegal in the first and save millions of people the daily grief that this cyber-terrorism causes.
---
Bacon. mmm, (or, how fat ass lost 30 pounds eating bacon)
APRIL 28 2003
About a year ago I was whining about gaining a lot of weight after the recent opening of a Krispy Kreme donut here in the Seattle area in October 2001. And for all of last year I was considerably heavier than I ever have been in the past, which for me meant being over 210 pounds rather than my usual 180 or 185. What to do? I could no longer fit into my fine leather pants. Other pants were literally ripping apart at the seams on me. Was I doomed to forever be one of the stereotypical obese computer geeks that I have spent years mocking? Of course not!
Thanks to some great articles in major magazines such as Scientific American, Newsweek, Science News, and even television news shows such as CNN, it came to my attention last year that a growing body (pardon the pun) of scientific research is indicating that the U.S. government's "food pyramid" is BOGUS. In fact, not only is it bogus, but it is encouraging people to eat worse than before, and leading to increasing rates of obesity and diseases such as diabetes.
Could it be that the U.S. government (as well as the medical and food industries) have been feeding people bad information in an effort to make them sicker, fatter, and more dependent on drugs than ever? Well, you can be the judge of that. This I do know. The medical industry - much like the sleazy computer salesmen and car salesman who try to get your business every year by selling you unnecessary hardware - relies on repeat business. Healthy people don't bring in business. Neither do dead patients. So in the interests of maximizing profits, it is best for doctors and drug companies if people remain chronically ill, yet treatable with their fine drugs.
Witness my own experience, where about 10 years ago I was diagnosed with a supposed "chronic" disease, that had no cure, yet could be treated by daily doses of a very expensive prescription drug. Hmmm. I'm willing to bet that many of you reading this suffer from some kind of "chronic" lifelong disease. Perhaps diabetes. Perhaps high blood pressure. Perhaps any of dozens of other "diseases" that medical science has spent millions of dollars, no, billions of dollars, on to find cures, and yet no matter how many telethons poor old Jerry puts on, no one ever finds the bloody cure to any of these diseases! But turn on the television or open the newspaper and any number of drug companies blow millions of dollars on advertising that promises to make your symptoms go away. Not cure you, just keep you alive to keep buying more of the drug. In my case, I read up on the matter, found out that my "disease" was entirely treatable, presented the information to my doctor, and had it taken care of.
So now we come to the latest "disease" to hit America, obesity. No matter how much "low fat" food we eat, we're getting fatter. "Lite" this, "low fat" that, and yet there are more fat disgusting people walking around the streets of American than ever! Gyms are opening up everywhere. Just about any food is available in a low fat version. Restaurants are offering increasingly more "diet" foot. Diet sodas are everywhere. And yet Americans are still getting fatter and fatter. And now even the latest news suggests that many cancers themselves are caused by obesity!
Americans are so clued out about their obesity they use terms like the "French Paradox", like it's some kind of magical violation of the laws of nature, to explain how it can be that the French, who eat so much cheese and fatty food, can stay so slim and have lower rates of heart disease than Americans.
Instead of providing solutions to the problem, the food industry instead has cashed in on this low fat diet craze, sometimes even charging MORE money for "diet" food than the regular food. Basically the Food Pyramid has been a win win win situation for drug companies, doctors, and the food industry. A win for everyone but the people themselves.
In fact the new research is showing is that people who have followed the USDA Food Pyramid over the past 10 years are actually getting fatter, and getting higher rates of diabetes, than people on other diets. How can this be?
The whole Food Pyramid scam relies on the false assumption that fat is evil. Fat in any form - butter, oil, meat, etc. - is evil and should be avoided. And ironically it is this false premise of reducing fat that is making people fatter.
When you remove fat from a food, what do you replace it with? In most food products, the fat is replaced by sugar or some kind of starch. Read the labels. Pick up a "regular" version of a food, then compare the label against the "low fat" version of the same food. See less fat? See more sugar? Doesn't eating too much sugar cause diabetes? Or hyperactive children? It sure does. You should be realizing by now that the French Paradox is not a paradox at all if you remove bogus assumption that eating large amounts of sugar and starch is good for you!
The man who first figured this out 30 years ago is the man who sadly died just this month, Dr. Robert Atkins. His Atkins web site, http://atkinscenter.com/ beautifully explains the issues and gives you the data you need to understand how you've been duped the past decade.
The basis of the Atkins diet is this - eat whatever you want! Eat steak. Eat bacon. Eat vegetables. Eat butter. Eat all the things you've been brainwashed into believing are making you fat. If anything, don't starve yourself, as many diets cause you to do, as this only makes your body's metabolism slow down and store more fat. Instead, start off by NOT eating any sugar, starch, pasta, rice, bread, or fruit for the first few weeks. Then later on eat those items in much lower quantities than you're used to. For it is not the meat in the steak dinner that is making you fat, it is the big baked potato. It is not the butter on the bread, but the bread itself which is the culprit.
Now just as you're probably doing, I took all this with a grain of salt and didn't quite believe it. For what his diet is basically saying is that I can eat a pound of bacon a day and lose weight! But early this year I started doing exactly that - a pile of bacon every morning - and thanks to the support and encouragement of a friend that did the diet with me, I literally lost 30 pounds over the past 4 months. I've had to buy new pants three times now, because every month I drop another pant size, another belt size. A few days ago I hit the magic 1-8-0 and can fit into my old clothing again.
Not only that, but just last month I ran the annual Seattle St. Patrick's Day 5km run and cut almost 4 minutes from my time of last year! And this thanks to a diet of bacon and eggs every morning, cheese and chicken for lunch, and a huge red meat steak for dinner - the very things that the government, and the drug companies, and the food companies, tell you is bad for you!
Why does the Atkins diet work? Common sense really.
First of all, despite the ranting of the crazed vegetarian vegan tree hugging lobby, human beings are NOT designed to eat twigs and leaves. Agriculture only originated in the past few thousand years. Prior to that, human being went around eating MEAT. Lots of it. Meat contains fat. Meat contains protein. Meat does not contain sugar or starch or come from wheat.
Second, cane sugar itself was introduced to the world's diet only a few hundred years ago. Prior to that, we ate really bland food and we liked it. For flavouring, we added spices, not sugar.
Third, sugar gives you an immediate rush. But once it is metabolized you crash and crave more sugar. Eat a donut, you'll crave another donut. Eat a chocolate bar, you'll crave more chocolate. It is not that a calorie of fat is any less fattening than a calorie of sugar - and these foods have both sugar and fat in them - but it is the sugar that is addictive and keeps you eating more.
Finally, we all know that breakfast is the most important meal of the day. We also know better than to eat late in the day. Yet many of us still skip breakfast only to then gorge on a huge dinner, fall asleep, and wake up fatter. How many millions of geeks have a nightly pizza ritual? Plenty. C'mon, we know better and don't need Dr. Atkins to tell us. Eat a big breakfast and you'll find yourself being less hungry later in the day and snacking less. And no that doesn't mean eat a bunch of your shredded tree bark breakfast cereal. For what's the #1 ingredient in most cereals? Sugar. A bowl of cereal has about the same nutritional value as a slice of bread and starting your day off with a slice of bread or a slice of toast is no way to feed your body.
As Dr. Atkins explains it, and as these scientific studies back up, sugar and starch cause your body to produce insulin, which converts sugar and starch to fat. Eating sugar still makes your body store fat. And since most of us eat too much, our body is constantly storing away more and more fat, and not using up any of the fat that we already have. Not to mention that once your body can't keep up with the insulin requirement, or stops making use of it, you get diabetes.
But even the more obvious reason as to why Atkins works, which I've noticed from my own experience, is that fat fills you up, fat tells your body to stop eating, and eating a fatty breakfast in the morning will keep you from snacking all day. Plain and simple: start your day off with a big meal and you will eat less later and actually take in less calories than if you stick with a high sugar diet.
In fact, I find that I no longer get the daily hunger cravings in the afternoon that used to tempt me to go out and, oh, get some Krispy Kreme. I also no longer get "food coma", that feeling of sleepiness you get after a big meal. Again, it's not the fat that causes it, it's the sugar. Eat a half dozen Krispy Kreme and you'll not only get sleepy, you'll get a headache. Eat the same amount of calories of bacon or steak, and you'll feel full but neither sick nor sleepy.
So thus we get to the bacon - the perfect weight loss food in my opinion. Every morning fry up one pound (or one package) of bacon. Eat as much as you want of it for breakfast, and eat the rest during the day. Have some for lunch with your grilled chicken. Have the rest with your steak for dinner. Below is a thumbnail of what I typically eat for breakfast - some bacon and mayo (Homer Simpson had it right!), some fine Canadian salami, some feta cheese, and a tin of delicious almonds. I'll take this meal over the granola munching tree hugger diet any day!

Stay away from that morning cup of latte or mocha or juice. There is sugar in all those. Drink a plain drip coffee instead or drink water. My daily ritual of having a large morning mocha was my big mistake starting off the day.
Stay away from the temptation to drink lots of fruit juice or pop during the day, another mistake of mine. A large glass of some fruit juice has as much sugar as a normal can of Coke or Pepsi! Drink water or drink tea. That's what the Japanese do, and when is the last time you saw a fat Japanese person who wasn't a sumo wrestler?
Stay away from that loaf of bread most restaurants shove in your face at the start of a meal. Just tell the waiter to take the bread away. Like your mother said: eat the meat first.
Fries or potato with that steak? No. Ask for a side of vegetables. Order a salad. Put olive oil and vinegar or blue cheese dressing on the salad, not sugar laden Ranch or other flavours of dressing.
Mac 'n cheese? Sorry, no. Pasta is delicious, but you may as well be eating Krispy Kreme with your tomato sauce. Just look at any Italian woman past the age of 30. I rest my case.
Nuts? They're good for you! Almonds and peanuts are best. There is also scientific data to indicate that runners who eat nuts (rather than "pasta loading") before a race have more endurance during the race. Again, pasta and sugar give you an immediate energy boost, for long term energy fat is better.
Fish, eat lots and lots of fish.
And yes, the hardest part of all for you geeks - STOP EATING PIZZA YOU FAT F*CKS!
As it turns out, my diet for most of my life was somewhat close to the Atkins diet - lots of steak, lots of sausage, lots of bacon, lots of nuts, lots of eggs, lots of cheese, lots of pasta. A typical European diet. But it was the recent addition of the morning mocha and the afternoon Krispy Kreme that did me in - foods with sugar. By cutting those out, and cutting out the frequent pasta dishes, Atkins did wonders for me.
So forget the diet pills, the drugs that your doctor may try to get you dependent on, the stomach stapling that Oprah so glorified, and that overpriced "low fat" food. Just stop eating the sugar and starch and start eating bacon!
Buy his books or go to his web site, http://atkinscenter.com/ for the proper instructions, nutritional charts, scientific data, and related information. Let's get rid of that fat computer geek stereotype shall we?
---
APRIL 22 2003
First off, apologies for the 3 month gap between postings. My email inbox has been piling up with a lot of your emails, which I promise to either respond to or address here in future postings. I've received a lot of emails asking me to give my thoughts on the Hyper Threading feature in recent Pentium 4 and Xeon processors. I've similarly received a lot of emails asking about the Intel Centrino and AMD Athlon 64 processors. Lots of emails about our products and their usage. And lots of horror stories about viruses and pop up ads and what can be done about those.
And a number of you noticed a quote of mine in the New York Times in (I believe) the January 31st issue of the Circuits section. If anyone has a copy of that day's New York Times, please mail it to me.
But let me start first and foremost with the deluge of emails asking if our cancellation of the PowerPC emulator release this summer was an April Fool's Day joke. No it was not. Our plans to release several new emulation products this summer, including the PowerPC emulator for Windows, have been postponed indefinitely due to legal issues. There is far more involved in shipping an emulator than simply writing some code and posting it to the net. Legal issues have increasingly become a thorn in the side, ranging from ongoing lawsuits which we are tied up in at this time, to the abuse of the DMCA (Digital Millennium Copyright Act) which ultimately threatens every computer user's rights.
I'm not at liberty to go into the details of our legal hurdles at this time. Some day when it's all resolved I'll tell you about it. In the meantime while our lawyers do their thing, and since the Macworld MacHack and WWDC conferences were all rather bizarrely being rescheduled and relocated this summer as who knows what is going on behind the scenes at Apple (Apple, a music company??? Mac OS X on Intel???) I've cancelled any planned exhibits we had at MacHack and Macworld this summer and will instead take the gang out to Europe to follow Metallica around. Yes, the Napster busting boys are back together and touring again for the first time in almost three years, so we're going to check them out in at least Berlin, Toronto, and here in Seattle, if not even more venues.
Now to more of your email questions. I've had a lot of questions asking about the 64-bit AMD "Hammer", the new Intel notebook processor, my thoughts on Hyper Threading, and such, so relax, enjoy, and as always tell me what you think.
---
Clock Speed Is Not Everything!
APRIL 22 2003
If you've bothered to read through my earlier postings on the Pentium 4 and AMD Athlon processors, you know that I like to keep saying over and over again that CLOCK SPEED IS NOT EVERYTHING. AMD and Intel have both done something recently that has surprised me.. in a good way! Over the past 6 months, both AMD and Intel have released processors that run at LOWER internal clock speeds than existing processors, yet deliver more overall speed. In other words, they've finally stopped playing this idiotic game of simply increasing clock speeds, and instead delivering more computing power on each clock cycle.
The AMD Athlon processor made a name for itself in 1999 by being more efficient - doing more computational work during each clock cycle, or as they say, higher IPC (Instructions Per Cycle) - than the Pentium III. And with the long awaited launch of AMD's 64-bit Opteron processor, it seems that Intel is finally in the game with its latest Pentium III and Pentium 4 variants.
Intel started last year with the release of the Hyper Threading enabled Pentium 4 processors, which crams more arithmetic operations into each clock cycle. AMD followed suit by announcing the Athlon XP 3000 processor, which actually runs at a slightly lower clock speed than the Athlon XP 2800. And just very recently, computer resellers have begun shipping systems based on the Intel Pentium M processor, which considering that it's being marketed as a "mobile" processor, is quite incredibly blowing away performance numbers for all but the most recent desktop processors. Just today AMD finally launched the long long long long delayed and long awaited 64-bit Opteron processor. And also this week Intel has launched the Intel Pentium 4-C, a 3.0 GHz Pentium 4 with Hyper Threading and an incredible 800 MHz front side bus.
And both companies have also responded by bringing out processors with faster memory interfaces and larger on-chip caches. The expensive RDRAM memory is now replaced by dual-channel DDR, which as I've found easily keeps up with RDRAM while using slower, less expensive memory modules. The dual-channel DDR allows the latest Pentium 4 processors with 533 MHz and 800 MHz front side busses to use ordinary DDR 266 MHz memory modules and the new 400 MHz modules.
Before I get into details, the CPU improvements I've seen over the past 6 months are summarized below:
Intel Pentium 4 with HT
Intel Pentium 4-C (800 MHz bus)
Intel Pentium M
(Centrino)
Athlon XP
64-bit AMD Opteron
Hyper Threading
yes, two virtual processors
yes, two virtual processors
-
-
-
Lower instruction latency
yes
yes
yes
-
?
Faster Front Side Bus
-
800 MHz from 533 MHz
400 MHz from 133 MHz
333 MHz from 266 MHz
333 MHz from 266 MHz
Larger L2 Cache
-
-
doubled to 1 megabyte
doubled to 512K
quadrupled to 1 megabyte
dual-channel DDR
yes
yes
-
-
yes
Both AMD and Intel are hitting limits of approximately 2 GHz and 3 GHz respectively in the current designs of their Athlon XP and Pentium 4 processors, so finding new ways to do more with the same number of clock cycles is a GOOD THING, since higher clock speeds mean higher power usage, more heat, and louder fans.
I'm quite impressed at both Intel and AMD, for in span of under 6 months they have both made very significant and measurable improvements to their processors, very much unlike the stagnation of the previous year where both the Pentium 4 and Athlon XP product lines were only being improved slightly and the Pentium III was being pulled off the market. I am delighted to see that both companies were simply regrouping to this latest onslaught of product releases.
First, Hyper Threading. As I've said before, I love dual processor computers. Hyper Threading can be thought of as a Poor Man's dual processor solution that puts the equivalent (almost!) of two separate Pentium 4 processors on a single physical chip. Contrary to popular belief, having two processors does not make your computer twice as fast, as no, Hyper Threading does not double the speed of the Pentium 4. As I wrote a year ago in the Dual Processor Shootout, adding a second processor may even slow down your computer due to extra locking operations taking place in the operating system, and it certainly almost never doubles the speed.
So why bother? Because it generally does help when you're trying to do two things at once, which is increasingly common today with multi-tasking operating systems. For example, running a video game that hogs one processor still leaves your system free with an available processor to do other things. The benefit I appreciate the most from having a second processor is in better system responsiveness. Having those spare CPU cycles with some programming is hogging processor time makes window switching more responsive, makes the Start menu more responsive, and just makes the user interface in general respond better.
When Hyper Threading is enabled, the single Pentium 4 processor will appear to most software to be two separate processors. Windows 98, Windows Me, and Windows2000, which were released long before Hyper Threading, don't "see" the second virtual processor. Windows XP does, and will allow two separate programs (or two threads within the same program) to run simultaneously without time slicing between the two.
But here is the catch: the core of the processor is shared by the two virtual processors. So you don't really have double the computing power because you're sharing the single memory bus, you're sharing the same on-chip cache, and sharing the same execution units. The trick to Hyper Threading is that it relies on the fact that as any software is running, parts of the processor are not being used. A processor will spend some of its time stalled, typically waiting on memory operations. Sometimes the processor can do other operations while it waits. This is called "out-of-order execution". But if the other instructions depend, say, on the result of a memory read that's still taking place, then even OOO execution stalls. While the processor is stalled, clock cycles are simply being wasted. Having two virtual processors means that there is less chance that BOTH are stalled.
Think of it in terms of phone calls. If you have a single telephone and you get put on hold, you sit and wait. You're stalled. Think of a single telephone as a single processor. If you had two telephone lines, think of that as having a dual processor system. Now think of Hyper Threading as having a single telephone with Call Waiting. You can handle two phone calls at once, provided that one of them is on hold. Only when both calls put you on hold do you stall.
Hyper Threading is actually a little more advanced than my phone analogy. As it turns out, when I first looked at the Pentium 4 back in December 2000, I had noted a seemingly idiotic capability of the Pentium 4 to execute five integer operations per clock cycle, despite the cache's ability to only generate 3 of these operations per clock cycle. As we now see in hindsight, this was done with Hyper Threading in mind, to better accommodate the second virtual processor.
So there is some headroom in Hyper Threading, in that two programs can execute at once and both can actually get some work done, even if not quite both at the full speed of each running separately. In general, I've found with Hyper Threading you can get about 50% more performance than running a single processor Pentium 4, but not the full doubling in speed you'd hope for.
What about dual Hyper Threading processors? Does that appear as 4 virtual processors? It sure does! As I found out on a Dell 650 workstation with dual Xeon processors, Windows XP will treat this as a 4 processor system and display it as such, as shown in this screen shot of the Task Manager.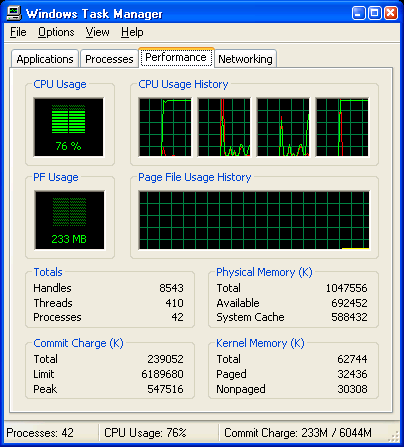 The next improvement to the Pentium 4 that Intel just announced this month is a faster 800 MHz FSB (Front Side Bus) to access memory even faster. Since Hyper Threading can execute more code per cycle, it can also potentially generate more memory accesses, and this requires a faster memory bus. A year ago the Pentium 4 processors running at 2.0 GHz used a 400 MHz bus. For Hyper Threading processors the bus speed was increased to 533 MHz, but considering the current 3.0 GHz and faster processor speeds and the extra load of Hyper Threading, this is actually too slow of a bus speed. It also requires PC1066 RDRAM, which is painfully expensive.
So for the 800 MHz FSB chips, Intel has switched to using dual-channel DDR memory. By running the cheaper DDR memory modules at only 400 MHz, but pairing them up in parallel, an effective bus speed of 800 MHz is obtained. Some existing Pentium 4 motherboards already use dual-channel DDR to support the 533 MHz FSB using pairs of inexpensive DDR266 (PC2100) memory.
We tested both Hyper Threading and dual-channel DDR memory by comparing two of our Dell workstations, a model 530 and a model 650. Both systems use dual 2.00 GHz Pentium 4 Xeon processors, both have large amounts of RAM (4 gigabytes and 1 gigabyte respectively), both were equipped with ATI Radeon 7000 series video cards, and both are running Windows XP. However, the model 530 is an older model using a 400 MHz bus with RDRAM and non-Hyper Threading processors, while the model 650 uses a 533 MHz dual-channel DDR bus and supports Hyper Threading.
Running applications that are fairly CPU intensive on processor but not the other, such as our SoftMac Xpress emulators, gave virtually identical benchmark results on both machines, and also virtually identical to a regular 2.0 GHz Pentium 4. The model 650 was faster on some video and memory benchmarks, as would be expected by the faster memory bus. And that's encouraging, as it means the dual-channel DDR was living up to expectation.
We then ran a real world build scenario of building the 68040 engine used in SoftMac. On both systems either building one instance of the engine or having two instances of the build going took about the amount of time. To do 4 builds took 205 seconds on the model 530, more than double the time since only two processors are available, but on the model 650 with its 4 virtual processors, the build time was only 130 seconds.
So under heavy processor load, Hyper Threading can deliver a good 50% performance boost over a similar non-HT processor, but far short of the 100% ideal one can expect from two physical processors. Considering that Hyper Threading is now standard in new Pentium 4 processors, that's still 50% better than before. Your computer won't necessarily run any one single program faster, but it will run several programs simultaneously better than before.
---
Dell D800 Centrino Notebook - WOW!!!!
APRIL 22 2003
To round out the list of CLOCK SPEED ISN'T EVERYTHING items, the most amazing chip I've played around with recently is the "new" Intel Pentium M "mobile" processor, also known by the "Centrino" brand name and by the code name "Banias". I put those words in quotes because really "new" and "mobile" are more marketing terms than anything else, just as the Centrino name is. Technically, the processor by itself is called Pentium M, and the Pentium M plus its wireless enabled chipset is called Centrino. Or so I think. I'm confused.
In any case, as far as I'm concerned, the Pentium M is the Pentium III reborn. Running Intel's own free CPU ID utility shows that the Pentium M identifies itself as a Family 6 Model 9 processor. For those not familiar with Family values, the original Pentium and Pentium MMX processors are Family 5, representing the 5th generation of Intel x86 processors. All Pentium II, Pentium III, and most Celeron processors are Family 6, indicating that they are 6th generation, based on the "P6" micro-architecture common to all of them. And Pentium 4 and new Celeron processors, being 7th generation of course show up as Family 15. Don't ask me why, that's just how it is. Pentium M is therefore identified as a Pentium II / Pentium III class processor.
My older Pentium III notebooks (a Gateway Solo and a Dell Inspiron 8000) both show their Pentium III processors as Family 6 Model 8. My newer Dell Inspiron 8100 with a 1200 MHz Pentium III mobile processor shows up as Family 6 Model B (B being the hexadecimal digit for 11). The 1600 MHz Pentium M shows up as Family 6 Model 9 (!!!) indicating to me at least that it's just yet another mobile Pentium III.
Near the end of my October 2001 posting on the Pentium III Tualatin I had stated that if Intel wanted to release a faster Pentium III they likely could. Yet doing so would embarrass the Pentium 4 product line. So it seems that Intel's clever marketing people found a solution that allowed them to release a faster Pentium III yet save face - wait one year until the Pentium 4 was running faster, rename the Pentium III to drop the "III" part, throw in some Pentium 4 features. Call it what you will, I for one am VERY happy to see the return of the Pentium III. I just wish they made a Socket 370 compatible desktop version now!
From what information Intel's tool provides, and from what I've gathered by running my own machine language tests, the Pentium "not a III" M is basically a:
the next minor variant of the Pentium III chip

with a core clocked at 1600 MHz instead of 1200 MHz

with double the L1 and L2 cache sizes (32K/32K/1024K) compared to a 1200 MHz Pentium III

with faster bus speed (400 MHz instead of 133 MHz) using DDR memory instead of PC133 SDRAM

with Pentium 4 multimedia (SSE2) instructions added
All this combined on of the already excellent Pentium III design results in one hell of a speed boost over Pentium III systems from a year ago. This is the chip that the Athlon XP should have been. Although the raw clock speed increase alone is about 33% over a 1200 MHz Pentium III, the real world results are far more stunning. As you can guess, the combination of the best features of the Pentium III and Pentium 4 in a single chip result in incredible speed. Using our own SoftMac benchmarks, I measured the 1600 MHz Pentium M to be running a good 60% to 100% faster than the 1200 MHz Pentium III. In other words, it's in the ballpark of what a 2000 MHz Pentium III would run at. Wow! And applying a 75% to 80% efficiency fudge factor for the Pentium 4, that translates into the equivalent of a 2400 to 2500 MHz Pentium 4. Which is exactly what most other reviews of this processor have found as well. If you look at our benchmarks, all our systems except the 2.6 GHz Pentium 4 end up losing to the Pentium M.
Our other SoftMac related benchmark, the real world and very CPU intensive task of building the 68040 engine used by the SoftMac XP emulator, took 43 seconds on the Pentium M compared to 77 seconds on the Pentium III-1200, almost 80% faster! Just for comparison, I ran the same test on a 1.6 MHz Pentium 4 and a 1.6 MHz Athlon XP 1900. 49 and 103 seconds respectively. Of our Athlon systems, we had to go up to an Athlon XP 2200 system (which runs at 1800 MHz) to begin to match the speed of the Pentium M and even then it was still losing some benchmarks.
Of course I've only tested a single machine, my new Dell Latitude D800 notebook, so your mileage may vary. The machine itself is pretty impressive on its own, featuring Dell's latest 1920x1200 LCD display (yes, 1920 pixels across), integrated modem/Ethernet/wireless, DVD/CDRW drive, and DDR memory. It's a fairly decent setup from the Inspiron 8100, and at about $2600 it's about $200 cheaper than we paid for the Inspiron at the end of 2001.
---
Start downloading a ton of product updates
JANUARY 13 2003
If you went away for the holidays and just got back, wow, do you have some downloading to do! Tens of megabytes of patches and updates to Windows, Office, third party tools, and device drivers all seem to have popped up during egg nog season. Here is a quick list of sites Windows users should visit to grab some patches.
Office Update: http://office.microsoft.com/productupdates/
This is the twin site to Windows Update, and offers updates and patches specifically for Office 2000 and Office XP. New for the holidays: Office XP Service Pack 2 and Office 2000 Service Pack 3. I do admit, after applying these service packs, Outlook is crashing less often.
Windows Update: http://windowsupdate.microsoft.com/
This is the automated download site for getting patches and updates to Windows releases since Windows 98. Generally, major security fixes to Internet Explorer and Windows show up here, as do popular device driver updates.
New over the holidays is the arrival of Windows Media Player 9 and a large cumulative update to Internet Explorer 6. However, if you haven't run Windows Update in a while, you may literally see over 30 different patches that need downloading. For example, this weekend I booted up an old Windows 98 machine that was last updated in March 2002. During those 10 months, over 30 patches totaling over 50 megabytes showed up.
TIP: Now here's a little trick reader Steven Noonan emailed me about. The default behavior of the Windows Update page is to automatically try to determine what updates your PC needs. This is fine generally. But let's say you want to apply the patches manually because you have multiple PCs to upgrade at once, or you simply want to have the patches as individual files in case any need to be re-applied and you wish to save the download time.
What Steven pointed me at is the Windows Update Catalog page, which can be enabled by clicking on the Personalize Windows Update link. Once you are on the catalog page, you can search for specific downloads and patches by Windows release, or by hardware manufacturer. Windows XP for example has over 120 patches alone, not counting device driver updates! Once you select all your updates into your download basket, they are downloaded to your hard disk and you can install them manually.
Microsoft Downloads: http://www.microsoft.com/downloads/
This is where you find ALL the Windows related downloads from Microsoft. Generally the downloads here propagate a few weeks later to the Windows Update site, but it doesn't hurt to look. For example, the latest DirectX 9 is available for download here, but has not made its was to the Windows Update page yet.
DirectX: http://www.microsoft.com/directx/
You can always find the latest information and downloads of DirectX at its own dedicated page.
nVidia Graphics Drivers: http://www.nvidia.com/
With the demise of so many good video graphics card companies over the years, Number Nine and 3dfx to name a couple, the graphics world has come down to two companies: ATI and nVidia. I still to this day do not endorse ATI video cards, as my 10 years of experience with dozens of their cards has been nothing but a frustrating and painful exercise. And even when one visits the ATI web site, it is a daunting task to figure out exactly which make and model and revision of ATI card you have in your PC in order to download the correct driver. If you buy a PC with a pre-installed ATI video card of unknown model, good luck!
Naturally, ATI's one monopolistic command of the graphic market has been eroded away significantly by competitor nVidia, which has a simple and beautiful solution to the whole problem of driver updates: one single driver for practically ever card they make. This is known as a monolithic driver, or Unified Driver Architecture as they call it, and is the exact opposite of ATI's confusing scheme.
I love nVidia's method, because between by Ti4600, GeForce 3, MX440, and half dozen other nVidia based cards, I simply download the one single driver one time.
The monolithic driver for GeForce cards was updated in December and does include a significant speedup. I'm not sure if this partly due to the fact that I downloaded DirectX 9 at the same time, or simply a better drivers, but on many of my PC systems I've noticed significantly faster graphics (especially basic 2-D operations) as a result of downloading both DirectX 9 and the latest nVidia driver.
Real Player: http://www.real.com/
Just as I thought I was all done downloading, my Real Player 8 tray icon started blinking the weekend after Christmas. Which can mean only one thing: a new Real Player update, not Real Player 9 as I'd expected, but this time known as the Real One. I've not put the Real One Player and Windows Media Player 9 together in a cage to see which one reigns supreme over the other at playing MPEG4 content.
Quick Time: http://www.apple.com/quicktime/products/qt/
Wait! Not to be left out, all you Quick Time 4 and Quick Time 5 users better start upgrading as well, because Quick Time 6 is out to jump into the MPEG4 arena as well. Quick Time is great for watching those older movie trailers that never seem to appear in other formats.
Adobe Acrobat Reader: http://www.adobe.com/
Although Acrobat was last updated last summer, many of us perhaps have forgotten to upgrade that old Acrobat Reader version 3 or 4 release that came pre-installed on the PC. So now is as good a time as any to continue the downloads by making sure you have the latest Adobe Acrobat Reader.
SoftMac Xpress 8.2: http://www.emulators.com/download.htm
If you our very own update announcement over the holidays, SoftMac Xpress 8.2 is now available as a free download. SoftMac Xpress 8.2 is fastest release of SoftMac so far, running up to twice as fast as SoftMac 2000 version 8 on the same machine. And being the small efficient piece of code it is, we're happy to say that the SoftMac Xpress download is barely over a megabyte in size. Enjoy!
---
Great little PCs for Christmas
NOVEMBER 11 2002
Barely hours after I finished posting the October 12 piece on how NBCs is ripping off consumers by selling a $1000 PC for over $1500, I set out to prove that even $1000 is too much to pay for a PC these days. With there only being 6 weeks until Christmas, you may be in the market for a new PC to buy for yourself, or to give as a present.
Well, the forget the $2000 PCs, the $1500 PCs, even the $1000 PCs. I'll show you how to put together a great little system for about $500 and change, and it's not a ugly beige box either!
A few months ago Tom's Hardware and other sites reviewed the new Shuttle mini PCs - tiny computers slightly larger than an XBOX or a notebook, but well under the typical size of a desktop PC.
The small form factor PC is not a new concept. Soyo made some great little Celeron systems a coupe years ago in a DVD- or VCR-player sized case that was well suited for playing DVDs and outputting the video to a television or standard monitor. We demonstrated our products at Macworld and Comdex shows the last couple years using these small PCs.
However, that generation of small PCs used 533 MHz Celeron chips and was not upgradeable to today's 1+ GHz Celeron and Pentium III and Pentium 4 chips, nor did they support anything faster than PC100 SDRAM. Shuttle pushes the mini PC to the limit, but actually supporting PC133 and DDR266/DDR333 memory and 1+ Ghz processors in a small form factor.
Searching the web, I found a number of dealers that offer the Shuttle products. I chose to go with a company called Shentech. By October 18th they had already delivered the first of the Shuttle PCs, and having now ordered several units from them at a great price, I highly recommend that you check them out at www.shentech.com.
Putting these puppies together was remarkably easy, since the motherboard is already pre-installed in the case. The first one I decided to see how cheapy I could upgrade an older machine to this new one. I gutted one of the older Soyo computers, that's the 533 Mhz Celeron based PC that's about the size of a VCR, and spread out the parts as shown below.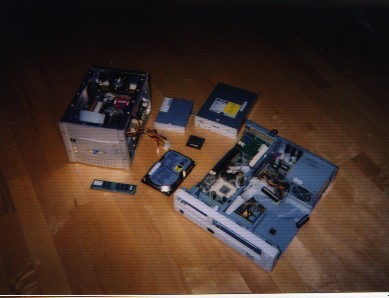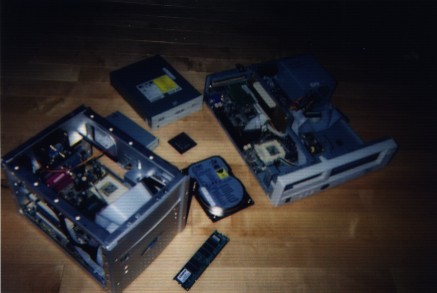 What you see on the left is the Shuttle PC case, in this case, the SV25 bare bones Socket 370 system which supports 600 MHz to 1400 MHz Pentium III and Celeron chips. Next to it you see the older Soyo system, as well as the RAM module, hard disk drive, floppy disk drive, DVD-ROM drive, and the 533 MHz Celeron processor.
We can toss the old case and processor but recycle everything else. For a total cost of $193 for the Shuttle bare bones case and motherboard, and about $75 for a 1300 MHz Celeron processor, plus shipping and tax, I had all the parts to upgrade the old PC to a new one that was over twice as fast, FOR UNDER $300!
If you're one of these suckers that blows $2000 every year on a new PC, let me repeat - $300. You recycle the hard disk, recycle the floppy disk, recycle the CD or DVD drive, and recycle the RAM.
Recall that not even two years ago, even a 1 GHz Pentium III or Athlon system was considered a top of the line high end computer. Today, you can upgrade to beyond that for $300.
The finished system, with snazzy LCD monitor shown below, took less than 2 hours to put together, which included upgrading the existing Windows Me on the hard disk to Windows XP Home Edition. You can see the relative size of the Shuttle PC compared to the old Soyo case and an Dell notebook. The side of the Shuttle case is barely larger than a car license place, and the cross barely larger than a CD-ROM. Not to mention it looks a hell of a lot better than a large beige box. That should appeal to ex-Mac users!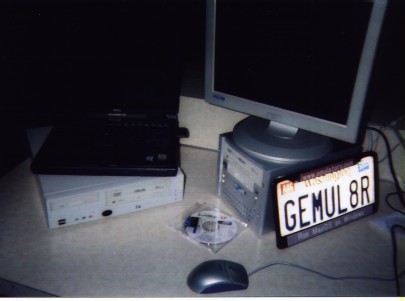 The next system I built was virtually identical, using the same SV25 case and a 1300 MHz Celeron processor, except this time I used PC133 SDRAM and priced what it would have cost to put together the system from scratch. It's the same $270 or so for the case, motherboard, and processor, $70 or so for 512 megabytes of PC133 SDRAM, and about $200 total for a floppy disk drive, DVD-ROM drive, and 7200 rpm 60 gigabyte hard disk. There are so many similarly priced hard disks and DVD drives out there it's dirt cheap. I personally prefer the Seagate Barracuda drives.
But add up the numbers, and for between $500 and $600 you can built a complete 1300 MHz Celeron system from scratch. Now keep in mind that the Shuttle bare bones PCs all come with Firewire ports, plenty of USB ports, TV output jack, sound, Ethernet, and built-in. Basically everything you need in a home PC short of a video capture card is included. Which is another thing to consider if you're buying a PC for someone who isn't too technically saavy and isn't likely to go putting add-on cards into the machine, having all the ports built-in is very conventient.
The next system I looked at was the Shuttle SK41 Athlon bare bones system. It supports DDR memory and the Athlon XP processor. As of the end of October, the Athlon XP 2400, 2600, 2700, and 2800 processors were still missing in action here in the Seattle area, with every computer dealer I checked with still only selling the Athlon XP 2200. So Athlon XP 2200 it was.
The Athlon system is a little more pricey. About $315 for the case and motherboard, $190 for the processor (note: the Athlon XP 2200 has dropped to about $175 since then), slightly more for the DDR memory, and the same $200 or so for the disk drives. Grand total: under $800 for a complete 1800 MHz Athlon XP 2200 computer, again with the Firewire, USB, Ethernet, TV, sound, and video ports.
As with the Celeron systems, the complete build took about two hours including installing Windows XP Home. The final Celeron system (with the PC133 RAM) and the Athlon XP 2200 system are shown here next to an XBOX and one of my 50 inch monitors that until how has served as the XBOX screen. You can see the PC is still a slightly larger form factor than a game console, but it's getting close. The Athlon XP cube, having the two full size PCI slots, it a tad larger than the Celeron cube. The Pentium 4 cubes also use the slighly larger form factor.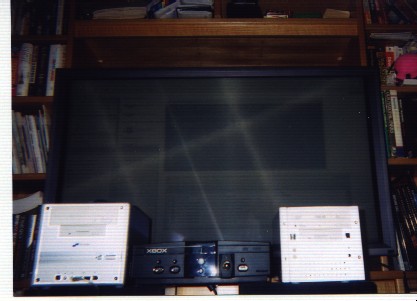 I also built a couple of Pentium 4 based systems (a 2 GHz Pentium 4 core Celeron in a Shuttle SS50 case, and a 2.53 GHz Pentium 4 in the SS51). These systems broke the $1000 barrier and so I'm not considering them for this batch of "cheap Christmas computers". More on them in detail at a later time.
What the Athlon XP case and the Pentium 4 case do share though over the Celeron case is the addition of two PCI slots. These allow you to plug in two full sized PCI cards, such as a video capture card, a real video card such as an GeForce or ATI 3D card, or a SCSI card. I actually hooked up a SCSI card to the Pentium 4 system and successfully installed Windows XP.
The only drawback I found with the Shuttle PCs is something I mentioned last year with low-end Dell PCs, and that is that with integrated video comes a slight drop in performance. Since the SDRAM is being shared for both CPU memory and video memory, some portion of the CPU time is stalled while the video chip accessed the memory. This becomes more prevalent as the screen resolution and screen depth increases.
For example, at 640x480, 800x600, and even 1024x768 in 65336 color, the speed degradation due to the video sharing is on the order of a few percent. For most uses negligible. At 1280x1024 in 32-bit color, up to 30% of the CPU time is wasted on video, and speed differences can be measured. For DVD playback (which is usually done at 800x600 resolution) or use with a 15-inch monitor at 1024x768 screen resolution, the shared video is really not an issue. However, if you plan to connect a higher resolution monitor and use 1280x1024 or even 1600x1200 screen resolutions, I do recommend that you drop in a dedicated video card into one of the PCI slots.
In terms of weight, the PCs are about 10 pounds, considerably less than the usual 30 pounds or so for a desktop system, but slightly more than the weight of the XBOX or a PS/2 for example. If you're looking to ONLY play video games and play DVD movies, you may actually still consider purchasing an XBOX or PS/2 rather than a full blown PC.
But beyond just a game system, $500 to $800 as I've shown puts you together a very nice entry level PC comparable to top-of-the-line machines from even just earlier this year. And with the inclusion of things like Firewire and USB 2.0 and Ethernet, the tiny form factor of these PCs does not mean being stuck with out of date technology.
I'll write more about these puppies later. Right now I'm still holding my breath for both AMD and Intel to ship some new chips and of course I'm waiting anxiously for AMD to come to town in a few weeks with their Road Show.
Speaking of anxious waiting, a little tip for you Guns 'N Roses fans out there that have waited almost 10 years for the return of Axl Rose. DON'T BOTHER. After the riot last week in Vancouver, I was ever so lucky to go to their Seattle area show this weekend. Not only can Axl no longer sing, not only can he no longer play piano, not only is the rest of the band gone, but ticket scalpers were outbidding each other to see who could dump their tickets at the lowest price. By show time, the price on the street had dropped from $40 to $10, to $5. Oh it was tragic.
---
OCTOBER 12 2002
Apologies in advance to those living outside of North America who are neither familiar with the NBC television network or with the Dell "dude" television ads. You'll understand the meat of this posting nevertheless.
As many of you who are familiar with NBC know, the programming on that network is geared mainly towards, oh how shall I say this in a remotely polite way, the least intellectually gifted people in our society. It does not require much besides a stunted mind to be able to sit through an episode of Friends. A show which I am proud to say I have never watched more than 5 minutes of. This is the same network that insults viewers by fabricating stories which it then presents as investigative journalism, as was most plainly demonstrated when in an attempt to fabricate a story about exploding GM trucks, the crack team of reporters at NBC placed explosives on those vehicles in order to demonstrate how those vehicles explode during a crash. Absolute trash TV.
It is not surprising then that this same television network runs a nightly series of reports on the NBC Nightly News called "The Fleecing of America", in which they claim to uncover various ways that Americans are getting ripped off.
Well here's a news scoop for you Tom Brokaw - NBC is ripping off consumers!
Here's how. We've all been channel surfing and run across those annoying "home shopping networks", which feature badly made up blonde bimbos pimping the absolute worst of consumer products imaginable. From stupid stuffed dolls to computers, these butt pirates of marketing are out there 24 hours a day on several channels selling you things you don't need.
Thanks to an alert reader who tipped me off in email, I came across one such item today on NBC's shopping site, www.shopnbc.com. In fact, the item is prominently featured on their main page, and comes completely with a 2 minute promotional video touting the incredible value of this computer system. Check it out yourself.
The item in question is a 2.4 GHz Pentium 4 system, complete with color printer/scanner and digital camera, and "$1200 of free software". Oooooh. What a steal, a steal if you work for NBC that is. The system is available in 3 flavors, ranging in price from $1549 to over $2000 depending on which monitor is selected.
As long time readers of this page already know, the collapse of prices in the computer product in 2001 makes it virtually impossible to spend over $1000 on a home computer system. Yes, you can still spend $2000 or $3000 or even $9000 on computer if you really try (and I DO try). But for the average consumer, who reads email, surfs the web, or writes a letter to grandma, a $1000 computer is more than sufficient.
In my August 2001 posting on How to buy a PC, I exposed the scam that some retailers such as CompUSA pull off in selling over-priced, out-of-date computer systems. PCs being PCs, a commodity item that is constantly dropping in price, are not the type of item that should be sitting on store shelves for months on end. I've talked about the perils of shopping at places like CompUSA and of buying pre-built computers that sit on a shelf waiting for you to buy them 6 months later. The minute you buy such a computer, your computer is out-of-date, and has already been replaced by newer systems costing less.
The problem of out-of-date over-priced computers is not just limited to the brick and mortar stores. These home shopping networks, which buy up large quantities of useless items, pull off similar scams, as I'm about to show with these systems that NBC is pimping.
Let's look at the lowest end system, the $1549 system, item number V19750. As claimed in their product description, this is a 2.4 GHz Pentium based computer with Windows XP, 80 gigabyte hard disk, digital camera, color printer, 256 megabytes of RAM, speakers, a DVD drive with CD-RW support, floppy, modem, etc. etc. Watch their 2 minute video, and wow, you even get software to edit photos.
So what is wrong with this picture? Is this not a dream system? Should you not be calling 1-800-884-2212 to beg them to ship you this system as soon as possible because you life would be incomplete without one?????
Ok, what's wrong?
The most glaring problem with this system is that many details are left out and left to the reader. Sure, Windows XP is included, but which version, Home Edition or Pro? What speed DVD and CD drive? What speed hard drive? These items are completely omitted. In fact, one has to watch the 2 minute video to pick up that the operating system is in fact Windows XP Home Edition, the lower version of Windows XP.
Second, it completely mismatches the processor and memory. Even last summer I already warned against systems which match a Pentium 4 processor with SDRAM. The reason being that SDRAM runs at 100 or 133 megahertz, while the processor is running at over 10 times that speed. As any benchmarking site can tell you, a fast processor needs fast RAM. Last year when we looked at the Pentium III processor and compared it with SDRAM and DDR memory, it became very obvious that even at 1 GHz speeds, the processor can easily generate enough bus activity to throttle the memory. In other words, the processor spends a lot of its time sitting idle waiting for memory chips to respond.
This is why today, with both Intel and AMD processors running at over 2.0 GHz, it has become necessary to increase the memory bus from 133 MHz to speeds of 266 MHz, 333 MHz, 400 MHz, even 533 MHz. Any number of benchmarks demonstrate huge speed gains to be had by using 333/400/533 MHz memory over the slower SDRAM.
Just stick my 10 to 1 rule. If the processor is running more than 10 times the clock speed of the memory, you're wasting processor power. In this case, 2400 MHz to 133 MHz, it's an 18 to one ratio. I was upset about these kind of systems a year ago when the ratio was just getting to 10 to 1 (with 1.3 GHz Pentium 4 processors), so 18 to 1 is just UNACCEPTABLE!
NBC is selling a computer system here that uses the old trick of throwing a large MHz number at you in order to fool you. As I demonstrated back in December 2000, even at 1.5 GHz and 400 MHz memory, a Pentium 4 can barely outpace a 1000 MHz Athlon. At 2.4 GHz, but crippled with 133 MHz memory, the system will barely do any better, if even better. You're paying bug money for a computer system that will run at about the same speed as a computer system from almost 2 years ago!
Other problems. When I called the 1-800 number to speak to a salesperson, I flat out asked what version of Windows XP is installed - Home or Pro. The sales person DID NOT KNOW. When I asked whether the hard disk was 5400 rpm (crap) or 7200 rpm (better), or 10,000 rpm (great), he again had no clue. Again no clue about the RAM, no clue about the speed of the DVD or CD-RW, in fact, no clue about anything.
One has to watch the 2 minute video in order to get some clues, such as that the drive is a 7200 rpm 80 gigabyte WD Caviar drive. And it is quite comical to see them still use the term "EXTENDED MEMORY", an old MS-DOS term that is irrelevant today.
And watch the hands on the supposed technician who is building the system. He is wearing a metal bracelet. Anyone who works with electronics as much as I do knows that you do NOT wear rings, bracelets, or watches while working on a computer. These items can snag on components, scratch and damage sensitive computer components, and worse, help electrocute you.
The video is funny to watch, even their obligatory scene of writing a letter to grandma, but clearly shows that the people who made the video don't have a clue what they're doing.
Just how much of a rip-off is this system? Let's do what I did last year - let's compare with Dell. Going to www.dell.com, one immediately sees home computers for sale for $749. As I warned last year, DO NOT, DO NOT, DO NOT, I repeat, DO NOT, buy the bottom of the line $600 or $700 Dell. They too are crap.
Instead, customize the system. I clicked on the "Home and Home Office" link, and selected the Dimension 4550 system. Click on Customize, and select as close a system to what NBC is selling. That is, a 2.4 GHz processor, 1 year of service, the Lexmark X75 printer, 256 megabytes of DDR333 memory, 80 gigabyte Ultra ATA/100 hard disk, Windows XP Home Edition, 17 inch monitor, DVD/CR-RW combo, speakers, AOL, Picture Studio, and modem, for a grand total price of...
$1017.00
In fact, we're only missing the 1.3 megapixel digital camera, a Minolta, which prices online for about $120. So the total value of what NBC is selling to you is about $1140, over $400 less than NBC's price.
Now, one can argue that NBC includes $1200 of "free" software, and yes, they throw in some crap that Dell doesn't, but I've seen the kind of software that gets bundled with most computers and it truly is crap. With Dell, you're getting Windows XP Home, Microsoft Works, AOL, and picture editing software. That's all you need to email, surf, and write letters to grandma.
One also has to factor in the fact that Dell is including 333 MHz DDR memory, not useless SDRAM. There is a huge difference in speed that will immediately be apparent between the two systems.
In fact, by only spending about $1200 for the Dell, one can upgrade to 512 megabytes of RAM (which is what I've always been putting in my test systems) and Windows XP Professional, the version of Windows XP you should really use because of its encryption, security, and remote desktop support.
So $1200 for a great system, let's say $1320 if we include the Minolta camera, or $1549 for a piece of junk. You decide. NBC is making about a 25% IDIOT PROFIT, relying on people to trust the NBC brand name. Outright fraud if you ask me.
One doesn't fare much better with the other two systems, the $1849 V19751 or the $2049 V19752 systems. These are the same as the system I just described, with one having a 15 inch LCD and the other a 17 inch LCD.
In fact, the IDIOT PROFIT increases, as one is charged $300 extra to replace a 17-inch monitor with a a 15-inch LCD. 15-inch LCD monitors have been priced between $300 and $360 for months now, while 17-inch monitors sell for about $150. So really, you're paying $300 extra for a $200 better monitor.
With the 17-inch LCD monitor, you're paying $500 extra for what Dell charges $440 extra for. Idiot tax? You bet!
Now while Dell is certainly a much better brand to buy than some generic brand that NBC pimps, you can do even better yet by purchasing your own parts and building your own system. If you already have a printer and a camera, upgrading an existing PC to the specs discussed above is something that will cost you under $1000.
And as computer prices keep falling, even $1000 is overkill. Remember, that $1000 figure a year ago was for an Athlon Thunderbird or Pentium 4 Willamette class machine. Today, such systems can be built for under $600. I've done it and documented this over 6 months ago. Today, $600 gets you a similar system, just faster and with better specs. Look at for example, some deals from Computer Stop, one of my local Seattle-area computer resellers. A 2 GHz Celeron (which is what the old Pentium 4 Willamette chips are now called) with CD burner, 256 meg of DDR memory, and Windows XP is $639. A comparable Athlon XP system is $789. Add a monitor, and for about $900 you're got a system that only 2 years ago would have been considered a top-of-the-line $3000 system.
Think about it. Two years ago, people were paying $2000, $2500, even $3000 for systems running at about 1 GHz with 128 (if you were lucky) megabytes of PC133 SDRAM (boo hiss!), running Windows Millennium (boo hiss!!!!), and dial-up modems. Today, this is an under-$900 system that most people pass up on.
It is ironic that computers have reached such a point that what did not even exist 2 years ago is unwanted junk today. At least, that's what computer makers and resellers want you to believe.
In reality, human beings - the users of computers - have changed little in 2 years. Do we read faster? Do we type faster? Do we do things on our computers today that we did not do 2 years ago? Audio CDs have not changed in 20 years. DVDs have not changed certainly in the past 2 years.
If a computer from 2 years ago was capable of allowing you to watch a DVD, listen to a music CD, burn a music CD, type a letter, read an email, play video games, and surf the web, then does such a computer not do those same things today? Of course it does!
So if you take away any advice from me today, it is this:
DO NOT, DO NOT, DO NOT pay more than $1000 for a home computer. If all you need to do is watch a DVD, mix and burn CDs, surf, email, play, and type, then it is beyond my abilities to even imagine how you could spend as much as $1500 on a computer. When going computer shopping, set your budget at $1000, and only exceed that if you are purchasing a flat panel LCD monitor with it.
DO strongly consider computers in the $700 to $900 price range (U.S. and Euro dollars of course, double those numbers in Canada and Australia), as they will generally more than meet your needs today. These are comparable to systems that didn't even exist at any price just 2 or 3 years ago.
DO try to avoid dirt cheap computers that cost $600 or less, as these are generally quite stripped down. These are the machines that sneak in PC133 memory and 5400 rpm drives, which should be avoided. These machines do make great kids computers or spare email machines in the kitchen, but I wouldn't recommend one as a primary computer.
---
Pentium 4 hits 2.8 GHz, AMD "ships" 2 GHz chip
AUGUST 28 2002
Speaking of AMD, a number of quite crazy and rabid AMD supporters have emailed me lately to ask me to comment on the "release" of the Athlon XP 2400 and Athlon XP 2600 processors, which finally push AMD's Athlon line past the 2 GHz mark.
Sounds innocent enough that another Athlon chip is out, but as I was just saying about sleazy marketing, every since about June 2001, AMD has slowly been switching from a position of shipping great product and being smug about it, to one of shipping mediocre product and hyping the hell out of it.
Such is the case with the new Athlon processors announced on August 21 2002. Yes, they finally break the 2 GHz mark. Good for them. The problem is that these chips aren't actually out in the market for you and I, Joe Blow Consumer, to purchase. Unlike past AMD Athlon releases, where the chip was on sale on the street within days of being announced, one cannot go out and buy the Athlon XP 2600. The chip is not "released".
What the AMD fans don't bother to read, which is plainly posted on AMD's main page, is that these chips aren't even "expected" to be available until next month. AMD isn't even guaranteed the availability of the thing, just giving a rough estimate. What AMD's press release said, if one bothers to read it, is that AMD is shipping SAMPLES of the processors to computer manufacturers. SAMPLES folks, not high volume product shipments. There is a huge difference. One ships samples so that manufacturers can design and build computer systems for the new chip. This is NOT a shipping product.
AMD is simply cranking up the sleazy marketing in order to publish benchmark results which appear to make the Athlon XP 2600 (a chip that is not yet on sale) beat the existing Pentium 4/2533 processor (a chip that has been on the market for a few months).
And this is a disturbing trend that's been happening at AMD for over a year now. Rather than compare a shipping AMD product against a shipping Intel product, as AMD has done for years in the past, AMD is now living in some fantasy world of the future where it feels justified to talk about non-shipping future processors and compare them against previously shipped Intel products, thus claiming victory. This is just plain fraud, and similar to the scam Intel pulled with the Pentium 4 two years ago. it's shameful.
Even this goofy numbering scheme where AMD's products have a number about 20% higher than the true clock speed is flawed. Last October, the Athlon XP 1800 was released at a clock speed of 1.533 GHz, the hype being that a 1.533 GHz Athlon processor was equivalent to some 1800 MHz Intel processor. Now, while this is true with respect to the original Pentium 4 release from 2 years ago, this is not really true in general. As my own benchmarks showed just a few months ago, the current Pentium III Tualatin processor easily keeps up with the Athlon. Should Intel therefore artificially number the Pentium III model numbers higher? Of course not. And since the new Pentium 4 processors are faster (clock for clock) than the old, should Intel therefore number the Pentium 4 models higher? Of course not.
This whole scam of numbering processors at a slightly higher number is getting out of hand, because in October, the "markup" was about 17%. 1800 is about 17% more than 1533. The new Athlon XP 2400 runs at 2.0 GHz, 2000 MHz. That's a markup of 20%. And the Athlon XP 2600, which really runs at 2133 MHz? Well, that's a 22% markup. In other words, not only is the numbering scheme misleading, but AMD has been padding the number more and more as time goes on, quite contrary to real-world benchmark results.
---
The little known numeric keypad trick
JUNE 18 2002
I got an email today from a Dave Wade in the U.K. concerning a very old problem with our Gemulator product. I am going to answer the question here and not on the Gemulator product page, because the solution to Dave's problem is actually a cute little trick that is neither specific to the Atari ST nor to the Gemulator product. The trick has existed on all PCs, and most people don't know about it!
Dave asks:
"I am having a problem entering the "\" character into various programs running under Gemulator 7 and 8, including MUPFEL and GULAM. I have tried a variety of TOS ROM IMAGES including both US an UK versions, 1.06, 1.062 and 2.06. I have also tried re-setting my keyboard layout in Windows from its usual "UK" to "US", and I have also tried a variety of OS's including W2K, XP Home, and XP Professional. However the result in all cases is the same. No key pattern I try results in a "\" on the ST emulated screen. Do you have any suggestions?"
What Dave is running into is the problem of trying to enter text characters that cannot be easily entered from the keyboard. The most obvious case is for example a user such as myself using a North American keyboard trying to type accented French and German characters such as é ä â and ç.
Or in Dave's case, he is running Gemulator (which emulates a North American Atari ST with North American Atari ST keyboard layout) on his British PC with U.K. keyboard layout. The main difference being that the key with the "pipe" | and backslash \ characters is located not above the Enter key, but rather on the left side of the keyboard between the left Shift and Z keys. This is an extra key which does not exist on American or Canadian keyboards.
The answer to Dave's problem is to do exactly what you would do if, for example, your keyboard's | \ key was broken. You enter the key's ASCII code, which is an 8-bit number between 0 and 255.
"HUH?!?!?!?!?" you ask? Without going into deep detail about the ASCII character set, I will just say that every character on the keyboard is represented internally inside the computer by a unique number, or code. The letter A is ASCII code 65. The tilde ~ is ASCII code 126. The accented characters are codes above 127, for example é as in Starbucks café, is code 130.
The original IBM PC, and all PC clones ever since, support the ability to enter any character by its ASCII code, a feature which was also cloned by the Atari ST and why this trick as you'll see works just great with Gemulator. For as long as you know the ASCII code of the character you are typing, you need not worry if your keyboard has a key for it!
Multi-byte characters and Unicode characters are not supported by this trick of course as these are newer standards which were not supported on the original PC. Only Latin characters (English, French, German, etc) are supported.
Ok, so how to take advantage of the trick? Simply hold down the Alt key and then type the ASCII code on the PC keyboard's numeric keypad. And of course remember to release the Alt key, especially if you plan to enter several character this way. Only when the Alt key is released is the character entered.
For Dave, the two codes he needs to know are Alt+124 for the "pipe" |, and Alt+92 for the backslash \.
For you North Americans trying to enter European text, it's Alt+130 for é in café, Alt+156 for the British Pound £ symbol, and Alt+135 for ç in Français. Works in DOS, Windows, and on the Atari ST.
It does get a little more complicated, as you can also enter the characters by their Unicode codes by pressing Alt, then zero, then a code. For example, Alt+156 is equivalent to Alt+0163 because the British pound character has slightly different codes in ASCII and Unicode.
Without going into much detail again, you can see a cheat sheet of ASCII codes, Unicode codes, and the keyboard keystrokes to type by running the Character Map accessory. For you Windows XP users, that's Start \ All Programs \ Accessories \ System Tools \ Character Map. Just pick a font, pick a character set from that font, and click on a character to see its codes.
I've put a one line text edit control right below here to allow you to experiment with your new found keyboard skills. Enjoy!
---
JUNE 10 2002
I received a very passionate defense of last century's CRT monitor technology from an Andreas Kon from Switzerland, so I'll post his own words here and may some more readers can tell me about their CRT vs. LCD preferences. Perhaps there is more of a demand out there for those 40 kilo monster monitors than I thought?
I just wanted to tell you that I don't agree with your statement "CRT monitors - R.I.P". Namely, I do belong to the (still large) group of people that prefer CRT monitors over LCD because of their viewing quality advantages.
Let me make it clear: the only true VISUAL advantage of an LCD is it's sharpness - due to fixed points on the matrix. It rules for text... but take a good monitor like my Sony F520 or any Eizo, and text will be also very good. Even this advantage turns into a disadvantage when you're watching photos... they simply look ugly because you see big (compared to CRTs) square pixels! And differences between pixels are very sharp and thus unnatural. CRTs are much more smooth here. It's only acceptable if you have a high density LCD like my notebook display - at 1600x1200/15 inch pixels are small enough... but 99% of LCDs have lower pixel density. And most pictures (on the web) are too small for 1:1 at 1600x1200.
Every other visual aspect of an LCD - viewing angle, dead pixels, supported resolutions (interpolation on LCDs), response time or especially colors are way better on a CRT. Just put an LCD and a CRT side by side and display some high-quality photos (landscapes or especially humans) and you'll understand what I mean. Sure, LCDs colors are more saturated, but photos tend to look like perfect oil paintings, they're simply missing a "touch" of photorealism.
Some people say "LCDs are flicker-free, CRTs not". But, honestly, I'm driving my CRT @ 90 Hz, which IS flicker-free, and the picture looks much better ("calm") than the picture of my Dell Inspiron 8200 display (or any other). And I'm talking about digital LCDs with no sync problems.
Sure, LCDs have some advantages - lower space requirements and less power-consumption - but what's more important, picture quality or power consumption? And LCDs are still much more expensive than comparable CRTs (I'm talking about 18+ inchers, not 15").
In fact, if you ASK PEOPLE WHY DO THEY BUY LCDs INSTEAD OF CRTs, most of them will say "because they look much more modern and require less space on the desktop". Hardly anybody will say "because picture quality is better". Interesting...
Well, I just wanted that you remember that, in spite of the LCD hype, CRT monitors have much more advantages than many people (like you) believe. I would only consider buying a LCD if it would cost 50% LESS than a comparable CRT...
Well Andreas, I think you will have to wait some time until LCD monitors are HALF the price of today's CRT monitors, and I have to ask why it is not sufficient for LCD to merely be in price parity with CRT? And have you ever heard of color correction software?
---
JUNE 5 2002
Just a few days ago, Apple re-introduced the iMac of sorts. The eMac, the supposed "educational Mac", which when launched earlier this year was strictly to be a non-consumer machine, has suddenly been made available to consumers!
Why? Theories abound why Apple, having recently axed the CRT monitor based iMac with an LCD based iMac would re-introduce what is basically the old-style iMac renamed to eMac.
This is known: the price of LCD monitors plummeted earlier this year, with good quality 15-inch displays such as the Radius RAD-5X selling in the $310 to $344 range just a few months ago, as did many other 15-inch monitors. Today however, the price of most 15-inch monitors has INCREASED, back to about the $360 to $380 range. The high demand and limited supply of 15-inch LCD panels has causes a rare price reversal!
My theory is that Apple, in announcing the LCD based iMac, probably got caught with their pants down to find out that the cost of 15-inch monitors was going up, and has done an quick about face in terms of pushing the things. LCD is out. CRT is back in. Nice to see Apple users going back to the 20th century. Us PC users were running 1024x768 15-inch screens, what, 10 YEARS ago??
15-inch monitors not a great buy - 17-inch monitors getting cheap
At close to $400 price levels (with some name brands even reaching $500), my experience with 15-inch LCD screens lately has led me to conclude that there are simply not worth it. First of all, 1024x768 is a screen resolution that was used about 10 years ago. Even notebook computers don't have such low resolution displays any more. Because while the price of 15-inch LCD screens has been going up, the price of other, larger, LCD screens has been dropping. Good 17-inch 1280x1024 LCD screens are now at the $600 price level, and dropping even lower. For a couple hundred extra bucks to get 1280x1024 resolution (which is close to double the number of pixels of 1024x768) and a screen more the size of CRT monitors most of use have gotten used to lately, it's well worth the higher price.
I find it insulting to Mac users (then again, they're not the brightest people) that they'd be offered obsolete display technology in the "latest and greatest" machines. Oh look, it swivels. Whatever. If you're a PC user and you want a decent display, choose a monitor larger than a 15-inch LCD, and don't torture yourself with a meager 1024x768 screen resolution.
The Viewsonic VP201 just got sweeter.
My monitor of choice now, which I've used for 6 months now after giving up on Silicon Graphics monitors, is the 20-inch 1600x1200 Viewsonic VP201. This is just a sweet monitor, as I explained in an earlier posting. Huge, sharp, flicker-free display that easily displays three 80-column text windows side-by-side. What makes this monitor even sweeter is that since I first wrote about it in late 2001, the price of this monitors has dropped from $2400 to almost $1500. For about a month now, both the beige and black models of the VP201 have been available on buy.com for about $1510 to $1540, the price fluctuating up and down a few dollars from day to day.
Don't forget to Auto Adjust!
One reader who went out and purchased the Viewsonic VP201 monitors as a result of my earlier posting wrote to me to say that his $3000 monitor (he was Canadian, speaking in Canadian dollars) gave a worse display than his old $300 CRT monitor.
One gotcha with LCD screens (and this applies to all digital screens, whether 15-inch, 17-inch, 18-inch, or 20-inch, I've seen the problem on all of them) is that unlike a CRT monitor where exact pixel placement is not terribly crucial, on an LCD monitor it is critical that the monitor sync up to the video signal. Even being off by half a pixel will completely degrade the quality of the display. You can see this effect on a laptop when displaying a non-native resolution.
The problem is that various video cards have slightly different timing as far the video signal goes (in terms of refresh rate, pixel clock, etc.). When you first connect a video card to a new LCD monitor, you need to select the Auto Adjust feature in order for the monitor to automatically adjust to the signal. On some monitors, such as the Radius RAD-X series, this is simply one button on the front panel. On the Viewsonic VP201, it's a matter of pressing "1" (to bring up the menu, with Auto Adjust being the first menu option highlighted), and then pressing "2" to select Auto Adjust.
Once an LCD monitor "locks in" on the video signal, the picture quality just becomes stunning. Check your LCD monitor's manual, as some LCD monitors will automatically lock in to the video signal each time the screen mode changes, while others require you to manually press the Auto Adjust option.
CRT monitors - R.I.P.
---
Low cost Pentium 4 systems hit the sweet spot
APRIL 1 2002
You gotta love the continuing price drops in the PC market. Barely 18 months ago, the 500 MHz Celeron systems occupied the under-$500 sweet spot for starter PC systems. I've recommended such systems in the past, and our company even used these 500 MHz class Celeron machines at recent computer trade shows in order to demonstrate how well of software runs on these "starter" systems.
Well, factor in the 80% price collapse in the PC market of last year, and factor in Intel's switch over the Socket 478 chips and motherboards (away from the original Socket 423 chips and motherboards used by the original Pentium 4 systems, and you've got yourself the makings of a liquidation on Socket 423 systems.
I was doing my weekly trip to my local Computer Stop store last week and was surprised to see Pentium 4 systems on sale for $399. $399??? These have to be the lousy 1.3 GHz models PC133 based models that Dell was pimping last summer and which I have strongly recommended against purchasing. Sure enough, they were 1.3 GHz Pentium 4 chips inside. But what surprised me was these were NOT the lousy PC133 models. These was RAMBUS based machines. 256 megabytes of the expensive stuff. Not bad for a pre-assembled case with ASUS P4B motherboard, Pentium 4 processor, and 256 meg of RAM. Just add video card and drives and you're in the same price range as an entry level Celeron system.
So I picked up a couple of units, gutted two of the 500 MHz Celeron systems and moved over the floppy, hard drive, CD-ROM, and video card from each.
Presto, it worked. What surprised me was not that this worked or that the price has fallen so low (it was bound to happen with the Socket 423 being obsoleted), but the fact that Windows XP did not bitch about needing a new activation code. Apparently, it was satisfied by whatever heuristic it uses to detect if you've copied it to another machine. I'm guessing by the fact that the hard drive and CD-ROM were the original ones it was installed with.
So, although I'm not a fan of the low-end Pentium 4 systems, $399 plus about $200 for what you would pay for a 30 gig hard disk ($60), a 24x CD-ROM ($50), floppy ($15), and a Radeon video card ($80), and you've got yourself a decent $600 Pentium 4 starter system. Certainly much better than the more expensive PC133 memory based systems that some computer makers try to pitch to you.
---
APRIL 1 2002
While I was in the process of gutting machines, I considered finally salvaging my old 200 MHz Pentium Pro machine that I've had for the past 6 years. I loved this machine when I first got it, because for about the $2500 I spent at the time 6 years ago, it was a pretty amazing machine considering it outperformed the other Pentium systems on the market and was my first machine with a whopping 128 megabytes of memory. Woo hoo!
After upgrading the machine from its original Windows 95 to Windows NT 4.0 to most recently Windows 2000, I was planning to take the machine apart and salvage the parts thinking this was not a Windows XP compatible machine. The final straw came when the mouse port stopped working and the machine only worked by keyboard.
And anyway, Microsoft has always claimed that Windows XP requires a 233 MHz Pentium II class machine or higher. I stupidly assumed that this was a combination of two things. One, that Windows XP requires a P6 architecture compatible processors (i.e. Pentium II, Pentium III, AMD K6, etc) due to the fact that kernel mode transitions now work using the SYSENTER mechanism introduced in P6 family processors, an instruction missing on the original 486 and Pentium processors. And two, that Windows XP relies on MMX, since all 233 MHz and faster x86 processors have MMX support.
So which is it that makes for the 233 MHz minimum - the P6 requirement, the MMX requirement, or both?
Before taking the screwdriver to this machine, I thought I'd might as well find out. I started the Windows XP setup program and expected to get the annoying "sorry, I can't install on your shitty system" dialog box. Instead, Windows XP installed just fine. No warnings, no errors, nothing.
I then thought, hmmm, let's throw in one of those redundant USB cards that came with one of my Athlon motherboards. I did that, rebooted, plugged in a USB mouse, and presto, the mouse worked.
So now I have this admittedly slow, but working, 200 MHz Pentium Pro system running Windows XP and a working mouse. Not exactly very useful, even compared to a 500 MHz Celeron system, but if you have an old Pentium Pro machine, especially one of those rare dual processor models, don't throw it away on the false assumption that you can't run XP on it. I see no reason why a 180 MHz Pentium MMX won't work either.

I'd like to hear from any readers who have managed to install Windows XP on a less than 200 MHz machine and hear about your experience.
---
Dual booting and other reader questions
FEBRUARY 19 2002
I'll do a David Letterman today and - no, not get another speeding ticket, I have enough of those already - I'll answer some relevant reader questions which I received last week that tie in very nicely to the topics I was about to write about anyway.
But first, as anyone following the Pentium 4 saga can probably guess, the readers of Tom's Hardware Guide have voted on their Reader's Choice awards and the results are not pretty for Intel. I know the results may still be a surprise to those ill-educated few who continue to shop at CompUSA, but as you can read for yourself, the educated voters of THG have overwhelmingly chosen the Athlon XP as the CPU of the year. Duh.
This ties in to the first question from a Ron V:
"What is that major performance difference between a 1GHz Celeron and a 1GHz P3? I am using a Soyo 6VCA motherboard that can support up to a 1GHz platform, and I would like to get the best bang for my buck."
In other words, "what's the difference between a Celeron and a Pentium III?". This is similar to the "what's the difference between an Athlon and Duron?" question. The answer in both cases is: not much but cache size and memory speed. And price of course. As I've mentioned many times before, the Celeron, the Pentium II, and the Pentium III are all essentially the same processor. They have the same "P6" core introduced back in the Pentium Pro processor, they execute instructions in almost exactly the same number of clock cycles, and are virtually indistinguishable to software.
What has changed over the years is the size of the on-chip caches, and the speed of the memory bus. The Pentium III, the Athlon XP, and the newer Celerons and Durons also add additional MMX instructions (known as SSE), but again, for all intents and purposes, all 4 processors are the same as far as your typical Windows software is concerned.
Sticking to the Intel side as per Ron's question, you can currently purchase 3 types of P6-based Intel processors: the latest 1+ GHz Celeron, the older Pentium III Coppermine, and the newer Pentium III Tualatin.
Cache size: All three processors have exactly 16K of on-chip L1 data cache, and 16K of on-chip L1 code cache. That hasn't changed since the original Pentium II. The only difference in cache size is in the L2 cache. The Celeron still has a lousy 128K of L2 cache, which is the worst of any of the currently available processors. The Pentium III Coppermine, the good old 600 to 1000 MHz workhorse for the past 2 years, has 256K of on-chip L2 cache. And the newest Pentium III Tualatin (which powers my oh-still-so-amazing Dell Inspiron 8100 notebook) has a nice large 512K of on-chip L2 cache, the same as the latest Pentium 4 chip.
Memory speed: The Celeron has always been the "crippled" Pentium, and that is still true today. While the P6 core over-clocks very nicely to bus speeds of over 150 MHz, Intel still limits the Celeron to a 100 MHz memory bus. That means that not only is the on-chip cache smaller, but that when you miss the cache and have to read main memory, the memory will take longer to respond and return data. Celerons are now (and forever?) limited to using PC100 memory. The Celeron is just not a speed demon.
This is the double whammy that pretty much makes the Celeron useless today. While Intel used to have a huge price differential between the Celeron and Pentium III even as recently as early December 2001 when a 1 GHz Celeron cost about $120 and the same Pentium III part was $230, the price drops in the Pentium 4 line have caused the Pentium III prices to fall dramatically as well. Today, the 1 GHz Pentium III part is about $150, not much more than the Celeron part.
So while a year ago, I recommended the Celeron as a great cheap alternative to the Pentium III ("half the price for 90% of the speed") today that argument just doesn't hold. Ron mentioned he is a gamer and games demand speed. He has a Socket 370 motherboard that can support 1.0 GHz chips. My advice is: spend the few dollars extra on the Pentium III Coppermine part over the Celeron part.
That is not exactly answering his "best bang for the buck" question, as technically the Celeron (at say, $120) delivers more "bang for the buck" than the Pentium III at $150. The screwy ways that processor pricing goes, the best bang for the buck will be in slower processors which are discounted and being liquidated.
If Ron truly want the best bang for his $100 or $150, he needs to, sorry, look into the AMD processors. Yes, he'll need a new motherboard for the AMD chip, but Ron wants speed and that is the best alternative. As I pointed out privately to Ron in email, a 1 GHz Pentium III is not exactly the best choice of gaming processor.
Both the Pentium III and Celeron are available today at much faster speeds. The Pentium III Tualatin, with its 512K L2 cache and 1.2 GHz clock speed, toasts the older Pentium. But at a cost. A 1.2 GHz Pentium III still costs about $300 today, and requires an updated Socket 370 board, which means about a $500 investment total. Or another way to look at it, $350 extra to choose a 1.2 GHz Pentium III over a 1.0 GHz Pentium III. That is certain NOT bang for the buck.
A 2.0 GHz Pentium 4, similarly, would deliver a tiny bit more speed. But as the 2.0 GHz chip today still costs about $400 and with motherboard and expensive RAM, the extra cost for Ron to choose a Pentium 4 solution over his 1.0 GHz Pentium III solution would cost him well over $500 extra. Not bang for the buck.
A good cheap gaming system can be had with older Athlon Thunderbird processors. These are still available in 1.2 and 1.4 GHz speeds (which will match or beat any Pentium III) and cost about $100 to $140, about the same as the 1.0 GHz Pentium III chip. Therefore the only premium here is the cost of the AMD motherboard, about $200.
An Athlon XP system, delivering 1.66 GHz of speed with DDR memory, is the gaming system of choice for most hard core gamers, but as with the Pentium 4 and Pentium III Tualatin, you will be looking at a minimum $500 or $600 extra cost over the Pentium III.
So Ron, it really comes down to how hard core a gamer you are and whether you truly wanted "bang for the buck" - a Celeron, the best processor for your particular Soyo motherboard (a 1.0 GHz Pentium III), the best cheap processor (the Athlon Thunderbird at 1.2 or 1.4 GHz), or the best processor for gaming (Athlon XP). It really comes down to how much bang you want for the bucks you have.
The next question comes from a Keith B. who asks:
"I have heard for some time that AMD CPUs (athlon / duron) are better buy than Pentium 4. However, someone just told me not to buy AMD because they do not support the same instruction set as the Pentium? Therefore, software optimized for Pentium will not run as fast on AMD?"
This is surprisingly still a common myth that is circulating among the Intel-brainwashed masses, in that people truly believe that a piece of software written for the Pentium III will not run on anything but a Pentium III. I am horrified that any reader of my web site would even utter such words, so I will answer this again:
The latest versions of the Celeron, the Pentium III, the Athlon, and the Duron, are all essentially the same chip as far as software is concerned. They all support the same Pentium III instructions (even the same MMX instructions), and they all use similar architectures which means that a program optimized for one will run near optimally on the others. So if a piece of software says that it is "optimized for Pentium III" it is the same as saying that it is also optimized for the Athlon.
In other words, anything written to run on a Pentium (and remember, the real processor called "Pentium" was sold between 1993 and 1997 at clock speed between 60 and 200 MHz) will also run on a Pentium MMX, Pentium II, Pentium III, Pentium 4, Celeron, AMD K6, AMD Athlon, and AMD Duron. All of these processors are "Pentium compatible". It is just SHOCKING to me that Ron (and who knows how many countless millions of other people) still believe the crazy myth that AMD processors are not compatible with Pentium processors sold almost 10 years ago! If it says it REQUIRES a Pentium, any of these chips will do.
Next are the Pentium II compatible processors. This includes the Pentium II of course, the Pentium III, the Pentium 4, the AMD K6, any Celeron, any Athlon, and any Duron. But not the Pentium and not the Pentium MMX. If a piece of software says that it REQUIRES a Pentium II or says OPTIMIZED for Pentium II or higher, it will run on any of the Pentium II compatible processors I just listed.
More recently, we have the Pentium III class processors. This includes the Pentium III, the Pentium 4, the 1.1 GHz and faster Celeron, the Athlon XP, and the recent Durons. In this category of processor you're going for speed, so eliminate the Celeron and Duron. High clock speed processors need fast memory and more than 128K of on-chip cache. Don't waste money on Celeron in that case. If you see a piece of software that says it REQUIRES a Pentium III, it's perfectly fine to also use a Pentium 4 or Athlon XP. In fact, using the latest 1.66 GHz Athlon XP or the 2.2 GHz Pentium 4, you'll get a hell of a lot more speed than a real Pentium III.
Does this make sense or did I just lose everybody? The Pentium III can be thought of as the "lowest common denominator". Between the Pentium III, the Pentium 4, and the Athlon XP, all three processors support Pentium III instructions, including SSE. If a programs uses Pentium III compatible instructions, it will run on all 3 processors.
My advice is: Ultimately, if you're buying a computer these days, you'll be buying Pentium III, Athlon XP, or Pentium 4. All three processors run existing Pentium, Pentium II, and Pentium III optimized code, so which you buy has less to do with compatibility as it does with speed and how much you're willing to spend. Again, how much bang you want for what bucks you have.
The final question comes from Ali M. and he asks:
"Seeing as DOS has been totally wiped from Windows XP, and many of us old time gamers still like DOS games is there any chance of your good selves developing a DOS emulator for Windows XP?"
This is two issues really. One is, how best to run old DOS games which aren't fully Windows compatible, and two, is Emulators developing a DOS emulator for Windows XP? To that second question I will say no. Emulation of DOS on Windows has already been done and having yet one more DOS emulator for Windows would not really solve your problem here.
There are DOS emulators for Windows? Why yes, there are. Windows itself, whether Windows 95 or Windows XP or anything in between, does in fact emulate MS-DOS using the processor's "V86" mode, a built-in 8086 emulation mode found in all Pentium compatible processors. (Yes, that does mean the Athlon as well). This same trick is also used by such products as Virtual PC for Windows and VMWARE. These emulators can be used to run "well behaved" DOS applications.
But no emulation is perfect. The problems you can get into with DOS compatibility can't necessarily always be solved by an emulator, due to the slightly different behavior and timings that an emulator will impose. As Intel points out in their own manuals, V86 mode is NOT the same thing as 8086 real mode (the 16-bit mode of operation that MS-DOS and many DOS games run in). V86 mode is basically a 32-bit protected mode of operation that mimics the limitations of 16-bit mode. Some instructions take longer in V86 mode. Interrupts take longer. Some 16-bit programming tricks don't work. There is a long list of incompatibilities between real mode and V86 mode that will never allow an emulated DOS to be fully compatible with the real DOS.
This is why I have to keep telling people that if you download one of our free DOS programs like Gemulator Classic or Fusion PC, use them on the real DOS. Don't come complaining that they don't work on your emulated DOS if it says it's written for the real DOS.
OS/2 once had a novel solution to this: their DOS prompt window didn't use V86 mode at all. It simply switched the processor to real mode to run DOS programs, and back to protect mode to run OS/2 programs. The weak point being that a DOS program can screw up and bring down the whole OS/2 system in milliseconds. The same way Mac OS used to work. That may have been acceptable in 1990, but these days, virus writers would wet themselves if a multi-tasking OS such as XP gave them access to real mode. That's the whole reason V86 mode exists, it's more secure, but less compatible.
My advice is: My personal method of solving this problem is to dual boot, or even triple boot my PCs. Since I have to test my products on many different versions of DOS and Windows on various PCs, I usually put MS-DOS, Windows 95 or 98, and Windows NT/2000/XP all on the same computer. You can even do this without buying fancy boot management utilities.
What you need to do is set up multiple partitions on your PC. If you have the luxury of formatting your hard disk from scratch, set up a at least 3 partitions: A 2 gigabyte C: drive formatted in FAT, a 4 gigabyte D: drive formatted in FAT32, and a 4 gigabyte or larger E: drive formatted in NTFS. I usually have more partitions because I put multiple versions of NT (i.e. NT 4.0, Windows 2000, and Windows XP) on the same computer.
Once your hard disk is formatted, install your plain old vanilla MS-DOS 5 or MS-DOS 6 on the C: drive. Also go and install Windows 3.1 or Windows For Workgroups 3.11 on the same C: drive. Now you have a nice 2 gigabyte drive (huge by DOS standards!) to run your really old legacy DOS and Windows 3.x apps. This will give you the best DOS of course for your old DOS games.
Use the D: drive to install a version of Windows 9x, whether Windows 95, Windows 98, or Windows Me. I personally recommend Windows 98 Second Edition as it is in my opinion the most stable and fastest of the Windows 9x releases. Windows 95 and the original Windows 98 we too buggy, and Windows Me is just a big fat slow pig that adds nothing useful over Windows 98 SE.
Finally, install either Windows NT 4.0 or Windows 2000 or Windows XP on the E: drive on the NTFS formatted partition.
Now, you'll get a number of advantages in this scenario. First, the ability to choose between booting into your real DOS on the C: drive (and then optionally running Windows 3.x), or booting into protect mode Windows (95/98/Me) on the D: drive. By formatting the D: drive as FAT32, you are making almost 100% sure that the DOS software on the C: drive can't "see" anything on partitions D: or E:. i.e. your errant DOS programs on drive C: can't go nuts and wipe out your Windows 95 files. Almost, they can in some cases, but you're making it very very difficult for this to happen. For similar reasons that I just explained, using NTFS assures that your bad Windows 95 programs don't go nuts and wipe out your Windows NT/2000/XP files.
Using separate partitions also means that Windows 9x and Windows NT/2000/XP have separate "Program Files" folders, so that Windows 9x specific Windows program files don't interfere with NT specific versions.
Keep all your common data files that you wish to share between OSes on the C: drive of course, and keep anything that needs to be secure on the E: drive and only use it from within Windows NT/2000/XP.
You can even move the My Documents folders from the various versions of Windows and put them all on the C: drive. How? Right click on the My Documents icon on the desktop, click on Properties, and click on Move. I'll bet you didn't know you could do that, did you?!?!?
Now, what to do if you have the situation that most people are in, which is you have giant 40 or 60 or 80 gigabyte C: drive with one single version of Windows on it? This is usually the very dumb scenario that most PC manufacturers ship machines in, making it almost impossible for you to use multiple operating systems. With one large partition, make a mistake and you can potentially wipe out all the files on your hard disk in one shot. I hate this idiotic "default" configuration of PCs.
You can do one of four things in this case:
format your hard disk from scratch and follow my directions above,

add a second hard disk to the PC and install another OS on that hard disk,

install a PC emulator such as VMWare or Virtual PC, or,

get the Partition Magic utility and repartition your hard disk without losing your data.
For a number of years, I've used the 4th option when re-formatting was not a pleasant option. Partition Magic is one of those under-$100 utility packages you see on the store shelf that is actually worth buying. I don't recommend or waste money on anti-virus software or stupid cleanup or disk defrag software, but Partition Magic has saved my bacon more than a number of times when only a clean reformat and hours of re-installation would have done the job.
What Partition Magic does is allow you to move and resize hard disk partitions on your hard disk without losing data or losing Windows installations. You can take that huge 60 gigabyte C: drive and reduce it to 30 gigabytes and then create a second 30 gigabyte D: partition. Or you can convert a FAT32 partition back to FAT, or NTFS to FAT32. It is actually useful!
I recently upgraded from Partition Magic 5.0 to 7.0. I skipped version 6.0 because quite frankly I didn't really understand what 6.0 did that 5.0 didn't. Version 5.0 worked with FAT, FAT32, and the NTFS used by Windows NT 4.0 and Windows 2000. That was good enough for all versions of Windows. That is, until XP came along.
You do need to upgrade to version 7.0 in order to make use of the NTFS partitions used by Windows XP. This is annoying (wasn't this a bug in Partition Magic in the first place? Why am I paying for an upgrade????) but ultimately worth the price.
The cool thing about Partition Magic is you can use a nice fancy Windows based front-end, or, you can create a "save your bacon" boot disk that you can use to boot and run Partition Magic entirely from floppy for when you've screwed up your Windows installation. Such as when you tried to add Windows 2000 to a Windows 98 drive, converted to NTFS, and then hosed Windows 2000 so you couldn't even boot back into Windows 98. Not that I've done this, no, of course not, I've just heard people doing this. <grin>
Anyway, they're not paying me to say this, but get Partition Magic and then you can play the dual booting games necessary to boot your PC into real DOS. It also handles Linux partitions, need I say more!
---
Windows 9x/Me memory management tips
JANUARY 15 2002
I've mentioned a number of times in the past the various problems with 16-bit Windows memory management, caused by limitations in the underlying DOS operating system. Limitations that those of us using Windows NT/2000/XP don't have to worry about (we just have Code Red to worry about!) but limitations which still affect millions of Windows 98 and Windows Me users.
Especially with RAM being so inexpensive and people upgrading their PCs to hundreds of megabytes, one thing I keep pointing out is to avoid loading up too much memory on a DOS machine, since DOS (and Windows 95/98/Me) actually don't handle large amounts of memory very well. Anything over 512 megabytes, and you'll have problems.
A very alert reader, Matija Krnic from Croatia, sent me this great tip. And you thought Croatians were just good at basketball! Think again. I'll let Matija just explain...
> ... vcache ... can't
> handle anything above 512 MB of memory. however, the trick is easily
> solved: edit system.ini in the [vcache] section and limit the
> maximum file cache, like this:
> [vcache]
> MinFileCache=16384
> MaxFileCache=524288
> or substitute 512*1024=524288 with a smaller value, just to
> be sure; 384 MB sounds nice, so that's 393216. i like to keep
> minfilecache at 16 MB at all times, but it can be left out
> and let for windows to decide (which is probably a bad idea ;)
> lo and behold, all problems are solved. windows 9x can now
> run even with 2 gigs of memory! :)
I still wouldn't recommend putting 2 gigabytes of memory into a Windows 98 machine, but hey, you might. I'll let Matija continue...
> to reduce hard drive wear & tear in win9x, type
> ConservativeSwapFileUsage=1
> into the [386Enh] section. that will keep
> the swap file tidy & clean until all of your physical memory
> is filled up. if you have tons of it, you may never even
> experience swap file usage - but the virtual memory is there
> should you need it.
Excellent advice. Remember, if you don't have any other editor, you can edit your system.ini file (which is usually located in the WINDOWS folder of the C: drive) using the built-in Windows Notepad accessory. Be careful not to modify other parts of system.ini, as this may cause your machine to not boot properly.
If you have a tip you'd like to share, don't forget to email it to me.
---
Pentium 4 Motherboards - ASUS P4T-E is just the start of the Pentium 4 turnaround
JANUARY 7 2002
Drum roll....
I now officially give the green light to buy Pentium 4 based computers. BUT, with certain conditions.
I'll give you a few minutes to go throw your towel in the wash and get a clean one.
Ok, so, you're wondering what changed my mind. After all, I've been ragging on Intel now for over a year about the poor design of the Pentium 4 processor. In fact I even called on the boycott of Pentium 4 processors a year ago. A boycott that everyone would have been wise to take part in to put pressure on Intel to improve the processor.
I'll review the problems with the original Pentium 4 processor released in November 2000, and then we'll see what has happened since:
The Pentium 4 processor is less efficient than the Pentium III or Athlon. While it runs at a faster clock speed, typical software requires more clock cycles to execute a typical piece of Windows code. The original 1.5 GHz Pentium 4 release in real life did not provide much of a speed benefit over existing 1.0 GHz Pentium III and Athlon processors

The cost of the Pentium 4 processor and computers using the Pentium 4 was extremely high. For no real world gain in performance, the first Pentium 4 systems sold for more than double the price of comparable Pentium III and Athlon processors.

Due to the large number of transistors on the Pentium 4 die and the use of existing .18 micron technology, the Pentium 4 is a power hog typically sucking up over 70 watts of power. Not only can this cause the chip to overheat and switch to a lower speed mode, but it also meant that the Pentium 4 required a special power supply. Existing computer cases for the Pentium III and Athlon did not work with the first Pentium 4 boards

The Pentium 4 was made exclusively for use with Rambus RDRAM memory technology. A relatively unproven technology which Intel bet the farm on, and which ultimately turned out to be an albatross around Intel's neck. Costing 2 to 4 times that of standard SDRAM, RDRAM in real world situations is no faster than the more commonly used memory such as DDR SDRAM that's used by Athlon processors.

Existing compilers for Windows and existing Windows software are not optimized for Pentium 4. This makes the software not only run at less than optimal speed, it usually hits a bunch of bottlenecks in the Pentium 4 design (such as the slow shifts) which caused it to then run even slower than on a much "slower" Pentium III.

The Pentium 4 is not pin compatible with existing Pentium III processors, and thus requires a new motherboard (not to mention the new RAM and new power supply).
There are other issues, and you can read my complete list of beefs about the Pentium 4 yourself for further details.
I did predict then, simply based on looking at Intel's past screw ups, that it would be a while before the Pentium 4 would be "fixed". Unlike software, you can't just make a "one line fix" in silicon and ship a new chip the following day. It takes months to grow and test new silicon. And it takes months or years for compilers to be updated to produce Pentium 4 optimized code.
Over these past torturous 14 months since the release of the Pentium 4, Intel has made a number of half assed attempts to push the Pentium 4, but none of these really "fixed" the major problems. It was the same silicon under the hood. Price was major a problem that was fixed within a few months. After Intel clued in that people were not so stupid as to pay $3000 or $4000 or more for a Pentium 4 system, they started slashing prices big time. By September, as I wrote about in my September 17th posting, the price of Pentium 4 systems had dropped to well under $1000. Unfortunately, these machines turned out to be pure junk. The chip itself was not fixed, and Intel merely replaced the expensive RDRAM memory with cheaper (and slower) PC133 memory.
When I did my Pentium 4 vs. Athlon XP benchmarks in October, I also benchmarked the recent Pentium III Tualatin processor. The Tualatin is a new version of the Pentium that's based on .13 micron technology and which uses that technology to achieve lower power consumption and a larger on-chip cache (thanks to the smaller transistors).
The Tualatin was the first ray of hope that Intel was getting its act together. Intel had proven that it had working .13 micron technology, while AMD was still cranking out .18 micron based Athlon chips. As I concluded in October, the .13 micron process is a key that Intel could use to just hugely take a leap over AMD, and I personally am still rather bummed that Intel has chosen to limit the Pentium III and Celeron line of processors to the 1.2 or 1.3 GHz speed range when I know they could really push it to a much higher speed. But Intel doesn't want you to buy a Pentium III. They want you to buy a Pentium 4.
The next sign that some good was coming was the release of the Socket 478 Pentium 4 motherboards a few months ago. These motherboards are designed for processors that will be running beyond 2.0 GHz. ASUS for example already rates the boards for up to 2.4 GHz, even though such Pentium 4 chips do not exist yet. For now.
As part of the next round of benchmarks (for the upcoming "Round 4" I'm working on), I put a together a number of new Pentium 4 systems based on both the older Socket 423 and the new Socket 478 motherboards. One motherboard that I really like is the ASUS P4T-E. It just rocks. I've mated the board with a 2.0 GHz Pentium 4 and 512 meg of RDRAM and although it was more pricey still than the 1.6 GHz Athlon XP 1900 system, it manages to keep up very well with the Athlon XP. I'll post the actual benchmark results in the Round 4 results, but let's just say that this combo really impresses me.
Two more things needed to happen before I'd actually embrace the Pentium 4 - the elimination of the dependency on RDRAM, and the switch to .13 micron process. The rumors have been flying about for months now, and the P4T-E documentation quite blatantly refers to it, but it's official now as of today, "D-DAY", January 5. Intel today announced the .13 micron based Pentium 4 processors with 512K of L2 cache, and they announced a corresponding DDR SDRAM chipset which based on preliminary reports delivers about the same level of speed as RDRAM but at the lower cost of DDR memory. The Athlon XP and the Pentium 4 now use the same memory, which is fantastic. We can all go punt our PC133 SDRAM and we can go punt the ridiculous RDRAM.
So have I switched sides now to favoring the Pentium 4 over the Athlon XP? No. I still recommend the Athlon XP (and even the older Athlon processors) over the Pentium 4. In terms of bang for the buck, a 1.6 GHz Athlon XP system is less expensive than a 2.0 GHz Pentium 4 system and delivers speed that is generally equal to or faster. I am not suddenly an Intel freak again, nor do I even have my hands on the new 2.2 GHz .13 micron chip that was announced today.
However, based on the great performance I get from the 2.0 GHz Pentium 4 / P4T-E combo, and based on the good improvements I saw with the .13 micron Pentium III processors (which in my benchmarks actually keep up very well with the equivalent Athlon processor), I can easily see where the chip announced today will deliver at least a 10% speed boost over my existing system. This will put the Pentium 4 at a speed level slightly beyond that of the existing Athlon XP.
AMD has countered today with the announcement of a slightly faster Athlon XP 2000 processor, so I will reserve final judgment on the Athlon XP 2000 and the 2.2 GHz Pentium 4 processor for when I get my hands on these chips, build some systems, and post the results as part of the Round 4 of CPU tests.
For now, here is my buying advice if you absolutely must have a Pentium 4 system:
DO purchase a motherboard that supports the Socket 478 processors. The older Socket 423 is dead and obsolete.

DO purchase a motherboard that supports either RDRAM or DDR SDRAM. For RDRAM again I highly recommend the ASUS P4T-E. For DDR, since the boards were just announced today I can't offer a recommendation yet.

DO NOT under any circumstances buy one of these low end PC133 based Pentium 4 systems. Even though they're in the $600 to $800 price range, they deliver lousy speed and for that kind of money you're better off going with a Celeron or Athlon based system.

DO NOT run anything prior to Windows XP on your Pentium 4. The code in those versions of Windows is optimized for Pentium III.

DO NOT buy a Pentium 4 processor slower than 2.0 GHz. The slower ones are just too slow and you're better off with an Athlon. You now especially want to avoid the Socket 423 based computers because computer resellers will be dumping these.
The one situation that I would recommend getting the slower chips is if you plan to wait a few more weeks to buy the 2.2 (or likely by then, a 2.4) GHz Pentium 4 with the .13 micron technology and 512K cache, but want a Pentium 4 NOW. Then don't blow money on the existing .18 micron 2.0 GHz chip. Buy a heavily discounted Socket 478 chip, say, the 1.5 GHz chip for about $180, and then upgrade the processor to the new .13 micron version in a month or two. With ASUS spilling the beans, I'm betting the 2.4 GHz chip is not too far away.
I am very excited. While today's Pentium 4 announcements may not solve all of the problems of the Pentium 4 (the slow shift and some other bottlenecks, which I have to check on the new chip), the switch to the popular DDR SDRAM memory, the switch to faster .13 micron technology, the larger 512K on-chip cache, and the more reasonable pricing on the Pentium 4 compared to a year ago makes it a very good competitor to the Athlon XP. Finally, after 14 months, Intel has finally made a significant "fix" to the Pentium 4 silicon and is making the chip a real threat to the AMD Athlon.
Sadly for us AMD fans, last month AMD pushed back the release of its Hammer processor (the .13 micron replacement of the Athlon) into the year 2003. Ouch. While the years 2000 and 2001 were completely ruled by the AMD Athlon in terms of both price and raw speed, it looks like the year 2002 is shaping up to be the year of the Pentium 4 where AMD will be the one playing catch up (as they last did in 1998 and 1999 when the Pentium II and Pentium III ruled over the AMD-K6). It's always been a leapfrog race, and unless AMD has a cool trick up its sleeve really soon, the lead is changing for a while.
---
JANUARY 4 2002
Athlon XP hazards! I've talked in the past about how AMD has kept the packaging of their Duron and Athlon processors the same (a socket 462 or "socket A" package) for almost 2 years now. Since the switch from slot based processors (Pentium II and original Athlon), both Intel and AMD has enjoy a fair amount of stability as far as keeping newer processors pin compatible with older processors. This is a good thing, because it means you and I can upgrade an older PC with a newer processor and not have to buy a new motherboard.
I found out the hard way a few weeks ago that pin compatibility does not necessarily mean actual compatibility. There was the obvious case this summer of the Pentium III Tualatin processor (the 1.1 and 1.2 GHz Pentium III-M chips) which although come in the same Socket 370 package as earlier Pentium III Coppermine processors do not work with existing Coppermine boards. You need to purchase a new Tualatin capable Socket 370 board in order to use either type of Pentium III chip.
I was led to believe by AMD's marketing people when I attended the AMD Road Show here last June that the new Athlon Palomino chips (which were released under the name Athlon XP) were pin compatible with the existing Socket 462 Athlon Thunderbird and Duron chips. While this is generally the case, I found a very disturbing counter-example of this a few weeks ago when shopping around for a motherboard for my latest Athlon XP 1900 chip.
Back in October, when AMD was engaging in its rather dubious marketing campaign of handing out Athlon XP 1800 chips from the back of trucks in the wee early hours of the morning, they bundled the Athlon XP 1800 chip with a nice MSI motherboard that I've written about, and the two worked beautifully. Later on when I got the 1900 chip, I went to local computer store and picked out a Socket 462 motherboard I hadn't tried yet - the ASUS A7A266. I picked this board for a number of reasons. First, in big red letters printed right on the box is states "Palomino Support". Second, it uses the 266 MHz FSB bus needed by the Athlon XP. And third, it is one of the rare boards that includes both SDRAM and DDR SDRAM slots, which I had intended to use to benchmark the two types of RAM.
I get all the parts, I build the system around the Athlon XP 1900 chip. After hours of cursing at it, I basically found out that the motherboard did not like the Athlon XP chip. It just would not boot at all with the new chip. I popped an older 1.3 GHz Athlon Thunderbird chip and it booted up just fine. I then checked ASUS's web site for ROM BIOS upgrades, and then found out that the motherboard had a BIOS that was about 3 months and 3 BIOS upgrades out of date, including that it pre-dated the BIOS upgrade for the A7A266 that added the Palomino support.
In other words, the board had been manufactured, packaged up and shipped out months before the actual Athlon XP processor existed, yet the board claimed to be "Palomino" compatible. That should have been the first tip off there that something was not right - the fact that the real name of the processor was not used.
After downloading the ROM BIOS and flashing the newer version, I again popped in the Athlon XP 1900 chip and this time it booted up and I was able to install both Windows 98 and Windows XP Home Edition. However, I then realized the chip was running at 1.2 GHz, not the 1.6 GHz speed of the Athlon XP 1900. The board was running at a 200 MHz FSB speed. Any attempt I make to adjust the clock speed past 1.2 GHz would cause the board to not even boot.
I contacted AMD about this and they gave me the standard canned response to look on the AMD Athlon Recommended Motherboards page. I did that and sure enough, the A7A266 is not listed. So we have ASUS on the one hand selling boards that are supposedly Athlon XP compatible but are shipped in a state with an out dated BIOS, and we have AMD saying how pin compatible the Athlon XP is with existing motherboard yet they themselves only recommend a handful of motherboards out of all the Athlon Socket A compatible motherboards out there.
So you can guess, I'm a little upset with both AMD and with ASUS for jerking people around with this pin compatibility bullshit. I have since purchases the recommended board, the ASUS A7V-266E for use with the Athlon XP 1900 chip. The board I still prefer is the one AMD bundled, the MSI K7T266 Pro.
Another reader pointed out, and I should mention this, that since the Athlon XP is a 266 MHz FSB chip, you obviously need a Socket A board that supports a 266 MHz bus. Older boards for the original Athlon Thunderbird or boards for the Duron will not work properly as they are limited to a 200 MHz bus.
So I have to eat my words here and I apologize to everyone for helping to have spread the myth that all Athlon chips and boards were compatible with each other. AMD's Athlon XP is still the better chip over the Pentium III and Pentium 4, but my God is AMD's marketing ever shabby.
I need a donut.
---
JANUARY 3 2002
You know, they say each release of Windows gobbles up more and more third party applications. Windows XP is no exception. With built-in ZIP file creation and extraction, you don't even need to install WinZIP or PKZIP any more to manage zipped files.
For example, let's say you've downloaded that ROM BIOS image as a ZIP file. In the Windows Explorer, simply double click on the ZIP file icon itself, and the contents of the ZIP file will be displayed as if you had entered a folder. To extract the files, simply select and copy the files in the ZIP file to another directory - a drag and drop operation as with any two directories.
To create a new ZIP file, open the Windows Explorer to the directory where you will be creating the new ZIP file. Then right click the mouse, click New, and click Compressed (zipped) Folder, as shown: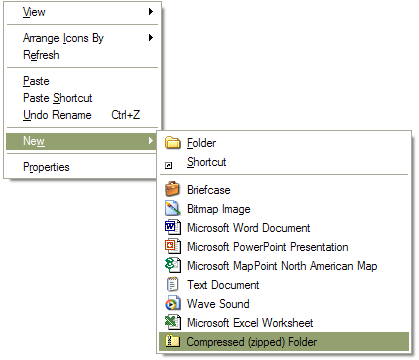 Although it says you are creating a folder and it will display it as a folder, the Explorer is really just creating a file with a .ZIP extension. Once you have created the zipped "folder" and navigated into it, you can right click again for some additional options such as password protecting the "folder" / ZIP file.
Windows XP handles the latest ZIP file format, including handling long file names and subdirectories within the ZIP file.
---
Make it a habit to keep your PC's BIOS up to date
JANUARY 2 2002
Two things to do in this new year of 2002:
go to the gym and work off those Krispy Kreme donuts, and,

check how current your PC BIOS is and update it appropriately
The gym I can't help you with. But your BIOS is important. Unlike other software updates (the Windows Update and Office Update pages, software patches, security patches, etc) which are provided by various third party software companies, upgrades to your BIOS are fixes that your PC manufacturer (or motherboard manufacturer) provides directly. The BIOS is the built-in software that boots your computer. i.e. the software that performs the memory test on startup, the software that detects the hard disks and other disk devices, and in some cases, the software that allows you to adjust your PC's clock speed, ports, and other settings related to the actual hardware of the processor, memory, and motherboard.
A lot of people forget to ever check the version of the BIOS and from my observations are usually behind by several releases. This is usually not an issue if you never upgrade your PC. It does become an issue if you frequently modify your PC's hardware, upgrade processors, or upgrade operating systems.
Two times when this really bites you is when you put in a faster newer CPU, and when you upgrade to a newer operating system. Twice in the past two years, both with the release of Windows 2000 and the release of Windows XP, people have found that they just plain couldn't upgrade the OS. A mysterious blue screen with "Error 4" shows up during the setup of Windows. In every case I've seen this happen to my own computer, which is about 6 PC during the Windows 2000 release and one other PC with Windows XP, it has turned out to be an out-of-date BIOS. A 5 minute procedure solved the problem in all cases.
Similarly, when you upgrade to a new CPU, your BIOS may have been manufactured long before that new processor you're about to install. This happened a couple of years ago with a lot of slot 1 Pentium II boards, where the BIOS did not know how to identify the pin-compatible Pentium III processor or Celeron processors. This may or may not always be an issue (so who cares if your PC thinks the processor is an older model of the same processor) but it is an issue if the newer processor adds new features.
So how does one upgrade a BIOS? There is one basic procedure that pretty much works on all motherboards, which is to boot into a real-mode operating system (such as MS-DOS) and then run a BIOS flashing utility which updates the ROM BIOS on the motherboard. "Aha!" you say, as the light bulb lights up in your head, we just learned how to create a boot disk floppy. Most MS-DOS boot floppies have about 800K of usable space on them, which is sufficient space for about a 100K flashing utility and either a 256K or 512K BIOS.
For example, if you go to the web site of a well known motherboard manufacturer such as ASUS, go to the BIOS download page, select the type and mode of motherboard that you use, and then download a compressed ZIP file which expands into the ROM BIOS image. The file is usually 256K or 512K in size.
If this is your first time upgrading your particular BIOS, you also need to download the flash utility (usually called FLASH.EXE or AFLASH.EXE). Copy both the flash utility and the ROM BIOS file to your boot floppy or to a FAT/FAT32 formatted hard disk partition. Reboot your PC to boot from the boot floppy and follow the directions that your manufacturer gives to upgrade the BIOS. You're up an running in a matter of minutes.
Some manufactures such as Gateway, provide the flash utility, the BIOS file, and even the DOS boot files all in the same download for your convenience. You simply copy the files to a blank floppy and reboot.
But wait, there's more!
Recently, the manufacturers have gotten even more clever. With some BIOSes now, the flash utility is built right in to the BIOS itself, so that you merely point it at the BIOS file and it takes care of the rest. No messing with DOS boot floppies or hunting down the latest ROM flashing utility.
Other manufacturers, such as ASUS again, now offer Windows based BIOS flash utilities which work from within Windows 2000 and Windows XP and do not even require booting from a floppy. Something they call ASUS Live Update. A very handy utility which automatically determines your motherboard model, downloads the appropriate ROM BIOS file, and updates your BIOS in one fell swoop.
Check with the web site of your particular motherboard manufacturer for specific information about keeping your BIOS up to date. You will find that a lot of random crashes, hardware incompatibilities, blue screens, and other strange problems will go away.
---
Making a boot floppy in Windows XP
DECEMBER 31 2001
This question has come up a number of times now so I'll cover it today to end the year 2001. Happy New Year to everyone.
Why is it so hard to create a boot floppy? In MS-DOS, one simply typed SYS A: to create a DOS boot floppy. In Windows 95/98/Me, the Control Panel has an option to create the boot floppy. In Windows XP, Microsoft has done a great job to completely hide this feature and make it almost impossible for the average user to find!
The creation of a DOS boot floppy in Windows XP has migrated to the Explorer and is now considered a formatting option. Bring up the Windows Explorer (by double clicking on the My Computer icon or pressing Win+E) and click on a floppy disk icon. Now right click on the icon and select Format. That's right, Format, as in erase the disk. Creating a boot floppy does erase the contents of the floppy after all, although it may be confusing to some to consider this a formatting option.
When you get the Format Floppy dialog box, which looks like this: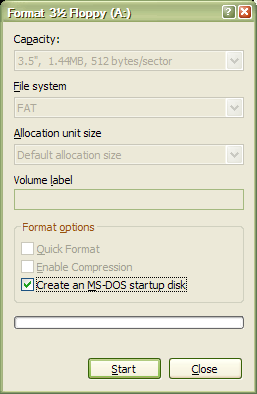 you will have the option to click "Create an MS-DOS startup disk". Make sure you select this option before clicking on Start.
Sadly, the startup disk created by Windows XP is a minimal DOS boot disk, and is not up to par with previous versions of Windows. It is not the cool CD-ROM enabled boot disk that is created by Windows 98 and Windows Me. In order to be able to access a CD-ROM and other utilities (such as FDISK, CHKDSK, etc.), you will need to still create the startup disk in Windows 98 or Windows Me. But in neither case will you be able to access an NTFS formatted hard disk. Only FAT and FAT32 partitions are visible to a DOS startup floppy.
An alternative for Windows XP users is to create a set of Windows XP startup disks which can access NTFS and be used to repair an NT installation. To make those, go to Microsoft's download site and download the Windows XP Setup Disks utility. While at the download site, be sure to download other updates and patches, including the latest DirectX 8.1, service packs, and utilities which don't appear as critical updates in Windows Update.
---
Run Prime95 - put your PC to good use and find a new prime number
DECEMBER 30 2001
This is less a secret and more just something you can do to further the field of mathematics with your unused CPU time.
About a year ago I mentioned a distributed computing project I participate in called GIMPS - the Great Internet Prime Number Search. Similar to SETI@Home and other massively parallel projects, GIMPS works by having tens of thousands of regular PC users run a small utility by George Woltman called PRIME95 during the time their PC sits idle. With more and more people leaving their PCs on 24 hours a day (which may or may not be a good thing, depending on how good your virus protection is), and with PCs getting faster and faster, the GIMPS project literally makes use of years of idle computer time every day hunting for large prime numbers.
If you're a math geek like myself, GIMPS is just fascinating. If you're not a math geek, and your PC sits idle for hours a day, I still urge you to sign up with GIMPS and give some of your PC's unused CPU time to the quest for finding large prime numbers. For almost two years now, I have had dozens of PCs enlisted in GIMPS running Prime95.
My PCs have not discovered any primes, but just a few weeks ago, a 20 year old fellow Canadian's PCs (based on an Intel processor, for those who care) happened to discover the world's largest prime number. And you don't have to have roomfuls of computers like me to get lucky. He used a single PC and had just started on the project.
So give it a try. Go to
and download the Prime95 version 21 installer. Prime95 works in idle time, so it does not eat up CPU time when your PC is actually busy. Only in idle time. If you run Windows 2000 or Windows XP, you will notice that your CPU utilization is always 100% when Prime95 is running. That's ok, don't panic, as use of idle time does count as CPU time. What you can do to assure yourself is go into Task Manager (remember how? If not, read my Oct 22 posting) and verify that the PRIME95.EXE process is actually running at idle time.
It is a good idea to have at least about a 300 MHz or faster PC, running Windows 95 or higher, with 128 megabytes of RAM or higher. You want the extra RAM so that Prime95's idle process has enough memory not to eat up the memory needed by other Windows programs.
Good luck, and let's find some primes!
---
DECEMBER 29 2001
As easy as the Windows upgrade process has become, there are still some hazards to look out for. Gone are the Windows 3.x days of having to manually enter the driver name and IRQ settings of each piece of hardware. But to say that Windows upgrades are "zero administration" is still wishful thinking.
When it comes to Windows XP, it seems Microsoft's testers forgot to consider some utterly obvious upgrade cases. Every since October 30th I've been running into one of the problems repeatedly, and recently Microsoft itself admitted to a problem. I'll describe both problems.
Don't try this at Home!!
Pardon the bad pun, but Home Edition really doesn't like being upgraded. In November, after I had installed Windows XP Home Edition on far more PCs than I had purchased licenses for, I, like many Windows XP users, tried to figure out a way to defeat the 30 day time limit on the mandatory product activation. The beta releases didn't have this 30 day limit, so it really wasn't an issue prior to October 30th.
So I tried the really obvious trick which works with some time limited demo software, and that is to simply re-install Windows XP Home Edition on top of itself. After all, if when you install Windows XP you have a 30 day grace period for activation, then logic would dictate that re-installing Windows XP would reset the 30 day grace period. WRONG!
Unless you format your hard disk and do a clean re-install, simply applying a Windows XP upgrade on itself does not affect the 30 day grace period. Not only does the grace period not change, but strange things start to happen.
I especially noticed problems when I then bought some additional legitimate copies of Windows XP Pro Edition and started upgrading the Home Edition machines to Pro Edition.
The problem is that if you install Windows XP, run Windows Update to apply the 17 megabytes or so of patches, then re-install Windows XP in the form of an upgrade from Home to Pro Edition, you are then again prompted by Windows Update to apply the same patches. So you do. You reboot your PC, check Windows Update again, and find that the same patches are again being offered for installation!
This ugly update cycle just keeps repeating itself over and over again, until finally after numerous updates it finally "fixes" itself. Either that, or Microsoft found this problem and somehow fixed it on their end of Windows Update.
This isn't just some glitch that happened on one PCs. Absolutely every single PCs that I upgraded from Home to Pro exhibited this problem.
Careful with OEM releases
The other problem is one that Microsoft itself describes and has apparently now fixed. It has to do with OEM releases of Windows XP, those slightly modified releases of Windows that each manufacturer (Gateway, Compaq, Dell, etc) puts on their pre-built systems.
Microsoft's Knowledgebase article Q312369 describes the problem. By accident a file that shouldn't be there is being left on the hard disk when it is shipped to the customer. The file instructs Windows XP to delete some settings the next time it is upgraded.
So if you do, as I did last week, purchase a new computer from Dell (i.e. my Dell Inspiron 8100 notebook) and decide to upgrade it from the pre-installed Home Edition to a retail release of Pro Edition, double check that the bad file isn't on your hard disk. In my case, Dell had already fixed the problem, but if you purchased a PC in the past few months and have not yet upgraded to Windows XP Pro Edition, read the article and double check.
---
More differences between XP Home and XP Pro
DECEMBER 28 2001
It's Friday morning and it's too sunny in Seattle today yet again to work on the computer. This is skiing weather. So I'll make today's tips short.
A question many people have been wondering about is what is the difference between Windows XP Home Edition and Windows XP Professional Edition is, and whether they need to spend the extra $80 to $100 on the Pro edition. Back in August I briefly hinted at this but was waiting to see the final releases before saying for sure what the differences are. I've got some more information on that now.
While all versions of Windows XP are basically Windows 2000 (which itself it just Windows NT version 5), Microsoft broke from the usual NT release pattern of offering a workstation version (i.e. the Pro edition) and a server version. With XP, they introduced a third, lower end, version called Home Edition. Home Edition is still far and beyond better than any Windows 95 or 98 release, but does lack some critical features.
First, what they have in common. All versions of Windows XP have the nice solid 32-bit NT kernel at the core of the OS. That's good and the main reason people use NT over Windows 9x in the first place.
All versions of XP also support the NTFS file system, which is a great improvement over FAT32. For one thing, NTFS can natively store multi-forked Macintosh files, which is important for us Macintosh and Macintosh emulator users (and it the subject of an upcoming secret!). NTFS also supports per-file file compression, allowing you to select which files to compress on disk (to save space) and which files to leave uncompressed (to make critical files load fast). With FAT you had to compress the entire drive, and with FAT32 you lost compression all together.
All versions of XP also support logging in of multiple users in the form of a new feature called Fast User Switching.
The differences in the XP editions show up in features that most affect business users and users who need security. Let me rephrase that as "hard disk security", since we learned last week that Windows XP internet security is as wide open a barn door as it was in Windows 98!
In total, I have noticed 5 important features that are lacking in the Home Edition.
Multiple Processor Support - This feature does not affect the great majority of PC users, since the great majority run a single processor PC. If you are running dual Pentium II, dual Pentium III, dual Xeon, or other dual processor systems, Pro Edition is a must. By the way, if you are running 4-way or higher multi-processing, I believe you need to wait until the Server editions are available.
Domain Login - If you work in any kind of networked environment, you have likely seen the Windows login screen that prompts you to enter a name, password, and domain. If you see that prompt on your existing PC (whether running Windows 95, 98, Me, NT, or 2000) you will need to upgrade to XP Pro Edition to keep this functionality. Otherwise you will not be able to log in properly and will be denied access to network resources. This feature is irrelevant to most PC users, but is very important to business users and other users in a networked environment.
Remote Desktop - To me, this is the most useful addition to XP. Remote Desktop is related to the Fast User Switching feature (in that it uses the same terminal services technology to handle multiple desktops), but instead of putting multiple desktop on one single computer, it allows a single desktop to be shared on multiple computers. I can leave my desk, walk into another room, and from a second computer use my first computer's desktop as if I was sitting at the first computer. Very cool! This is a feature found in some third party products like PC Anywhere, so it is not absolutely critical that it's missing in Home Edition.
NTFS Security - Now we get to the "hard disk security" part. One of the cool things about NTFS is that it supports per-file security. Unlike DOS or Windows 98, where "security" is all of setting a read-only attribute and a few other attributes, NTFS security allows you to specify exactly which users have access to which files, and what kind of access to grant to each user. So in a large business, you can literally grant different types of security access to each person in the company. One person can be locked out of a file completely. Another person can be allowed to read it only. Another can be allowed to modify or update it. Another can be allowed to run it if it is an executable file.
Since NTFS has had this kind of security since day one, I had stupidly assumed that it would naturally be supported in all versions of XP. Wrong! To my surprise, I found out that XP Home Edition lacks the file security. Even though a hard disk is formatted in NTFS, you essentially have all the non-security of FAT or FAT32. While this is the kind of feature that most home users right now don't care about (just because their hard disk is formatted in FAT or FAT32) it is an absolute must have for the business user.
NTFS file encryption - This is an extension of NTFS security which was added in more recent releases of NT. The file encryption feature physically rewrite files on the hard disk so that they are stored in an encrypted format. Even someone who steals your hard disk and does a raw sector dump will have a non-trivial time extracting the data without your password. This is a must have for notebook and laptop owners.
There are some other subtle differences between Home and Pro editions, but to me these are the 5 big ones. If you are currently running Windows NT 4.0 or Windows 2000 and are already making use of some of the above 5 features, then your only path really is an upgrade to Pro Edition.
If you are home user, running say, Windows 98 or Windows Me, and obviously not using NTFS at this time, not logging in to some domain, and not running a dual processor machine, Home Edition is just fine for you.
If you are running on a laptop, if the files on your hard disk are somewhat sensitive, or if you plan on getting more machines around the house, you can get by with Home Edition for now but I would recommend eventually upgrading to the Pro Edition.
---
DECEMBER 27 2001
The following little bag of Windows tricks is courtesy of readers who suggested that I cover some more Windows basics. Thanks to Raymond in Holland and other readers for their suggestions.
Opening a new browser window
I'm told that not everybody seems to be aware of the Shift+click trick. When you are reading a web page and you come across a link, say to http://www.emulators.com, and you wish to read that new page but not lose your spot on the current page, what I do is open the link in a new window. i.e. I create a second browser window to the linked page in.
The quickest way to do this in Internet Explorer is to hold the Shift key while you click on the link. That's it. Shift and click. The other way is to right click on the link and then click on Open in New Window. Either way, you get the link opening in a second window.
Remember, if you ever find yourself clicking on a link and then wishing you had saved your previous spot, just press the Backspace key to return to your original page, then use the Shift+click trick to open the link in a new window.
Deleting temporary files
I've mentioned that turning off System Restore can stop a lot of disk space from being wasted by preventing a lot of unnecessary temporary files from being created. But what do you do to clean up unneeded files already on your hard disk?
The easiest (but not the most thorough way) is to run the Disk Cleanup wizard. From the Start menu, click on Accessories, System Tools, then Disk Cleanup. You will need to do this for each hard disk partition (i.e. C:. D:. etc) on your PC's hard disk. Select a partition to clean up, for example C:, and click the OK button. After a few seconds, you will be presented with a list of possible methods to clean up disk space, as shown below: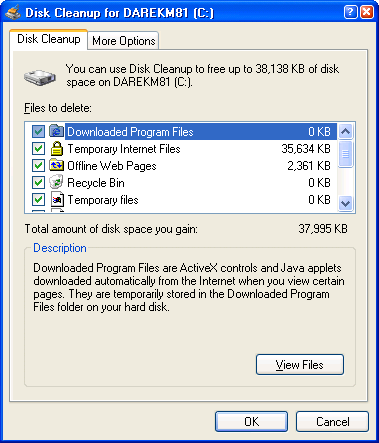 Typically it is OK to select all of the methods listed and then to click OK. This will then clean up the space on that hard disk partition. Repeat the processed for each drive letter.
This wizard will not free up all unneeded files on your hard disk, but is a very quick way to find many of them without having to poke around your hard disk much.
If you are feeling brave, you can manually clear out files in your personal Temp folder. In older versions of Windows, this is simply the C:\WINDOWS\TEMP folder. Quit all programs and then using the Explorer you can navigate into that folder and delete any files you find there.
On Windows 2000 and Windows XP, each user has a private Temp folder located in the Documents and Settings folder located on the boot partition. The quickest way to find your Temp folder is to bring up the Run dialog (Win+R), type CMD, and then type CD LOCAL*\TEMP. Now type del /s /q *.* to delete any remaining temporary files.
"Spring Loaded Folders" in Windows Explorer
A popular feature in Mac OS 9 (which sadly, was left out of Mac OS X) is a feature called spring loaded folders. This feature allows you to navigate into folders while dragging and dropping files without opening each folder in advance.
A similar such feature exists in the Windows Explorer when the Folders view is enabled. Let's say, for example, that you've opened the Windows Explorer by double clicking the My Computer icon. You navigate into your CD-ROM drive on drive F: by double clicking the F: icon. Now you wish to drag a picture file from the CD to the My Pictures folder on the hard disk. You click and start dragging, and then realize that you have not opened the My Pictures folder yet! In Windows XP, the My Pictures folder is nested inside the My Documents folder, which you have also not opened.
So what to do? Do NOT let go of the mouse button!!! If you do, you will end up randomly copying the file to whatever the mouse pointer happens to be hovering over. Instead, you can safely abort the drag operation by pressing the Esc key on your keyboard, then letting go of the mouse button.
But that would be be boring. The smart Windows user knows that if you drag and hover the mouse over a folder in Folder view, the folder will expand to show up the sub-folders. As shown in the partial screen shot below, I can drag and hover the mouse over the My Documents icon, and about one second later, the folder will expand to reveal that My Pictures folder.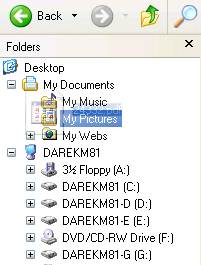 At this point I can safely drop the picture file into the My Pictures folder as I intended. Not quite spring loaded folders, but pretty close. By the way, this same trick works in Outlook and any other program that displays the "tree view" of folders.
And there you have it. Three very simple tricks that come in very handy when using Windows.
---
A few words about Dell - the Inspiron 8100 rocks, but beware of shared memory
DECEMBER 26 2001
As a long time fan and user of Dell computers, I've made it no secret that for the past year I've been more than a little upset at them (and Gateway) for the kind of misleading advertising that they've engaged in with respect to Pentium 4 systems and just the general way that they misleadingly sell their products to novice computer users.
As I've pointed out in past postings this summer, it seems that if you're a business customer you're treated much better (and with less b.s.) than if you are just a plain old home user. One of the little bits of sleight of hand they engaged in this summer was quietly substituting Celeron processors in place of Pentium III processors in their low end consumer systems. Whereas one week they would offer a 1.1 GHz Pentium III system, the next week the exact same model of computer would quietly change to only include a Celeron processor. While the differences between the Pentium III and Celeron are minor (slightly slower memory and smaller on-chip cache) it can mean about a 10% performance degradation to the customer. An even subtler trick that I've seen in the recent Dell catalogs mailed to me is that Dell has now switched to using integrated video which shares memory. The only clue in the product description is the term "shared SDRAM", which is a clue that your 128 megabyte computer is really a 96 megabyte computer when you take into account the shared video memory.
A quick check of Dell's web site today shows that they do offer both the Celeron and Pentium III models at this time, and they do offer both shared memory and separate memory versions of their integrated video options, but to the novice consumer the options may not be obvious or make sense. So proceed with caution.
Integrated video with shared RAM is not a bad thing. There are some great motherboards out there which feature integrated sound and shared video, which are a great way to build an extremely inexpensive starter system for email and web surfing (1 GHz Celeron machine for under $400 complete). Should your video needs increase (you need video capture, TV tuning, fast 3D support) you can always a dedicated video card and disable the on-board integrated video.
So while I'm not saying to stay away from the inexpensive Celeron systems with integrated video, be sure to look for those words "shared memory" or "shared SDRAM" as a clue to what you're getting. I see that Dell offers these kinds of systems with as little as 64 megabytes of RAM. Yes, the price is low, but it's also crazy! Half you PC's RAM will go to serving as video memory. If you see the shared memory option, get a minimum of 256 megabytes of memory, so that you have adequate RAM to divide between video and the CPU, at least 32 megabytes or 64 megabytes set for video, and at least 128 megabytes or more for the actual operating system.
Now on the business end of things, Dell is much better and lately puts Gateway to shame. Earlier this month, the lithium-ion battery in my Gateway Solo 9030 notebook computer gave out. It had been charged and discharged just one too many times over the past 2 years that I've owned the Solo notebook. No problem I thought. All I need to do is drive down to my local friendly Gateway store in downtown Seattle and buy a replacement battery. After all, the reason I own this Solo is because 2 years ago when I attempted to purchase a Dell notebook, they had a 2 month backlog on what at the time were top-of-the-line 650 MHz Pentium III notebooks, but Gateway was able to ship practically the same notebook computer (the Solo 9030) in a matter of days.
Well a week goes by and I get a phone call from Gateway saying that, horror, they are unable to ship my battery for about 3 more weeks! Yikes! A silly battery. They same one they use in all their notebooks, they apparently just didn't have an extra one available. I'm ready to go up to the mountains skiing and I have no working portable desktop machine. The electrical power at the ski lodge is less than reliable and a battery is absolutely a must.
So I broke down that day and went to Dell's site to check out their notebooks, not expecting much. I figured February if I was lucky, which would be typical of Dell's delivery times in the past. I immediately took a liking to the specs of the Dell Inspiron 8100 notebook. Not only does it have a Pentium III processor, it has the latest 1.2 GHz Pentium III Tualatin processor with 512K of L2 on-chip cache - the fastest Pentium III chip ever made. And ironically, only available in a notebook computer.
To my surprise, the machine arrived in about 10 days, well in time for Christmas and for getting real work done up at the ski lodge. Yay for Dell! I just wish they wouldn't use the same model number (8100) for a Pentium III notebook as for a Pentium 4 desktop! Someone in Dell marketing needs to wake up and end the confusion.
Fortunately, marketing blunder aside, it turns out this new 8100 notebook is not just a great replacement for the Gateway Solo, it's a great desktop replacement. Yes, the mythical "desktop replacement" notebook computer that actually can kick a typical desktop's butt does exist. Moore's Law just keeps marching on. In less than 2 years, the state-of-the-art in notebook computers has increase dramatically and is virtually on par with what you can buy for the desktop.
For example, whereas in early 2000 the 650 MHz Pentium III notebooks (from both Dell and Gateway) with 256 meg of RAM were costing about $5000, the 8100 comes packed with 512 meg of PC133 SDRAM, a 30 gig hard disk, a DVD and CD-RW drive, an extra battery (woo hoo!), a built-in modem, Ethernet, nVidia video, and carrying case for about $2800. Almost half the price for double the power of last year's models.
The most dramatic thing about the new Dell notebook is its use of the new higher density 133 dpi LCD screen. Whereas the Gateway Solo packed the usual 100 dot-per-inch 1280x1024 LCD display commonly found today on notebooks and desktop LCD monitors, the Dell screen packs a whopping 1600x1200 resolution into a 15 inch screen. The screen is about an inch smaller than the Gateway screen, yet is incredibly readable. Due to the smaller screen, the form factor of the Dell Inspiron is smaller than the Gateway Solo and easier to carry. This tiny notebook computer packs more power (in terms of screen resolution, in terms of RAM, in terms of processor power, in terms of disk drives) than many of my desktop computers! I've run a bunch of benchmarks on the 8100 and it literally keeps up or beats the benchmarks of every Pentium III desktop that I've benchmarked and keeps up with the 1.2 GHz Athlon. Only the Athlon XP and the 2.0 GHz Pentium 4 based desktop systems give significantly faster performance numbers than this notebook computer.
Hopefully Gateway will look their warehouse some more and find me that spare battery.
---
Viewsonic VP201 monitor - WOW!
DECEMBER 26 2001
In addition to upgrading my main notebook computer every 2 years or so, I also try to upgrade my monitors every few years. Just as the speaker is the weakest link in a stereo system, the monitor is the weakest link in a computer. A bad monitor can give you headaches and make your eyes hurt in no time. I am amazed that people to this day will spend $3000 on a computer and then mate the computer with a lousy 15 inch CRT monitor. It's not worth your eyesight, folks. In over 20 years in front of computers, as much time as I spend staring at the screen, I still do not need to wear contacts or glasses. I don't have the "Coke bottle" glasses that so many other geeks my age do. Why? I strongly believe that it is due to the fact that I always get as large and sharp a monitor as possible. You don't try to buy bad shoes for your feet, so why torture your eyes?
5 or 10 years ago, a 15 inch NEC MultiSync was pretty much the top-of-the-line for more people - the de facto monitor on many people's desks. Up until 3 years ago, most of my monitors were either the 17-inch NEC 5FG, 21-inch NEC XP21, or 21-inch NEC 6FG monitors.
With the advent of LCD monitors a few years ago, I was not very impressed by the first batch of LCD monitors. Many were limited to 640x480 or 800x600 resolution and offered fuzzier video than a good CRT monitor. They were just notebook screens sold for the desktop.
All that changed about 3 years ago when Silicon Graphics introduced the SGI 1600SW LCD monitor, a 1600x1024 pixel 18-inch LCD monitor that just blew away anything else on the market. At about $2800 each they were not cheap, but it was a small price to pay to keep one's eyesight. Long time readers of this page know that I have praised the Silicon Graphics 1600SW monitor many times, and it is the monitor that Emulators has used in-house and at computer trade shows for almost 3 years.
The one fatal drawback of the 1600SW is that it uses a relatively non-standard video connector (I believe is called DFI). Only one video card, the Number 9 Revolution IV-FP, supported the Silicon Graphics 1600SW monitor. And while the card was bundled with the monitor, it was not fully supported by DirectX and didn't always work with software that did not use the non-standard 1600x1024 screen resolution. You had to buy extra hardware to mate the monitor to an ATI or nVidia video card.
I use a dozen of these 1600SW monitors at home and at work and tried to buy some more recently. But sadly, they are no more. With the demise of Number 9, and the lack of support for the monitor by other video cards, Silicon Graphics discontinued the 1600SW monitor this year and replaced it with the F180 monitor.
At first glance, the F180 looks like a great replacement. It's cheap (under $1500), it has the same size 18-inch screen, it accepts both the standard VGA input and the more common DVI flat panel video inputs, but is crippled by a lower 1280x1024 screen resolution. Silicon Graphics chose to go for the lower end rather than the higher end, and after using 1600 pixel resolution for almost 3 years now, I was not ready to go back to 1280x1024.
So I looked around at more LCD monitors. I eventually found out about the Viewsonic VP201 - a 20-inch, 1600x1200 pixel LCD monitor that similarly offers both VGA and DVI inputs. At $2400, it is not the cheapest LCD monitor, but once you see it, wow. It is bigger and brighter and sharper than any LCD monitor I've seen so far. I've tried the monitor with both ATI Radeon and nVidia GeForce 3 cards, and in both cases, the 1600x1200 resolution is sharp and flicker-free. Even using the normal VGA input, there is no fuzziness that I can see compared to the DVI input of the same signal.
I've had the VP201 now for about a month and will be ordering more as I start phasing out more of the Silicon Graphics monitors. It is my new favorite monitor and will likely be my monitor of choice for the next few years. If you're serious about a good high quality big screen monitor for your desk, this is the one to get.
---
NOVEMBER 2 2001
I continue to receive emails asking about upgrades. People tell me they just put in X amount of RAM, or X gig hard drive, or such and such a video card. Yet it is important to not forget that in these days, the CPU is one of the most inexpensive components of the computer! It is no longer true that putting in a new processor is a $1000 proposition. Back in the days of the 486, less than 10 years ago, upgrading from a 33 MHz 486 to a 66 MHz 486 was about a $600 expense. Then upgrading to Pentium, well, new motherboard and new processor put you back close to $1000.
Today, you can literally purchase a 1 GHz processor for under $100. I've seen 600 MHz processors in stores this week for under $40. Due to the heavy price cutting and competition between AMD and Intel, most processors (other than the ridiculously expensive Pentium 4) cost only as much as a CD burner or high end video card.
So before you decide to upgrade your old 100 MHz Pentium machine with a CD burner or Radeon card, or before you throw in hundreds of megabytes of RAM, keep in mind that the weakest link in the computer will then become your processor.
If you're using a recent enough computer, one that uses a Socket 370 or Socket A based motherboard, then upgrading is as simple as pulling out the old processor and plugging in a more recent one. For example, most 600 MHz and faster Athlon and Duron processors are pin compatible. You can unplug a 600 MHz Duron or 750 MHz Athlon and replace it with an Athlon XP with minimal fuss. You can similarly replace a 600 MHz Pentium III or Celeron with a 1 GHz Pentium III or Celeron.
Those are the easy cases of just replacing a processor with a higher speed twin. But what about the case where you need to upgrade to a whole new type of processor?
As I've already covered over the past few months, PC prices have been dropping so much that in some cases it is just plain simpler to buy a new computer from scratch than to try to upgrade an old one. When a complete gigahertz class PC with Windows XP, CD burner, DVD, and monster hard disk is selling for about $600 to $800 total, it's hard to even buy the necessary upgrade parts for the older machine for much less than those amounts. Not to mention the time you'll spend working on the machine.
Here are some strategies to consider.
1 - Everything needs upgrading - just buy the new computer. This is the best solution if your machines is in need of multiple upgrades parts (i.e. OS, hard disk, video card, CD/DVD, memory). There is very little in your existing machine that you may wish to carry over to the new one. A 300 megabyte or 1 gigabyte hard disk from your Windows 95 machine is probably not very useful to you when you can buy a new 20 gigabyte hard disk for $100. A 16-bit video card with 800x600 maximum resolution is barely useful for any current video game or Windows application. A 2x CD-ROM reader, some of the older CD-ROM drives won't even work with current versions of Windows. Back up what you need from your old computer and say bye bye to it. Invest in a cheap external ZIP drive to help back up your files. Don't try to back up to 200 floppies.
2 - You want more speed - the upgrade processor kit. You have a 100 to 300 MHz class Windows 95 machine that is just a bit too slow and lacking in memory to install XP. In this case, you machine does not need to be replaced. It merely needs a minor upgrade. If the machine is Pentium based (i.e. socket 5 or socket 7, not Pentium II, not Pentium Pro), then there a number of inexpensive CPU upgrade products on the market that allow you to simply unplug the existing Pentium processor and plug in a new AMD K6 or Pentium II based processor which is on a special board so that it plugs into the existing Pentium socket.
I've used a number of these products myself to upgrade old 386 machines to 486 (in order to run Windows 95 OSR2 or 98), upgrade 486 to Pentium, and upgrade Pentium to AMD K6 and Pentium MMX (i.e. the OverDrive processor). In all cases the products worked as advertised, significantly increased the speed the machine without requiring any additional hardware.
A 400 MHz AMD K6 or 300 MHz Pentium II is more than enough speed to run Windows XP. The disadvantage of this route is that CPU upgrade kits can at best offer 2 to 3 times faster speed than the processor you are replacing. For various reasons, it is not practical to try to put a 1 GHz Pentium III processor into a package that is pin-compatible with a 75 MHz classic Pentium. It is easier than the following option, but has less long term potential. Best done on PCs that you intend to mainly use for email and web surfing.
3 - You want more speed - upgrade the processor and motherboard. This is what I've done most often lately. I have a perfectly good computer with a decent hard drive, a decent CD/DVD drive, I have tons of RAM. But I wish to replace the 300 MHz Pentium II or AMD K6 processor with an Athlon or Pentium III. The new chips are not pin compatible with the old ones.
In this case, you don't need to replace the whole computer but you also can't just get by with only replacing the CPU. You need a new motherboard.
Fortunately, the cost of a typical Socket 370 or Socket A motherboard is on the order of $100. Add to that the typical $60 to $150 cost of a gigahertz class processor, and your upgrade will end up costing you a fraction of a new computer. If you were already running Windows 98 or Windows 2000, chances are your hard disk is large enough to migrate to the new machine. No backing up required, just move the hard disk. Same with the CD or DVD drive.
Same with the RAM. If you followed my trick of buying PC133 SDRAM for your older computer (even though it only required PC100 or slower memory), then you can just buy a new PC133 based motherboard and save yourself the cost of buying new RAM.
I own several PCs that started life as 233 MHz Pentium II systems. And then using the very solid 440BX motherboard in those machines, I was able to upgrade to faster Pentium II and Celeron processors, even up to 500+ MHz Pentium III without changing the RAM or having to buy anything else new in the machine. Once the Pentium III switched to the Socket 370 form factor, the motherboards then did get upgraded to either Socket 370 or Socket A, and today these same machine, using the same hard disk, same RAM, same CD-ROM drives, same keyboards, same mice, etc. are running at gigahertz speeds.
The computer industry, just as with the car industry, wants you to buy a new computer every year. You don't need to, and you shouldn't waste your money doing so. Significant changes in processors and chipsets (such as form factor, memory type, range of clock speeds) only happen every 3 years or so. My suggestion is if you must buy a new computer, do so every 3 years at the earliest, and do these minor upgrades about once a year.
Some things to keep in mind as far as upgrading RAM:
Windows 95/98/Me have the limitations of the 16-bit DOS kernel, one of them being really dumb memory management. I always tell people that if they have at least 64 megabytes of RAM in the PC, they should consider an NT based operating system such as Windows NT 4.0, Windows 2000, or Windows XP. You'll get more efficient memory management, better use of memory, and much better disk caching. All things that will results in your Windows applications running faster. In fact, Windows 95/98/Me will give strange "out of memory" errors when there is more that 512 megabytes in the machine.
A gigabyte of RAM is cheap, but you probably don't need it. 128 megabytes is more than enough to use with Windows 95 and 98, and 256 megabytes is overkill even for Windows 2000 and Windows XP. Unless you're doing hard core software development, hard core graphics work, or running a web server, you likely do not need more RAM.
If you DO still insist on putting in a ton of RAM, Windows 95/98/Me and XP do allow you to turn off the paging file. Do so. Especially useful on notebook computes with a lot of RAM, as this will cut down on the amount of random hard disk activity (and battery usage), and will keep your hard disk less fragmented. I've turned off the paging file with 256 megabytes systems with on ill effects, but just to be safe I'll say don't turn off the paging file unless you have at least 512 megabytes of RAM in your PC.
I've had heated arguments with people telling me "no, never turn off virtual memory! Windows won't boot" and other people telling me that the system will run slower. In both cases the people didn't understand what it really means to turn off the paging file. Take it from me, having been running Windows XP and Windows 98 system without paging files for a long time, it works just fine.
Dirty Little Secret: if you dual boot between multiple versions of Windows or change your paging file settings frequently, Windows sometimes leave old dead paging files laying around. In Windows 95/98/Me they are the files WIN386.SWP. In Windows NT/2000/XP, the files are called PAGEFILE.SYS. If you are running Windows 98 and you see PAGEFILE.SYS file, delete it. It's left over from an NT boot. Similarly, if you are running NT/2000/XP, check the main WINDOWS directories of your Windows 95/98/Me installations and delete any WIN386.SWP files laying around. Also check for multiple PAGEFILE.SYS files if you have multiple hard disk partitions. NT/2000/XP will sometimes create a temporary paging file on a new partition but forget to delete it when you adjust the settings manually. You can free up hundreds of megabytes of hard disk space by watching out for these stale paging files.
And by the way, does anybody know why Microsoft continues to name the paging files WIN386.SWP and put Windows CD-ROM installation files in I386 directories when the 386 processor has not been supported by any version of Windows in over 5 years?
---
Windows 98 and cable modems - the perfect virus magnet
NOVEMBER 2 2001
One of the original Dirty Little Secrets on this page which keeps showing its ugly head is the topic of high-speed Internet access and virus infection. While computer viruses have existed for decades, the growth of the Internet and the high speeds at which computers can communicate with each other has made the spread of viruses increase exponentially. Code Red is what you may hear about on the news, but the problem is far more widespread.
What is more tragic is that, as with most human viruses, the spread of computer viruses (and worms and Trojan horses and similar "evil doers") is completely preventable. Code Red for example, was preventable by a patch to Windows 2000 which was made available weeks before Code Red struck. And yet even within Microsoft itself computers got infected. Why? People were too lazy to apply the patch or to take the threat seriously. So millions of people instead have to suffer with degraded Internet performance.
The reason that Windows 98 in particular deserves special attention as a Dirty Little Secret is that it was the first really Internet-ready, Internet-friendly, Internet-connected release of Windows. The original Windows 95 release didn't even include a web browser. Windows NT 4.0 released the following year included Internet Explorer 2.0, the most basic browser, and using it and setting it up was no joy. Windows 98 had a browser on the desktop. You clicked it, answered a few simple questions, and you were online. Windows 98 even came with a utility called the Web Publishing Wizard, to allow you easily create web pages and share them on the net.
Except for one little tiny Dirty Little Secret. Windows 98, like Windows 95 before it, had no security. It was designed for the stand-alone home computer that once in a while might connect to the net. With Windows NT being the "secure" operating system at the time, it apparently never occurred to anyone at Microsoft to put in protection in Windows 98. For example, anyone can power up a Windows 98 computer, press Cancel at the login prompt, and have full access to the machine. I've never understood the purpose of the login prompt in Windows 98 as it seems to serve no useful function.
When connected to the Internet, the typical Windows 98 computer can be an open door to hackers. Every file on the machine is freely up for grabs to anyone on the Internet. Microsoft knows this (and has added security features to more recent releases of Windows), your cable company that provides cable modem access knows this, your telephone company that provides DSL service knows this, and of course computer hackers know this. Windows Millennium, Windows 2000, and I'm sure Windows XP, have or will have security holes discovered in them, but Windows 98 is one big giant open door for sure.
This security hole is one of the 15 top reasons to upgrade to Windows XP, or for that matter to upgrade to anything other than Windows 98. But for as much as I tell you to protect your PC, for as much as CNN warns you about Code Red, PEOPLE STILL DON'T TAKE SECURITY SERIOUSLY. I'm going to bring it up once again.
Make sure your Windows installation is updated!
Over the past few weeks, as I've been helping my friends and neighbors upgrade to Windows XP, I consistently find one common problem - these people have never run Windows Update on their system. This feature, which is right on the Start menu in Windows 98, is one of the most trivial ways to keep your computer up-to-date. It updates your browser and patches browser security holes. It updates the Media Player. It updates DirectX. It updates device drivers in your system.
If you've read my Windows XP Tutorial, you know that one of the first things I recommend you do is run Windows Update. So do it now! Click on your Start button and select Windows Update, click the Tools menu in your Internet Explorer browser and select Windows Update, or just click on the following link:
http://windowsupdate.microsoft.com
Do it now!
If you are using the original release of Windows 98, you have a good 3+ years of patches to apply. It may total tens of megabytes worth of files. You will have to reboot the computer several times as you download all the patches and updates. But your Windows machine will be more secure and stable.
How do I know this? First of all from having gone through this procedure myself hundreds of times on my dozens of PCs. Every time I install a new copy of Windows on a PC, there are a ton of Windows Update patches to apply. Even a new OS, like Windows XP, had 17 megabytes worth of patches the day it was released! This being due to the fact that Windows XP went to manufacturing 2 months ago and a lot of bugs were fixed during those two months. One of them, no surprise, being with ATI's video drivers.
I also know this because every single time I go to someone's house to upgrade something in their computer, I either find a virus or a horribly out-of-date Windows installation. And ironically, having just written and posted the piece on upgrading PCs earlier today, I got a call from a friend to help upgrade a PC with a new CD burner. Sound simple enough? Well, it was anything but. I found one of the most horribly virus infected computers I'd ever seen.
Let me explain to you exactly what happened, and I will bet somebody reading this will immediately realize that their PC is infected with a virus.
TEN SIGNS YOUR COMPUTER IS INFECTED!
In the case today, as in several similar recent cases that I saw, the PC was a name brand PC about 3 years old, running Windows 98, and hooked up to the net via DSL. Other than Microsoft Office and Napster, not much else was even installed on the machine.
Sign #1: Windows 98 and a permanent 24 hour per day connection to the Internet.
Windows 98 is an open door for hackers. If you leave your computer on and connected 24 hours a day, expect problems.
As the machine booted Windows 98 and I clicked past the login prompt, the desktop appeared. Normal. Then Outlook Express came up automatically. Hmmmm, maybe normal? I tried to click on Internet Explorer but Outlook Express grabbed the focus away from the mouse (i.e. it made itself the top window again). Not normal! A blank message appeared and text started typing into it. Definitely not normal!
Sign #2: Your email editor has a mind of its own and starts composing emails by itself.
I immediately powered down the computer and realize it was infected by something. The only way Outlook would do these things on its own is if some script was controlling it. This is a common sign of a compromised computer.
I booted the machine up again, same symptom. Outlook Express started composing a new email. I managed to kill the process only to see another message appear. An error saying that a file in C:\WINDOWS\FONTS could not be found. It was a common font name but with a .VBS (Visual Basic Script) file extension. Yikes!
Sign #3: .VBS files being in places they should not be!
I narrowed this down to a mysterious entry in the Startup menu. In addition to the usual Microsoft Office link, there was a mysterious entry with a rather random name. I navigated into the C:\WINDOWS\StartMenu\Programs\StartUp folder and found a hidden file with a .VBS extension. Not normal.
Sign #4: Hidden .VBS files with funny names.
The way to find these is to click on the Start button and select Search. Or press Win+F on your keyboard. Search for all files of the form *.VBS (type it in exactly like that), select all local drives, and then click Search Now. Very few such files should appear, and they should have very short somewhat sensible names. If the names are gibberish (like KJLERPZ.VBS) or appear to be other file names with .VBS added (such as README.TXT.VBS), immediately select and DELETE these files. If the file icon is drawn somewhat grayed, it means that the file is hidden, a definite sign of bad intention. Legitimate programmers do not hide executable files!
Now, the way that hackers get a virus onto your Windows 98 computer in the first place is in one of two ways: you're stupid enough to open up an email from an unknown source and run the attachment (which is often a .VBS file disguised as a naked picture of a famous tennis player or some such distraction). And presto, you're infected. Or, you are running Windows 98 and you share our your hard disk to the world.
This is easy to do and most people do not even know their hard disk is wide open. If you use the Web Publishing Wizard and set up a small web site on your machine which you let other people access, you're sharing out your hard disk. Or, in this case, the person was a Napster user, again, sharing out the hard disk.
Sign #5: A shared boot disk
The easiest way that a hacker plants a virus on your machine is they check if your hard disk is shared out, and if so, they look to see if your Windows installation is on that drive (i.e. it is your boot disk), and if so, they plant the virus directly into your Windows installation directory.
The way to check if you are sharing out your hard disk is very simple. Bring up the Windows Explorer (by double clicking on My Computer, or by pressing Win+E) and look at the icons for the disk drives. Look for the little hand, as shown below:

That is the hand of some dirty little scumbag hacker in a foreign country stealing your files. Most people put their Windows installation on the C: drive. So you should NEVER share out your C: drive. If you are doing that, IMMEDIATELY, NOW, go right click on the C: icon, click Sharing, and click the Do not share this folder option!
At this point I checked for a very common virus that infected Windows 98 computers 3 years ago using this security hole. It's called QAZ or W32.QAZ virus, and was one of the first ones that I started seeing. And yes, quite stupidly, every Windows 98 machine that I hooked up to a cable modem got infected this way until I realized the problem. Within minutes, as soon as one machine was infected, a dozen other PCs were immediately infected.
The way you find this virus is very simple. You press Ctrl+Alt+Del (in Windows 98 or Millennium, not in Windows NT or 2000) and look at what programs are running. You may see that some common Windows application, such as Notepad, is shown to be running. That's odd, you didn't run Notepad today. There is not even a Notepad window on the screen. Yet NOTEPAD.EXE is running. How strange.
Sign #6: Programs that you didn't launch are running
So you navigate into the C:\WINDOWS directory and find that NOTEPAD.EXE doesn't have the same time stamp as the other Windows programs. In the case of Windows 98, the Windows files will all be dated 5-11-1998. Yet NOTEPAD.EXE is dated more recently. You also find a file called NOTE.COM which is dated 5-11-1998.
As it turns out, NOTE.COM is the real Notepad program. The NOTEPAD.EXE is actually a Trojan horse, posing as Notepad, and in fact if you run NOTEPAD.EXE it simply runs the NOTE.COM program and Notepad appears. It all appears to work normally, yes what the Trojan NOTEPAD.EXE is doing is communicating with a hacker's server and giving it information about your machine.
Sign #7: the file NOTE.COM is in your WINDOWS directory
Now do you see how simple this attack is? A hacker scans the Internet for machines. He finds yours. He checks for a shared drive. He finds your C: drive wide open. He goes into your C:\WINDOWS directory, renames NOTEPAD.EXE to NOTE.COM, plants the infected NOTEPAD.EXE in its place, and simply waits for you to load up some text file and start the party. In fact, this is even more automated, as NOTEPAD.EXE itself does the scanning (that is how your other home computers get infected) and even tells Windows to run Notepad the next time you reboot the machine so that the hack is activated simply by you turning on your computer.
While in the WINDOWS directory, take a look at the other files. Normally, the C:\WINDOWS directory itself should have very few executable programs (i.e. EXE files). Most of Windows actually lives in the C:\WINDOWS\SYSTEM directory.
However, a certain type of virus creates bogus .EXE files, with bogus looking names, and copies data about your machine into those files and encrypts the data. Then at some opportune moment the data is copied over the Internet to that dirty little scumbag hacker in some foreign country.
Sign #8: lots of bogus looking .EXE files in the WINDOWS directory
On this machine, there were hundreds of bogus .EXE files, all with bogus names like PZMQSJ.EXE, and all about 70K to 100K in size. Listing the files by date, I saw that they spontaneously appeared several months ago, and a new such file was created once every few hours. I could tell exactly the day that this virus took control on the machine, and I could tell exactly on which hours of which days this person had the computer turned on.
At this point it was very clear that the machine was infected by numerous viruses and had been for many many months. I began the slow task of disinfecting a computer with over 13000 files on it. I delete all the bogus .VBS files I could find, all the bogus .EXE files I could find, and went to reboot the machine. The machine would not shut down! Every time I clicked on Shut Down, Windows simply returned back to its desktop.
Sign #9: Windows will not shut down!
EXPLORER.EXE itself (the Windows shell) was infected. Potentially everything typed in or clicked on got sent to the outside world.
Sign #10: You haven't run Windows Update in years!
I did one more thing, and that was to run Windows Update. Just for the hell of it. How out-of-date was this machine? My question was answered in a few second. Windows had not been updated in over 2 1/2 years. Not one single security patch issued by Microsoft since early 1999 had been applied. This machine was a wide open playground for hackers.
Here is the sad thing: the owner of this computer told me that this mysterious behavior had been happening for some time and they simply put up with it. The automatic launching of Outlook Express, the inability to shut down the machine, the strange error messages about missing .VBS files, and other mysterious behavior.
The owner just assumed that Windows 98 was acting up, and that perhaps buying a new computer would fix the problem. At this point I started banging my head against a wall crying out "Why? Why? Why don't people get it that the answer is not to buy a new computer?"
If your computer is acting up, don't run out to CompUSA and spend $2000 on a new system just so that you can re-infect yourself with all the dirty viruses you placed on your older computer. Consider the other possibility that your computer is crawling with viruses and that some dirty scumbag hacker is stealing your files.
Finding and getting rid of the viruses
Easier said than done. If the machine is just used for surfing the web and you don't have any critical information on it, I'd suggest you just reformat the whole hard disk and re-install Windows. Then skip ahead to the Protecting Your PC section below.
Otherwise, you have a long painful road ahead of you. Don't just back up your data files and reformat, because your very data files, your Word documents for example, could be infected. You have to eradicate the viruses from the machine before you can protect yourself against future infection.
Now I for one am actually NOT a big fan of virus checking software like McAfee or Norton. Why? Because as I've seen with my own eyes over the years, this software is really not much better than the list of 10 signs I just gave you. By the time the software wakes you up and tells you that your computer has a problem, guess what? You have a problem! It didn't stop the virus. It simply told you maybe a few minutes before you would have seen a symptom anyway that there is a problem.
Another problem with these virus scanners is that, much like the dumb System Restore feature in Windows, they are constantly eating up processor time as they scan your hard disk for viruses. I don't like some program scanning every single file of my computer over and over again while I'm trying to work. It's as bad as having System Restore activated.
The other flaw of the virus programs is the same one as with Windows Update - you can't be protected against something if you don't periodically get up on the Internet and get the latest patches. In the case of Windows Update, it is the Critical Updates that show up every few weeks. In the case of virus checkers it is the megabytes of virus definitions that need to be updated daily. I've seen people running Norton Anti-Virus that was 6 months out-of-date.
So I really have never seen the usefulness of paying $50 for Norton Anti-Virus and then still having my computer infected.
What I do, and I feel is more logical, is to scan for viruses manually and do so using the online feature that Symantec (the makers of Norton) provides. After all, if I was going to connect to their web site to download a virus definition file, why not just scan for viruses right there and then?
To do this, go to Symantec's web site at http://www.symantec.com and click on the Symantec Security Check link. Then click on the Find Out If You Are Safe link. By the way, you may also wish to click on the Dangers Of Broadband link, which explains to you, just as I have, the stupidity of owning a cable modem or DSL modem and leaving it connected to the Internet 24 hours a day.
Anyway, you've clicked on Find Out If You Are Safe and you are presented with two options: Scan For Security Risks, and Scan For Viruses. Skip the first option. You will be given a sales pitch to buy Norton Anti-Virus. The Scan For Viruses option is what you want to click. Sit back and let the computer be scanned for the next 5 to 30 minutes. A typical Windows installation can have from 10 thousand to a quarter million or more files. I typically have hundreds of thousands of files on each computer that I own, so my scans take a while.
If the scan doesn't start, you may need to give your browser permission to treat Symantec's site as a secure site so as to allow the virus scanner utility to run. To do this, click on the Tools menu in Internet Explorer, select Internet Options, select the Security tab, click on Trusted Sites, then click the Sites button, disable the "Require server..." option, then type norton.com into the Add field and click the Add button, then type symantec.com and click Add again. I also add microsoft.com (so that Windows Update works) and a few other common sites which I visit and trust. Press OK and OK again, and then repeat the visit to Symantec's site.
On my email computer with over 200 thousand files, I have no viruses. You shouldn't either. If your machine does, you will now be presented with a list of infected files and the viruses which infected them. In the case of the machine today, out of 13 thousand files, almost 1000 infected executable files (.EXE and .VBS files) were found to be infected by no less than SEVEN different viruses. I thought two or three, but no, seven. Again, this is not an atypical user. Web surfer. Email user. Napster user. Just forgot to put any security up on the computer.
If you are infected, the browser will now list in gory detail each infected file and the type of hack that infected it. Write down the names of the various viruses and worms and Trojan horses that seep like pus though your computer, and then go to Symantec's Tools page where you individually download the tools to cleanse your computer.
Note that this process will not be easy. After all, they want you to buy their $50 software instead. But at least they provide the tools and if you have a few hours, you can fix the infected files on your system. Today, it took me about 3 hours of manual deletion of the bogus files and running of these tools to get the machine fixed.
You will also need to have your Windows 98 boot floppy handy, as the only way to fix an infected file like EXPLORER.EXE is to fix it while Windows is not active. i.e. you can't modify a program that's running, such as the Windows desktop.
I am curious at this point to hear from people who have bothered to read this far. Did you run Windows Update and how far behind was your system in terms of updates? Have you experienced any of the 10 virus symptoms I just listed? Did you run the Symantec Security Scan and were any of your files infected? I would like to know just how badly out-of-date and infected the typical Windows computer out there is.
Protecting Your PC
I'll give you the same advice you've probably read on a million other sites and chose to ignore. Some of this advice already appears on this Secrets page and you probably chose to ignore it before. This time, don't!
NEVER NEVER NEVER share out your Windows boot partition. If your C: drive is shared, remove the sharing just as I described above. If you must share files, create a specific folder and only share that folder. If the folder is for others to view but not to copy files to, share the folder with read-only permissions. This prevents a hacker from planting a virus directly into that folder.
Whether you have one PC on a DSL/Cable line, or several, invest in a hardware firewall device such as the Netgear RT314 or FR314. I've seen people just connect a plain hub to a cable modem. That merely shares all your PCs to the hackers on the net! You want a router and firewall, which is what these devices are, so that not only do you have a 4-way hub to connect up to 4 PCs to your modem, but you have a first line of defense against blocking hacker attacks. Because now what the hacker "sees" directly is not your Windows computer, but rather the Netgear box which isn't even running Windows. Windows viruses don't work on non-Windows machines.
If you are currently just using a dumb hub and using the built-in Windows Internet Connection Sharing feature, DON'T! It is exactly this feature, especially when used on a Windows 98 machine, that gives hackers free access to all the other machines on your network. Use the hardware device instead so that you don't have to use a Windows 98 machine to act as a wide open server.
Keep an eye on the "ACTIVITY" light on your modem. Is it blinking when you are not even surfing the web? It can mean three things. Your PC is trying to pull something down from the net legitimately (such as when you have the Automatic Updates option in Windows enabled, turn it off!), a virus is sending your files out to the Internet, or someone is "pinging" your PC (i.e. looking to see if it responds and what kind of access they can get to your PC). The Netgear box will stop most of the pings in their tracks and not pass them on to the PC itself. The Netgear box also has a handy feature. It SHOWS you whether the traffic on your modem is incoming or outgoing and how many bytes of data are involved. It lets you figure out why your ACTIVITY light is blinking. Did your PC just send a megabyte of personal files to the world, or did it just pull down a megabyte of Windows patches?
If you are not running a web site from home, turn off your cable modem or DSL modem when not in use! Sounds simple, but early models of these modems had no on/off switch. They were stupidly designed to be on 24 hours per day. Bad idea. Newer modems have on/off switches. And don't just turn off your computer, because your cable modem will still be visible and allow hackers to "mark" you for future attacks. Disappear from the net entirely by turning the modem off.
If you are running Windows XP (you know I had to bring it up!) activate the firewall feature. To find this, go to My Network Places, right click on Local Area Connection, click on Properties, select the Advanced tab, and activate the "Protect my computer..." option. This will still allow your computer to surf the web but will make it invisible to either other computers in your home which may be infected, or to hackers on the net that manage to ping your computer. I recommend that you do this even if you use dumb old 28.8 dial-up.
Go to the Windows Update web site at least once a week and apply any new Critical Updates. Don't be like the dumb administrators at Microsoft that forgot to apply their own Code Red patches.
Go to the Symantec web site at least once a week (or at the first sign of strange behavior) and scan for viruses.
If someone sends you an email, check the attachments carefully and make sure the file names don't end in .EXE or .VBS. If they do, do not open the attachments! Remember, even email services like Hotmail which claim to scan for viruses are usually completely fooled by new viruses.
When browsing the web, avoid web sites that use VB Scripts and ActiveX controls. This can't be completely avoided (it's required for Windows Update and Security Scan to work), so what you do is add the important sites to the Trusted Sites list in your browser, and then set the security level on the general Internet zone to High. The default in Internet Explorer is Medium, but this is not secure enough.
Quite frankly, avoid idiotic web sites that bombard you with pop-up ads and REQUIRE you to lower your security settings. I just don't believe in such stupidity and do not force it on this site. This Emulators web site first of all does not accept banner ads from third parties, nor do we use any kind of scripting or ActiveX controls that would compromise the security of a browser. We are accused to having a "boring" web site, but boring means secure. I am quite offended that a local TV station (channel 5 in Seattle at http://www.king5.com) bombards its users with pop-up ads. I don't read the news online so that I can be insulted with ads for casinos, do you? The way to overcome pop-up ads is go back to the Security tab and this time add the offending web address to the Restricted Sites list. The content will still come up, but the pop-up ads will not. Try this yourself with the channel 5 site to see what I mean.
Computer viruses really are no different than these Anthrax attacks in the mail. It's terrorism. Viruses cost the economy. They hurt the legitimate users of the Internet. They make your computer malfunction. They potentially hurt you personally by allow your files to be stolen. It is worth spending some money on hardware and spending a few minutes a week to keep your computer as secure as possible. When you get a strange error message, don't just ignore it. Write it down. Figure out if there is a legitimate reason for it. Don't assume that the answer to your problems is buying a new computer.
---
System Restore just won't go away!
OCTOBER 22 2001
I've had a few people mention to me by email that when they try to follow my procedure for eradicating the System Restore feature from Windows Millennium that the file deletion step takes forever. I forgot to mention the step of loading the SMARTDRV disk cache utility prior to typing the DELTREE command. A cache of at least 8 megabytes will usually be sufficient to handle a _RESTORE directory containing thousands of files. I've updated the System Restore instructions to include the additional step. Again, this is only required for those of you still using Windows Millennium.
In Windows XP, Microsoft has intelligently made System Restore an in-your-face and easy-to-find option in the "My Computer" Properties dialog. It takes all of 5 mouse clicks (or 1 keystroke and 3 mouse clicks) to disable. Name the keystroke! If you don't know it, read the next section.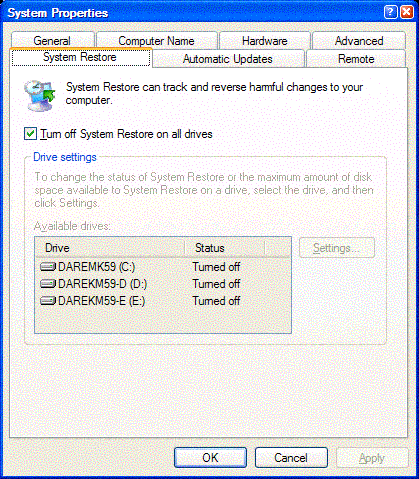 ---
Windows keyboard shortcuts you really must know!
OCTOBER 22 2001
Having walked several people through the Windows XP upgrade procedure now, I am still amazed at how few people know some very simple time-saving keyboard shortcuts in Windows. Many of these shortcuts have existed since Windows 98 or earlier!
While there are many good key combinations to know, there are 8 that you absolutely HAVE TO KNOW. Some requires pressing the Alt key along with another key (first press Alt and hold it, then press the other key). Others require pressing the Windows logo key, which I'll signify with Win and which can be found on most keyboards between Ctrl and Alt. If you have an older keyboard that is lacking the Windows key, you have workarounds, don't panic.
Shortcut #1: Bringing up the My Computer Properties dialog
My Computer is a very handy icon on the desktop. Many people know it opens up disk listings, but how many know the other useful features? It can be used to disable the dreaded System Restore feature in Windows XP. It can be used to bring up the Device Manager. Or simply to see the exact version of Windows and processor you are running on. You can bring up this handy dialog box by hunting around for the My Computer icon (and if you don't see it, look for it in the Start Menu in Windows XP) and right clicking and then selecting Properties. Or.... just press Win+Pause. On some keyboards it will be Win+Break. This trick works in Windows 98 and later but requires a Windows keyboard.
Shortcut #2: Bringing up the Start menu
One of the most frequent things you'll do in Windows is bringing up the Start menu. Especially in Windows XP where EVERYTHING happens from the Start menu.
There are three ways to do this:

Obviously, clicking on the Start button with the mouse. Cheater!

Pressing Ctrl+Esc (works on any keyboard).

Pressing the Windows logo key (works on newer keyboards).
Shortcut #3: Shutting down Windows
This one's easy. If you have the Start menu up already, just press 'u' to select Shut Down.
There is alternate way of doing it. If you are at the Windows desktop, you can simply press Alt+F4 (the same as the Close keystroke in most Windows applications) and this will also bring up the Shut Down dialog box.
Shortcut #4: Running a program or opening a web page
Many people don't realize that the Run dialog box can be used for a lot more than starting a DOS program. It can be used to launch control panel applets very quickly, run accessories such as Paint, and even open up a new web page.
Again, there are several ways to do this:

Cheater way, click on Start, then click on Run

Bring up the Start menu with Ctrl+Esc or the Windows logo key and then type 'R'

Press Win+R

You can even type in a web page URL directly!
Shortcut #5: Bringing up the Windows Explorer
Ever put in a floppy disk and wanted to see what's on it? Or a CD-ROM that doesn't autostart? You don't need to hunt around for the My Computer icon in order to bring up a directory of the files. Simply press Win+E to bring up the Windows Explorer. This works in Windows 98 and later and requires a Windows keyboard.
Shortcut #6: Showing the desktop
There is a quick and dirty way to minimize all the windows on the screen so as to expose the entire desktop. Just press Win+D. This works in Windows 98 and later. I use Active Desktop a lot to continuously display several web pages on my desktop which change in real time (traffic cameras, weather radar, etc.). Pressing Win+D twice allows me to quickly see the updated pages and then continue on with my work.
If you have a keyboard without the Windows logo key, you can right click on an empty portion of the Task Bar and select Minimize All Windows. Then click it again and select Undo Minimize All. This method works in all versions of Windows since Windows 95.
Shortcut #7: Bringing up the Task Manager
Ever needed to kill a hung application? Sometimes when your dial-up connection is slow Internet Explorer itself hangs. This locks up your entire desktop and even locks out the Start menu. In this situation you need the Task Manager! It works slightly differently in DOS based and NT based versions of Windows, so pay attention!
In all versions of Windows since Windows 95, pressing Ctrl+Alt+Del will bring up something. In Windows 95, 98, and Millennium, this will bring up the Task List. At this point you can click on the offering application (and it will usually say Not Responding next to it) and the click the End Task button to kill it. This will usually revive your machine. If the mouse is locked out, press Ctrl+Alt+Del then use the arrow keys to select the bad application, and press Alt+E to End it.
If your PC is really hung, press Ctrl+Alt+Del again and press 'S' for Shut Down. This will hopefully restart your PC but you may lose data.
On Windows NT, Windows 2000, and Windows XP, there is a much improved Task Manager which can be quickly brought up by pressing Ctrl+Shift+Esc. This will allow you to not only kill a bad application, but also monitor your CPU usage, and access the Run dialog in case the Start menu is hung.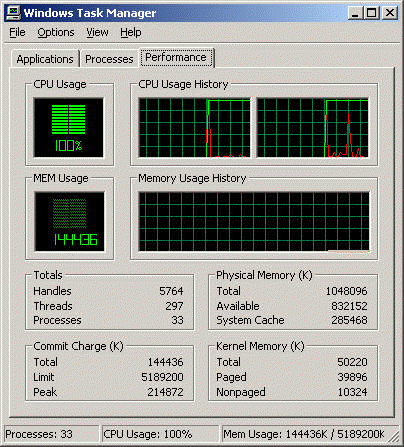 Shortcut #8: Locking the keyboard and Fast User Switching
This shortcut only works in Windows XP but you'll get very used to it. Pressing Win+L will immediately lock the desktop (i.e. hide the desktop and prevent you from clicking on typing in it). In Windows XP Professional Edition, if the machine is part of an NT domain, this will bring up the familiar Computer Locked dialog. Press Ctrl+Alt+Del to type in your password and unlock the machine.
In Windows XP Home Edition, and on machines not part of a domain, you'll get the cute and cuddly Windows XP login screen. To unlock the machine, simply select a user to switch to (or yourself) and type in the appropriate password.
There you have it! Win, Win+D, Win+E, Win+L, Win+R, Win+Pause, Ctrl+Alt+Del, Ctrl+Shift+Del, Alt+F4. Simple keystrokes that will simply your use of almost any version of Windows.
---
New batch of inexpensive Pentium 4 machines are less than meets the eye
SEPTEMBER 17 2001
You can almost set your watch by it. Intel slashes prices and releases new versions of the Pentium 4. And 2 weeks later there are new computers being pitched to us. It happened yet again, this time with Dell and gang offering Windows XP bundled Pentium 4 machines for under $800!
Worth buying? ALMOST, but not quite. This is only the first volley in what I told you last month would be a price war leading up to the launch of Windows XP. Especially with the current world events, don't rush, give it a few weeks. Let's see how makers of Athlon and Pentium III systems respond. Let's see if prices drop even further as they already did a few days later. Let's see if UPS and FedEx can get their freight shipments going again before another shutdown of the airlines. After all, what good is a new computer if it's stuck in transit?
September 10th marked the start of this latest price war as Dell and others began offering the new Intel 845 chipset based Pentium 4 machines. These new systems use the popular, and very inexpensive, PC133 memory modules instead of the very unpopular and expensive RDRAM modules. PC133 is the same memory used by many Pentium III and Athlon systems, which means it is that much less expensive now to replace an older motherboard. These systems also use the new 478-pin Pentium 4 socket, which Intel has stated will be the form factor for future Pentium 4 chip releases that will offer a larger on-chip cache. This will make it attractive to upgrade these systems in the future. This is a step in the right direction for Intel, finally beginning to address the many Pentium 4 problems that have plagued the chip since last year.
So first thing Monday morning the 10th I surfed over to Dell's web site and started pricing the new model 4300 systems. Not only do these systems sell for under $1000, they start at below $600! I custom priced a 1.5 GHz Pentium 4 system with 128 megabytes of SDRAM memory, 40 gigabyte hard disk, DVD, nVidia GeForce2 video, Ethernet, and Windows XP at just $799! Remember, a 1.5 GHz Pentium 4 system on launch day (November 20 2000) cost about $4000. Even a month ago the "old" batch of Pentium 4 systems was still going for about $1500. But $799?
At first sight, this would appear to smoke those $700 to $1000 Pentium III systems I priced just last month. Add a CD-RW drive and upgrade to 512 megabyte of RAM, and you've got a loaded system for under $1000. Compared to over $4000 just 10 months ago, that is a welcomed price drop!
Cheaper? YES. Faster? NO!
Remember, the benchmarks showed months ago that a 1.5 GHz Pentium 4 system using RDRAM was comparable to 1.0 to 1.2 GHz Pentium III and Athlon chips. With faster versions of both the Pentium III and Athlon out now, and with a switch to slower memory on the part of the Pentium 4, you know the results will not be pretty.
I have not personally benchmarked the new Pentium 4 machines (especially since Dell would have been physically unable to ship me the unit since last Monday), but Tom's Hardware has had a look at the new 845 chipset and their benchmarks tell the story. You're getting an $800 computer with performance of about an $800 computer.
The good news for Intel is that they've finally priced the Pentium 4 at a reasonable price level that at least makes it comparable to similar Athlon and Pentium III systems. But the bad news for computer users is that you need to avoid this first batch of cheap Pentium 4 machines until they fix the performance.
Dell slashes prices only days later!!
But wait, there's more! Whether the terrorist attacks on Tuesday were keeping people from jumping on the new machines, or whether it is the terrible benchmarks, who knows. But in any case, by the end of last week Dell had already slashed the prices on the 4300 model machines by $90. $40 coming from a reduction in the base price of the machine, and another $50 coming in the form of a larger discount (a $100 discount instead of a $50 discount a few days earlier). I priced the machine again on Friday the 14th, and sure enough it was $709 instead of $799.
Why the sudden price drop only days after releasing the new systems and before they could even ship out the $799 systems? Only Dell knows.
---
PC salesmen are still busy ripping you off
SEPTEMBER 17 2001
It's interesting that as the rest of the world sends it condolences to America, Americans themselves are too busy scamming each other to apparently notice. From the disgusting $5 per gallon gasoline prices we saw immediately following the September 11 attacks, to the eBay auctions offering World Trade Center debris barely 3 hours after the attack, to the usual dirty games that PC sellers are playing with people's minds on this tragic week.
I've been paying attention to the kinds of games the likes of Gateway and Dell have been playing the last few weeks as they position themselves to sell you your next Windows XP computer.
I've already pointed out a few weeks ago how even companies like Dell and Gateway are resorting to car salesman like tactics of running "never again to be repeated" sales, pushing you to buy a computer THAT DAY OR ELSE.
Avoid the TODAY ONLY sale
For example, on August 30th I pointed out how Dell was offering "$50 OFF - TODAY ONLY" special. So what happened after August 30th? Well, Dell has now increased their discount to $100, and they've cut their prices on top of that. Translation: anyone who was stupid enough to fall for the "TODAY ONLY" sales tactic paid for it. Had you waited a week you'd have paid less.
Overnight shipping... in two weeks
Dell, Gateway, and the other computer manufacturers play another little game. They offer overnight shipping (sometimes even FREE overnight shipping). For products that they don't actually ship until 2 weeks later.
Ordering something by overnight shipping does not mean the product arrives tomorrow. It means that it will arrive a day or two sooner, but only once the product has shipped. Save yourself money and choose the slowest shipping option. You're going to wait several weeks anyway.
Yesterday's old product... at yesterday's high price
Dell has another interesting policy that I've run into, which is if you order a computer and they slash the price the following day, they WILL NOT give you a refund for the amount of the price reduction. What your salesperson will tell you instead is to cancel the order and then place the order online again to get the lower price. The catch is of course that your shipment date moves out that much further. By the time your computer actually ships two weeks later, they've likely cut the price again.
Most companies offer 30 day price protection against price drops. Dell does not. Beware.
Yesterday's old product... at last year's price
Another place you'll get burned is at a brick and mortar store such as my favorite employer of ex-used car salesmen, CompUSA. On Friday the 14th, after seeing the $709 Pentium 4 prices on Dell's web site, I visited the nice CompUSA store here in Bellevue yet again as I do every month, and jotted down some prices to see how the prices changed from last month. Despite Intel slashing Pentium 4 chip prices in half in August, despite RAM prices dropping, the computer systems on their shelves had barely changed in price.
The 500 Mhz iMac was still $949. The Pentium 4 systems on display from Sony, Compaq, and HP were all $1449 (compared to $1499 last month). Old inventory, sitting on shelves for months, being given to you at old prices. While the Pentium 4 systems on display look and sound pretty sweet - the Compaq Presario 7120, the Sony RX470DS, and the HP 7970 all come with 1.5 GHz Pentium 4 processor, 128 megabytes of RDRAM, 60 gigabyte hard disks, DVD and/or CD-RW drives, and nVidia Geforce2 video - the same setups can be purchased from Dell or Gateway for several hundred dollars less.
Once again it comes down to the same catch 22 I already describe - you can have you product sooner and pay more, or wait a little to save some money. Given the current situation with airlines and shipping, you have the choice of paying $1449 + tax to walk out of a CompUSA store with a new Pentium 4 machine in your hands, or paying about $999 + shipping + tax for a similar Dell system but waiting who knows how long.
It's a tough choice, and if you want my advice it's the same as I gave already - DO NOT BUY A COMPUTER RIGHT NOW. Wait until Windows XP is closer to release, and wait until UPS and FedEx are up to full shipping capacity again.
Today's product... at yesterday's price
This is a sneaky trick that both Dell and Gateway pulled in the past two weeks. If you recall from August 30th, I priced a couple of 1.1 GHz Pentium III systems from Dell and Gateway and got some nice prices.
Well, I tried to price these same systems again today and found that those systems were no longer offered with the same options as before. Whereas the choice 2 weeks ago was either 900 MHz Celeron or 1.1 GHz Pentium III, the choices today no longer offered the 1.1 GHz Pentium III. In one case it was replaced by the 1.1 GHz Celeron (a slower chip) and in the other case a slower Pentium III (1.0 GHz instead of 1.1 GHz).
Same computer models, same page on the web sites, roughly the same prices, but with slower processors inside. Very sneaky! For example, if you use the Dell 2100 example I gave last month, the price of the 1.1 GHz Pentium III system was $679, while the price of the 1.1 GHz Celeron system today is $639. Sounds like you save $40, but actually you're getting a slower computer! Dell is playing the clock speed game that Intel plays - selling you a "1.1 GHz" processor and hoping that you don't notice the difference.
"Home" users are stupid. "Business" people are smarter?
That seems to be the message I get from both Dell and Gateway. Just another insult to the buyer's intelligence.
What I refer to is the practice of putting up a "Home" and "Business" link on a web site, and then offering the exact same computers to the two different groups of people at different prices! And it's not what you think (i.e. that business users would pay more). It is actually the other way around. Home users are treated like stupid idiots who apparently cannot think for themselves.
Both Dell and Gateway's web sites offer you less flexibility and less options when buying a computer if you select the "Home" versions of their computers.
Let's take a look at the Dell 8100 system we priced last week at $1099. Remember how difficult it was to even GET that $1099 price? (If not, just read the article a few pages below). The scam is that we are shown a graphics of the computer claiming a $1099 price, yet once we select the computer it gives a default configuration costing hundreds of dollars more. Only after carefully stripping the machine can we get to the $1099 price.
It turns out that by merely having selected the "Business" link instead of the "Home" link, we are presented with the exact same Dell 8100 system, at a much lower price, AND, with more options.
See, Dell and Gateway seem to think that the "Home" user has no clue what they're doing, and so they go ahead and a bundle a bunch of options on your system, whether you need them or not. You pay for them anyway.
The "Business" user on the other hand, apparently knows what they're doing and is thus presented with more options. For example, when I select the "Business" version of the Dell 8100 and select the same options as before (1.5 GHz processor, Microsoft Works, 1 year warranty) the base price comes up not as $1617, not as $1099, but a mere $699.
Same computer, being offered at $400 below what the same computer is listed at on the "Home" page. Notice also, more options.
For example, the "Home" user isn't given the option of selecting Windows 98. The "Business" user is. The "Home" user is forced to accept speakers and a "free" printer. The business user is not.
In fact, when you price the Dell 8100 system with the same specs as the $1099 system but minus the printer and speakers, your price is still $799 - $300 less that the supposedly identical "Home" system with all the FREE goodies added. You're paying $300 for your "free" printer! Enjoy it. Sucker.
I've priced a number of systems of Dell's web site and the same was true for all of them. The "Business" version was cheaper than the "Home" version and didn't force you pay for a bunch of "FREE" add-ons. Beware of FREE TODAY ONLY specials!
Dell should be ashamed of this insulting and misleading and outright fraudulent sales tactic.
---
HOW TO BUY A PC AND AVOID INSULTING SALES TACTICS
Sadly, PCs are now so commonplace that every former used car salesman now seems to work at a computer store trying to sell you one. One of the tricks I've noticed PC makers using, much like car dealers, is selling a bunch of "gravy" items on top of your original purchase. With cars, this is always the rustproofing or warranty option. With computers, it's an ever growing list of extra peripherals, software, and upgrades that they try to tack on to your purchase.
What should be a nice fast cheap $1000 PC can easily balloon to $1500 or $2000. Box makers (Dell, Gateway, IBM, etc) don't make much money on the basic computer. It's the extra, the "gravy", that makes them the profit. And your goal a consumer is to give them as little gravy as possible.
With the Labour Day weekend coming up here in the U.S. and Canada, millions of people will likely go out to shop for computers this weekend. Your newspapers will be full of computer ads. Remember, DO NOT BUY A COMPUTER THIS WEEKEND OR NEXT WEEK OR THE WEEK AFTER THAT! Wait until late September or early October to begin looking.
But if you must buy a computer before then, let me walk you through what to look for.
DELL
For example, go over to Dell's web site www.dell.com, and I'm picking on Dell here because they had the nerve to sell me a dual Xeon system for $6000, and click on their U.S. "Home and Home Office" site. Sure enough, there's a "sale" going on like never before at Dell. FREE PRINTER. FREE DVD. FREE CD-RW. $50 OFF - TODAY ONLY! NO PAYMENTS FOR 90 DAYS.
I mean, geez, sounds like Dell is giving it all away. Like today, August 30, is some special day where only today and never again will Dell ever off a $50 discount on a computer. Bogus.
Click on the "Hot Deals" link, and you are again inundated with similar big bold high pressure slogans. I have to admit, this is quite unusual for a company like Dell to stoop this low to used car sales techniques in order to sell computers.
Now, if you maneuver past all this nonsense, and click on the link for "Desktops", you finally get to a real list of computers being offered. Three systems - one based on Pentium 4, one based on Pentium III, and one based on Celeron and Pentium III.
Notice the terminology used. "Up to 2.0 GHz". "Up to 1GB RAM". "Up to 100 GB hard drive". So you say to yourself, "gee, Darek was really wrong about the Pentium 4 systems, they're not expensive" and you click on the Dell 8100 system to configure it. After all, it's only $1099, that's cheap for a Pentium 4 system.
Suddenly you've already got $1617 in your shopping basket!!! That $1099 system is by default a $1617 system which includes not a 2.0 GHz processor but a 1.5 GHz processor (that's the same one that 9 months ago lost to both the Pentium III and Athlon), 256 meg of expensive RDRAM memory, a 40 gig hard disk, and a 17 inch (16.0 inch viewable) monitor.
Don't you love that? A monitor screen is never as big as it is claimed to be. 15 inches is always really 14. 17 is really 16. Why this continuing LIE??? I don't care how big the tube is, I care about how big the desktop will be on the screen. And we are all being lied to by the monitor manufacturers.
Anyway, the first thing you should do is ALWAYS remove the monitor option. I've been saying for 10 years. NEVER buy those crappy monitors that come bundled with PCs. First of all, flat panel LCD is the way to go. Second, if you already have a computer that you are upgrading from you already have a monitor. Third, you can always buy a better monitor for less by shopping around.
So we're down to $1447. Next the hard disk. A 40 gigabyte ATA drive is worth under $150. You can go to Costco or other warehouse store and score a larger drive for about the same price. Unfortunately you can't really buy the Dell system without a hard disk, and the 20 gig option for $20 less is not attractive. The 80 gig option for $110 more is also not attractive. So stick with the 40 gig drive and add a second drive later.
RAM, they're offering 256 megabytes, with a $300 extra charge for 512 megabytes. Well, given the price of RAM today, 256 megabytes of RAM, even RDRAM, is NOT WORTH $300. They're making gravy on RAM, so don't choose more RAM.
The 3 year warranty. PUNT IT! Reduce it to a one year warranty, because chances are if your computer is going to fry, if it's not going to work, it will happen within the first 30 days. This time next year you'll probably be shopping around again, so do NOT lock yourself in to a 3 year warrant. Just like with a car, go for the smallest possible warranty. $119 off, we're down to $1328.
Now, you've found that by default you've also ordered a copy of Microsoft Office. I personally don't need yet another copy of Office, so punt that. Price down to $1178. We're still $80 above the advertised price and we've cut the system down to the bone.
The only ways left to cut down the last $80 is to remove the modem option (which is ok only if you plan to use a DSL line or cable modem), go for a basic mouse, and go for a basic keyboard. Only then can you get the $1098 price.
At this point you have a basic $1100 Pentium 4 machine, which while still considerably cheaper than the $3000+ introductory price only 9 months ago, is really no fun and really not much more powerful than the basic 700 or 800 MHz Pentium III that you probably already own.
Oddly, you can tell Dell not to put in a modem in the computer but you can't tell them to not give you speakers. You're stuck with a set of Harman/Kardon speakers whether you need them or not. Why?
And look how hard it was to even get the advertised price. If you had stuck with the default options, and maybe cranked up RAM to 512 megabytes, cranked up the hard disk to 80 gigabytes, and selected the internal Iomega ZIP250 drive, you computer cost easily balloons to double the advertised price. OUCH!
Out of curiosity, I configured the 2.0 GHz system and you immediately pay an extra $550 to go from 1.5 GHz to 2.0 GHz. Steep price for a 33% speed increase.
Now let me show you how to buy a similar system without blowing $2000 or more. You won't even spend $1000. Go back to Dell's main web site, select the desktops again, but this time choose the 2100 (not the 8100) system. That's the cheap Celeron and Pentium III box. Configure it, and select the 1.1 GHz Pentium III. The price differential between the 900 MHz Celeron and the 1.1 GHz Pentium III is all of about $100. It's worth the $100 to get about an extra 25% speed boost. In fact, based on past benchmarks with 1.0 GHz Pentium III chips, you'll get most of the speed of the Pentium 4 1.5 GHz chip!
Select the 1 year warrant, and select the Microsoft Works option instead of Microsoft Office. Remove the monitor as well. Total so far: $679. Sweet! As some of you may recall, the demo machines we've used at the past few Macworld and Comdex shows have mostly been cheap $500 class Celeron machines. And we can easily run Windows XP on these! So again, don't think you're buying an inferior system because you chose Pentium III instead of Pentium 4. It's only Intel's market that tells you the Pentium 4 is superior. Real world results don't back up their claims.
Now, even adding a modem, the nice mouse, the nice keyboard, the 10/100 Ethernet card, choosing the a 40 gigabyte hard disk, and the Harman/Kardon speakers, your total is still only $779. A grand total of $779 for the faster Pentium III system out there, with enough RAM to run Windows XP, speakers, modem, network card, CD-RW drive, even a color printer is included all for under $800. That is a sweet deal. Throw in a DVD-ROM drive to play movies, another 128 megabytes of RAM, and a Windows XP upgrade and your total is about $1000 even.
For home use, for surfing the Internet, for playing video games, for writing letters, watching DVD movies, ripping and burning music CDs, you DO NOT need to spend more than $1000 today on a computer. And the good news is it'll be even cheaper in a month.
Do NOT select the RAM upgrade option!
The one thing I avoided with this system is foolishly selecting the RAM upgrade. I left it at 128 megabytes. For this system, as with the Pentium 4, Dell wanted almost $300 more to add 256 megabytes of RAM. Well, this is PC133 SDRAM. 256 megabytes costs $50. Even on these cheap systems, Dell adds over $200 of gravy on the RAM. So buy the computer with the minimum 128 megabytes of RAM, and then add your own $50 RAM upgrade.
GATEWAY
Now let's go over to Gateway's site and play the same game. Click on "Home and Home Office", then click on "Desktops".
Several things you'll notice different now on Gateway's site:
First, they no longer make the claim about the Pentium 4 being the fastest x86 processor. Good for them, although ironically with the 2.0 GHz chip that claim may temporarily be true! Instead, they refer to them as "cutting edge" processors.
Second, the CPUs are separated by the type of processor. Makes it easy to choose: Celeron and Pentium III, or Athlon, or Pentium 4.
Third, when you actually select a CPU and then select the model, the default configuration IS the configuration of the price shown.
For example, if I select the "Gateway Essentials" option (the Pentium III and Celeron machines), I'm presented with a $799 Celeron machine and a 1.1 GHz Pentium III machine much as on Dell's site. But when I click the "Customize" buttons, I'm not suddenly given $500 of extra options. Very nice.
Making the same speed vs. price tradeoff, I select the 1.1 GHz Pentium III for $899. Unlike Dell, Gateway doesn't completely build machines to order. In this case, the RAM size of 128 megabytes, the hard disk size of 20 gigabytes, and the CD-RW drive option are not options. They're included, as are the USB keyboard and speakers. Remove the monitor and the price drops to $749. Now, scroll down and you'll see that you can select the OS. Windows Millennium, or Windows Millennium with a Windows XP upgrade coupon for $15.
GO FOR THE UPGRADE COUPON. If you wait until October 25th to upgrade to Windows XP you'll pay $99. If you do it now, it's $15. At this point the system costs $764, very similar to the Dell system. We've traded the color printer and larger hard disk for a Windows XP upgrade. Adding $50 for a RAM upgrade, and $100 for a DVD, we can actually come in at below $950 on this system.
Now let's go configure an Athlon box. That's the "Gateway Select" option. Subtracting the monitor and adding the Windows XP upgrade plus the cheapest set of speakers, we get a total of $1004. Add your own 256 megabyte upgrade and you've got a killer Windows XP box for $1054. That's a great price (considering we've getting an additional 30% of so speed boost at less than a $100 extra cost). This is how AMD has been beating up Intel the last two years - selling faster processors at the same price as Intel's Pentium III. The 1.4 GHz Athlon will deliver about 1.7 to 1.8 GHz equivalent Pentium 4 speed, so not bad for $1004. Is it really worth it to you to get that extra 10% speed boost by blowing double that on a 2.0 GHz Pentium 4? That's for you to decide. Keep in mind prices will drop in a few weeks.
Don't forget your local computer dealer. And I don't mean CompUSA, I mean a real computer store that builds your system to spec. Neither Dell nor Gateway give you absolute control over the specifications of your PC. The beauty of shopping at a local store is a) you get to pick your system up the same day and avoid shipping charges, and b) they will tweak your system for you, and c) you get to try it and test it on the spot before they seal up the box. The only catch is that the local guys are small, and so not first in line to offer things like the 2.0 GHz Pentium 4 or even the 1.1 GHz Pentium III.
So if you must go computer shopping this weekend, happy hunting and keep my advice in mind.
---
I STILL love my SONY VAIO Picturebook
Those of you that have followed this page for the past few months know that I can't stop raving about the Transmeta Crusoe processor or the Sony VAIO Picturebook. The Crusoe is a recent processor that takes the approach not of cloning a Intel Pentium but rather emulating it in software using its own proprietary code. The advantages being that the Crusoe is free to redesigned at any time without breaking anyone's code. And the chip does this using only a watt of power. Now that's "cool".
So once you get past the funky "VAIO" name, it turns out Sony has a good thing going here with the new little Crusoe based Picturebook. I have to admit, it took some selling on me to get to like it. That small a computer, running Windows, on an emulated x86 processor? After coming oh so close to buying one after seeing it at last year's COMDEX Las Vegas, a customer inquiry finally convinced me to at least try it out. It's not left my side since it arrived. I love it!
So what's to love about it? Well first, it's a full blown Windows computer (not Windows CE crap, but real Windows Millennium and real Windows XP) running on a 1024x480 32-bit LCD display. You take it out of the box and boot it and you're up and running surfing the net in minutes. Yes, yes, yes, Millennium sucks, so first thing you need to do is turn of System Restore and reboot, or better yet, install Windows XP as I have done.
Sony has gone and pre-installed all the usual utilities on the machine, things like Quick Time 4 and Adobe Acrobat 4, and the usual stuff you spend hours download from the Internet and installing on a new computer. Hard disk space is great, 12 gig of storage, preformatted as two FAT32 partitions. SONY also pre-installs device drivers for most common peripherals, so when you plug an external drive to the USB and Firewire ports, its just works. Awesome. I plugged in an LS-120 Superdisk drive and was reading and booting Macintosh floppies in minutes. I rarely receive a desktop computer that ever just works out of the box!
Did I mention the 128 meg of built in memory, more than enough to run even Windows Millennium? I'm currently running Windows XP Professional on mine and it works just fine with plenty of memory to spare.
There is also the built in monitor jack, TV output jack, phone jack, all crammed into that tiny thing. The keyboard is surprisingly useable for a notebook, the mouse buttons easy to click, although I've never been a fan of the "eraserhead" mouse pointer. There is also the built in mini camera, great for capturing low resolution video and still pictures. And great for video conferences, although I can't seem to get the sound working yet. I love just being able to put this thing in my jacket pocket and take a full blown Windows computer with me anywhere. I popped in a 3Com wireless card and surf the Internet just fine from anywhere in the building.
My congratulations to the engineers at Transmeta and at Sony for pulling off this incredible pocket sized Windows XP machine.
---
Windows Millennium - WHAT A DISASTER!!! A brief history of Windows.
Another year, another upgrade cycle. That's what the car industry and now the computer industry seems to believe. Microsoft has made a great business of locking people into an annual product upgrade cycle, much as Apple has now too, trying to force its users to shell over another $50 or $100 every year for yet another operating system upgrade.
The Windows Millennium upgrade, also known as Windows 9x, Windows 98 Third Edition, Windows build 3000, is just such an upgrade. It was released on September 14 2000, and while the Windows XP upgrade will soon make all other Windows releases irrelevant, it's still important that you know WHY Windows Millennium should be avoided.
For those that aren't up on the latest and greatest Windows releases, let me summarize that various consumer Windows releases over the past 15 years:
Windows 2.0 through 3.1: these 16-bit release of Windows were on sale between 1987 and 1995. They are designed for 8086 and 286 processors, take advantage of virtual 86 mode on the 386 processor to run multiple DOS sessions at once, and are the technological equivalent Mac OS. No memory protection, no real multi-tasking, lots of 16-bit related limitations. Very similar design to the original Mac OS, where the whole computer can freeze up if just one line of code in one single program is bad.
Windows 95 - the major $200 million upgrade to Windows 3.1 and one that added 32-bit system calls and compatibility with 32-bit Windows NT applications. This was certainly a very important release, as it marked the end of 16-bit Windows application development. Unfortunately, back in 1995 Microsoft was still not quite on the ball, completely missing out on the Internet revolution, and still not catering to game developers and other graphical applications. The original Windows 98 release contains a lame release of Internet Explorer (version 2), lacks DirectX, and has broken SCSI drivers. No wonder Microsoft was forced to rush a service pack only a few months later. If you still have the original release of Windows 95 (also known as build 950), get rid of it!
Windows 95 OSR2 - or what would these days be called Second Edition. This update, released in the summer of 1996, was the first stable release of Windows 95, and is actually still a great Windows release! I use it on my older PCs and notebooks and I highly recommend it for use on older 486 and Pentium processors. OSR2 contained DirectX 3, which allowed games as well as our own emulators to output high speed full screen graphics. It contained fixed SCSI support. It came with Internet Explorer 3. And most importantly, it added FAT32 support for large hard disks. Again, an excellent release of Windows but oddly one that Microsoft chose not to sell to the public! Windows 95 OSR2 is also known as build 1111.
Windows 98 - after skipping a year (1997) with no new Windows releases, Microsoft released Windows 98 in the summer of 1998. Windows 98 was a huge disappointment to me, as it was really not much more than a retail release of Windows 95 OSR2. It contained an updated DirectX 6, an updated Internet Explorer 4, and some other enhancements, but many which were free downloads from Microsoft's own web site. And of course, ATI video drivers were completely broken! The main reason people upgraded to Windows 98 was for the FAT32 support. Not a recommended version of Windows to use. Windows 98 is also known as build 1998.
Windows 98 Second Edition - released in the summer of 1999, this release, much like OSR2, is mainly a bug fix release and a very stable release. Updated with Internet Explorer 5.0, DirectX 7, and improved internet connection sharing, Windows 98 SE is just a good old solid release of Windows. If you have a faster Pentium with at least 16 megabytes of memory, I recommend it over either Windows 95 or Windows Millennium. Windows 98 Second Edition is also known as build 2222.
Windows Millennium - the "no good reason to release it" release. I honestly don't know why Microsoft bothered with this release other than to make money. It's essentially Windows 98, minus an "Exit to DOS" feature. Most of the "new" features such as Internet Explorer 5.5, Media Player 7, etc. can easily be downloaded from Microsoft's web site. At a price of only $49.95 to $59.95, Microsoft must have realized that this was a useless Windows upgrade, as they priced it at almost half the price of Windows 95 and Windows 98 upgrades!
Now here is the major problem with Windows Millennium. In order to put SOMETHING on the box to say "hey, look, we added a new feature", Microsoft added this ridiculous "PC Health" feature to Millennium. Sounds sexy. The theory being that when you screw up your PC you can "roll back" to an earlier installation. Sort of an "undo" feature in the OS, although, really, is this something you really want to advertise? "Hey, our operating system is so unstable, we make it easy for you to go back to an earlier configuration!" Not to mention the problem of how do you use the feature once you are unable to boot your PC??
Anyway, one of the things PC Health does is a feature called System Restore that constantly, and I mean CONSTANTLY, keeps backing up files. Since Windows Millennium was released we've received email after email after email from our customers saying that since upgrading to Millennium, their computers are running slower and their hard disk keeps thrashing.
The reason is very simple. Every file accessed, every documented opened, every file touched gets backed up to a hidden directory called C:\_RESTORE\TEMP. This is fine if you are dealing with letters to grandma that are a few kilobytes in size, but what about large bitmaps? Large disk image files used by emulation software? Large downloads from the Internet? Yup, they get duplicated too. Your hard disk just fills up, and fills up, and fills up, until it runs out of space! I've had this happen several times on my own computers after upgrading to Windows Millennium.
I tried to disable the System Restore feature, by clicking on Start, Programs, Accessories, System Tools, System Restore, only to discover that System Restore can't be turned off there.
Worse, according to Microsoft's own documentation, (see http://msdn.microsoft.com/library/techart/winmesr.htm) the System Restore feature will keep backing up files until your hard disk fills up! The System Restore feature shuts itself off once your hard disk has less than 200 megabytes of disk space. However even this is not enough. In once instance, while running SoftMac 2000 with a 600 megabyte disk image file, the system managed to completely fill up the C: drive, causing Windows to no longer be able to grow the swap file. As a result, SoftMac ran out of memory, the Windows desktop ran out of memory and could not refresh the desktop properly, and the whole machine crashed and burned. We needed to reboot, at which point there were only a few megabytes of space left on what hours earlier had been a mostly empty 6 gigabyte hard disk! System Restore had copied gigabytes of useless duplicate files (including many copies of the 600 meg Macintosh disk image) to the hidden directory.
How to shut off this ridiculous System Restore "feature"? Well, this was the kicker. You can't simply delete the backed up files because the entire _RESTORE directory is marked as "in use" and thus can't be deleted. And since Microsoft removed the "Exit to DOS" feature, one can't just exit Windows to a DOS prompt like before. While there is an obscure "Disable System Restore" option buried away in the System control panel applet, interestingly enough under the "Performance - File System - Troubleshooting" tab, that still doesn't help with all the wasted hard disk space.
So here is my brute force solution to shut off and remove all traces of System Restore:
In Control Panels, Add/Remove Programs, create a Windows boot disk. It's really an MS-DOS boot disk.

Shut down Windows and reboot the PC from the floppy disk.

Type SMARTDRV 8192 to install an 8 megabyte disk cache (it will speed up the file deletion)

Go the C: prompt by typing C:

Type "C:\WINDOWS\COMMAND\DELTREE C:\_RESTORE" to remove all the System Restore files.

Create a bogus file called _RESTORE by, for example, running EDIT and creating a blank text file.

Type "C:\WINDOWS\COMMAND\ATTRIB +r +s +h _RESTORE" to hide this file. This will prevent Windows from re-creating its hidden directory.

Now reboot the PC and watch Windows Millennium run much faster!
The whole System Restore feature is just an idiotic idea. My advice - if you have a slow PC, run Windows 95 OSR2 or Windows 98 Second Edition on it. If you have a faster PC with at least 16 megabytes of memory, run Windows 98 Second Edition. If you have 64 megabytes and run at 200 MHz or faster, don't even bother with a consumer version of Windows. Upgrade yourself to Windows NT 4.0 or Windows 2000 (a.k.a. NT 5.0) and enjoy all the benefits of a true 32-bit SMP-capable pre-emptive multi-tasking operating system. NT is to Windows 9x what Mac OS X will be to older versions of Mac OS - a solid, stable, powerful operating system. And unlike Mac OS X, it's been out since 1993!
So what about NT and XP?? Why haven't I mentioned NT in the list above? I'm getting to it. NT is a project started by Microsoft in the late 1980's as an effort to write a true 32-bit multi-tasking multi-processing protected-memory operating system. i.e. what Mac OS X is to the Mac, Windows NT was to the PC. They even went out and hired Dave Cutler, the designer of the VMS operating system for the VAX, to head the project. Windows NT was by 1993 a running shipping operating system that delivered on much of what was promised. By 1995 it was even running on numerous other chips, including the Alpha, MIPS, and PowerPC processors. A true portable operating system!
NT is fast (due to its lack of an unstable 16-bit DOS kernel as in the other versions of Windows), very stable (due to its lack of an unstable 16-bit DOS kernel as in the other versions of Windows), and scalable to multiple processors and gigabytes of memory (due to its lack of an unstable 16-bit DOS kernel as in the other versions of Windows). Get the idea? No DOS, thus no silly bottlenecks.
If there is ONE THING that Microsoft's done (mostly) right over the years, it's Windows NT. I've been a devout user of NT since the beta days in 1992, running it on a 486 with all of 16 megabytes of RAM, and have used it since to crank out all the versions of Gemulator, Xformer, and SoftMac.
Windows NT 5.0, the big "everything but the kitchen sink" release, finally made its appearance in February 2000 as "Windows 2000". Same great NT, optimized to run even faster and have a more Windows 98 look and feel, just a different name. See, Windows 2000 was originally supposed to be the "grand unification" release of Windows, merging the popular look and feel and functionality of Windows 95/98 with the stability and robustness of Windows NT. Microsoft partially succeeded, making common Windows components such as DirectX, Internet Explorer, Plug And Play, DVD support and such all work as seamlessly in Windows 2000 as in Windows 98. And in my opinion, as far as Plug And Play goes, even better! But they failed to fix the legacy support, the backward compatibility with MS-DOS and Windows 9x which plagued Windows NT 4.0.
---
Editing AUTOEXEC.BAT in Windows Millennium
I don't know how many people outside of the state of Oregon are aware that in Oregon it is illegal to pump your own gas. All gas stations are full serve, self serve does not exist. You are not allowed to hurt yourself!
Well, apparently as part of the PC Health feature in Windows Millennium, Microsoft no longer trusts people to even edit their own AUTOEXEC.BAT file to customize simple things like environment variables. Not that I need to do this often in Windows, but one thing I always do when I set up Windows on a new computer is bring up AUTOEXEC.BAT and add the line "DOSKEY" to the end of it so as to have a command history at the command prompt.
So I was somewhat confused after upgrading from Windows 98 to Windows Millennium that my DOSKEY wasn't working properly. I edited AUTOEXEC.BAT to add my line, rebooted the machine and.... no difference! I then made some other random change, only to discover that upon rebooting, Windows had restored the original version of the file! I was no longer trusted to edit my own startup file!
The solution came to me via a quick call to Microsoft. You now need to edit a different file, a file by the name of CMDINIT.BAT buried inside the C:\WINDOWS\COMMAND directory. There I found that file, which when you edit it, truly sets your AUTOEXEC.BAT settings.
Got that? AUTOEXEC.BAT does nothing now. To edit AUTOEXEC.BAT you need to edit CMDINIT.BAT. Another stupid little "feature" that is thankfully going away in Windows XP.
---
The Windows 9x Disk Caching Bug
This is a well documented problem that's been around for over 6 years that surprisingly still bites a lot of unsuspecting users. Microsoft has obscurely documented the problem, although it affects not only Windows 95 but Windows 98 and Millennium as well.
The problem is quite simple: In DOS based versions of Windows (Windows 3.x through Windows Millennium) the virtual memory manager and the disk cache are two separate entities. The virtual memory manager decides what portions of physical RAM can be swapped out to disk, while the disk cache determines what portions of disk files in use should be kept in memory to avoid costly disk operations. Unfortunately, the left hand doesn't know what the right hand is doing. As I and many other people discovered more than 5 years ago when doing product testing on low memory machines, the two often conflict with each other. The disk cache sucks disk files into memory while the virtual memory manager is swapping memory out back to disk. In some cases, the two defeat each other, resulting in very slow computer operation.
When a program is launched, the executable file (the .EXE) and any support files (.DLL files, help files, documents, etc) are read in from disk into main memory. The disk cache grows in order to hold this data. As the disk cache grows, the available memory (the free memory) in the system decreases. The memory actually decreases at a rate TWICE that of the files coming in. Because for each 4K of memory pulled in from disk, 4K is used up in the disk cache, and another 4M of main memory is used to hold that data. The machine runs out of memory twice as fast as it should. As the free memory decreases, the virtual memory manager kicks in and starts swapping out memory, sometimes swapping out main memory that just got loaded and is wasting space in the disk cache. When that memory needs to be used again, Windows is too stupid to realize the data is already in the disk cache, and will instead load it from the swap file on the disk. This defeats the whole point of the disk cache.
There are numerous web pages that describe this problem and offer a very simple solution: simply disable or limit the maximum size of the Windows disk cache. With hard disks becoming much faster these days (some with built in caches) it is not necessary for Windows to have an arbitrarily large disk cache. I recommend setting the cache no larger than 2 megabytes on 16 megabytes PC, or about 1/4 the total physical memory with more memory.
Two pages I would recommend looking at are these:
http://support.microsoft.com/support/kb/articles/Q108/0/79.asp
http://www.infinisource.com/windows95/troub-21.htm
To fix the problem manually, simply edit the SYSTEM.INI file in your Windows directory. Find the vcache section and add a MaxFileCache variable, like this:
[vcache]
MaxFileCache=2000
Save the SYSTEM.INI file and reboot Windows. The number specifies the maximum size of the disk cache in kilobytes, so a setting of 2000 indicates about a 2 megabyte cache.
While Microsoft did make changes in Windows 98 to make the disk cache less aggressive (remember the claims on the Windows 98 box about loading programs 36% faster? Guess what that was <grin>), the problem still affects Windows 98 and Windows Millennium. In fact, without this change (and without disabling System Restore), Millennium is unusable in a 16 megabyte PC. By disabling System Restore and shrinking the disk cache, a 16 megabyte PC can now run Millennium just fine.
This problem does not occur with Windows NT and Windows 2000 because the Windows NT kernel has a single integrated memory manager that handles disk caching and virtual memory at the same time. A page of memory can be shared by both the memory manager and the disk cache, eliminating the duplication of memory. This is why in general Windows NT and Windows 2000 run memory intensive applications (including our own emulators) much faster than on Windows 9x.
This problem certainly isn't unique to the Windows operating system. Mac OS suffers from similar brain dead behavior. In fact, this is one of the main reasons a Macintosh computer takes so long to boot up (from 1 to 5 minutes as most people tell us). Most Macintosh computers have far too little memory for the OS they're running (especially Mac OS 8.5 and higher which really require 64 megabytes of memory to boot efficiently). As the Macintosh is booting, it's swapping out the very files it's loading in! This is why under Windows NT and Windows 2000, our SoftMac emulator boots Mac OS 8 in a matter of seconds, 8 to 15 seconds on most PCs, since the memory management and disk caching is actually handled by one integrated memory manager.
---
Preparing for Windows XP - It is worth the upgrade!
AUGUST 30 2001
After years of suffering, hundreds of millions of PC users around the world finally have a Windows upgrade to get excited about - Windows XP. Without any further delay, here are my Top Reasons to Upgrade to Windows XP:
It's Windows NT at a Windows 9x price ($99 upgrade) - While Windows NT has normally run about $300, XP will be sold at the usual Windows 9x prices - about $99 for an upgrade and $199 for a full version according to Amazon's price sheet. This also means that if Microsoft extends the same Windows 9x pricing to OEMs and system builders, you'll be able to buy a PC bundled with Windows XP for no extra cost than getting it with the horrible Windows Millennium.
ClearType - A technology Microsoft first showed about 2 or 3 years ago, it's finally in XP. Turn on ClearType and your text just becomes super smooth. ClearType is designed for LCD displays and takes advantage of the fact that an LCD display really has 3 physical pixels per screen pixel displayed and is thus able to render text at up to 3 times the clarity. I've used ClearType on my notebook computers and my desktops with the Silicon Graphics 1600SW displays, and what was already a clear display is even clearer. I can read a 7 point font from 2 or 3 feet away no problem. Remember those old Windows 3.1 line fonts? Ugh, how mankind has progressed in 10 years!
Hibernate works - From talking to other people, I am not the only person who has had trouble using the Suspend and Hibernate features in past releases of Windows. They just plain didn't work. Most of the time I'd hit the power button to wake up the machine and it would either reboot or do nothing. In Windows XP, Hibernate not only works, it is fast. A 256 megabyte PC hibernates in about 10 seconds. (hmmm, is that a benchmark?) It then takes all of another 10 seconds to wake it up (not including the time your PC's BIOS spends testing memory). Forget ever shutting down and restarting, it's so much quicker to just Hibernate the machine. For those not familiar with the feature, it is similar to Suspend or Sleep in earlier operating systems, but does not leave the machine powered on. All the RAM is dumped to hard disk and the PC does truly shut down. Then when you wake it up again, Windows XP simply loads in 10 seconds worth of saved memory and resumes from where you left off.
Automatic clock synchronization - Seems like a simple enough feature but why did it never appear before? Windows XP will now automatically sync up to the correct time using the Internet and do so on a daily basis. It is just a cool simple feature. I have my wall of flat screen monitors here on my desk and every single desktop is showing the same time and date to within a second of accuracy. Before, using Windows 98 or 2000, most of my PCs were several minutes out of sync with each other and I had a weekly ritual of setting the clocks on several dozen PCs around the office here.
Windows 9x system calls work - One of the big show stoppers with Windows 2000 was that it only implemented Windows NT system calls and not all Windows 95/98 system calls. This was one of the reasons many Windows 95 compatible programs broke on Windows NT and Windows 2000. In some cases, system calls did exist but didn't function, or were stubbed out. Even following Microsoft's guidelines to test for the availability of a given system call didn't work in all cases. As far as I can tell, XP implements everything from Windows 98.
Compatibility modes - To help with running older Windows apps, Windows XP now allows you to specify the compatibility mode to run for a certain application. This can be Windows 95, 98, NT, or 2000. This way an application that, for example, incorrectly detects the Windows version and can't handle a version 5.1, or incorrectly handles Windows NT system calls, can now be told that it's running on, for example, Windows 95. Way cool. This is what Windows 2000 was badly missing.
System Restore works - Not only can you FIND the option for disabling System Restore (it's right in the My Computer Properties dialog now), but you can also turn it on and off on an individual drive letter basis, and you can cleanse the hard disk of old restore files. All that horrible junk I outline above about turning off System Restore in Windows Millennium goes away!
Plug And Play works - Another Windows 95 feature that never quite worked before that truly seems to work now is Plug And Play. Out of about two dozen PCs that I have personally installed Windows XP on, I have only had two minor problems - my Sony VAIO palm computer required me to manually download the custom ATI video driver from Sony's web site in order to take advantage of the 1024x480 video mode, and my Gateway Solo notebook required that I download the modem driver from Gateway's web site. Other than that, every device on every computer (Dell, Gateway, Compaq, custom built, Pentium III, Athlon, Pentium 4, Transmeta Crusoe, Celeron, you name it) installed automatically.
Virtual Memory can be shut off - A feature that transferred over from Windows 9x. In the past, the Windows NT kernel has always required a swap file on hard disk. Even if you have 1 gigabyte of RAM in your PC, NT will still create a default 20 megabyte swap file, and usually much larger. This wastes disk space (as anything above 128 megabytes you can pretty much run without virtual memory) and on notebook computers causes unnecessary disk spin-ups and disk activity which waste battery power. With Windows XP, I can shut off the swap file. On my Gateway Solo notebook which has 288 megabytes of RAM, I've been running with no swap file for months and the machine stays nice and quite while the hard drive stays off.
Security - One of the biggest reasons there are so many denial of service attacks on the Internet is because of high speed cable modems and Windows 98. Back in 1998, Microsoft added a Web Publishing feature to Windows 98, to make it "easy" to publish files to the web and to web sites. What it really did under the hood was simply share out your entire hard disk over your Internet connection, leaving your PC wide open for hacker intrusion. With the popularity of DSL and cable modems, millions of people even today unknowingly share out their machines. While this threat has been known about for several years, the DSL and cable providers do a poor job of alerting their customers to this security threat. A great series of articles appears on the web site of Gibson Research about such attacks. Windows 95, 98, and Me simply do not have a lot of security. Anyone with a high speed Internet connection really should be running a form of Windows NT. Windows XP adds a built software firewall which is great for those people who don't spend the $150 on a hardware firewall.
Remote Desktop and Remote Assistance - These are just the coolest features and I didn't even know about them until a few weeks ago! Anyone who's ever used third party remote access software knows the benefit of being able to remotely log into and use a machine that's in another room. Or as in my case, you have a stack of 20 PCs next your office desk and don't wish to use 20 monitors or a 20-way monitor switcher. With Remote Desktop, you can log in to another Windows XP machine and have its desktop on your machine's desktop. Either overlapping or each running in full screen mode. This is not unlike using emulation software. This feature was called "Terminal Services" in past versions of Windows NT, but had limitations and was only available in the expensive Server Edition. In Windows XP, it is available in all editions, and not only are keyboard, video, and mouse movements sent over the wire, so is sound, and even local disk access. The Remote Assistance feature is similar, allowing both the remote and the local computer users to simultaneously interact on the same desktop.
Fast User Switching - This is redundant because what Microsoft advertises as a separate feature is really just a variation of Remote Desktop. With Fast User Switching, multiple users can log in to the same machine without logging out the other users. Simply press Windows+L to switch between users. Each user maintains their own desktop settings and files.
PCs to run Windows XP are cheap - Thanks in part to the Intel Pentium 4 fiasco, the AMD vs. Intel price war, the Dell vs. Gateway price war, the SDRAM vs. RDRAM war, a glut of all RAM, and a bad economy, the price of PCs has dropped ridiculously low this year. Two years ago you'd be happy to get a 400 MHz Pentium II machine with 64 megabytes of RAM for $3000. Last summer a 900 MHz PC with 128 megabytes of RAM ran you about $1600. Today, a 1+ GHz PC with 256 megabytes of RAM (OVERKILL FOR RUNNING WINDOWS XP) runs about $800. PCs have doubled in speed and halved in price each of the last few years. Even the lowest cost PCs, (such as 128 megabyte Celeron machines selling for $400 today) are adequate to run Windows XP Home Edition just fine. Bad economy and competition are good PC buyers.
Multi-processor support - Even a year ago, the thought of owning a dual processor PC was beyond the reach of most consumers. Just earlier this year, a dual processor Pentium III Xeon workstation from Dell cost over $6000. Today, a dual processor Athlon or Pentium 4 machine with 256 megabytes of RAM and 60 gig hard disk runs about $2500. Dirt cheap as far as dual-processor machines go. Windows XP supports dual processors in the Professional and Server Editions, just as Window NT always had, which opens a whole new door to people used to being stick with Window 95 and single processor. Dual processors means you can run two applications at once with no speed loss, and you also get faster performance from the Windows desktop since it can run on a separate processor from whatever application is trying to hog the CPU. Once you have two, you'll never want one processor again.
There you have it. Fourteen reasons why if you are running Windows 98 on a Pentium III today, you should upgrade to Windows XP.
Once you have Windows XP, you may be disoriented by the new look of the desktop. Don't worry, it's actually the same old desktop hiding underneath but with a few new tricks. I've put together a 60 minute Windows XP Tutorial to get your oriented. Whether you just took Windows XP out of the box, or you are still thinking about it, you should definitely read the 60 Minute Windows XP Tutorial.
---
CD-ROM, ZIP, and SCSI support for Macintosh disks in Windows
We get a lot of inquiries from people having trouble reading Macintosh disks on their PC. Since Windows does not have native file system support for Macintosh formatted disks (in the same way that Mac OS does have support for reading PC formatted disks), you cannot simply insert a Macintosh disk and expect it to come up in Windows. You have to run either a file reading utility such as Gemulator Explorer which knows how to decipher the Macintosh file system, or you need to run a full blown Macintosh emulator such SoftMac 2000 in order to allow the Mac OS itself to run and read its files.
In either case, Gemulator Explorer or SoftMac 2000, we need to bypass the normal Windows file system and access the raw disk sectors directly. For floppy disks, this is trivial, as support for doing that is built right in to all versions of Windows. But for large capacity SCSI and IDE devices such as CD-ROM drivers, ZIP drives, hard disks, etc. we require a special driver called ASPI which talks directly to those devices. ASPI is also used by other emulators and is also commonly required to run CD ripping, DVD ripping, and CD burning software.
ASPI is sometimes installed automatically as a result of installing ripping/burning software, it is sometimes installed automatically by Windows, and other times it needs to be installed manually by the user. If you run our emulation software and find that your CD-ROM devices and ZIP drives do not appear, you likely need to upgrade or install the ASPI driver.
For reasons that nobody really knows, Microsoft includes ASPI with some versions of Windows and not others. For example, Windows 98 and Windows Millennium come with a fully functional install of ASPI built in. You can check for it by looking for the WNASPI32.DLL file in your Windows folder, it'll usually be in the WINDOWS\SYSTEM directory.
On other versions of Windows, such as Windows 95, Windows NT 4.0, Windows 2000, and Windows XP, you may need to install the latest ASPI upgrade from Adaptec's web site at http://www.adaptec.com/worldwide/support/driverdetail.html?filekey=aspi32.exe.
The one catch is that the ASPI installer requires that you either have an Adaptec SCSI adapter installed in your PC (which can cost as little as $20), or that you have an existing version of ASPI installed. While one solution is to simply drop in a $20 SCSI card, there are other workarounds. This problem is actually so common that I have literally found DOZENS of web sites devoted to this idiotic problem of installing ASPI on versions of Windows that Microsoft chooses not to provide ASPI on.
The simplest workaround that I've seen is the one I now use: simply put an old version of ASPI on your machine, then run the ASPI32.EXE installed from Adaptec's page. The installer with then upgrade ASPI to the latest version and your machine will be ready to read your Macintosh CD-ROMs and ZIP disks.
Where to find an older version of ASPI? Well, if you have a Windows 98 or Millennium computer laying around (or are about to upgrade such a machine to Windows 2000 or Windows XP), simply go into the WINDOWS\SYSTEM folder and copy these two files to a floppy disk: WINASPI.DLL and WNASPI32.DLL. Now, on the machine without ASPI (or on the same machine after upgrading to Windows 2000), copy those same two files into the WINDOWS\SYSTEM folder (on Windows 95) or the WINDOWS\SYSTEM32 folder (on Windows NT/2000/XP). Now run the ASPI32.EXE installer, and reboot when prompted. The two files are now updated to the latest 4.60 version for your version of Windows.
I got this easy solution from several third party web sites, some of which I list here and which I recommend checking out:
---
Overriding the minimum requirements of Windows Setup
Major major dirty little secret, something copied right out of Apple's playbook. Recent releases of Windows have a built in check in the SETUP program to prevent you from installing Windows on certain low end computers. Not because Windows won't run on those machines, but because Microsoft's marketing department has decided that Microsoft won't support those machines.
Windows 98 in particular raised the bar considerably, requiring a minimum of a 66 MHz 486 in order to install. Yes Windows 95 easily installed on 16, 20, 25, 33, and 50 MHz machines and even on older 386 machines. So why the sudden increase in hardware requirements?
Similarly, Windows Millennium now raises the bar even further, requiring no less than a 150 MHz Pentium based system. This is ridiculous! Windows 95, 98, and Millennium are all essentially the same operating system with the same kernel, and yet the requirements have been raised by a factor of 10. Why?
Apple pulled this same stunt with Mac OS 8, artificially raising the requirements to that of a 68040 based Mac, even through Mac OS 8 runs just fine on 68030 based machines! And with Mac OS X again, they're pulling the same stunt, claiming that a G3 or G4 processor is required, even though we've received reports from users running the Mac OS X beta just fine on 604 based systems. With Apple I can understand - they want to sell you the latest and greatest hardware and want to discourage people from using older machines.
But Microsoft is not a hardware company and doesn't make computers, so what is their motivation? As best as I can tell, it's strictly for product support reasons. They don't want to bother with those people running older slower machines because, gee, you might call up and complain that Windows is too slow!
I have heard that parts of the Windows 98 system depend on the a floating point co-processor being present and all Intel processors running at 66 MHz or faster are guaranteed to have an FPU present. This makes sense. But most 33 and 50 MHz 486 chips also have an FPU.
Fortunately, Microsoft does provide an override, documented vaguely in some beta releases of Windows. If when you run SETUP, you type "SETUP /nm" (the nm standing for No Minimum), it will not run the hardware check. It is using this switch that I've successfully installed Windows 98 and Windows 98 Second Edition on a number of 33 MHz 486 systems (yes, on my good old Dell machines as well) with no problems. And speed compared to Windows 95 isn't too bad, it's about the same.
With Millennium, I've installed it on a 16 megabyte 100 MHz Pentium system and it works just fine. That shoots down any rumors about Millennium requiring MMX technology (which does not exist in processors slower than 150 MHz) and again, as far as I can tell, it's mainly to shut up those customers who might complain about speed.
Millennium IS very slow at first, but once you disable the System Restore "feature", and once you limit the size of the disk cache, performance is only slightly worse on the 16 megabyte system than compared to using Windows 98.
When I get the chance I will test Millennium on a 486 to see if there are any Pentium specific dependencies. I'd love to hear from anyone that's already tried it.
---
Overriding the minimum requirements of Mac OS Setup
As explained above, some versions of Mac OS too impose rather silly hardware requirements that are designed more help Apple avoid product support calls than to help Macintosh users. A well known example of this is Mac OS 8. In several places in Mac OS 8 code, there are intentional checks to make sure that the code is running on a 68040 Quadra type computer, despite the fact that the 68030 and 68040 chips are virtual clones of each other and Mac OS 8 runs just fine on 68030 machines! Why Apple chose to outdate its Macintosh II series and Macintosh LC series computers is beyond me, but for over 3 years now it's been documented on the web how to load Mac OS 8 on a 68030 machine. There is a utility called WishIWere which does this, and one of several pages that describes the trick is this one:
http://www.lowendmac.com/tech/8on030.shtml
Oddly enough, Apple has relaxed some of the requirements since Mac OS 8 was released, with certain utilities (such as Drive Setup) no longer doing these artificial tests. Whereas the Mac OS 8.0 version of Drive Setup will not run on 68030 machines, the version that bundles with Mac OS 8.1 and 8.5 does, as does the latest Drive Setup 1.9 release currently up on Apple's web site. I think they realized there were being jerks.
SoftMac users: SoftMac automatically supports the running of Mac OS 8 with 68030 Macintosh ROMs. You do not need to take any additional steps or install WishIWere to run Mac OS 8 provided that you are using at least 512K or larger Macintosh ROMs. In SoftMac 2000 8.0 we also added a fix that allows the Mac OS 8.0 version of Drive Setup to function correctly with the 68030 ROMs.
As far as Mac OS X, I have so far only heard rumors of people getting Mac OS X Public Beta to run on 64 meg PowerPC 604 based Macintosh computers. If someone would like to forward me more information about this, I will post the information here.
---
The Mac OS Disk Cache - Use It!
One of the first things I check when I'm using someone else's Mac and sitting through painfully slow boot times and product launch times is the Disk Cache setting in the Memory control panel. Must like old 16-bit versions of Windows 3.x, the Mac OS, even the latest Mac OS 9, uses a static fixed size disk cache. Unfortunately, the default value is set to either 32K or 96K (depending on the machine), which is woefully inadequate. It amazes me how many Macintosh users don't ever bother to change that default setting!
If you read the Windows disk cache topic above, you'll know that TOO much disk cache is a bad thing. So it too little. On a typical hard disk with hundreds of folders and thousands of files, it takes far more than 32K or 96K to cache the basic file structure information. Every time you display a disk directory, every time you launch an application or open a document, this information has to be scanned.
I've found that a bare MINIMUM setting for the Disk Cache should be at least 256K. This is suitable for low memory Macs, such as 4 megabyte Mac Classic machines or 8 megabyte Macintosh II class machines. This larger cache setting doesn't eat up too much system memory, but allows for much faster boot times. Because very system extension, every control panel, every single file that needs to be loaded during boot will cause the Mac OS to scan through the disk directory structure.
On larger machines, a setting of 512K or 1024K is adequate. Above this size, as on Windows, it's a case of diminishing returns.
So to set your Disk Cache, boot up Mac OS (any version up to 9.x), go to the Control Panels, run the Memory control panel, and set the Disk Cache size. Then close the control panel and restart the Macintosh.
SoftMac users: the Dish Cache setting does also make a slight difference in emulation, since emulating memory is still faster than emulating disk operations. However, since Windows itself performs some disk caching automatically, it is not necessary to set the cache too large in the Mac OS. A setting of at most 1024K is adequate for emulation.
---
Free Mac OS Releases (and other useful tools!)
One of the critical items that are required to run an Apple Macintosh emulator is the Macintosh operating system itself (the Mac OS). This is true whether you're running SoftMac, or Fusion, or vMac, or Basilisk, or any other Macintosh computer emulator out there. There is of course Executor, but is not a Macintosh emulator, it is a Mac OS runtime for the PC, NOT the same thing.
Anyway, most Macintosh users who go to run Mac OS on their PC already have a Mac OS on their Mac, duh. However, perhaps you've lost the Mac OS startup disks that came with your Macintosh, perhaps you've got an old old versions of the System, or you've got too new a version (such as Mac OS 9) which is currently not supported by any of the above emulators. So you need to create a new startup disk.
You're in luck! A few years ago, as Apple decided to kill off 68000 based machines, they also went ahead and simply make the older 68000 compatible versions of Mac OS free. That's right, they just posted them to their FTP site. Right now, all Mac OS releases up to and included 7.5.5 can be freely downloaded from their FTP site, as well as the latest versions of various control panels, system extensions, and utilities such as the Drive Setup hard disk formatter.
Although the keep shuffling the files around on their FTP site, and recently dropped the links from their FTP site, the files are still there. You will simply need 3 tools on your Windows computer - an FTP client (or FTP enabled web browser such as Internet Explorer), a Mac archive unstuffer (such as Aladdin's Stuffit Expander), and a disk imaging utility to copy the expanded disk image to a real physical floppy disk.
The first part is easy. If you can read this, chances are your browser will work. Just to go Apple's mirror site: http://mirror.apple.com. Go ahead, try it. Did that work? Now click on either "FTP Access" or "HTTP Access". Click on Apple_Software_Updates. Then click on US since I'm using the U.S. English language releases of Mac OS as the example here, click on Macintosh, then click on System, then finally Older_System. I walked you through it instead of giving a direct link because you'll other interesting folders there along the way to play with later.
Now, if you absolutely have no Mac OS boot disk of any kind, I recommend the System 6.0.8 boot disks for three reasons. First, it's a 1.44M floppy disk image compatible with your PC's floppy disk drive. Second, it contains the Apple hard disk formatting utility which you need to "format" any hard disk image files you create for use with SoftMac. Once you get this done, and have a booting System 6 hard disk image, you can always upgrade it to System 7 later. Third, the system requires only two floppy disks in order to boot and install on a hard disk, less floppies that required by System 7.
So to go ahead and get your System 6.0.8 disk images, click on the System 6.0.x folder and download both the SSW_6.0.8-1.4MB_Disk1of2.sea.bin and SSW_6.0.8-1.4MB_Disk2of2.sea.bin files. These are binary images of self extracting files which uncompress to give you the actual disk images. Apple used to post the raw disk images directly for some stupid reason pulled them off just to make this process all that much more complicated. Argh!
Once you have the two disk images, you'll need Stuffit Expander to uncompress them. Fortunately the makers of Stuffit Expander for the Macintosh also make a Windows version. Simply go to http://www.aladdinsys.com/expander and download it, install it, and run it. Drag the two .bin files to the Stuffit Expander window. You'll end up with two new files, SYSTEM_S and SYSTEM_A which are the two disk images of the System 6.0.8 setup disks.
The final step is to copy these disk images to real floppy disks. If you're not running SoftMac 8.0 or Gemulator 8.0 or later (which contain built-in disk imaging functions), download our own Gemulator Explorer utility. Run it, click on "Non-DOS floppy in A:", then select the Write Image File To Physical Disk menu command. When the file selector comes up, select the SYSTEM_S file. That is your startup disk, which will boot System 6.0.8 and also includes the disk formatter utility, Apple HD SC Setup, as well as TeachText and the disk repair utility. Repeat the same process on a second floppy disk, using the SYSTEM_A disk image. There, you now have a complete set of System 6.0.8 installation disks!
If your particular Mac ROMs don't support System 6.0.8 or you want to upgrade to System 7, click on the System 7.0.x folder instead, and download the file System_7.0.1.smi.bin. As this file format is not expandable by the Windows version of Stuffit Expander, and since Apple decided to be dicks and remove the raw System 7 disk images, you'll need to expand this either on a real Macintosh computer or one the freshly installed System 6.0.8 installation.
You can of course always simply order a Mac OS 8 CD-ROM with your SoftMac purchase and save yourself a lot of hassle!
Other useful things to download from Apple's site:
from the Other_System folder, download MODE32_7.5.sea.bin. The MODE32 utility allows 24-bit dirty 68030 ROMs (Macintosh IIx, IIcx, and SE/30) to work with more than 8 megabytes of memory.

from the Utilities folder, you can download various versions of Drive Setup (the new name for the hard disk formatting utility), Disk Copy (the disk imaging tool for Mac OS), and Disk First Aid (the disk repair utility for Mac OS). These versions will be newer than what you get with System 6, although if you have a Mac OS 8.0, 8.1, or 8.5 CD-ROM, you should simply use the version on the CD-ROM.
You can also poke around the other directories and download things like updated Apple CD-ROM drivers, patches for ClarisWorks, and other useful things.
Update: SoftMac XP has disk imaging commands built right in. You can take a boot floppy disk image, transfer it to a real floppy, and have it booted up in a matter of minutes, all without leaving the emulator.
---
We're received reports from a number of users that when they attempt to run the Drive Setup disk formatting utility on SoftMac, they get a message saying that Drive Setup does not support this computer.
There are two causes of this:
on the System 7.6 CD-ROM, you will find both the Apple HD SC Setup utility and the Drive Setup utility. If you read the readme file, it tells you to use Drive Setup only on specific models of the Macintosh, and if it does not work, to then run the Apple HD SC Setup utility on all others. Problem solved.

on the System 8.0 CD-ROM, the Drive Setup utility is hard coded to only support 68040 and higher processors, even though Mac OS 8 itself supports 68030 machines. Apple fixed this stupidity in the Mac OS 8.1 and later release of Drive Setup, and we've also fixed our 68040 emulation in SoftMac 2000 8.0 to make Drive Setup from 8.0 work correctly. If you are stuck with a Mac OS 8.0 CD-ROM and you haven't yet upgraded to 8.0 (what are you waiting for, it's up for download), you don't have access to a Mac OS 8.1 or higher version CD-ROM, you don't have access to an earlier version of Mac OS (7.6 or earlier), you can simply download Drive Setup from Apple's site as described in the previous topic.
The latest free release of Drive Setup that you can freely download and which works with all versions of SoftMac most real Macintosh computers is Drive Setup 1.7.3.
---
Wow! Still reading? Congratulations! You have reached the end of the Internet. Nothing more I can teach you. Turn off your computer. Get a good night's rest.
---

Copyright © 1996-2023 Emulators, 139 Charles Street, Suite 133, Boston, MA 02114, U.S.A.
Questions and comments about Xformer 10 Atari emulator for Windows 10 can be emailed to can be emailed to xformer10@gmail.com.
For matters related to Gemulator, Softmac, and Darek's blogs, please email qemu@outlook.com.

Apple, Mac OS, Macbook, Apple Silicon and Macintosh are registered trademarks of Apple Computer, Inc. Atari is a registered trademark of Atari U.S. Corporation. Athlon, Athlon XP, Opteron, Phenom, and Ryzen are registered trademarks of AMD. Microsoft, Windows, Windows NT, Windows XP, Windows Vista, Windows 7, Windows 8, Windows 10, Windows 11, Visual Studio, .NET, and/or other Microsoft products referenced herein are either trademarks or registered trademarks of Microsoft. Intel, Pentium, Core 2, Core i7, and Atom are registered trademarks of Intel. PowerPC is a trademark of IBM. Additional company and product names may be trademarks or registered trademarks of the individual companies and are respectfully acknowledged.