MARCH 20 2019 - CELEBRATING 40 YEARS OF THE ATARI 400/800 DESKTOP COMPUTERS AT VINTAGE COMPUTER FESTIVAL 2019 - Danny Miller and Darek Mihocka are returning for another year exhibiting at Vintage Computer Festival Pacific Northwest, at the Living Computers Museum in Seattle. We will be giving hands-on live demonstrations of the new XFORMER 10 Atari 8-bit emulator for Windows 10 and ARM64, and original Atari desktop computers such as the Atari 800, Atari 130XE, an Atari TT to celebrate 40 Years Of Atari Desktop Computers 1979-2019.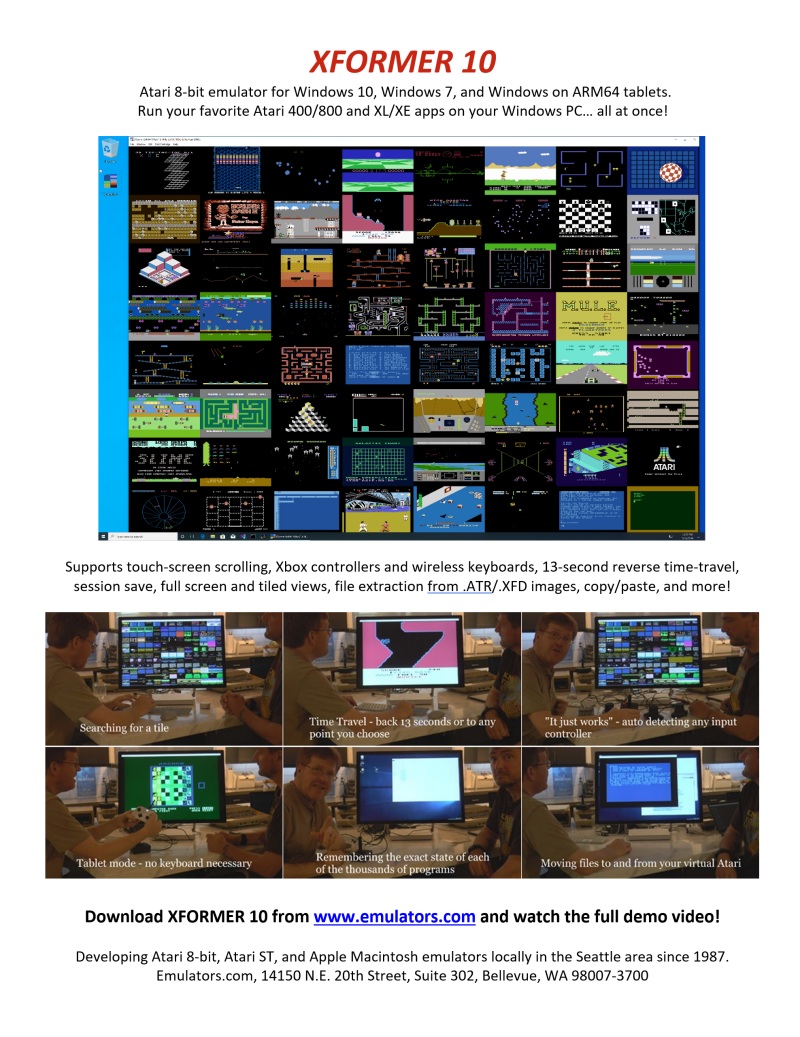 OCT 10 2018 - XFORMER 10 RELEASED! After years of development and rewriting the Xformer codebase, we have released the 10th generation of Xformer Atari 8-bit emulator, the 64-bit optimized XFORMER 10 for Windows 10. XFORMER 10 runs on 64-bit AMD, Intel, and ARM64 processors, tapping the multi-core performance of modern CPUs to run dozens of Atari 800 virtual machines at once. For more information read our Xformer 10 announcement.
JUNE 11 2011 - DAREK AT ATARI PARTY 2011! Looking back at 30 years of programming various Atari computers, Darek Mihocka talked about developing an Atari 8-bit emulator to run Lode Runner, the use of ROM Cards for emulating Atari ST and Macintosh on the PC, and shows an original Gemulator CD release from 1996 at Atari Party 2011. After the talk the free ROM cards, packages of Mac OS, Gemulator CDs, and Mac shareware CDs were given away. More packages of Mac OS 7.5 still available.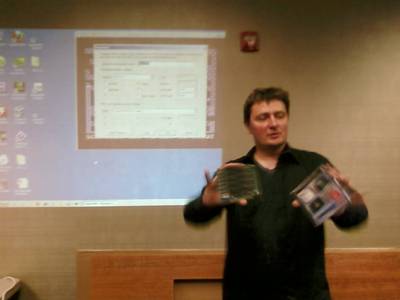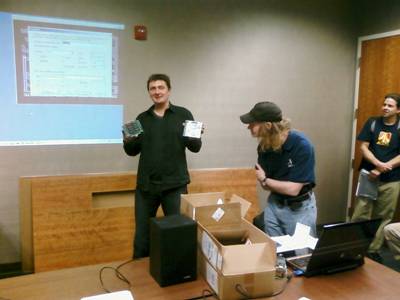 JUNE 4 2011 - MICROCODE SIMULATION: Darek's latest paper on high-speed simulation techniques, presented at the 4th AMAS-BT workshop at ISCA 2011 in San Jose, California. (Read Paper as PDF)
NOVEMBER 30 2008 - GEMULATOR 9.0 COMMUNITY RELEASE! You don't have to wait for next month's Macworld Expo to sample the new goodies from Emulators.com. Just in time for Christmas, the latest Gemulator 9.0 release is now available for download, including source code to the WIN32 build of Gemulator 9.0 Community Edition.
NOVEMBER 30 2008 - GEMULATOR 9.0 AND PC XFORMER SOURCE CODE RELEASED! Continuing a tradition dating back to 1987 with the release of our first open source Atari 800 emulator, Emulators.com has released the Gemulator 9.0 Community Release, an open source WIN32 release of our Atari 800 and Atari ST emulators for Windows 98, Windows XP, and Windows Vista. The release also includes the 16-bit MS-DOS source code to Atari 800 emulator PC Xformer 3.8.
JUNE 21 2008 - ISCA 2008. The authors of Bochs, Gemulator, and SoftMac presented the case for emulation at the 1st AMAS-BT workshop, part of the ISCA 2008 computer architecture conference in Beijing, China. View the Virtualization Without Direct Execution paper and slides.
MAY 4 2008 - GEMULATOR 9 BETA 4. The fourth beta release of Gemulator 9.0 (a.k.a. "Gemulator 2008") is now available for download. This beta release uses a new hashed instruction dispatch mechanism which in turn helps to deliver much faster 68030/68040 floating point performance than before. Atari ST/030 benchmark numbers and Mac OS 8 benchmarks such as Apple Personal Diagnostics and Speedometer will show huge speedups over past beta releases.
MARCH 3 2008 - GEMULATOR 2008 BETA 3. The third beta release of Gemulator 9.0 (a.k.a. "Gemulator 2008") is now available for download. This beta release contains new support to detect and load the open source Atari ST clone ROM called EmuTOS, has been tested with the final releases of Windows 2008 and Windows Vista Service Pack 1, and contains performance tuning changes for the latest AMD Phenom and Intel Core 2 "Penryn" processors as well as minor turning for legacy Pentium III and Pentium 4 processors. A redesign of the 68040 flags emulation code to eliminate use of the x86 "LAHF" instruction now gives faster performance on Bochs and other PC emulators. The technique now used is a variation of the lazy flags scheme described here.
NOVEMBER 2 2007 - GEMULATOR 2008 BETA 2. The second beta release of Gemulator 9.0 (a.k.a. "Gemulator 2008") with SoftMac 9.0 ("SoftMac 2008") is now available for download. This release contains a redesign of the guest-to-host memory translation code to not rely on host page fault exceptions. There technique now used is described here.
AUGUST 8 2007 - GEMULATOR 9.0 SNEAK PEEK AVAILABLE. The first test release of Gemulator 9.0, which brings Atari 800, Atari ST, and Apple Macintosh emulation to 32-bit and 64-bit releases of Windows, is now available for download. More beta releases in the weeks to follow.
JULY 18 2007 - SOFTMAC DEMO VIDEOS POSTED. Our classic SoftMac 2000 instructional videos, which were previously only available on the SoftMac CD-ROM, are now available on YouTube. The links to the videos can be found on our Downloads page.
JUNE 15 2007 - NEVER SAY NEVER! SOFTMAC IS BACK IN DEVELOPMENT. Thanks to Steve Jobs' smart decision to move the Macintosh product line to Intel processor, and thanks to Intel's new line of Core 2 processors, the Intel based Apple Macintosh computers - the iMac, the Mac Pro, the Macbook - are so fast and impressive. We couldn't leave things be. Our entire product line, including Gemulator and SoftMac, is now back in development and being upgraded to support running on 64-bit Windows Vista and on Mac OS X Leopard. The ninth generation of our emulators will go to beta this summer.
JUNE 13 2005 - APPLE SWITCHES TO INTEL, DUH! A lot of people have emailed us in the past week asking for comments on Apple's June 6th announcement about switching the Mac OS to running on Intel processors. Since emulators.com went online in 1996, we've been advocating the same message - that the best way to run Mac OS, Macintosh applications, and don't forget even Atari games and applications, is on a PC. We were the first company to demonstrate Mac OS running on an Intel Pentium based Gateway 2000 computer at the 1998 Macworld Expo in San Francisco. Over the years, we've gone on record on CNN, MSNBC, and other news organizations stating this same message. It's best summed up in this interview from 4 years ago when founder Darek Mihocka started pushing the idea and demonstrating the proof-of-concept of running PowerPC based Macintosh software efficiently on the Pentium III processor. On June 6 2005, Steve Jobs stood up in front of the world and announced that Apple was in fact switching its computers and its operating system to Intel processors. Vindicating and validating what we've known for years.
Everyone involved in Macintosh emulation over the years, not just emulators.com, but also the folks behind the vMac emulator, Basilisk II, Fusion PC, PearPC, and other Macintosh emulators should be proud that the vision that we all had as far back as the early 1990's is now going to be mainstream reality. Apple has finally realized that people want fast low-cost computer. Not fancy overpriced toys that just look cool. People want to run Mac OS on tiny little form factors such as the Sony VAIO notebooks. And PowerPC processors just were not making that happen. Those of us in the emulation community knew that, and helped prove that.
So to everyone that's having a panic attack, to all those people that came up to the Emulators booths at the 8 different Macworld Expo shows that we were demonstrating Mac OS running quickly and efficiently on PC hardware, to all those people that said "WHY WOULD YOU WANT TO DO _THAT_??", all we have to say to you is: Relax. Enjoy the ride. It will be fun. This is the best thing that could have happened to the Macintosh and it is long overdue.
JANUARY 17 2005 - SONY VAIO ULTRA COMPACT NOTEBOOK BENCHMARKS. Sony's new U-series of VAIO notebooks are nothing to sneeze at. Barely larger than a typical hard disk, Sony's new notebook computers packs more punch than a Pentium III desktop or even an Athlon XP! Our Benchmarks prove it. Check Darek's Secrets page for further analysis.
SEPTEMBER 20 2004 - ATHLON64 BENCHMARKS. It was total carnage on the Emulators pool table as we put together several new computer systems this month. The latest AMD Athlon64 3000 (2.0 GHz) benchmarks for SoftMac are now up on our Benchmarks page. Check Darek's Secrets page for further analysis.
SEPTEMBER 20 2004 - MORE HARDWARE FOR LIQUIDATION! We've dug even deeper into the dungeon and found more older PCs to give away that we missed last November. If you are local to the Seattle area and wish to bribe us for some or all of this hardware, it can be yours to pick up!
AMD Athlon XP 1800 desktop, 1.53 GHz, 512 MB DDR2100 memory, 60 GB hard disk.

Pentium III desktop, dual 1.0 GHz processors, 1.5 GB PC100 memory, 60 GB hard disk.

Pentium Pro desktop, 200 MHz, 128 MB memory, 4 GB hard disk.

Pentium MMX Gateway 2000 desktop, 180 MHz, 64 MB memory, 4 GB hard disk.

Pentium III Xeon, dual 500 MHz processors, 512 MB memory, 9 GB SCSI hard disk.
All machines come with built-in Ethernet and video cards, most with built-in sound and CD or DVD drive as well.
SEPTEMBER 20 2004 - MAC OS 9 AVAILABLE. In addition to the Mac OS 7.5, 8.0, and 8.1 CDs, we have 3 Mac OS 9 CDs available to give away - Mac OS 9.0, Mac OS 9.1, and Mac OS 9.2.1.
JULY 23 2004 - MAC OS LIQUIDATION! The moment you've been waiting for: we are liquidating our entire inventory of original Mac OS packages. If you've been looking for an original boxed shrink wrapped copy of Mac OS 7.5, Mac OS 8.0, or Mac OS 8.1, we are getting rid of them for practically the cost of shipping. Check Darek's Secrets page for details.
HAPPY NEW YEAR 2004! Take our UberGeek quiz by January 3rd and see if you can win Darek's personal collection of favorite videos and Xbox games.
COUNTDOWN TO 2004... GEEKS REJOICE - MORE FREE STUFF! As the Secrets page promised in November, computer geeks who missed our Halloween Trick 'n Treat computer giveaway need not cry over their failure to be in Seattle that weekend. We have a holiday giveaway for out-of-towners. Hundreds of dollars worth of software and other goodies will be given away to 10 lucky geeks from outside of Seattle and Washington state. And we can't think of a more appropriate time than continuing our tradition of posting new software releases at the stroke of midnight - the time of year when geeks sit at home wishing they had tickets to Metallica's New Year's Eve concert in Las Vegas. Well, we feel your pain. We'll be giving out prizes ranging from video games to computer hardware to even Darek's own personal Starbucks pre-paid card loaded up with free coffee drinks. To be able to win, you have to find the mystery software that we're posting somewhere on the emulators.com web site and/or ftp site at THE STROKE OF MIDNIGHT on New Year's Eve, Seattle (Pacific) time. We're not going to tell you yet what the software is, where on the site we're posting, but if you want clues, you should join our daily live chat at a special time of 11:50pm December 31st and we'll give you some clues.
As with past contests, only the first 10 people to download the mystery software, email us a screen shot of that software running, and who answer a skill testing question by instant messenger will be able to win. The screen shot MUST contain your full Windows desktop showing the time and date of the picture and a window of the mystery software running. You must then email the screen shot to our technical support email address along with your full name, UPS shipping address, your email address, and telephone number where you can be reached for confirmation. If you email the wrong address, or send incomplete information, or aren't fast enough, you will lose and truly live a life of shame thereafter. This is a contest for true geeks, so be prepared if you want to win.
People in Washington state and Florida are not eligible to win the mystery download prizes. However, for you we have another contest, a brain buster, which you'll have to find out about at the stroke of midnight on New Year's Eve! All 10 winners (or 11 if some wins the brain buster) will be announced here later in the week.
NOVEMBER 22 2003 - NEW SUPPORT POLICY FOR OLDER PCs. As of January 1 2004 we will dropping paid support for Intel 386, Intel 486, Intel Pentium, Intel Pentium MMX, and AMD K6 processors. Our future product releases might not support those old processors and we will not field support questions concerning those processors. Only 200 MHz Pentium Pro and faster processors (which includes the Pentium II, Pentium III, Pentium 4, and AMD Athlon compatible processors) will be supported.
NOVEMBER 22 2003 - SNOW AND SLEET WON'T KEEP US FROM FRY'S. It's been quite the month all over North America, from hot dry summers and forest fires spanning from the north of British Columbia all the way down to San Diego and Southern California. The hottest driest summer we've ever had in Seattle. That all changed very quickly at the end of October when frigid cold air arrived, along with record rainfall (5 inches alone in one single day both here in Seattle and in California), hail, snow, wind, flooding, and power failure after power failure. Here is just a sample as reported in the local news. Most of the past two weeks we've experienced repeated brownouts and brief power failures and operated from a single Dell laptop. If you tried to email us or access our web site and received errors, we apologize for the inconvenience. Seattle is finally dry and sunny again and our computers all up and running again. Please email us again if you have not received a response to your email this month.
NOVEMBER 3 2003 - HALLOWEEN TRICK AND TREATS, EMULATORS STYLE. Some people give out piles of candy. Some people give out piles of apples. How did the founder of Emulators celebrate Halloween this year? By giving out electronics of course! All these dozens of PCs we've built and tested and benchmarked over the years needed to go to make room for new machines that we've been buying at Fry's Electronics. So this past Halloween Sunday, Darek opened the doors to his island mansion and let the public take the hardware away! It's less fattening than candy, too. From our older 486 machines and original Atari 800 computers to more recent Pentium 4 and dual processor Pentium III servers and everything in between, the only rules were to put away your money and only take what you could carry. Dozens of local Seattle area Atari, Mac, and PC enthusiasts showed up for the event and walked home with over a dozens Macs and PCs and Ataris, DVD drives, ZIP drives, hard drives, video cards, and more. If you live in the Seattle area and you missed out, don't worry, we'll have another hardware giveaway at some time in the future. Check our Secrets page for picture and more information.
JULY 29 2003 - SOFTMAC XPRESS WITH MORE MEMORY ALL SUMMER LONG. You asked, we delivered. Our limited time trial activation codes for SoftMac Xpress are back for the summer. Visit our secrets page for your free code to enjoy higher resolution graphics and more memory with SoftMac XP Xpress Edition. NOTE: this offer expired on September 23rd.
APRIL 21 2003 - DELL CENTRINO BENCHMARKS AND READER QUESTIONS. Not since the release of the Transmeta Crusoe based Sony VAIO three years ago has a notebook computer impressed us as much as the new Dell D800. Using the latest Pentium III, oops, "Centrino" technology <wink wink>, this latest notebook turns out to be the ideal blend of portability and speed. At a price that's not too shabby either. See the benchmark results here, and read more of our latest secrets on these and other technologies.
DECEMBER 20 2002 - HAPPY HOLIDAYS! SOFTMAC XPRESS NOW AVAILABLE ELECTRONICALLY. In what is becoming an annual holiday tradition here at Emulators, we have once again made a free web release for the holidays. The complete SoftMac XP Suite 8.2 software release (which was released on CD-ROM in April 2002) is now available electronically as a download. This release includes both the SoftMac XP Classic Edition ("SoftMac Classic") which works best with slower, low-memory PCs such as those running Windows 95 or Windows 98; and the SoftMac XP Xpress Edition ("SoftMac Xpress") which is optimized for today's Pentium 4 and Windows XP based PCs.
SoftMac Xpress does require that you type in a Product Activation Code in order to legally use the product and to unlock certain restrictions on memory, graphics resolution, and other hardware components. Corporate and educational organizations wishing to purchase site licenses or multiple activation licenses should contact us for a written quote.
Our older emulators - SoftMac Classic 8.2, Gemulator 2000, Xformer 2000, Fusion PC 3.0 - and all of our MS-DOS based emulators do not require activations codes and may be used freely for home, corporate, and educational use.
AUGUST 28 2002 - AND THE WINNERS ARE... Gary W. Hart! Well, sometimes we just make it too simple for people. So simple that it's beyond most people! Although we hinted for months that people download the SoftMac XP 8.2 beta which was posted on March 20th in order to win money, only one person, Gary, downloaded the beta, found a bug, and very nicely reported a legitimate bug in the beta. Nobody else so much as even emailed us to tell us that they download the beta. Well, you can't win if you don't tell us you entered! For his troubles (and for reporting a doozey of a bug in the Hibernate feature, a bug that was immediately corrected and posted in the final release of SoftMac XP 8.2), Gary wins $100 cash. Thanks Gary, it was hard work to find a bug in a product as solid and stable as SoftMac, but Gary managed to find a bug. To everyone else, take this advice - next time we offer you money for downloading a file, do it!
JUNE 20 2002 - FILE SYSTEM API SOURCE CODE RELEASED. Over two years ago, based on strong customer feedback to have easier Mac-to-PC file copying, we began an effort to add Windows file access support to programs running under SoftMac. Up until then, the separate Gemulator Explorer utility was required to copy files from Mac formatted disks to the PC, and did not support copying back to the Mac disks.
An initial collaboration with Philip Cummins, creator of the vMac Macintosh emulator, resulted in a common API which can be implemented in a Macintosh emulator to give Mac programs hooks into the host Windows file system. The first such application, Philip's Transfer utility, has been freely available with our SoftMac 2000 emulator for 2 years. Last year, with the launch of SoftMac XP, we released the SoftMac Explorer accessory which provides drag-and-drop file copying between Mac (HFS, HFS+) and Windows (FAT, FAT32, NTFS) disk volumes.
SoftMac XP also offers a file system extension to mount Windows drives as Mac OS drives. We developed this in collaboration with Thomas Tempelmann based on a file system driver he submitted as a hack at the MacHack 2000 conference. Today being the start of the MacHack 2002 conference, in true MacHack style and as sponsors of this year's MacHack, we are releasing the source code to our hack of Thomas' hack. That's what MacHack is all about.
The file system source code and the glue code to call the emulator hooks can be download from ftp://www.emulators.com/source/utilities/.
MAY 1 2002 - SOFTMAC XP VERSION 8.2 EMULATORS NOW AVAILABLE. The latest release in the SoftMac XP product line is now available. Version 8.2, featuring the SoftMac Classic 8.2 emulator for Windows 98 and the Pentium 4-optimized SoftMac Xpress 8.2 emulator for Windows, is now shipping. Download it!
MAY 1 2002 - SOFTMAC XPRESS 8.2 BENCHMARK RESULTS. 25% to 100% speed increases are not uncommon when comparing the latest SoftMac Xpress emulator with last year's SoftMac 2000. See for yourself how the Pentium 4 took the speed crown away from the Athlon XP and how the Pentium III is still not out of the race by any means, even putting the Athlon XP into 3rd place in some tests!
MAR 19 2002 - SOFTMAC CHANGE LIST. By popular demand, we've posted a CHANGES.TXT file which documents the notable changes in the past few SoftMac releases including the new 8.2 release. If you are using an older version, you might want to check if you need to upgrade.
DEC 25 2001 - THE 12 SECRETS OF CHRISTMAS - Darek's 12 holiday tips and other computer secrets.
OCT 31 2001 - SOFTMAC XPRESS AND SOFTMAC CLASSIC NOW AVAILABLE. The first retail release of the SoftMac XP product line is now available. The new 8.11 release was launched yesterday at Mac Business Expo here in Seattle, and features a new release of SoftMac Xpress for Windows XP as well as the all-new SoftMac Classic emulator.
OCT 28 2001 - 60 MINUTE WINDOWS XP TUTORIAL. Whether you've already upgraded or are thinking about, get a quick tutorial on Windows XP.
OCT 23 2001 - SOFTMAC 8.04 FINAL RELEASE AVAILABLE. Not everybody will be upgrading to Windows XP just yet - the customers have spoken! - so for those users still using Windows 95 through Windows 2000 we've posted a final release of SoftMac 2000. It includes some minor speed optimizations taken from our SoftMac Xpress product for XP, but does not require Windows XP and is not supported on or recommended for use on Windows XP.
OCT 22 2001 - ATHLON XP AND PENTIUM III TUALATIN PROCESSORS BATTLE IT OUT ON WINDOWS XP! Latest benchmarks show some surprising results. As usual, check our Benchmarks page for the results and the updated Pentium 4 page for the analysis.
OCT 22 2001 - NEW TIPS AND SECRETS. With WINDOWS XP just about here, computer dealers are tripping over themselves to sell you a new computer. Before you do, read what we have to tell you on the Secrets page. Even with today's low PC prices, taking a few minutes to become an educated computer shopper can still save you money!
JUNE 21 2001 - EMULATORS PREVIEWS "XP2" POWERPC EMULATION ENGINE AT MACHACK. This year's MacHack developer's conference official started today at 12:01am and is now in progress! MacHack guest speaker and Emulators founder Darek Mihocka is giving Macintosh developers a peek at the technology behind the new SoftMac XP product line being launched next month at Macworld Expo New York. It's not just a version of SoftMac for Windows XP. It includes an entirely new emulation engine developed over the past 2 years designed to deliver even faster speeds as well as PowerPC emulation to our products.
JUNE 11 2001 - SOFTMAC XP AT MACWORLD SAN FRANCISCO. Continuing our long support of Macworld computer shows, Emulators is returning to Macworld San Francisco for a 5th year in a row. The show is being held in San Francisco in January 2002 and will feature the launch of our third SoftMac XP product release.
MAY 2 2001 - NEW SOFTMAC RELEASES ANNOUNCED AT MAC BUSINESS EXPO. Following over two months of previews at Macworld Tokyo, COMDEX Vancouver, and other computer shows, Emulators company founder Darek Mihocka formally announced two new SoftMac upgrades today. The announcement was made at booth #209 at Mac Business Expo in Portland Oregon, the largest Macintosh computer show of the spring. Here are some highlights:
SoftMac version 8.03, a minor bug fix update to SoftMac 8.02, will be posted to our site for beta testing next week. The update fixes one major problem reported by users, that being a fix for the "ROM not found" and "black screen" problems at boot time. The fix is already being tested in our sister product, Gemulator 8.03. The final SoftMac 8.03 update will be available within a few weeks on our web site, as always, as a free download for our customers. All users are encouraged to download the SoftMac 8.03 beta from our beta releases page.


A major SoftMac rewrite code named SoftMac XP was demonstrated on the latest Windows "Whistler" Beta 2 build, also known as Windows XP Beta 2. The new SoftMac product is specifically designed for Microsoft's new "grand unification" Windows XP upgrade, which merges the Windows NT/2000 and Windows 98/Me product lines into a single unified Windows product. We have been beta testing Whistler for almost six months now and are extremely impressed both by its speed and stability, and by its feature list. This truly will be a major Windows upgrade worthy of its price, as the end of the buggy 16-bit Windows 95/98/Me product line comes not a minute too soon for all of us!
APRIL 27 2001 - SOFTMAC AT NC5. The next generation of SoftMac emulator is being previewed this weekend at the NC5 college conference in Sacramento California. We'll be demonstrating new functionality in SoftMac such as support for Mac-to-PC networking and other features useful for the classroom environment.
MARCH 19 2001 - NEW SOFTMAC RELEASE PREVIEWED. As demonstrated at COMDEX last week, a new release of SoftMac is in the works which features seamless drag and drop file copy support between Mac and PC disk volumes, improved network and file sharing support, Windows XP support, new Athlon speed optimizations that deliver up to 20% more speed than the current SoftMac 8.02, and several other surprises. Registered users of SoftMac 2000 will be contacted soon by mail and email with upgrade information.
MARCH 3 2001 - NEW AMD ATHLON CHIP BLOWS AWAY THE PENTIUM 4. The numbers are in. The latest 1.2 GHz AMD Athlon systems don't just squeak by the Pentium 4 performance numbers, they BLOW THEM AWAY. Check our Benchmarks page for the results and the updated Pentium 4 page for the analysis.
FEBRUARY 28 2001 - SOFTMAC 2000 FASTEST MAC EMULATOR FOR WINDOWS 3rd YEAR IN A ROW. In independent benchmarks run by Japan's largest Macintosh magazine, Mac Power, the magazine found SoftMac 2000 to consistently run 3 to 12 times faster than Basilisk II (the well known C++ based open source Mac emulator) on both AMD-K6 and Intel Pentium III platforms. Please refer to page 192 of the March 2001 issue of Mac Power for the benchmark results.
FEBRUARY 28 2001 - MACWORLD TOKYO. SoftMac 2000 version 8 was officially launched in Japan at Macworld Tokyo last week. Emulators founder Darek Mihocka was on hand to demonstrate the latest SoftMac 2000 release and to discuss future product releases coming this summer. Our booth was swamped as always for 3 straight days as thousands of Macworld visitors got to try SoftMac first hand on our new 1.2 GHz Athlon demo machine, our Sony VAIO demo machine, and our Windows XP demo machine. Many visitors also received a CD-ROM with the latest release of SoftMac 2000. If you missed the show, look for an article on SoftMac 2000 in the current March 2001 issue of Japan's Mac Power magazine and other upcoming Japanese computer magazines. Contact Amulet in Tokyo to place your order!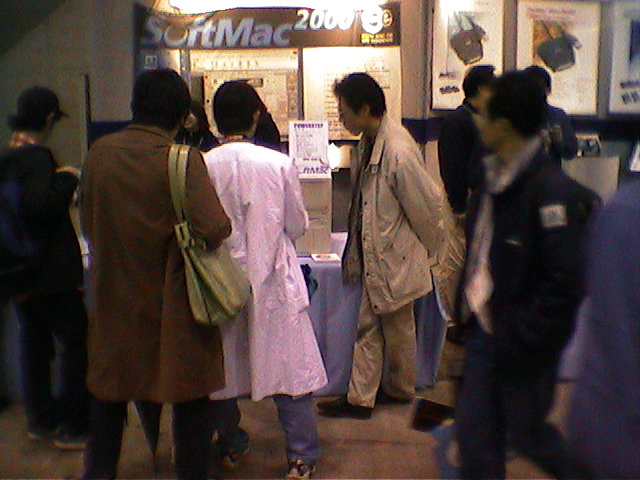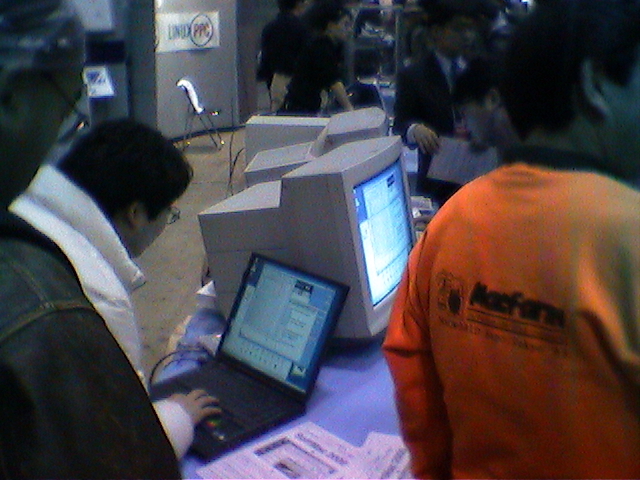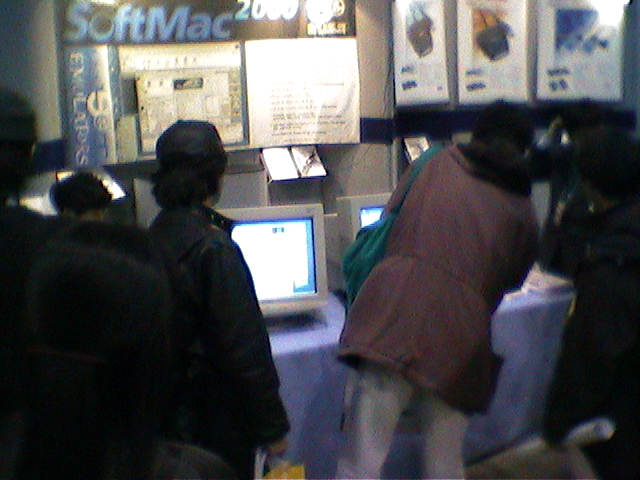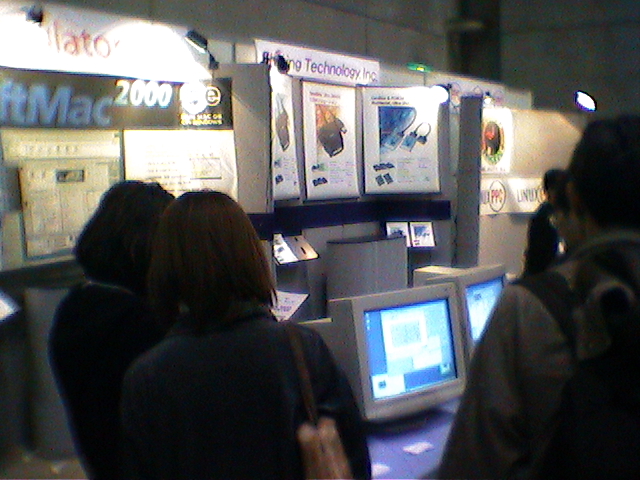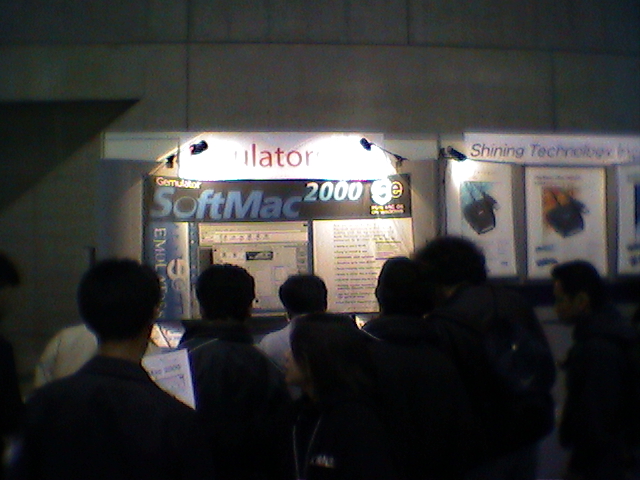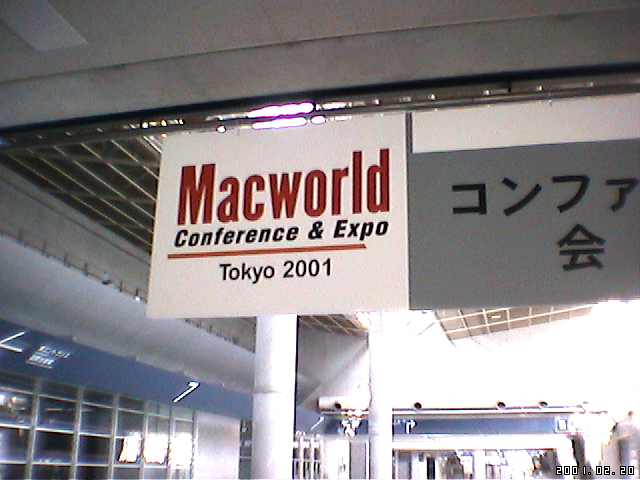 JANUARY 17 2001 - SOFTMAC DEMONSTRATION IN SEATTLE. Darek Mihocka is doing a home town demonstration of SoftMac 2000 (and the Sony VAIO) at the local Mac user group dBug tonight in Seattle. See http://www.dbug.org for directions. If you live in Seattle, Vancouver, or Portland, come out and say hi!
JANUARY 17 2001 - MAC OS ON PALM A HIT! We've just returned from Macworld Expo in San Francisco and the VAIO was a hit. While Apple did announce yet another large expensive notebook, we were showing Mac OS running on the 2 pound Picturebook palm computer. Some Macworld photos below (taken with the Picturebook, pardon the fuzzy picture quality of the tiny lens). We'd also like to congratulate the winner of our 128 meg 533 MHz Windows computer with DVD, who'd like to only be known only as Raja. Congratulations also to the winner of our Boston Acoustics computer speakers. We'd like to thank the thousands of Mac users who visited our booth and made Macworld a success. See you again at next month's Macworld Expo in Tokyo Japan!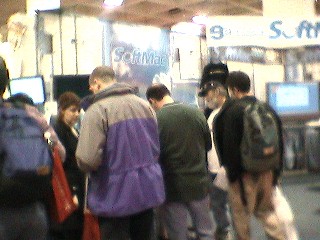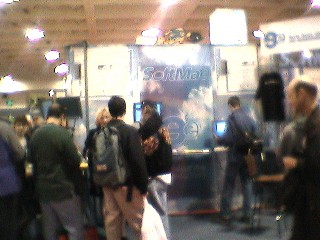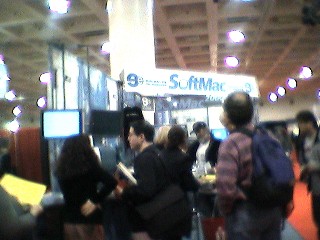 JANUARY 1 2001 - HAPPY NEW YEAR! SOFTMAC 8.02 RELEASED! To celebrate the new year and the new century, we have updated our site with the latest version 8.00 release of Xformer 2000, and the 8.02 releases of Gemulator 2000 and SoftMac 2000. These files may be copied directly over your existing installation on hard disk.
DEC 4 2000 - SOFTMAC 8.01 RELEASED. Due to several recent fixes for things like the DirectX 8.0 bug and improved support for the Pentium 4 and Crusoe processors, we are releasing a very minor SoftMac 2000 upgrade this week, version 8.01 to replace last month's 8.0 release. The 8.01 CD-ROM release features brand new instructional videos which show exactly how to install, set up, and use the SoftMac 2000 and Fusion PC emulators on your PC. Topics include the proper installation of the ROM card, ROM images, setting up the default preferences, installation of the Mac OS, and others. The 8.01 CD-ROM is available as a free upgrade to all registered and paid owners of previous SoftMac 2000 CD-ROM releases.
NOV 7 2000 - SOFTMAC 2000 VERSION 8.0 GOLDEN! The next generation SoftMac 2000 version 8.0 has been released to manufacturing today and will be available on CD-ROM in a few weeks. Order your copy today and download SoftMac 8.0 right now! The new version is also available a free Service Release (SR-3) CD-ROM to existing SoftMac customers.
NOV 7 2000 - NEW DOCUMENTATION FOR 8.0. We've updated our Online Documentation page to cover all the new features in our 8.0 emulator releases. Major changes between the old and new versions are described, bug fixes, improvements, etc. Recommended reading for all our users, even if you haven't upgraded yet!
SEP 30 2000 - SECRETS PAGE! After our recent posting concerning disappointing and misleading product releases from Microsoft, Intel, and Apple, we received a lot of feedback, thousands of emails, from users who agreed and disagreed with our posting. One thing was very clear after reading all of the emails. Many PC and Macintosh users are fed up with the expensive and buggy product releases coming from these and other companies. As a result, we have set up a new section on our web site - the SECRETS page - where we share many tips and secrets concerning both PC and Macintosh computers. How to make Mac OS run faster. How to make Windows run faster. How to avoid expensive hardware upgrades. Things they don't want you to know. Don't be a sucker and fall victim to slick multi-million dollar advertising. Arm yourself with KNOWLEDGE and become a more productive computer user while saving money!
JULY 31 2000 - FREE RELEASE OF FUSION PC 3.0! PC users can now choose from two powerful Macintosh emulators to read Macintosh disks on the PC and run Macintosh applications on the PC. In May when we took over the Fusion PC product from our competitors, we ripped it apart it, figured out the bottlenecks, replaced them with our technology, and put it back together smaller and faster than before. Introducing Fusion PC 3.0, the fastest MS-DOS compatible Apple Macintosh emulator for the PC, running up to 100% faster than version 1.x and 2.x releases. Download it now!
JULY 27 2000 - MACWORLD 2000 BOOTH BABES. Our staff has made the Booth Babes page for the second year in a row. Check it out at http://graphicpower.com/showreports/mweny2000/gallery/boothbabes/boothbabes.stm
JULY 21 2000 - MACWORLD 2000 HIGHLIGHTS. With MACWORLD 2000 NEW YORK now over, we'd like to congratulate our grand prize winners, HANK HIGHFILL and TODD BANGERTER. At 3pm on Friday, Hank won our 5-speaker Klipsch ProAudio THX computer speaker set, and at 3:30pm Todd won our grand prize - a 550 MHz Pentium III computer loaded with the latest SoftMac 2000 SR-2, 128 MB of RAM, a 3dfx video card, a 10 gig hard disk, a CD-ROM drive, and a DVD-ROM drive. Dozens of additional winners won several additional sets of Monsoon computer speakers, T-shirts, and jewel cased Fusion PC 3.0 packages. Below is a photo of the happy winners, Hank and Todd, with Emulators president and SoftMac creator Darek Mihocka. The $20,000 plasma flat screen monitor was not a prize! Maybe next time.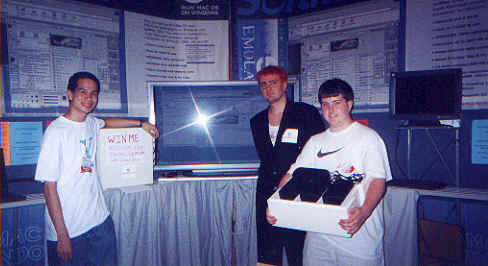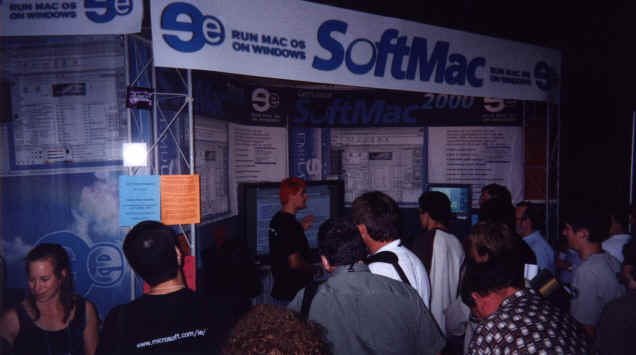 JULY 17 2000 - SOFTMAC 2000 SUITE NOW SHIPPING. U.S. and Canadian shipments of the new SoftMac 2000 Suite CD-ROM begin today. The CD-ROM features the new SoftMac 2000 SR-2 and FUSION PC 3.0 emulator upgrades. Worldwide shipments begin on July 31st. We are holding a launch event at MACWORLD EXPO in New York City this week and will offer the product at the show.
JUNE 12 2000 - FUSION 3.0 UPGRADE. As of today the final release of Fusion PC 3.0 is shipping. This is the first release of Fusion PC since the product was acquired by Emulators, and the new release contains significant speed increases over Fusion PC 2.0 and 2.3 that make it run over 30% faster.
MAY 23 2000 - PRESS RELEASE. Emulators Inc has acquired the rights to Microcode Solution's Fusion PC product. Read our press release for details.
MAY 17 2000 - SOFTMAC 2000 DEMO ON TV. SoftMac 2000 is being demonstrated live today on Canada's CTV television network. See an interview with Emulators president Darek Mihocka and sign up to try out one of 3 free copies of the full SoftMac 2000 product.
APR 15 2000 - NEW SOFTMAC 2000 RELEASES AT COMDEX SPRING CHICAGO. Emulators is once again pleased to participate at the COMDEX Spring computer expo in Chicago. As we did last spring where we first previewed the SoftMac product to North American audiences, this year we will be exhibiting new releases of SoftMac 2000 at our booth at COMDEX Spring which takes place at McCormick Place in Chicago during the week of April 17th.
JAN 7 2000 - SOFTMAC 2000 LAUNCH EVENTS AT COMDEX CANADA AND WINDOWS 2000 EXPO. We are holding two North American launch events for SoftMac 2000. The Canadian launch will take place on January 19th at the COMDEX Canada West computer expo in Vancouver B.C. The official U.S. launch of SoftMac 2000 will take place at the Windows 2000 Expo in San Francisco in mid-February.
DEC 23 1999 - GEMULATOR 2000 AND XFORMER 2000 RELEASED! We are pleased to announce new updated versions of GEMULATOR 2000 and XFORMER 2000, our Atari ST and Atari 8-bit emulators. Both emulators are now available for download, and are also included on the new GEMULATOR 2000 Upgrade CD-ROM.
---

Copyright © 1996-2019 Emulators, 14150 NE 20th Street, Suite 302, Bellevue, WA 98007, U.S.A.
Questions and comments can be emailed to emulators@emulators.com
Or message via Facebook at https://www.facebook.com/darekmihocka/
We try to respond to within 48 hours.

Apple, Mac OS, Macbook, and Macintosh are registered trademarks of Apple Computer, Inc. Atari is a registered trademark of Atari U.S. Corporation. Athlon, Athlon XP, Opteron, and Phenom are registered trademarks of AMD. Microsoft, Windows, Windows NT, Windows XP, Windows Vista, Windows 7, Windows 8, Windows 10, Visual Studio, .NET, and/or other Microsoft products referenced herein are either trademarks or registered trademarks of Microsoft. Intel, Pentium, Core 2, Core i7, and Atom are registered trademarks of Intel. PowerPC is a trademark of IBM. Additional company and product names may be trademarks or registered trademarks of the individual companies and are respectfully acknowledged.