---
Show Schedule
Since our first public demonstration of the Gemulator over 25 years ago, Emulators has been busy spreading the word about emulation to PC users at major computer shows all over North America, Europe, and Asia. Here is a partial listing of recent computer shows that Darek Mihocka and Emulators.com have attended and demonstrated the Xformer, Gemulator, and SoftMac products at:
COMDEX FALL 99 Las Vegas (November 1999, SoftMac 2000 and Gemulator 2000 launch)

MACWORLD 2000 San Francisco (January 2000)

COMDEX CANADA WEST Vancouver (January 2000)

Windows 2000 Expo San Francisco (February 2000)

CeBIT 2000 Hannover Germany (February 2000)

PARIS EXPO / COMDEX Paris France (March 2000)

COMDEX ASIA Singapore (April 2000)

COMDEX SPRING Chicago (April 2000)

PC EXPO New York (June 2000)

COMDEX CANADA Toronto (July 2000)

MACWORLD 2000 New York (July 2000)

COMDEX FALL Las Vegas (November 2000)

MACWORLD 2001 San Francisco (January 2001)

MACWORLD 2001 Tokyo Japan (February 2001)

COMDEX Vancouver Canada (March 2001)

NC5 Conference Sacramento (April 2001)

Mac Business Expo Portland Oregon (May 2001)

MacHack 16 Conference Detroit (June 2001)

MACWORLD 2001 New York (July 2001, SoftMac XP launch)

Mac Business Expo Seattle Washington (October 2001)

ACM ISCA (International Symposium on Computer Architecture) Conference Beijing China (June 2008)

MACWORLD 2009 San Francisco (Jnauary 2009)

ACM CGO (Code Generation and Optimization) Conference 2009 Seattle (March 2009)

ACM CGO Conference 2010 Toronto Canada (April 2010)

ACM ISCA Conference St. Malo France (June 2010)

Vintage Computer Festival Seattle (Feb 2018)
Please check this page for up-to-date information about our future appearances at computers shows and conferences near you.
---
MACWORLD TOKYO (February 2001)
At our one and only exhibit in Japan the SoftMac 2000 was shown running Mac OS and Mac software on tiny Sony VAIO laptops and various other laptops and PCs...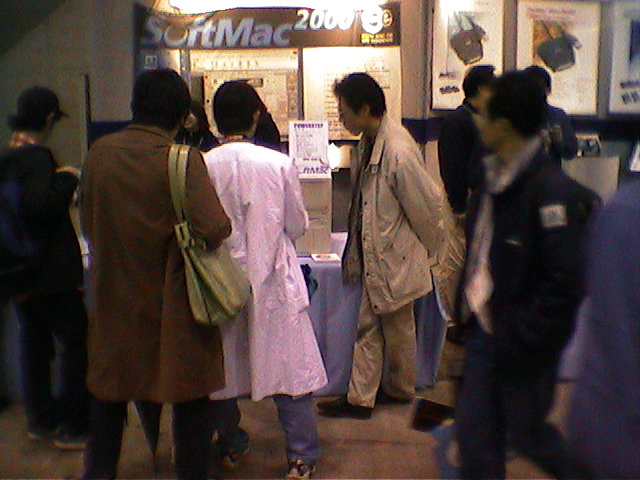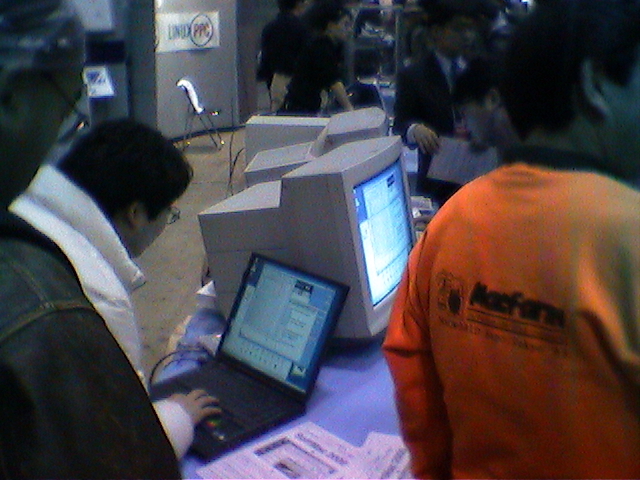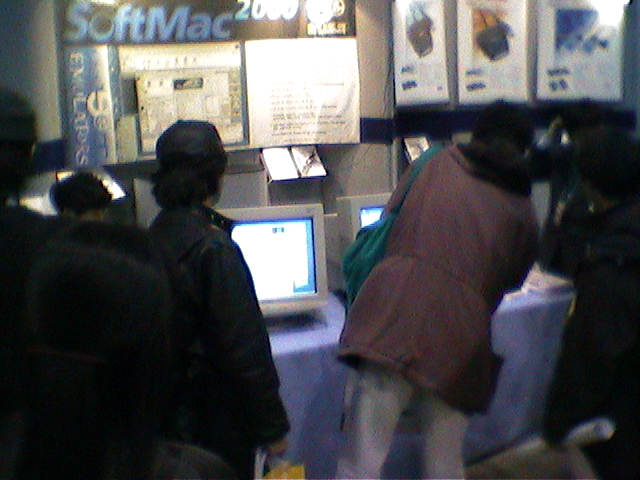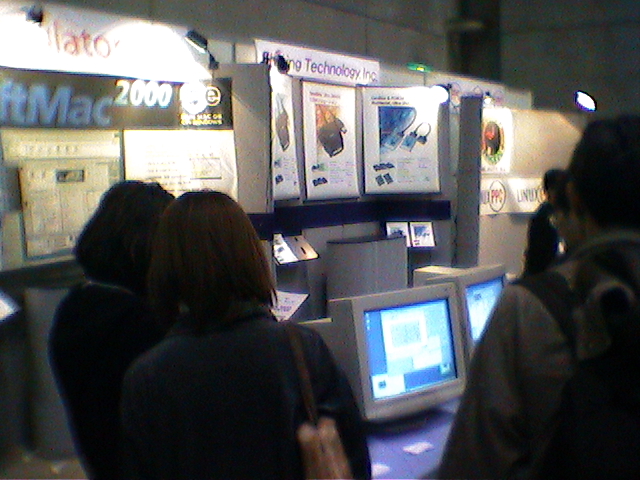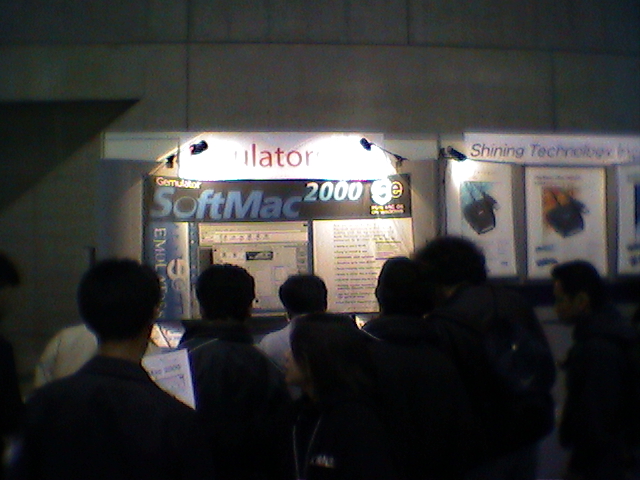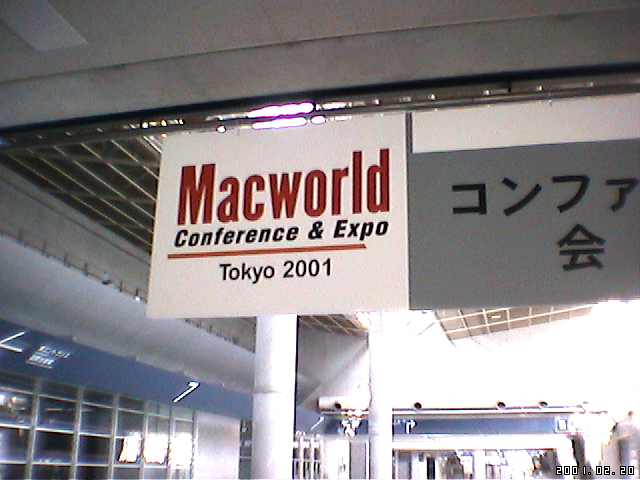 ---
PC EXPO 2000 and MACWORLD EXPO 2000 in New York City (June and July 2000)
It's not all glamour for booth bunnies Kris and Jodeen who also double as the setup and tear-down crew...
The show opens, the crowds come to see SoftMac 2000 and Fusion PC.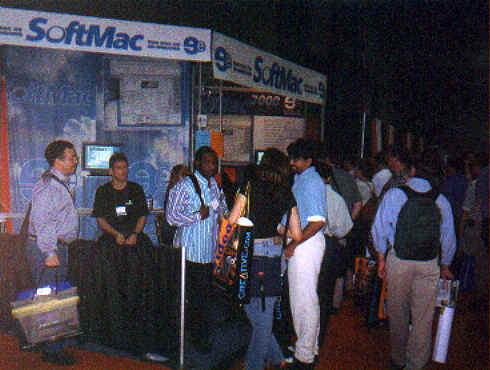 ---
COMDEX SPRING 2000 in Chicago (April 2000)
photo by Michael Picher, http://www.tkiweb.com/~mpicher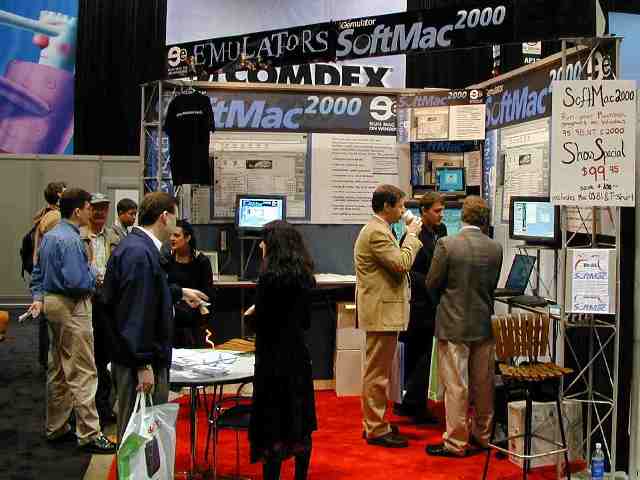 ---
MACWORLD 99 New York (July 1999)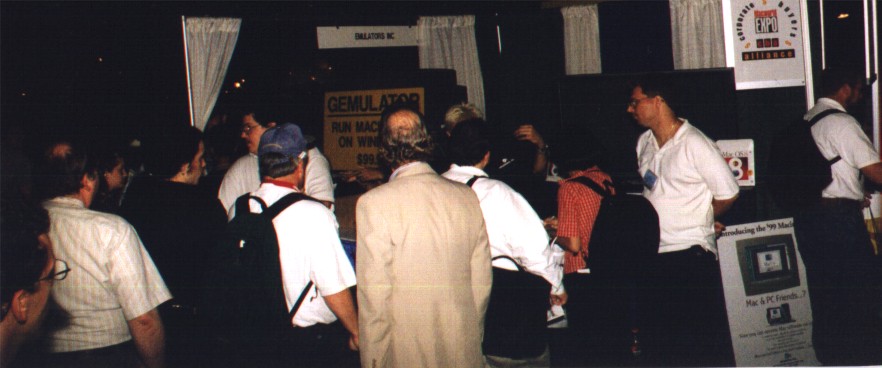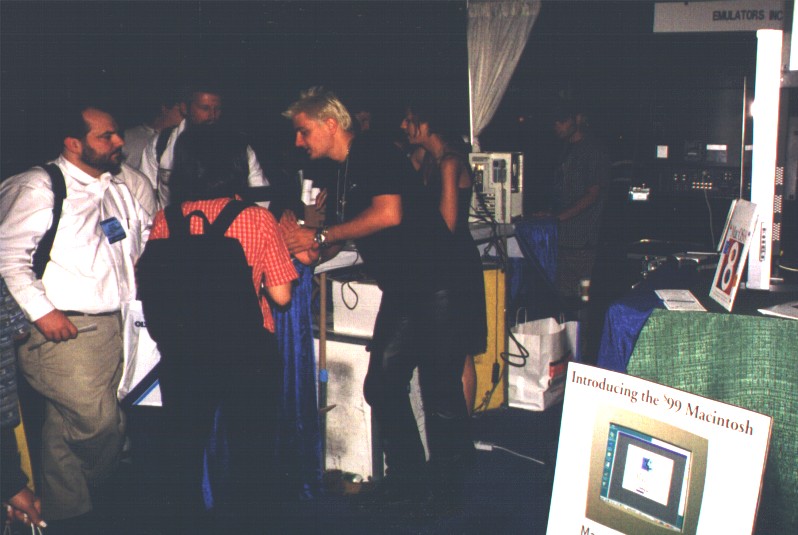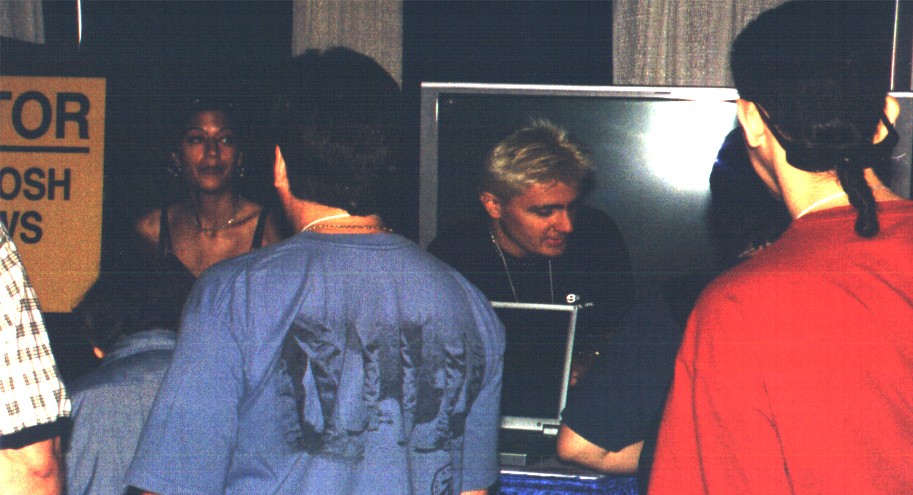 ---
Gemulator 98 launch event in Dallas Texas (October 11, 1997)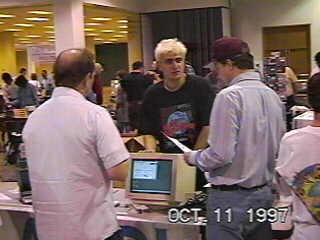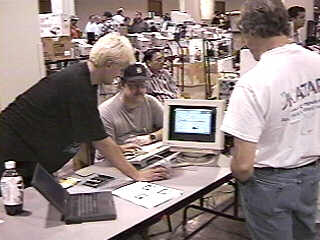 ---

Copyright © 1996-2018 Emulators, 14150 NE 20th Street, Suite 302, Bellevue, WA 98007, U.S.A.
Questions and comments can be sent to emulators@emulators.com.
Email is usually responded to within 2 to 3 business days.

Apple, Mac OS, Macbook, and Macintosh are registered trademarks of Apple Computer, Inc. Atari is a registered trademark of Atari U.S. Corporation. Athlon, Athlon XP, Opteron, and Phenom are registered trademarks of AMD. Microsoft, Windows, Windows NT, Windows XP, Windows Vista, Windows 7, Windows 8, Windows 10, Visual Studio, .NET, and/or other Microsoft products referenced herein are either trademarks or registered trademarks of Microsoft. Intel, Pentium, Core 2, Core i7, and Atom are registered trademarks of Intel. PowerPC is a trademark of IBM. Additional company and product names may be trademarks or registered trademarks of the individual companies and are respectfully acknowledged.